2022 USMC/USAW Junior and 16U National Championships
The Complete & Total Fargo Junior Freestyle Preview And Predictions Article
The Complete & Total Fargo Junior Freestyle Preview And Predictions Article
Everything you need to know before the Juniors get underway at Fargo including 100% accurate picks.
Jul 13, 2022
by JD Rader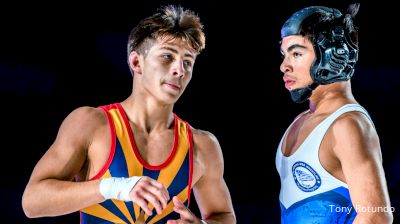 Unlock this video, live events, and more with a subscription!
Get Started
Already a subscriber? Log In
It's Fargo time baby! There's a whole lot to get into below, so I won't waste your time with a boring intro. I'm just going to remind you that USA Wrestling uses separation criteria as their way of seeding. So, don't freak out when brackets come out.
Separation Criteria for Junior Men's Freestyle and Greco-Roman Nationals
1. UWW Junior World placer in and out of style*
2. Junior/UWW Jr National champion in style OR UWW Cadet World placer in style
3. Cadet UWW World Placer out of style* OR Junior/UWW JR National placer 2-4 in style
4. 16U/UWW Cadet National Champion in style
5. Junior/UWW JR National placer 5-8 in style OR Junior/UWW JR National Champion out of style*
6. 16U/UWW Cadet National placer 2-4 in style
7. 16U/UWW Cadet National placer 5-8 in style OR 16U/UWW Cadet National Champion out of style*
8. Junior/UWW JR National placer 2-4 out of style*
9. Junior/UWW JR National placer 5-8 out of style* OR 16U/UWW Cadet National placer 2-4 out of style* OR Junior Folkstyle National Champion
10. Junior Regional Champion in style OR Junior Folkstyle National 2-4
---
100 lbs
100 lbs is lower than the lowest high school weight and this is the Junior division, which always shows in the participation in the weight class. However, for the first time in several years, the number of participants in this weight class is going up. Registration is up nearly 100% to 31 from 16 last year. Iowa leads the charge with four wrestlers followed by Illinois with three. However, Ohio's Javaan Yarbrough is the favorite. He won Fargo at 16U 88 lbs last year and went undefeated at Junior Duals 100 lbs this year.
Picks
Final: Yarbrough over Davis Motyka
---
106 lbs
With wins in the past year over Dry Ayala and Gage Singleton, Mack Mauger is the man to beat at this weight. Being from Idaho and a 16U Fargo champ in both freestyle and Greco last year, Mauger is already getting Ridge Lovett comparisons. He's got a ways to go as Lovett was a 10X Fargo AA. Idaho will be well represented with Kolter Burton and Dedrick Navarro likely to get on the podium as well IMO.
Watch Mack Mauger take out Dru Ayala at U17 WTTs below.
Unlock this video, live events, and more with a subscription!
Get Started
Already a subscriber? Log In
Names To Watch
#7 Mack Mauger, Idaho
#9 Dru Ayala, Iowa
#14 Colyn Limbert, Ohio
#19 Gage Singleton, Oregon
Kolter Burton, Idaho
Dedrick Navarro, Idaho
Blake Beissel, Minnesota
Cadyn Coyle, Nebraska
Jason Goodin, Oklahoma
Luke Koenen, Minnesota
Adam Bilby, Kansas
Picks
Finals: Mauger over Ayala
---
113 lbs
Sorry 100 and 106 pounders, but 113 is the first weight that really feels like a Fargo weight in the Junior division. You can see it in the number of nationally ranked kids alone (7). 2021 Junior 106 Fargo champ, Hunter Taylor, will have the highest separation criteria and therefore the #1 seed.
Top-ranked Isaiah Quintero took 3rd at 16U 106 last year, losing to Anthony Knox but beating Nathan Desmond. Desmond is a guy I'm very interested to watch at this weight. He won at PA state title at 106 this year as a freshman, but then went 1-2 at U17s in April at 51 kg (112.4 lbs). I'm not sure if that was weight cut related, but he moved up to 120 for NHSCAs before moving back down for Fargo. Will he be back to form in Fargo at 113 lbs?
Names To Watch
#6 Isaiah Quintero, California
#8 (106) Michael Olson, Minnesota
#14 Hunter Taylor, Missouri
#16 Matthew Dolan, West Virginia
#19 Brandon Morvari, Minnesota
#19 (120) Nathan Desmond, Pennsylvania
#20 Deion Johnson, Illinois
Isiac Paulino, Massachusetts
Wyatt Skebba, Wisconsin
Layne Kleimann, Utah
Jeremy Oani, California
Carter Nogle, Maryland
Tyler Washburn, Florida
Ryan Nuno, Idaho
Carson Wagner, Pennsylvania
Colin Martin, Virginia
Anthony Rossi, New Jersey
Parker Sentipal, Pennsylvania
Reid Spurley, Wisconsin
Teague Strobel, South Carolina
Picks
Finals: Quintero over Desmond
AAs: Taylor, Dolan, Olson, Washburn, Skebba, Wagner
---
120 lbs
Three wrestlers in the top 16 on the 2023 Big Board at 120 lbs. Nathan Jesuroga will be the odds-on favorite to win, but don't sleep on the two Michigan men - Braeden Davis and Caden Horwath. A Jesuroga - Davis/Horwath match just might be my most anticipated match of the entire junior tournament. Jesuroga, an Iowa commit, hasn't had the opportunity to win a Fargo title yet due to the event being canceled in 2020 and Jesuroga competing at the 2021 Cadet World Championships, where he won a bronze medal. Davis, on the other hand, won is already a 2X freestyle champ (2019 and 2021). Horwath made the finals in 2019 but fell to Jore Volk.
Both being from Michigan, Davis and Horwath have history. Horwatch got the better of Davis this past season going 2-0 against him with wins at DCC and GGI. While to my knowledge Jesuroga hasn't competed against either Davis or Horwath, Jesuroga and Davis aren't completely unfamiliar with each other. The two got a workout in at last year's Who's Number One. Now that they're both at the same weight, they could be fighting for a position at this year's event.
Watch Jesuroga and Davis workout together below.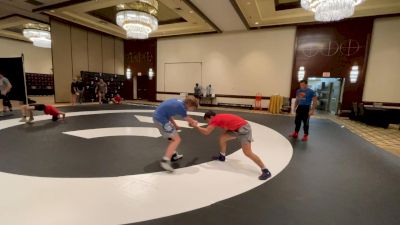 Cornhusker fans aren't going to want to this weight as we've got a potential future roster battle between class of 2023 big boarders #39 Kael Lauridsen and #43 Alan Koehler.
Lastly, I'd be remiss not to mention Ohio State commit and 2X PA state champion Vinny Kilkeary. Don't sleep on him just because he's ranked 15th. The kid is a gunslinger and very skilled.
Names To Watch
#1 Nathanael Jesuroga, Iowa
#3 Braeden Davis, Michigan
#5 (126) Caden Horwath, Michigan
#6 Kael Lauridsen, Nebraska
#14 Alan Koehler, Minnesota
#15 Vinny Kilkeary, Pennsylvania
Daniel Guanajuato, Arizona
Trever Anderson, Iowa
Marcello Milani, Michigan
Noah Nininger, Virginia
Garret Rinken, Iowa
Sergio Vega, Arizona
Miles Anderson, Nebraska
Sulayman Bah, New York
Koufax Christensen, Iowa
Cash Donnell, Oklahoma
Logan Graf, South Dakota
Max Hermes, Ohio
Dean Houser, Pennsylvania
Ashton Jackson, Indiana
Austin McBurney, Ohio
Jack Nelson, Minnesota
Patrick O'Keefe, New Jersey
Brandon Paez, Iowa
Jack Parker, Virginia
Chase Quenault, New Jersey
Cooper Shore, Ohio
Sam Smith, Oklahoma
Luke Stanich, New Jersey
Mason Ziegler, Pennsylvania
Picks
Finals: Jesuroga over Horwath
AAs: Davis, Lauridsen, Koehler, Guanajuato, Smith, O'Keefe
---
126 lbs
126 lbs will be a lot of fun. Seven nationally ranked wrestlers and it truly feels like any one of them could win. Unfortunately, #5 Kale Peterson of Iowa, who was formally registered, had to withdraw due to injury.
At the top, it's the battle of the smart kids with Stanford commit Aden Valencia and Cornell commit Mason Gibson. Below them on the names to watch list is opposites on the grade spectrum in rising sophomore Drew Gorman and graduated senior Nicolar Rivera. Gorman had a phenomenal U17s beating Sam Herring, Adrian Meza, and Mason Gibson. With a win over Nathan Jesuroga this high school season, however, Riviera might have the best win of anyone on this list.
Watch Drew Gorman beat Mason Gibson with a last-second takedown below.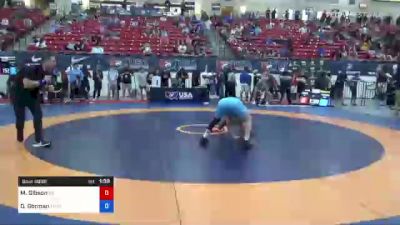 Unlock this video, live events, and more with a subscription!
Get Started
Already a subscriber? Log In
For sure AA contenders and outside title contenders not in the national rankings include Ray Ray Harris, Jaden Pepe, Drew Heethuis, Tyler Ferrara, and Tanner Frothinger.
Names To Watch
#6 Aden Valencia, California
#7 (120) Mason Gibson, Pennsylvania
#7 Drew Gorman, Georgia
#9 Nicolar Rivera, Wisconsin
#10 Gable Porter, Iowa
#13 Dillon Campbell, Ohio
#19 Adrian Meza, Arizona
Ray Ray Harris, California
Drew Heethuis, Michigan
Mitchell Neiner, Washington
Kolby Warren, Missouri
Tanner Frothinger, Idaho
Kyison Garcia, Utah
Derek Guanajuato, Arizona
Jacob Myers, Colorado
Coleman Nogle, Maryland
Jaden Pepe, Pennsylvania
Gylon Sims, Illinois
Anthony Aniciete, Nevada
Tyler Ferrara, New York
Logan Frazier, Indiana
Eli Kirk, Oklahoma
Brandon Cannon, Colorado
Vinnie D'Alessandro, Ohio
Max Gallagher, New York
Blake Gioimo, Iowa
Sean Logue, Pennsylvania
Brady Pruett, Maryland
Brady Roark, Missouri
Gianni Silvestri, New York
Brayden Sonnentag, Wisconsin
Garrett Totten, New Jersey
Jackson Young, New Jersey
Picks
Finals: Valencia over Rivera
AAs: Gibson, Porter, Gorman, Meza, Heethuis, Campbell
132 lbs
Cael Hughes wrestled lights out at Junior Duals and shot up from #8 in the rankings to #2, only behind Junior World Team member Nic Bouzakis. The Oklahoman 10-0d Evan Frost and Omar Ayoub in Tulsa while also knocking off Kannon Webster 5-3.
Watch Cael Hughes take out Kannon Webster at Junior Duals below.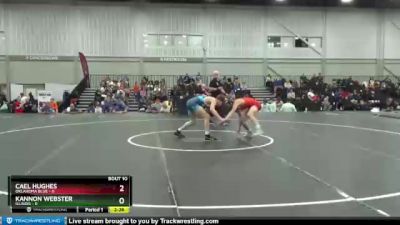 Unlock this video, live events, and more with a subscription!
Get Started
Already a subscriber? Log In
There's a decent chance we see that rematch in the FargoDome. A champ last year at 120, Webster is no stranger to success on the big stage. Webster has been wrestling well as of late too. The Illinois native and commit recently beat Vincent Robinson, a Fargo champ himself last year, at Northern Plains.
Don't sleep on #15 Grigor Cholakyan either. The California native is just a rising junior, but I was impressed with his performance at the Open. With a 9-4 loss to Webster at U20 WTT, he may still have a ways to go before winning it all.
Names To Watch
#2 Cael Hughes, Oklahoma
#3 Kannon Webster, Illinois
#3 (126) Cory Land, Alabama
#4 Vincent Robinson, Illinois
#15 Grigor Cholakyan, California
#16 Evan Frost, Iowa
#18 (138) Nash Singleton, Oregon
#18 Omar Ayoub, Ohio
#19 Greyson Clark, Wisconsin
Cael Keck, Missouri
Jameson Garcia, Illinois
Paul Kelly, California
Kyle Rice, Idaho
Ayson Rice, South Dakota
Isaiah Powe, Alabama
Markel Baker, Illinois
Dyson Dunham, Virginia
Matthew Eberly, Virginia
Justin Gates, Michigan
Hunter Hollingsworth, Oklahoma
Jaxon Joy, Ohio
Garrett McChesney, Texas
Collin Mullins, Georgia
Michael Pizzuto, Maryland
Jace Rhodes, Iowa
Carter Schmidt, Montana
Luke Simcox, Pennsylvania
Joseph Simon, Pennsylvania
Kaden Smith, Oklahoma
Daniel Zepeda, California
Picks
Finals: Hughes over Robinson
AAs: Land, Webster, Singleton, Frost, Clark, Keck
---
138 lbs
138 is a DEEP weight. At least three nationally-ranked kids won't AA. Leading the ranked is Nasir Bailey. Bailey own Fargo at 132 last year, taking out the likes of Zeke Seltzer on the way. He's far from a lock to repeat, however. #10 Ryder Block has actually defeated Bailey two-straight years at Junior Duals.
Watch Ryder Block beat Nasir Bailey at 2022 Junior Duals below.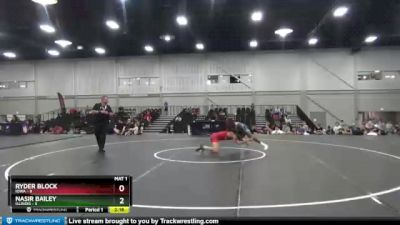 Unlock this video, live events, and more with a subscription!
Get Started
Already a subscriber? Log In
With a win over Ryder Block at Cadet WTT last year, Michigan commit Dylan Gilcher is another title contender. Another future Wolverine, Cameron Catrabone, is a young gun to keep an eye on.
Potential "dark horses" include Jude Swisher and Kole Brower. I put dark horses in quotes because despite not being nationally ranked they proved they can get on the Fargo podium by taking 5th and 8th at this weight last year. It's not going to be easy to repeat such a performance.
Names To Watch
#3 Nasir Bailey, Illinois
#5 Dylan Gilcher, Michigan
#5 (132) Zeke Seltzer, Indiana
#10 Ryder Block, Iowa
#12 Dario Lemus, California
#13 Tyler Vazquez, New Jersey
#14 (145) Pierson Manville, Pennsylvania
#14 (132) Anthony Santaniello, New Jersey
#15 Cameron Catrabone, New York
#19 (145) Brennan Van Hoecke, Florida
#19 Jacob Frost, Iowa
Kole Brower, Illinois
Jude Swisher, Pennsylvania
Ismael Ayoub, Ohio
Carter McCallister, Missouri
Christopher Martino, Idaho
Smokey McClure, Washington
Keith Smith, Nebraska
DJ Gillett, Oregon
Casper Stewart, New York
Jeremiah Price, North Carolina
Spencer Barnhart, Pennsylvania
Luke Belcher, Tennessee
Tucker Cell, Kansas
Anthony Evanitsky, Pennsylvania
Logan Fowler, Tennessee
Garrett Funk, Iowa
Cooper Haase, Florida
Nathan Jerore, Michigan
Alex Mentzer, South Dakota
Joshua Neiwert, Washington
Cash Raymond, Minnesota
Matthew Repos, Pennsylvania
McKinley Robbins, Iowa
Jakob Romero, Colorado
Cheaney Schoeff, Indiana
Easton Taylor, Kansas
Picks
Finals: Block over Bailey
AAs: Seltzer, Gilcher, Vazquez, Manville, Lemus, Santaniello
---
145 lbs
A lot of potential champs at this weight. Bracket draw could be very important. Believe it or not, Kaleb Larkin has never All-Americand in freestyle at Fargo. In his final year, it seems unlikely that this trend will continue and he will go out with at least a little stop sign, but in this bracket? Who knows.
Kyle Dutton, Joel Jesuroga, and Richard Fedalen are three more graduated seniors with title potential. Fedalen is the highest on the senior big board at #58. Dutton, who is one spot behind Fedalen on the big board at #59 and was a finalist at Ironman this season, is arguably the biggest recruit in Little Rock wrestling history. Jesuroga, an Iowa commit, had a rough U20 Nationals, but rebounded by going undefeated at Junior Duals with wins over Sam Cartella and Jace Roller. Plus, Southeast Polk HS loves to perform at Fargo.
Beau Mantanona is the wild card of the bracket. He bumped up to 152 for Junior Duals and had a rough go at it, but he's got the skill to win it all at 145 lbs.
Names To Watch
#4 Kaleb Larkin, Arizona
#6 Kyle Dutton, Missouri
#8 (138) Koy Buesgens, Minnesota
#10 Joel Jesuroga, Iowa
#11 (152) Beau Mantanona, California
#11 (138) Q'veli Quintanilla, Washington
#13 (152) Richard Fedalen, Maryland
#16 Zach Hanson, Minnesota
#18 Sam Cartella, Ohio
Kimo Leia, California
Jaydon Robinson, Illinois
August Hibler, New Jersey
Jason Mara, Idaho
David Mayora, Illinois
Weston Dalto, Colorado
Kayd Craig, Idaho
Gavin Drexler, Wisconsin
Cole Brooks, Oklahoma
Maxwell Petersen, Minnesota
Avery Allen, Montana
Francisco Ayala, Washington
Jacob Bostelman, Colorado
Brady Conlin, Florida
Dominic Findora, Pennsylvania
Joe Fongaro, New Jersey
Alexander Gavronsky, Massachusetts
Kelly Kakos, Pennsylvania
Seth Larson, Georgia
Jackson Polo, New York
Tyler Tracy, North Carolina
Griffin Walizer, Pennsylvania
Picks
Finals: Buesgens over Matanona
AAs: Dutton, Larkin, Jesuroga, Fedalen, Hanson, Quintanilla
---
152 lbs
Can Cody Chittum finally get his Fargo title? For a handful of years now Chittum has been the talk of middle school/high school wrestling. However, he has yet to get it done in the FargoDome. The Tennesse native took 5th in 2018, 3rd in 2019, and was injured in 2021. He recently made the move up 152 lbs/70 kg from 65 kg where he had been competing. He looked good at U20 WTT, taking 3rd and avenging his only loss along the way. If he wrestles like he did in Ohio, he's my pick to win
Chittum's main opposition will be Ty Whalen, KJ Evans, Ethan Birden, and Kael Voinovich. Whalen is a graduated senior NJ state finalist, Birden, who is just a rising junior and Ohio state finalist, and Voinovich, the younger brother of Oklahoma State wrestler Victor, is an Oklahoma state champion.
Names To Watch
#2 Cody Chittum, Tennessee
#7 (145) Ty Whalen, New Jersey
#9 KJ Evans, Oklahoma
#9 Ethan Birden, Ohio
#20 Kael Voinovich, Oklahoma
William Henckel, New Jersey
Brett Back, Wisconsin
Dylan Evans, Pennsylvania
Zane Licht, Wisconsin
Charlie Millard, Wisconsin
Laird Root, California
Latrell Schafer, Georgia
Ethan Stiles, Illinois
Cutter Sheets, Oklahoma
Jake Dailey, Pennsylvania
Michael Duggan, Pennsylvania
Moses Espinoza-Owens, Utah
Reed Fullmer, Pennsylvania
Cody Goebel, Wisconsin
Boeden Greenley, North Dakota
Landen Johnson, Minnesota
Keagan Judd, Virginia
Kolten Oborny, Texas
Tyler Sagi, New Jersey
Cade White, Idaho
Picks
Finals: Chittum over Evans
AAs: Whalen, Birden, Evans, Sheets, Stiles, Henckel
---
160 lbs
160 lbs is really tough to predict. I really like the top-three guys in Nicco Ruiz, Aiden Riggins, and Braden Scoles. Ruiz looked the best at U20 WTT, taking 4th at 74 kg with a win over Riggins on the backside. My Iowa roots are making me pick Riggins, however. It was a 10-8 match in Ohio and Riggins was so close to a Fargo title last summer, losing to Josh Barr on criteria. If Ruiz comes in good shape, Riggins could be in some trouble once again.
Watch Nicco Ruiz and Aiden Riggin's match from U20 WTT below.
Unlock this video, live events, and more with a subscription!
Get Started
Already a subscriber? Log In
Scoles is tough. An Askren Wrestling Academy kid, he had been wrestling really tough until he took a weird loss at Junior Duals where got stepped over on a gut wrench and pinned. Wouldn't be surprised to see him at the top of the podium on Tuesday night.
Can't count out guys like #10 Brendon Abdon, #16 Thor Michaelson, and #16 Carter Schubert either.
Names To Watch
#4 Nicco Ruiz, California
#5 Aiden Riggins, Iowa
#8 Braeden Scoles, Wisconsin
#10 Brendon Abdon, Florida
#16 (170) Thor Michaelson, Washington
#16 Carter Schubert, New York
Silas Dailey, Wisconsin
Griffin Lundeen, Minnesota
Tyler Secoy, Georgia
Braden Stauffenberg, Illinois
Jed Wester, Minnesota
Jeremy Paradice, Georgia
J Conway, Indiana
Mike Avelar, Arizona
Luke Barker, Kansas
Andrew Christie, Pennsylvania
Mateo de la Pena, Washington
Dominic Frontino, Pennsylvania
Gavin Gust, Minnesota
Andrew Harmon, Pennsylvania
Rafael Hipolito, Virginia
Oliver Howard, Alabama
Rawson Iwanicki, Massachusetts
Derek Johnson, Kansas
Rafael Knapp, Massachusetts
Erik McCown, California
Picks
Finals: Riggins over Scoles
AAs: Ruiz, Abdon, Michaelson, Schubert, Stauffenberg, Conway
---
170 lbs
I've been incredibly impressed with Rocco Welsh since the first time I watched him compete as a freshman at the Ironman and he beat Joey Blaze, Vince Cornella, Dylan Shawver, and others. Similar to Chittum, Welsh has performed well at Fargo but hasn't gotten his title yet. He's shown steady progression going from DNP, to 5th, to 3rd.
There's only one person who can stop him from getting it done this year, imo: Josh Barr. Barr is Penn State commit from Michigan who won Fargo last year. He's got a high shot output and is fun to watch, but knows how to win too. A match between him and Welsh is a toss-up.
Trying to upset the two along the way will be New Jersey state champion Simon Ruiz, national prep champion Lorenzo Norman, Ohio state champion Tyler Lillard, and Folkstyle Nationals champion Luke Gayer among others.
Some nationally lesser-known guys I like at this weight include Nick Fox, Kodiak Cannedy, Lars Michaelson, and Creed Thomas.
Names To Watch
#3 Rocco Welsh, Pennsylvania
#6 Josh Barr, Michigan
#9 (160) Simon Ruiz, New Jersey
#11 (160) Lorenzo Norman, New Jersey
#13 Tyler Lillard, Ohio
#15 Luke Gayer, California
#17 Brody Baumann, Indiana
#20 Noah Mulvaney, Wisconsin
Holden Garcia, Pennsylvania
Sabino Portella, New Jersey
Nicholas Fox, Iowa
Roman Garci, Florida
Bradley Gillum, Illinois
Zachary Eliszewski, Wisconsin
CJ Hamblin, Washington
Talon McCollom, Oklahoma
Lars Michaelson, Washington
Omaury Alvarez, Georgia
Tyler Eise, Colorado
Dylan Newsome, Ohio
Anders Thompson, Montana
Ryan Badgett, California
Kodiak Cannedy, Tennessee
Justin Crutchmer, Arkansas
Payton Handevidt, Minnesota
Tyler Hanna, California
Christian Moder, Florida
Chris Moore, Illinois
Brett Smith, Missouri
Creed Thomas, Georgia
Picks
Finals: Welsh over Barr
AAs: Ruiz, Norman, Lillard, Baumann, Garcia, Gayer
---
182 lbs
The 182 lbs title is up for grabs. With a win over Connor Mirasola at the 2021 Minnesota Christmas tournament, Ryder Rogotzke is the highest-ranked wrestler in the bracket. Rogotzke also beat Mirasola at Cadet WTT in 2021. However, Rogotzke has been dealing with injury this spring and Mirasola has looked great. I think Mirasola is able to get it done.
Watch Ryder Rogotzke's win over Connor Mirasola at Cadet WTT below.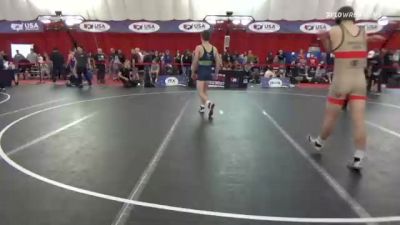 Unlock this video, live events, and more with a subscription!
Get Started
Already a subscriber? Log In
Other title contenders include Oklahoma's AJ Heeg and Iowa's Tate Naaktgeboren. Heeg went undefeated at Junior Duals, including a 7-5 win over Naaktgeboren in Greco-Roman. Dashcle Lamer, Joseph Martin, and Matthew Furman will be in the mix as well.
Names To Watch
#3 Ryder Rogotzke, Minnesota
#4 Connor Mirasola, Wisconsin
#7 AJ Heeg, Oklahoma
#8 Tate Naaktgeboren, Iowa
#11 (170) Daschle Lamer, Oregon
#13 Joseph Martin, California
#19 Matthew Furman, Pennsylvania
Justin Rademacher, Oregon
Jared Schoppe, New Jersey
Nathan Taylor, Connecticut
Dominic Thebeau, Illinois
Toby Schoffstall, Virginia
Timothy McDonnell, California
Jordan Soriano, New York
Mark Ayala, California
Henry Baronowski, Pennsylvania
Dillon Bechtold, Pennsylvania
Orlando Cruz, Indiana
Justin Griffith, New Jersey
Codei Khawaja, Indiana
Vincent Lee, New Jersey
Sergio Montoya, California
Cayaen Smith, Utah
Payton Thomas, Oklahoma
Garrett Wells, Oklahoma
Daniel Williams, Florida
Brock Zurawski, New Jersey
Picks
Finals: Mirasola over Rogotzke
AAs: Heeg, Naaktgeboren, Lamer, Martin, Furman, Thebeau
---
195 lbs
My goodness, this weight. With 13 nationally ranked kids, at least five won't make the podium. And that's if someone like Cody Merrill, Cole Mirasola, Soren Herzog, and or Jersey Robb don't sneak onto the podium, which all of them are more than capable of.
While this weight is incredibly deep, I think there is a straightforward favorite in Rylan Rogers. The Super 32 champ has been laying a little low since losing to Mac Stout at PWC. However, the Michigan commit is incredibly skilled and beat top contender Gavin Nelson the last time they saw each other, albeit it was at Fargo in 2019. Coming down from 220, what Nelson now has in his favor is size.
Watch Rylan Rogers and Gavin Nelson's 2019 Fargo match below.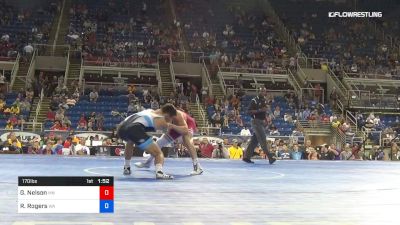 Unlock this video, live events, and more with a subscription!
Get Started
Already a subscriber? Log In
Iowa is bringing two studs at this weight in Wyatt Voelker and McCrae Hagarty, both of whom have placed at Fargo in the past. Ohio's Camden McDanel didn't just place at Fargo last year, who won the dang thing. That was at 16U, however. Can he get it done in Juniors now?
Names To Watch
#3 Rylan Rogers, Idaho
#6 (220) Gavin Nelson, Minnesota
#6 Wyatt Voelker, Iowa
#10 Jack Darrah, Missouri
#11 Camden McDanel, Ohio
#12 McCrae Hagarty, Iowa
#13 Michael Dellagatta, New Jersey
#14 Sawyer Bartelt, Florida
#15 Hayden Walters, Oregon
#15 (182) Remy Cotton, Michigan
#18 Gabe Sollars, Indiana
#19 Stephen Little, Kentucky
#19 (220) Jacob Meissner, Minnesota
Cody Merrill, California
Cole Mirasola, Wisconsin
Soren Herzog, Minnesota
Jersey Robb, Oklahoma
Oscar Williams, Oklahoma
Connor Barket, Indiana
Kingsley Menifee, Virginia
Luke Cochran, Georgia
Joey Novak, Minnesota
Hudson Skove, New Jersey
Hunter Sonnenberg, Washington
Ben Bomberger, California
William Conlon, Alabama
Thomas Dineen, Minnesota
Leimana Fager, Utah
Aiden Hanning, Massachusetts
Hunter Hutcheson, Ohio
Connor Jacobs, Pennsylvania
Calvin Lachman, Pennsylvania
Uriah Virzi, Kentucky
Wesley Wilson, California
Picks
Finals: Rogers over Nelson
AAs: Voelker, Darrah, Walters, McDanel, Mirasola, Dellagatta
---
220 lbs
A big drop-off in terms of depth from 182 to 195, but the top is still solid. Kolby Franklin, who was originally from Pennsylvania before moving to Iowa, is moving up from 195 lbs, making him the highest ranked wrestler in the bracket and favorite to win. Size shouldn't be too much of an issue. He 10-0d Carter Neeves at Junior Duals while splitting time between 220 lbs and 195 lbs.
Neeves leads the Ohio trio of himself, Dylan Russo, and Kyle Snyder. Neeves has the advantage over recent Kent State commit Kyle Snider, who he beat twice at Ironman this year, and won their state bracket. Russo won the D1 215 bracket and is also a Super 32 5th place finisher.
Names To Watch
#8 (195) Kolby Franklin, Iowa
#11 Carter Neves, Ohio
#13 Dylan Russo, Ohio
#14 Kyle Snider, Ohio
Bradley Hill, Iowa
Max Agresti, Delaware
William Clark, Indiana
Zachary Evans, Pennsylvania
Samuel Murphy, Missouri
Max Ramberg, Wisconsin
Zachary Delsanter, Ohio
Ryan Stein, New York
Ryan Arrington, California
Nathan Critchfield, Indiana
Caden Ferris, Michigan
Hampton Kaye-Kuter, Massachusetts
David Ozuna, California
Aidan Schlett, New Jersey
Trent Sibble, New York
Jared Thiry, Iowa
Kail Wynia, Minnesota
Picks
Finals: Franklin over Neeves
AAs: Russo, Snider, Hill, Agresti, Murphy, Ferris
---
285 lbs
Fargo is never the deepest at heavyweight, and this year is no different. That means it's a place for someone to make a name for themselves, however. Jamikael Lytle and Ethan Vergara are the two returning Junior AAs who will have level five separation criteria. Holding level six separation criteria as returning 16U 2-4 placers will be Parker Ferrell, Spencer Lanosga, and Jacob Walker.
Nolan Neeves and Dillan Johnson are both coming off of impressive performances at Junior Duals where they went a combined 16-0. For that reason, they're my pick to make the finals.
Names To Watch
#8 Nolan Neves, Ohio
#11 Aden Attao, Idaho
#12 Dillan Johnson, Illinois
#13 Matthew Moore, Colorado
#15 Parker Ferrell, Virginia
Jamikael Lytle, California
Ethan Vergara, Florida
Spencer Lanosga, Louisiana
Jacob Walker, Iowa
Aidan Fockler, Ohio
Cameron Geuther, Iowa
Sebastian Lopez, Kansas
Aiden Lacoma, Virginia
Samuel Rodriguez, Pennsylvania
Max Acciardi, New Jersey
Matthew Cruise, Pennsylvania
Easton Fleshman, Iowa
Carson Floyd, North Carolina
Noah Linford, Utah
Stephan Monchery, New York
Dirk Morley, Colorado
Chase Nutting, California
Emmanuel Ulrich, Pennsylvania
Cade White, Oklahoma
Picks
Finals: Johnson over Neeves
AAs: Attao, Ferrell, Lytle, Vergara, Walker Fockler