2022 NCAA Watch Party: Conference Weekend
Big 10 Tournament Preview & Predictions - The Upperweights
Big 10 Tournament Preview & Predictions - The Upperweights
A preview and predictions for 184-285 at the 2022 Big 10 Tournament.
Mar 2, 2022
by JD Rader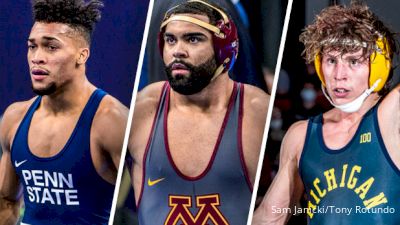 Unlock this video, live events, and more with a subscription!
Get Started
Already a subscriber? Log In
What if I told you that there weren't just multiple returning NCAA champions in the top three weights at the Big Ten tournament, but multiple Olympic medalists? Because that's exactly what we've got at the 2022 Big Ten tournament!
Take a look below at a break brown and predictions for 184-285 at the 2022 Big 10 Tournament. You can find the lightweight preview HERE and the middleweight preview HERE.
184: Can The Olympic Medalist Pull Off The Upset?
The Favorite
Currently #5 in the Dan Hodge Trophy Award rankings, Aaron Brooks is one of the most dominant wrestlers in the NCAA right now. The third-year junior is trying to go three-for-three on Big Ten titles. This will likely be his hardest title yet, however, with the addition of Olympic bronze medalist Myles Amine.
The Contenders
Myles Amine is an Olympic bronze medalist, but coming into the conference tournament as an underdog. The Wolverine wrestler lost to Brooks in a close 3-1 match earlier this year. A late takedown made the difference.
Listen to Myles Amine address his loss to Aaron Brooks below.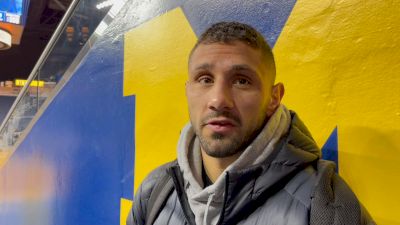 Unlock this video, live events, and more with a subscription!
Get Started
Already a subscriber? Log In
Receiving 12 allocation spots, this weight class has two heavy hitters but still runs deep. Kaleb Romero and Taylor Venz will set up two great semifinals. Romero gave Amine all he could handle but fell in overtime in the dual earlier this year. A lot has changed in the past two years, and Brooks has avenged it a handful of times, but in January of 2020, Venz handed Brooks the only loss of his career.
Sleepers and Landmines
Of the top four, the only one I could see going down before the semifinals is Venz. Right off the bat, Venz will have Purdue's Max Lyon, who he lost to in the dual 7-2. If he can reverse that result, he'll most likely have Iowa's Abe Assad in the quarters. John Pozananski and DJ Washington are dangerous at the #7 and #9 seeds.
Prediction: 1) Aaron Brooks 2) Myles Amine 3) Kaleb Romero 4) Taylor Venz
Allocations: 12
---
197: Madness
The Favorite
The fact that Max Dean is ranked #1 in the country, but the #2 seed behind Eric Schultz at the Big Ten tournament is a perfect example of the chaos that is 197. While these two are who most fans would put their money on to win, they are far from a lock to even make the finals. While Schultz's only loss this year came to Stephen Buchanan, who is in the Big 12, he has wrestled several very close matches to lower-seeded wrestlers. Dean has wrestled close matches as well and even dropped a match to three-seed Cam Caffey.
The Contenders
The aforementioned Cam Caffey dropped some bad matches early in the season, including to 14-seed Matt Wroblewski. He appears to be turning it on when it counts, however, goin undefeated in Big Ten duals.
Iowa's Jacob Warner is another guy who can win this weight. While Caffey has a big win (Dean) but a couple bad losses, Warner doesn't have a win over a guy seeded above him, but only lost to Schultz and Dean in the Big 10 this year. The Schultz loss was a one-point match and the Dean match was close until Dean opened it up with a turn in the third period. Certainly crazier things have happened than Warner winning this bracket.
Lastly, Patrick Brucki. He's for sure an unlikely champion, but if he wrestles his best, he's got a chance. Especially if this bracket gets busted up.
Sleepers And Landmines
I want to say just about every wrestler in this bracket. This is partially due to the vulnurabily of the top guys, but also speaks to the depth. It's rare that you see a Junior World champ like Braxton Amos at the eight-seed. Greg Bulsak is a 4X national qualifier already. Gavin Hoffman is a nightmare at the nine-seed. I could go on and on. Every match at this weight is worth keeping an eye on.
Predictions: 1) Eric Schultz 2) Max Dean 3) Jacob Warner 4) Greg Bulsak
Allocations: 11
---
285: All Hail Gable
The Favorite
It's incredible how much better Gable Steveson is wrestling since winning the NCAA tournament a year ago. With this likely being Gable's second to last ever wrestling tournament, we need to soak it all in. The greatest heavyweight of his era, possibly of all time.
Watch Gable Steveson and Mason Parris' 2021 NCAA final below.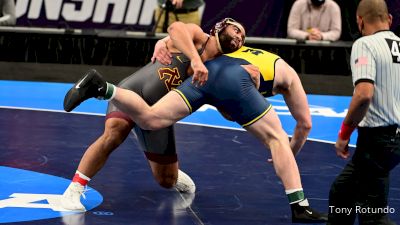 Unlock this video, live events, and more with a subscription!
Get Started
Already a subscriber? Log In
The Contenders
The tier below Gable consists of three wrestlers: Anthony Cassioppi, Greg Kerkvliet, and Mason Parris. Parris is 2-0 against Cassioppi in his career with two pins, but has yet to Parris this season. This allowed him to get the two seed when Kerkvliet beat Parris and then Cassioppi beat Kerkvliet. This allows a favorable rematch for the Hawkeye in the semifinal while Parris will be stuck wrestling Gable Steveson. I'm not writing off Kerkvliet pulling it off this time around. Cael and co. have a way of solving puzzles in the postseason.
Sleepers and Landmines
I would be shocked if the top four seeds didn't make the semifinal here. However, I do like the way Lucas Davison is wrestling up at heavyweight this year. While he lost to Christian Lance at the CKLV, he avenged the loss in their dual. He also beat seven-seed Trent Hillger this year.
Predictions: 1) Gable Steveson 2) Greg Kerkvliet 3) Mason Parris 4) Anthony Cassioppi
Allocations: 9