2022 Bout at the Ballpark Presented by Kubota
Five Big Questions One Month Before Iowa vs Oklahoma State
Five Big Questions One Month Before Iowa vs Oklahoma State
Iowa faces Oklahoma State during Bout at the Ballpark on Saturday, February 12. Here's what you can expect.
Jan 12, 2022
by Kyle Klingman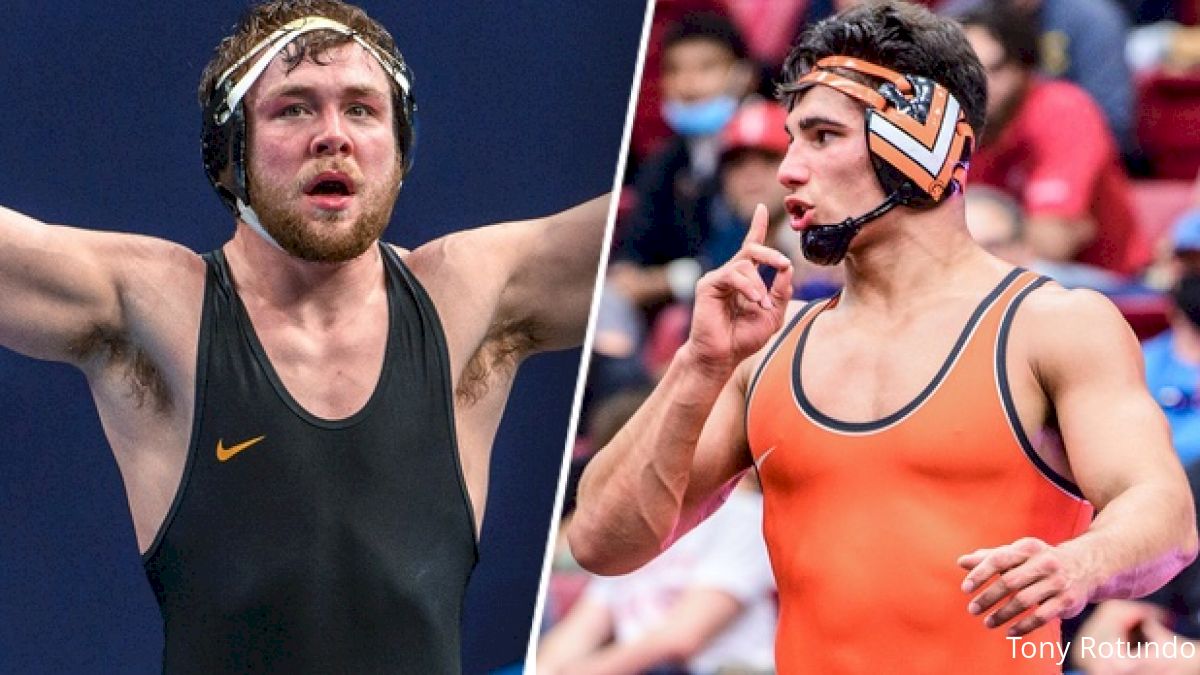 What can you expect when Iowa (8-0) faces Oklahoma State (8-0) on Saturday, February 12?

The unique venue should come to mind. It doesn't get much more innovative and creative than a dual on Globe Life Field in Arlington, Texas. Unless, of course, you hosted a November dual on a football field in Iowa.
That's what happened when Oklahoma State visited Iowa on November 14, 2015, during the Grapple on the Gridiron at Kinnick Stadium in Iowa City. The Hawkeyes defeated the Cowboys, 18-16, in front of 42,287 fans — the largest dual crowd in NCAA history.
Iowa returns the favor this year with Bout at the Ballpark on the home field of the Texas Rangers. The Cowboys want to return the favor with a win over the Hawkeyes.
The dual will be streamed live on FloWrestling for those who can't attend, but this is an event you will want to witness in person if you can.



Why? How about 58 combined NCAA titles between two teams?
Oklahoma State is the greatest historical dynasty in wrestling with 34 NCAA championships — the last coming in 2006. Iowa is 10 behind its rival, but the Hawkeyes won the 2021 title in St. Louis. They outdistanced third-place Oklahoma State by 29.5 points.
And how about the coaches? Oklahoma State coach John Smith and Iowa coach Tom Brands will always be linked. Both wrestled at the same weight class and both coach at their alma maters.
Smith won two NCAA titles for Oklahoma State at 134 pounds from 1987-88. Brands won three NCAA titles at 134 pounds for Iowa from 1990-92.
Smith won six World and Olympic titles at 62 kg (136.5 pounds) from 1988-92. Brands continued the tradition at the same weight by winning a World title in 1993 and an Olympic gold medal in 1996.
Smith has led the Cowboys to five NCAA championships. Brands has led the Hawkeyes to four.
Although the respective coaches will always be front and center of this rivalry, the wrestlers will ultimately decide the outcome. Here are five questions that will be answered at the conclusion of this historic dual.
Has Austin DeSanto closed the gap on Daton Fix?
Iowa's #3 Austin DeSanto and Oklahoma State's #2 Daton Fix currently have unblemished records this season. The two have faced each other twice during their college careers with Fix winning both matches.
The first was a 2-0 win during a dual in Stillwater on February 24, 2019.
The most recent was during the semifinals of the 2021 NCAA championships where Fix scrambled his way to a 3-2 victory for his second appearance in the finals. Fix countered a takedown attempt in the first period for the lone offensive points of the match.
DeSanto kept the pace high — especially during the closing seconds — but couldn't get to Fix's legs. The Cowboy junior ultimately placed second and DeSanto wrestled back for third.
The match against Fix will likely come at the end of a tough stretch for DeSanto. The Iowa senior is scheduled to face #9 Chris Cannon (Northwestern), #5 Lucas Byrd (Illinois), and #1 Roman Bravo-Young (Penn State) in advance of the Oklahoma State meet.
Fix, a 2021 World silver medalist at 61 kilograms, won't face anyone ranked in the top 15 over the next seven duals.
This could be an important win for DeSanto since his matches prior to Fix will determine seeding at the B10 and NCAA Championships. Fix appears to be in a good position for the third seed at nationals even if he loses to DeSanto (assuming he wins all his remaining matches).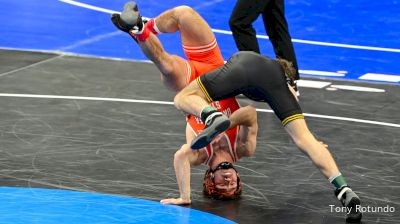 Unlock this video, live events, and more with a subscription!
Get Started
Already a subscriber? Log In
Where does Drake Ayala fit in the 125-pound landscape?
Iowa true freshman Drake Ayala has been the center of attention lately after three-time NCAA champion Spencer Lee opted not to compete this season due to injury. There was speculation that Ayala might fill in for Lee, but it wasn't a sure thing until he faced #8 Patrick McKee of Minnesota during a dual on January 7.
Ayala is currently 11-3 on the season with all his losses to McKee — a third-place finisher at the 2021 NCAA tournament. The young Hawkeye showed resolve at the Southern Scuffle after dropping a 6-5 match to his Golden Gopher rival in the semifinals. He came roaring back for third, including a 14-10 win over Missouri's #16 Noah Surtin in the consolation finals after falling behind 7-0.
The Fort Dodge native won't face the gauntlet that DeSanto will, but there are no easy matches the remainder of the season, either. Ayala is scheduled to face #7 Michael DeAugustino (Northwestern), #24 Justin Cardani (Illinois), #14 Malik Heinselman (Ohio State), #9 Drew Hildebrandt (Penn State), and #15 Eric Barnett (Wisconsin) before he faces #6 Trevor Mastrogiovanni during the Bout at the Ballpark.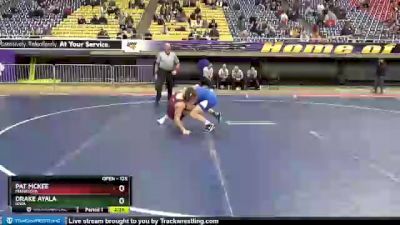 Unlock this video, live events, and more with a subscription!
Get Started
Already a subscriber? Log In
Who will flex in Texas?
You likely know that Oklahoma State sophomore AJ Ferrari likes to flex. It's the signature move of the returning 197-pound NCAA champion who plays to the crowd.
Remember, Ferrari is from Allen, Texas, which is less than an hour away from Arlington. That could mean an elaborate hometown celebration if he wins, but his formidable foe will have something to say about that.
Iowa's #3 Jacob Warner dropped a 3-2 quarterfinal match to #1 Ferrari during last year's NCAA tournament before wrestling back for fourth. A Warner win would be an ideal way for the Hawkeye senior to flex on Ferrari in Texas.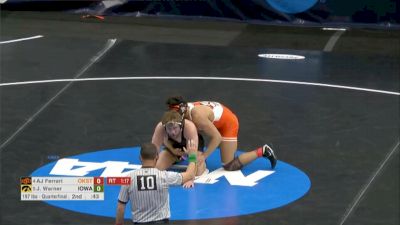 Unlock this video, live events, and more with a subscription!
Get Started
Already a subscriber? Log In
Is Oklahoma State a title contender this season?
It's been over 15 years since Oklahoma State won its last NCAA team title. That's the second-longest championship drought in program history.
This match-up will paint a picture of where Oklahoma State stands in the national landscape since Iowa still has the depth to win the NCAA tournament despite Lee's absence. The Cowboys have top-end firepower with Fix and Ferrari but the remaining eight wrestlers will determine how far they will go. Oklahoma State's toughest test of the season could be a predictor of what's to come in March.
Does Texas support wrestling?
Iowa and Oklahoma State will bring a contingent of loyal fans to this dual. Will Texas have the same enthusiasm?
The Lone Star state doesn't have an NCAA wrestling program of any kind. A successful event could lay the groundwork for more wrestling success within the state. A big turnout will make a bigger statement than the outcome of the dual.
Bout at the Ballpark (projected match-ups) - February 12, 2022
125: #11 Drake Ayala (Iowa) vs #6 Trevor Mastrogiovanni (OSU)
133: #3 Austin DeSanto (Iowa) vs #2 Daton Fix (OSU)
141: #2 Jaydin Eierman (Iowa) vs #24 Carter Young (OSU)
149: #13 Max Murin (Iowa) vs #17 Kaden Gfeller (OSU)
157: #11 Kaleb Young (Iowa) vs #12 Wyatt Sheets (OSU)
165: #4 Alex Marinelli (Iowa) vs #6 Travis Wittlake (OSU)
174: #2 Michael Kemerer (Iowa) vs #8 Dustin Plott (OSU)
184: #19 Abe Assad (Iowa) vs #7 Dakota Geer (OSU)
197: #3 Jacob Warner (Iowa) vs #1 AJ Ferrari (OSU)
285: #5 Anthony Cassioppi (Iowa) vs Luke Surber (OSU)
Grapple on the Gridiron - November 14, 2015
Iowa 18, Oklahoma State 16
125: Thomas Gilman (Iowa) maj. dec. Eddie Klimara (OSU), 9-1; 4-0
133: Cory Clark (Iowa) dec. Gary Wayne Harding (OSU), 8-2; 7-0
141: Dean Heil (OSU) dec. Logan Ryan (Iowa), 7-1; 7-3
149: Brandon Sorensen (Iowa) dec. Anthony Collica (OSU), 6-1; 10-3
157: Chance Marsteller (OSU) dec. Edwin Cooper (Iowa), 14-11; 10-6
165 Alex Dieringer (OSU) maj. dec. Patrick Rhoads (Iowa), 17-5; 10-10
174 Kyle Crutchmer (OSU) dec. Alex Meyer (Iowa), 11-10; 10-13
184 Sam Brooks (Iowa) tech. fall Jordan Rogers (OSU), 17-2 in 4:09; 15-13
197 Nathan Burak (I) dec. Nolan Boyd (OSU), 5-3; 18-13
285 Austin Marsden (OSU) dec. Sam Stoll (I), 6-1; 18-16