2022 Southern Scuffle
Southern Scuffle Lightweight Preview & Predictions
Southern Scuffle Lightweight Preview & Predictions
A breakdown and predictions of 125, 133, and 141 lbs weight classes at the 2022 Southern Scuffle.
Dec 29, 2021
by JD Rader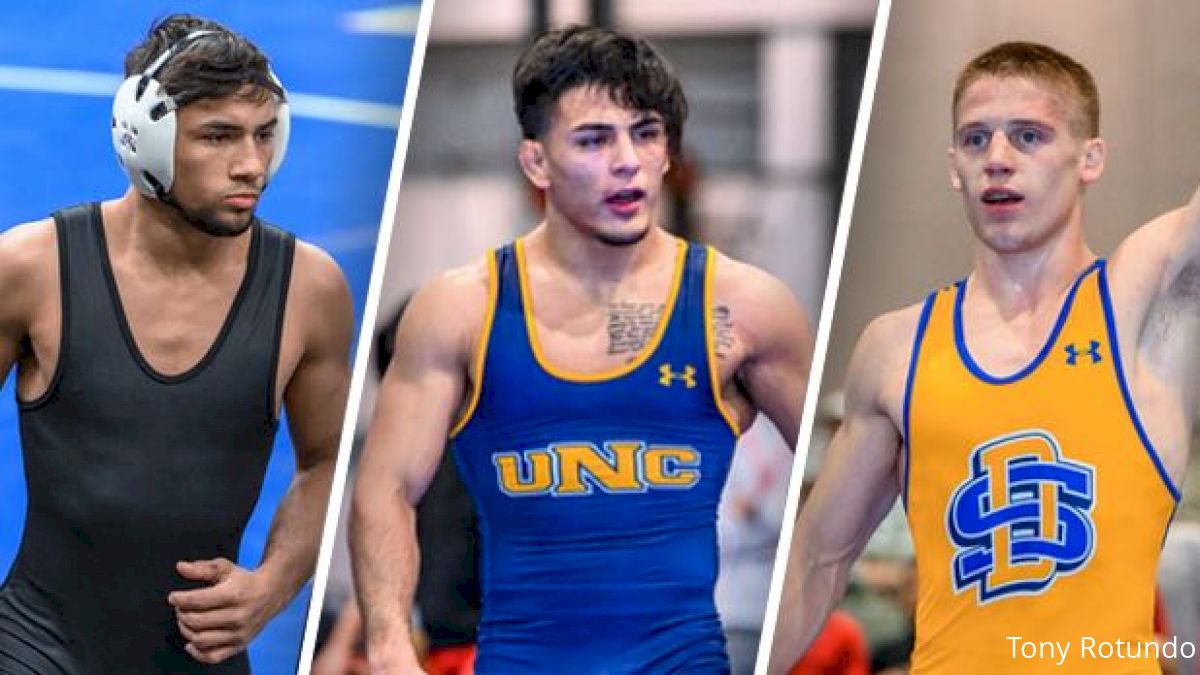 The Southern Scuffle is always an exciting way to kickoff the start of the year and it will all start with the lightweights. With 20 ranked wrestlers in the bottom three weights alone, Southern Scuffle will be must watch TV for all college wrestling fans.
Below is a breakdown of each weight with some names to watch as well as my picks.
125 lbs
Title Contenders
Two returning All-Americans, Pat McKee and Killian Cardinale, headline the lightest weightclass. McKee took 3rd while Cardinale finished in 7th. Despite their finishes last season, Cardinale will go into the tournament with the higher ranking. McKee is susceptible to up and down wild performances, but when he's wrestling his best, he's lights out. The Gopher's x-factor is his pinning capabilities.
Watch Pat McKee take out Iowa's Drake Ayala earlier this season below.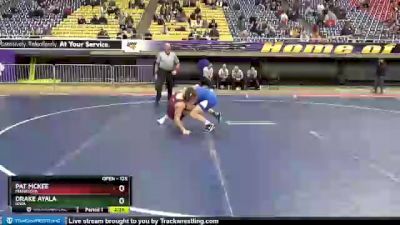 Unlock this video, live events, and more with a subscription!
Get Started
Already a subscriber? Log In
With only two matches so far on the year, Cardinale is going into to Chattanooga relatively untested on the season. However, at NCAAs last season, Cardinale netted a 9-4 win over another competitor who will be pushing for the top spot here as well: Noah Surtin. After dropping an early match to Brody Teske, the Missouri sophomore got back on track at the Collegiate Duals last week with big wins over Jakob Camacho and Jaret Lane.
One more returning national qualifier, who could push for the top spot here is Columbia's Joe Manchio. The Ivy Leagier qualified for NCAAs in 2020 and is currently ranked #17 with a 5-2 record.
Other Contenders
Fabian Gutierrez of Chattanooga and Tristan Daugherty of Buffalo are the only other ranked wrestlers in this weight class. Gutierrez will have the obvious advantage of wrestling on his home turf.
Oklahoma State isn't bringing their starters, but most of their backups are pretty darn tough. Exhibit A is Reece Witcraft. The Cowboy was a national qualifier at 133 two seasons ago as a true freshman but has been forced to the bench with the return of Daton Fix and the introduction of Trevor Mastrogiovanni.
Sleepers and Landmines
Two of the young guys to watch at the weight both come from Virginia Tech: Eddie Ventresca and Cooper Flynn. Both were highly touted recruits out of high school (Ventresca in 2019 and Flynn in 2020) but are currently behind All-American Sam Latona in the Hokie lineup. Ventresca beat Flynn 4-2 in the wrestle-off at the beginning of the season.
Brett Unger and Spencer Moore are two more true freshmen who could do some damage.
Full Entries
#7 Killian Cardinale, West Virginia
#9 Pat McKee, Minnesota
#13 Noah Surtin, Missouri
#17 Joe Manchio, Columbia
#21 Fabian Gutierrez, Chattanooga
HM Tristan Daugherty, Buffalo
Reece Witcraft, Oklahoma St
Greg Diakomihalis, Cornell
Cooper Flynn, Virginia Tech
Tanner Jordan, South Dakota St
Jace Koelzer, Northern Colorado
Gary Steen, Penn State
Eddie Ventresca, Virginia Tech
Logan Agin, Duke
Logan Ashton, Stanford
Chad Bellis, Appalachian State
Braxton Brown, Maryland
Jayden Carson, UA- Little Rock
Aedyn Concepcion, Gardner-Webb
Sammy Congleton, VMI
Alex Cottey, Chattanooga
Jeremiah Derby, North Carolina
Eddie Flores, CSU-Bakersfield
Malik Hardy, The Citadel
Ryan Henningson, North Dakota St
James Joplin, North Carolina St
Tyler Klinsky, Rider
Tristan Lujan, Michigan State
Nieko Malone, Rider
Antonio Mininno, Drexel
Spencer Moore, North Carolina
Ty Naquin, Duke
Reid Nelson, UA- Little Rock
Julian Saldana, Michigan State
Josh Sarpy, UA- Little Rock
Jace Schafer, West Virginia
Baylor Shunk, Penn State
Caleb Smith, Appalachian State
Zachary Spence, Maryland
Brett Unger, Spartan Combat RTC
Jordi White, The Citadel
JD's Predictions
McKee, Minnesota 2) Cardinale, WVU 3) Surtin, Mizz 4) Witcraft, OK State
---
133 lbs
Title Contenders
Rayvon Foley and Chance Rich are the safe bets to make the finals at 133. The FRL crew was split on Tuesday morning with their predictions as to who would win. Both wrestlers have just one loss on the season. Foley's came to Anthony Madrigal at the MSU Open and Rich fell to Devan Turner at Reno TOC. A win here would be either's biggest win of the season.
Other Contenders
The tier right below Foley and Rich is a big one that includes Jake Gilva, Jackson Disario, Kellyn March, Jarrett Trombley, Sean Carter, Dom Lajoie, Codi Russell, Kai Orine, Joe Heilman, and more. With wins already this season over Trombley and Connor Brown, I think this could be another great opportunity for Kai Orine to prove he deserves to be in the top-20 at 133 lbs.
Sleepers and Landmines
West Virginia true freshman Jordan Titus was the #25 overall recruit in the class of 2021. He's got an unreal Jonesy tile and was trained by/with MMA fighter MMA fighter Gregor Gillespie.
Watch Jodan Titus win a prestigious high school Ironman title below.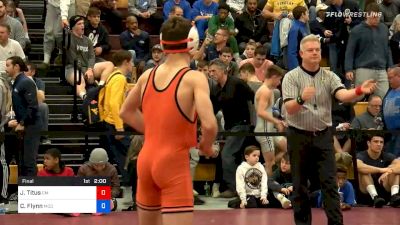 Unlock this video, live events, and more with a subscription!
Get Started
Already a subscriber? Log In
Full Entries
#13 Rayvon Foley, Michigan State
#17 Chance Rich, CSU-Bakersfield
#23 Jake Gliva, Minnesota
#24 Jackson Disario, Stanford
HM Kellyn March, North Dakota St
HM Jarrett Trombley, North Carolina St
Connor Brown, Missouri
Sean Carter, Appalachian State
Trey Crawford, Missouri
Joe Heilmann, North Carolina
Richie Koehler, Rider
Dom Lajoie, Cornell
Brandon Meredith, Penn State
Kai Orine, North Carolina St
Angelo Rini, Columbia
Trayton Anderson, South Dakota St
Blake Boarman, Chattanooga
Aidan Campbell, UA- Little Rock
Jaylen Carson, UA- Little Rock
Todd Carter, Gardner-Webb
Mason Clarke, Columbia
Jackson Cockrell, Maryland
Dominic DiTiullio, Gardner-Webb
Drake Doolittle, Duke
David Evans, Penn State
Jayden Gomez, UA- Little Rock
Kyle Gorant, Davidson
Caleb Gross, South Dakota St
Aaron Ibarra, CSU-Bakersfield
Jake Insko, Chattanooga
Dyson Kunz, Northern Colorado
Garett Lautzenheiser, West Virginia
Phillip Moomey, Cornell
Ethan Oakley, Appalachian State
Brayden Palmer, Chattanooga
Jacob Perez-Eli, Rider
Deon Pleasant, Drexel
Michael Rapuano, George Mason
Jake Rotunda, The Citadel
Codi Russell, Appalachian State
King Sandoval, Maryland
Derek Spann, Buffalo
Jordan Titus, West Virginia
JD's Predictions
Rich, CSUB 2) Foley, MSU 3) Orine, NC State 4) Carter, App State
---
141 lbs
Title Contenders
141 is an interesting weight with five legit wrestlers who could win the title. #6 in the country, Clay Carlson, is the odds-on-favorite to win. The SDSU junior isn't just undefeated this year. He won CKLV and made his way into thte top 20 of the Dan Hodge Trophy Award Rankings. Although Carlson won by fall in the CKLV finals over Andrew Alirez, he trailed 6-3 going into the 3rd. Don't count Alirez out just because he lost a couple of weeks ago. He's capable of winning.
Watch Clay Carlson and Andrew Alirez's exciting CKLV final below.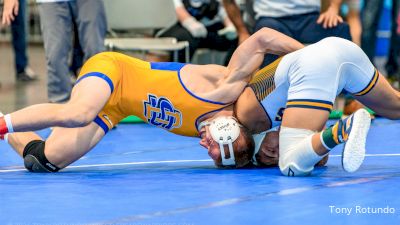 Unlock this video, live events, and more with a subscription!
Get Started
Already a subscriber? Log In
Similar to the Carlson - Alirez situation, Alirez beat Alan Hart in a close one that's result could be flipped. The match went into OT without a takedown before Alirez was able to prevail.
Back down at 141 for the first time in four seasons, Kizhan Clarke has looked tough this year. The Tar Heel is undefeated on the year with wins over Chad Red, Joey Zargo, and Jordan Decatur.
A bit of wild card at the weight is Real Woods. Last season Woods only competed at the Pac 12 Championships, NCAA Championships, and two extra matches where he 6-3 with a loss to Clay Carlson. However, Stanford announcing they were going to drop the program and everything that surrounded that led to Woods clearly not wrestling his best. The year before Woods only had one loss going into NCAAs before they were canceled. In fact, he won the 141 Southern Scuffle title. If he's wrestling his best, he's capable of repeating as champion.
Other Contenders
Matt Kazimir, Collin Gerardi, and Angelo Martinoni round out the wrestlers currently in the top-33, but the real other name to watch here in my opinion is Lachlan McNei. The North Carolina freshman was the #5 overall recruit in the class of 2020. He's undefeated on the year with a win over Ryan Jack.
Watch Lachlan McNeil beat Victor Voinovich for the 2019 Ironman title below.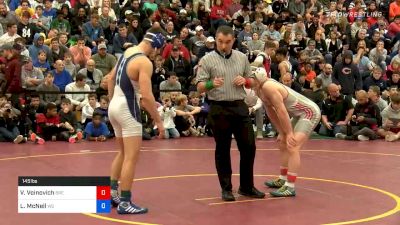 Unlock this video, live events, and more with a subscription!
Get Started
Already a subscriber? Log In
Sleepers and Landmines
141 is a top-heavy and deep weight, but there are three guys in particular that you don't want to see close to you on the bracket, and they all go to Cornell. Cole Handolvic has been the starter for the Big Red this season. Despite his rough record at this point in the season, Handolvic is capable of big wins. And speaking of being capable of big wins, say what you want about what Josh Saunders has done in college career, the Junior World Team member is still capable of big wins. The third Cornell guy at this weight was a 4X Colorado state champion and the #28 overall 2021 recruit.
Full Entries
#6 Clay Carlson, South Dakota St
#7 Andrew Alirez, Northern Colorado
#11 Kizhan Clarke, North Carolina
#12 Allan Hart, Missouri
#13 Real Woods, Stanford
#20 Matt Kazimir, Columbia
HM Collin Gerardi, Virginia Tech
HM Angelo Martinoni, CSU-Bakersfield
Dusty Hone, Oklahoma St
Lachlan McNeil, North Carolina
Anthony Brito, Appalachian State
Vince Cornella, Spartan Combat RTC
Dylan Droegemueller, North Dakota St
Wil Guida, North Carolina
Cole Handlovic, Cornell
Quinn Kinner, Rider
Ethen Miller, Maryland
Jason Miranda, Stanford
Marcos Polanco, Minnesota
Caleb Rea, West Virginia
Josh Saunders, Cornell
Franco Valdes, Chattanooga
Conner Ward, UA- Little Rock
Danny Bertoni, Maryland
Matthew Bianchi, UA- Little Rock
Kaden Cassidy, George Mason
Gavin Damasco, Davidson
Jared Donahue, Drexel
Ben Freeman, Buffalo
Jason Garay, The Citadel
Heath Gonyer, Appalachian State
Jordan Hamdan, Michigan State
Freddy Junko, VMI
Hunter Lewis, North Carolina St
Trevon Majette, Gardner-Webb
Jack Marlow, Buffalo
Caden McCrary, North Carolina
Bryan Miraglia, Rider
Shawn Nonaka, George Mason
Jarred Papcsy, North Carolina St
Kyle Rowan, Stanford
Patrick Rowland, Duke
Matt Santos, Michigan State
Jack Whitmire, The Citadel
JD's Predictions
Carlson, SDSU 2) Alirez, UNC 3) Woods, Stanford 4) Hart, Mizz