2021 Powerade Wrestling Tournament
Powerade Seeds Set Dream-Matchups
Powerade Seeds Set Dream-Matchups
Powerade is one of the deepest high school tournaments of the year. Check out who's headed to Western PA.
Dec 27, 2021
by David Bray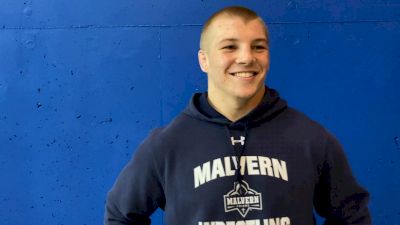 Unlock this video, live events, and more with a subscription!
Get Started
Already a subscriber? Log In
The 2021 Powerade might be the deepest one we've seen. The seeds are out which set the stage for some incredible matchups including a potential Who's Number One rematch at 172 lbs between Gabe Arnold and Rocco Welsh, the return of #1 Nic Bouzakis, and nearly 50 top-20 ranked wrestlers. The most anticipated matchup will come at 285 lbs where we could see #1 Nick Feldman vs #2 Jim Mullen who's fresh off the football field. Check out the full field below.
106 lbs
1 - #3 Cooper Hilton, Wyoming Seminary (9th)
2 - #18 Louie Gill, Hickory (10th)
3 - #4 Anthony Mutarelli, Malvern Prep (9th)
4 - Smith Ayden, Notre Dame GP (10th)
5 - #16 Deion Johnson, Homewood Flossmoor-IL (11th)
6 - Jared Johnston, Moeller-OH (10th)
7 - Ty Kapusta, Franklin Regional (10th)
8 - Eren Sement, Council Rock North (9th)
9 - Luke Willochell, Latrobe (9th)
10 - Brian Melamud, Bergen Catholic-NJ (10th)
11 - Carter Beck, Saegertown (9th)
12 - Jack Dinwiddie, Wadsworth-OH (9th)
Seth Kolb, Benton (9th)
Daniel Accomando, Blair Academy-NJ (9th)
Parker Sentipal, Burgettstown (10th)
Tanner Mizenko, Canon-McMillan (10th)
Gabe Lewis, Cedar Cliff (10th)
Easton Mull, Chestnut Ridge (9th)
Chase Quenault, Delbarton-NJ (9th)
Keegan Oler, Erie Prep (9th)
Isaiah Shilcosky, Forest Hills (10th)
Andrea Przybycien, Fort LeBoeuf (12th)
Tanner Trageser, Hempfield (10th)
Liam Clark, Howell-NJ (10th)
Louis Malave, Manheim Twp. (10th)
Ryan Aguire, Montoursville (9th)
Ejiro Montoya, Mt. Lebanon (10th)
Joseph Longhi, Mt. Pleasant (10th)
Casey Walker, North Allegheny (10th)
Hayden Burgard, Northern York (9th)
Gannon Conboy, Norwin (9th)
Mackiah Claudio, Parkersburg South-WV (10th)
Draven Hanford, Penn Trafford (11th)
Tanner Epling, Point Pleasant-WV (10th)
Brayden Ranalli, Reynolds (9th)
Connor Smith, Seneca Valley (10th)
Adam Butler, St. Edward-OH (9th)
Vincent Paino, St. Joseph Regional-NJ (9th)
Johnny Coates, State College (9th)
Mickey Horne, Trinity (10th)
Cade Stern, West Allegheny (10th)
Jack Heller, Williamsport (10th)
113 lbs
1 - #3 Luke Lilledahl, Wyoming Seminary (10th)
2 - #6 Leo Deluca, Blair Academy-NJ (9th)
3 - HM Tyler Chappell, Seneca Valley (11th)
4 - HM Branden Wentzel, Montoursville (11th)
5 - HM Cael Nasdeo, Williamsport (11th)
6 - HM Wyatt Richter, St. Edward-OH (12th)
7 - HM Cooper Hornack, Burrell (10th)
8 - #14 Thomas Link, Malvern Prep (11th)
9 - Xavier Ortega, Howell-NJ (9th)
10 - Hunter Robinson, Saegertown (12th)
11 - Brandon Dami, Canon-McMillan (11th)
12 - Ky Szewczyk, Waynesburg (10th)
Cole Rooker, Benton (9th)
Chris Nucifora, Bergen Catholic-NJ (10th)
Michael Beutler, Bishop McDevitt (11th)
Keegan Zeigler, Cedar Cliff (9th)
Clayton Foster, Central Mountain (12th)
Brady Joling, Chartiers Valley (11th)
Brock Holderbaum, Chestnut Ridge (11th)
Evan Petrovich, Connellsville (9th)
Tony Burke, Council Rock North (12th)
Gauge Botero, Faith Christian Academy (9th)
Brevin Michuk, Forest Hills (12th)
Matt Salmon, Fort LeBoeuf (10th)
Nico Sarnic, Franklin Regional (9th)
Seth Haller, Frazier (10th)
Noah Ortiz, Great Bridge-VA (12th)
Owen Caracciolo, Hempfield (10th)
Dylan O'Brien, Hickory (9th)
Leo Joseph, Latrobe (9th)
William Shipley, Mt. Pleasant (11th)
Will Bentrim, North Allegheny (10th)
Dylan Horner, Northern York (9th)
Carson Handra, Norwin (12th)
Cooper Feltman, Notre Dame GP (9th)
Gavin Ellwood, Penn Trafford (10th)
Shane Simpson, Pine Richland (12th)
Nathan Wood, Point Pleasant-WV (10th)
Jack Kazalas, Quaker Valley (10th)
Logan Hammerschmidt, Reynolds (11th)
Nathan Gipson, Riverbend-VA (11th)
Jimmy Sloan, St. Joseph Regional-NJ (9th)
Christian Osborne, St. Vincent-St Mary-OH (10th)
TJ Allison, Trinity (9th)
Caiden Harbert, West Allegheny (10th)
Zachary Dellinger, Williamsville North-NY (12th)
120 lbs
1 - #1 Marc-Anthony McGowan, Blair Academy-NJ (11th)
2 - #11 Vinny Kilkeary, Latrobe (11th)
3 - HM Kamdyn Williams, Manheim Twp. (10th)
4 - HM Jack Consiglio, Malvern Prep (10th)
5 - Troy Hohman, Penn Trafford (12th)
6 - HM Jaxon Joy, Wadsworth-OH (10th)
7 - Joseph Simon, Waynesburg (10th)
8 - Gavin Caprella, Lima Central Catholic-OH (12th)
9 - Max Martin, Great Bridge-VA (12th)
10 - Adam Schweitzer, Notre Dame GP (12th)
11 - Chase Burke, Benton (11th)
12 - Derek Keen, Central Mountain (12th)
Noah Kochman, Bergen Catholic-NJ (10th)
Valor Leynes, Bishop McDevitt (12th)
RJ Bucknor, Bullis-MD (9th)
Dylan Slovick, Burgettstown (10th)
Calio Zanella, Burrell (9th)
Jacob Houpt, Canon-McMillan (12th)
Zachary Cutshall, Cedar Cliff (10th)
Gavin Novak, Chartiers Valley (12th)
Aaron Ickes, Chestnut Ridge (9th)
Jacob Layton, Connellsville (11th)
Chase Napeloni, Delbarton-NJ (10th)
Xavier Dombkowski, Erie Prep (9th)
Jake Bennett, Fort LeBoeuf (10th)
Darren Deriggi, Franklin Regional (9th)
Tyler Clark, Frazier (10th)
Logan Williams, Hempfield (10th)
Timmy Krivosh, Hickory (10th)
Sebastian Ortega, Howell-NJ (10th)
Colin Bartley, Laurel (11th)
Liam Hein, Mars (9th)
Graham Mercurio, Moeller-OH (10th)
David Kennedy, Montoursville (9th)
Grant Elder, Mt. Lebanon (10th)
Sean Cain, Mt. Pleasant (11th)
Sam Horton, North Allegheny (11th)
Rocco Fratelli, Northern York (10th)
Luke Passarelli, Norwin (12th)
Brent Bosley, Parkersburg South-WV (11th)
Dominic Ferraro, Pine Richland (9th)
Conner Blessing, Point Pleasant-WV (10th)
Logan Richey, Quaker Valley (11th)
Chase Bell, Reynolds (10th)
Gregory Upperman, Riverbend-VA (12th)
Owen Hershelman, Saegertown (12th)
Kade Brown, St. Edward-OH (10th)
Donny Almeyda, St. Joseph Regional-NJ (9th)
Asher Cunningham, State College (9th)
Matthew Pfeffer, West Allegheny (11th)
Luke Segraves, Williamsport (11th)
Christian Fretwell, Wyoming Seminary (9th)
126 lbs
1 - #5 Vincent Robinson, Homewood Flossmoor-IL (11th)
2 - HM Jake Van Dee, Erie Prep (12th)
3 - #9 Dalton Perry, Central Mountain (9th)
4 - #15 Nick O'Neill, Malvern Prep (10th)
5 - Dylan Coy, North Allegheny (12th)
6 - #20 Matty Lopes, Blair Academy-NJ (10th)
7 - HM Maddox Shaw, Thomas Jefferson (9th)
8 - HM Ryan Bennett, St. Edward-OH (10th)
9 - Joe Manno, St. Joseph Regional-NJ (12th)
10 - JoJo Przybycien, Fort LeBoeuf (10th)
11 - Brady Roberts, Parkersburg South-WV (11th)
12 - Andrew Binni, Canon-McMillan (10th)
Dylan Granahan, Benton (11th)
Aidan Wallace, Bergen Catholic-NJ (11th)
Devon Magro, Bishop McCort (9th)
Huntre Wagner, Bishop McDevitt (9th)
Joseph Couch, Bullis-MD (12th)
Gaven Suica, Burgettstown (10th)
Gunner Heffelfinger, Cedar Cliff (12th)
Gavin Taylor, Chartiers Valley (9th)
Kobi Burkett, Chestnut Ridge (11th)
Gabriel Ruggieri, Connellsville (11th)
Anthony D'Antuono, Council Rock North (9th)
John Hager, Delbarton-NJ (11th)
Chase Hontz, Faith Christian Academy (9th)
Jake Thomas, Frazier (12th)
Caleb Neal, Great Bridge-VA (9th)
Ethan Lebin, Hempfield (11th)
Cody Miller, Hickory (12th)
Sawyer Ostroff, Howell-NJ (10th)
Ryan Klingensmith, Kiski Area (11th)
Jacob Braun, Latrobe (10th)
Josh Hillard, Manheim Twp. (12th)
Billy Dekraker, McDonogh-MD (10th)
London Murphy, Moeller-OH (9th)
Cole Johnson, Montoursville (11th)
Franco Busalacchi, Mt. Lebanon (9th)
Duncan Blose, Mt. Pleasant (10th)
Declan Basinger, Northern York (9th)
Gabriel Conboy, Norwin (11th)
Jacob Wehr, Notre Dame GP (12th)
Hayden Coy, Penn Trafford (10th)
Anthony Ferraro, Pine Richland (11th)
Gunner Andrick, Point Pleasant-WV (9th)
Brandon Krul, Quaker Valley (11th)
Bryce Skinner, St. Vincent-St Mary-OH (11th)
Tom Hill, State College (11th)
Mason Brugh, Wadsworth-OH (12th)
Zander Phatouros, Waynesburg (12th)
Chase Schepis, West Allegheny (10th)
Devon Harris, Williamsport (10th)
Vince Bouzakis, Wyoming Seminary (9th)
132 lbs
1 - #1 Nic Bouzakis, Wyoming Seminary (12th)
2 - #7 Mac Church, Waynesburg (11th)
3 - #3 Cameron Catrabone, Williamsville North-NY (10th)
4 - #15 Tyler Vazquez, Delbarton-NJ (11th)
5 - #18 Spencer Barnhart, Malvern Prep (11th)
6 - HM Brandan Chletsos, Notre Dame GP (12th)
7 - Chad Ozias, Connellsville (12th)
8 - HM Ibrahim Ahmed, Blair Academy-NJ (12th)
9 - Calan Bollman, Chestnut Ridge (11th)
10 - Ethan Kolb, Benton (11th)
11 - Braden Bower, Williamsport (12th)
12 - Carson Main, Riverbend-VA (10th)
Ryan Ford, Bergen Catholic-NJ (10th)
Tillman Artell, Bishop McDevitt (10th)
Tallion Elliott, Bullis-MD (12th)
Joey Sentipal, Burgettstown (11th)
Niko Ferra, Burrell (11th)
Mikhail Krenzelak, Canon-McMillan (9th)
Kyle Zeigler, Cedar Cliff (9th)
Luke Simcox, Central Mountain (10th)
Ashton Sadowski, Chartiers Valley (12th)
Bruce Pineda, Council Rock North (9th)
Sam Staab, Erie Prep (11th)
Cody Wagner, Faith Christian Academy (10th)
TJ Carroll, Forest Hills (10th)
Jackson Bowers, Fort LeBoeuf (10th)
Ben Pekarcik, Franklin Regional (12th)
Adam Kortina, Frazier (10th)
Myrin Nixon, Great Bridge-VA (9th)
Eli Carr, Hempfield (10th)
Kieren Bruen, Howell-NJ (11th)
Lucio Angelicchio, Latrobe (12th)
Tom Hetzer, Laurel (11th)
Garrett Witwer, Manheim Twp. (10th)
Enzo Bell, McDonogh-MD (11th)
David Gelman, Moeller-OH (12th)
Blaize Vogel, Montoursville (9th)
Joe Gamble, Mt. Lebanon (10th)
Greg Shaulis, Mt. Pleasant (10th)
Nathan Monteparte, North Allegheny (11th)
Kyle Haverstick, Northern York (11th)
Conner Henning, Norwin (12th)
Ryan Martin, Parkersburg South-WV (11th)
Boaz Chishko, Penn Trafford (11th)
Quinn Foster, Pine Richland (9th)
Ciah Nutter, Point Pleasant-WV (10th)
Louie DeJulia, Reynolds (9th)
Nolan Hughes, Saegertown (9th)
Teagan Leighty, Seneca Valley (11th)
Jared Golberg, St. Edward-OH (9th)
Mateo Sgambellone, St. Joseph Regional-NJ (11th)
Braden Dunlap, St. Vincent-St Mary-OH (9th)
Blake Reihner, Trinity (10th)
Kaden Mellon, Wadsworth-OH (10th)
Luke Potts, West Allegheny (12th)
138 lbs
1 - HM Briar Priest, Hempfield (12th)
2 - HM Alessio Perentin, Delbarton-NJ (9th)
3 - HM Alex Almeyda, St. Joseph Regional-NJ (12th)
4 - #12 Paul Ognissanti, Blair Academy-NJ (10th)
5 - HM Joey Cangro, Bergen Catholic-NJ (12th)
6 - #14 Pierson Manville, State College (10th)
7 - HM Colton Stoneking, Waynesburg (12th)
8 - Connor Saylor, Hickory (11th)
9 - Elliot Alessia, St. Vincent-St Mary-OH (12th)
10 - Jamison Poklembo, Mt. Pleasant (10th)
11 - Aliazer Alicea, Manheim Twp. (12th)
12 - HM Kai Owen, Wyoming Seminary (12th)
Caden Temple, Benton (12th)
Jordan Butler, Bishop McCort (10th)
Sepanta Ahanj-Elias, Bullis-MD (9th)
Rudy Brown, Burgettstown (10th)
Isaac Lacinksi, Burrell (9th)
Josiah Gardner, Canon-McMillan (10th)
Aidan Bachman, Cedar Cliff (12th)
Taylor Weaver, Central Mountain (12th)
Chase Dalbon, Chartiers Valley (11th)
Mason Weyant, Chestnut Ridge (10th)
Lonzy Vielma, Connellsville (9th)
Ethen Mercado, Council Rock North (12th)
Ian Irvin, Erie Prep (10-th)
Max Stein, Faith Christian Academy (9th)
Easton Toth, Forest Hills (12th)
Brody Beers, Fort LeBoeuf (9th)
Nathan Stone, Franklin Regional (11th)
Aaron Turner, Great Bridge-VA (11th)
Jermaine Butler, Homewood Flossmoor-IL (11th)
Giovanni Scafidi, Howell-NJ (10th)
Logan Bechtold, Kiski Area (11th)
Lucas Braun, Latrobe (10th)
Logan Swaw, Lockport-IL (11th)
Sp Odonnell, Malvern Prep (11th)
Connor Bollinger, McDonogh-MD (11th)
Stone Busler, Moeller-OH (10th)
Owen Kleinman, Montoursville (9th)
Sam Mago, Mt. Lebanon (12th)
Jason Flener, North Allegheny (11th)
Joel McClintock, Northern York (11th)
Evan Gill, Norwin (10th)
Bryson Vaughn, Notre Dame GP (11th)
Trent Jones, Parkersburg South-WV (11th)
Brett Hampton, Penn Trafford (11th)
Rowan Foster, Pine Richland (9th)
Mackandle Freeman, Point Pleasant-WV (12th)
Tino Gentile, Reynolds (11th)
Brendan Rassmussen, Riverbend-VA (11th)
Greg Kiser, Saegertown (9th)
Bradley Eaton, St. Edward-OH (9th)
Bode Marlow, Thomas Jefferson (9th)
Andrew Fedorchak, Trinity (12th)
David Shue, Wadsworth-OH (12th)
JT Hollyfield, West Allegheny (12th)
Gavin Reed, Williamsport (10th)
145 lbs
1 - #4 Meyer Shapiro, Wyoming Seminary (11th)
2 - HM Finn Solomon, Franklin Regional (12th)
3 - #18 Cross Wasilewski, Delbarton-NJ (11th)
4 - HM Reed Fullmer, Malvern Prep (11th)
5 - Riley Bower, Williamsport (12th)
6 - Keegan Roberson, Lockport-IL (12th)
7 - Lucas Kapusta, Hempfield (11th)
8 - Pierce Taylor, Archbishop McNicholas-OH (12th)
9 - Eric Alderfer, Faith Christian Academy (12th)
10 - HM Ty Watters, West Allegheny (11th)
11 - Luke Geibig, Mt. Pleasant (12th)
12 - Chris Bacchioni, Bergen Catholic-NJ (11th)
Dominic Granahan, Benton (10th)
Jakob Gilfoil, Bishop McDevitt (11th)
#20 William Henckel, Blair Academy-NJ (9th)
Thomas Bentivoglio, Bullis-MD (12th)
Hunter Guiddy, Burgettstown (12th)
Shawn Szymanski, Burrell (112th)
Tyler Soule, Canon-McMillan (12th)
Kurt Schaeffer, Cedar Cliff (12th)
Gino Serafini, Central Mountain (11th)
Joseph Kochin, Chartiers Valley (11th)
Colton Bollman, Chestnut Ridge (12th)
Chad Jesko, Connellsville (11th)
Ivan Galarza, Council Rock North (9th)
Steffen Lynch, Erie Prep (11th)
Chance Gorzelsky, Forest Hills (10th)
Gabe Keffer, Fort LeBoeuf (10th)
Ryan Celaschi, Frazier (9th)
Sean Patrick, Great Bridge-VA (9thth)
Jaydon Robinson, Homewood Flossmoor-IL (10th)
Ethan Connor, Kiski Area (12th)
Bradan Bronson, Latrobe (9th)
Charles Krepp, Laurel (11th)
Brennan Zeyak, Manheim Twp. (10th)
Cooper Wolling, Mt. Lebanon (9th)
Jaden Cullens, North Allegheny (11th)
Timmy Johnson, Northern York (12th)
Nate Campbell, Norwin (10th)
Keegan Ramsay, Notre Dame GP (9th)
Kyle Wheeler, Parkersburg South-WV (11th)
Ethan Cox, Penn Trafford (11th)
Mark Paluselli, Pine Richland (10th)
Justin Bartee, Point Pleasant-WV (12th)
Kane Kettering, Reynolds (12th)
Zachary Turner, Riverbend-VA (11th)
Jacob Eubanks, Seneca Valley (11th)
Bobby Hopkins, St. Edward-OH (10th)
Alex Naddeo, St. Joseph Regional-NJ (11th)
Brady Fitz, Thomas Jefferson (10th)
Andrew Gonzales, Trinity (12th)
Nick Humphrys, Wadsworth-OH (10th)
Daniel Huffman, Waynesburg (10th)
152 lbs
1 - #3 Jackson Arrington, Forest Hills (12th)
2 - #6 Joseph Sealey, Wyoming Seminary (10th)
3 - #7 Andrew Troczynski, Delbarton-NJ (12th)
4 - #9 Richard Fedalen, McDonogh-MD (12th)
5 - #16 Derek Raike, Point Pleasant-WV (12th)
6 - Chase Kranitz, Norwin (12th)
7 - #5 Dylan Evans, Chartiers Valley (11th)
8 - HM Evan Maag, Notre Dame GP (12th)
9 - HM Christopher Earnest, Wadsworth-OH (11th)
10 - Jack Pletcher, Latrobe (12th)
11 - Nico Taddy, West Allegheny (11th)
12 - Kelin Laffey, Pine Richland (12th)
Evan Brokenshire, Benton (9th)
Eric Broadie, Bergen Catholic-NJ (11th)
Andrew Christie, Bishop McDevitt (11th)
Nick Kunstek, Blair Academy-NJ (10th)
Anthony Lancos, Burgettstown (12th)
Ashton Slavick, Canon-McMillan (12th)
Max Haas, Cedar Cliff (12th)
Griffin Walizer, Central Mountain (10th)
Trevor Weyandt, Chestnut Ridge (12th)
Ethan Ansell, Connellsville (11th)
Logan Atkinson, Council Rock North (10th)
Kaemen Smith, Erie Prep (12th)
Lincoln Hower, Faith Christian Academy (11th)
Conner McChesney, Fort LeBoeuf (10th)
Roman Colangelo, Franklin Regional (9th)
Caleb Chandler, Great Bridge-VA (12th)
Jayden Talbert, Hempfield (12th)
William Moore, Laurel (10th)
Nathan Rickards, Malvern Prep (10th)
Kaden Kemp, Manheim Twp. (9th)
Josiah Schans, Montoursville (11th)
Nick Busalacchi, Mt. Lebanon (12th)
Lucas Shaulis, Mt. Pleasant (12th)
Travis Stipetich, North Allegheny (10th)
Dylan Baum, Northern York (11th)
Braeden Hamilton, Parkersburg South-WV (11th)
Dominic Hartman, Penn Trafford (11th)
Camren Klenke, Reynolds (12th)
Lorenzo Coleman, Riverbend-VA (12th)
Gabe Jorda, Saegertown (9th)
Wayne Pirt, Seneca Valley (11th)
Ty Miller, St. Edward-OH (9th)
Frank DiBella, St. Joseph Regional-NJ (10th)
Mason Gruic, St. Vincent-St Mary-OH (11th)
Matt Herron, Thomas Jefferson (12th)
Jake Stephenson, Waynesburg (9th)
Carter Weaver, Williamsport (11th)
160 lbs
1 - HM Grant Mackay, Laurel (11th)
2 - #10 Lorenzo Norman, Blair Academy-NJ (11th)
3 - #12 Hunter Mays, Howell-NJ (12th)
4 - HM Nick Fea, Bergen Catholic-NJ (12th)
5 - HM Enzo Morlacci, Kiski Area (12th)
6 - HM Gage Wright, Parkersburg South-WV (10th)
7 - HM Jared Keslar, Connellsville (12th)
8 - Carter Gill, Hickory (12th)
9 - HM Holden Garcia, Notre Dame GP (11th)
10 - Roberto Padilla, St. Joseph Regional-NJ (12th)
11 - Shawn Taylor, West Allegheny (10th)
12 - Dom Federici, Wyoming Seminary (10th)
Nick Stevens, Benton (10th)
Collin Mimto, Bishop McDevitt (11th)
Ethan Rathmell, Bullis-MD (12th)
DJ Slovick, Burgettstown (12th)
Damian Barr, Burrell (12th)
GianMarco Ramos, Canon-McMillan (12th)
Matt Goodwin, Cedar Cliff (11th)
Tristan Probst, Central Mountain (12th)
Christopher Beatty, Chartiers Valley (12th)
Jack Moyer, Chestnut Ridge (12th)
Matt Romano, Council Rock North (10th)
Clay Mallory, Erie Prep (10th)
Luke Sugalski, Faith Christian Academy (9th)
Dustin Finn, Forest Hills (11th)
Jackson Duran, Fort LeBoeuf (12th)
Roman Sarnic, Franklin Regional (11th)
Ty Chittum, Great Bridge-VA (12th)
Connor Chillinsky, Hempfield (11th)
Wyatt Schmucker, Latrobe (11th)
Owen Quinn, Malvern Prep (12th)
Juan Colon, Manheim Twp. (12th)
Brad Hornback, Moeller-OH (12th)
Kayden Frame, Montoursville (12th)
Shabir Amin Sayed, Mt. Lebanon (12th)
Conor Johnson, Mt. Pleasant (12th)
Kellen Buggey, North Allegheny (9th)
Ethyn Stonesifer, Northern York (10th)
Luke Weyandt, Norwin (12th)
Wesley Stull, Penn Trafford (12th)
Jake Lukez, Pine Richland (11th)
Josh Woyan, Point Pleasant-WV (9th)
Justin Richey, Quaker Valley (12th)
Vito Gentile, Reynolds (9th)
Logan Eastman, Riverbend-VA (11th)
Garrick Jordan, Saegertown (11th)
Manuel Santos, Seneca Valley (12th)
JR Miller, St. Edward-OH (9th)
Calvin Gwinn, St. Vincent-St Mary-OH (11th)
Josh Hershbine, State College (12th)
Adam Gill, Trinity (12th)
Brenden Barlett, Wadsworth-OH (11th)
Nate Kirby, Waynesburg (12th)
Roman Morrone, Williamsport (12th)
172 lbs
1 - #1 Gabe Arnold, Wyoming Seminary (11th)
2 - #3 Rocco Welsh, Waynesburg (11th)
3 - #9 Luke Geog, St. Edward-OH (12th)
4 - #10 Danny Wask, Blair Academy-NJ (12th)
5 - #13 Rune Lawrence, Frazier (10th)
6 - #20 Vincent Lee, Delbarton-NJ (10th)
7 - #8 Brayden Thompson, Lockport-IL (11th)
8 - HM Michael Dellagatta, St. Joseph Regional-NJ (11th)
9 - Kurt Thompson, Moeller-OH (12th)
10 - HM Nolan Lear, Benton (12th)
11 - Luke Moore, Chestnut Ridge (12th)
12 - Matthew Furman, Canon-McMillan (11th)
Justin Onello, Bergen Catholic-NJ (11th)
Aaron Rodgers, Bishop McCort (10th)
Anthony Glessner, Bishop McDevitt (12th)
Jacob Noyes, Burgettstown (11th)
Nico Zanella, Burrell (10th)
Zack Little, Cedar Cliff (12th)
Rocco Serafini, Central Mountain (10th)
Khojiakbar Sultanov, Chartiers Valley (12th)
Hunter Claycomb, Connellsville (12th)
Pat Ayers, Council Rock North (11th)
Isaiah Harrick, Erie Prep (11th)
Caleb Sine, Faith Christian Academy (11th)
Ryan Welka, Fort LeBoeuf (10th)
Travis Hall, Franklin Regional (11tth)
Noah Lawrence, Great Bridge-VA (11th)
Daniel Beck, Hempfield (12th)
Ty Holland, Hickory (11th)
Romeo Williams, Homewood Flossmoor-IL (12th)
Sam Snyder, Latrobe (12th)
Brady Cooper, Laurel (11th)
Isaiah Wright, Malvern Prep (12th)
Kevin Olavarria, Manheim Twp. (10th)
Christian Scheller, Mars (12th)
Noah Onkst, McDonogh-MD (10th)
Isaac Cory, Montoursville (12th)
Aiden Beinhauer, Mt. Lebanon (11th)
Ty Hornick, Mt. Pleasant (10th)
Nick Caruso, North Allegheny (12th)
Cole Bartram, Northern York (10th)
Anthony Barle, Norwin (12th)
Garrett Tettemmer, Notre Dame GP (11th)
Robert Shockey, Parkersburg South-WV (10th)
Adam Hall, Penn Trafford (11th)
Angelo Samuels, Pine Richland (10th)
Ethan Marcum, Point Pleasant-WV (12th)
Mason Diemert, Quaker Valley (12th)
Jalen Wagner, Reynolds (11th)
Lennon Soaper, Riverbend-VA (11th)
Keenen Schaaf, Saegertown (12th)
Marshall Adamson, Seneca Valley (12th)
Ryan Price, St. Vincent-St Mary-OH (11th)
Braden Newby, State College (12th)
Nick Fedorchak, Trinity (10th)
Louie Schaefer, Wadsworth-OH (11th)
Seth Weese, West Allegheny (11th)
Ryan Dunlap, Williamsport (11th)
189 lbs
1 - #7 Mac Stout, Mt. Lebanon (12th)
2 - #6 Jude Correa, Wyoming Seminary (9th)
3 - HM Andrew Connolly, Malvern Prep (12th)
4 - Brian Finnerty, Thomas Jefferson (12th)
5 - HM Nick Olivieri, Delbarton-NJ (12th)
6 - Landon Caldwell, Saegertown (12th)
7 - Gabriel Stafford, Canon-McMillan (11th)
8 - Patrick Cutchember, Quaker Valley (12th)
9 - Jonathon Sanchez, Moeller-OH (12th)
10 - HM AJ Fricchione, Bergen Catholic-NJ (11th)
11 - Aydan Edwards, Parkersburg South-WV (12th)
12 - Dan Church, Fort LeBoeuf (11th)
Jake Bobersky, Benton (11th)
Kade Werner, Bishop McDevitt (11th)
Ike Schmidt, Blair Academy-NJ (12th)
Cole Clark, Burrell (12th)
Ben Myers, Cedar Cliff (10th)
Damien Galentine, Central Mountain (12th)
Nick Pruchnitzky, Chartiers Valley (10th)
Daniel Moore, Chestnut Ridge (12th)
George Shultz, Connellsville (12th)
Abdul Khan, Council Rock North (12th)
Kelyn Blossey, Erie Prep (12th)
Kory Marsalko, Forest Hills (10th)
Juliano Marion, Franklin Regional (10th)
Gage Rock, Frazier (12th)
Jared Williams, Great Bridge-VA (12th)
Coby Stepanik, Hempfield (12th)
Haku Watson-Castro, Homewood Flossmoor-IL (12th)
Donavin Harbison, Kiski Area (11th)
Chase Tinstman, Laurel (11th)
Jason Tu, Manheim Twp. (12th)
Gerard Johnson, McDonogh-MD (11th)
Nate Fisher, Montoursville (10th)
Jackson Hutter, Mt. Pleasant (10th)
Tyler Magorian, North Allegheny (10th)
London Manivong, Northern York (11th)
Aiden Yuscinsky, Norwin (11th)
Joey LaPenna, Notre Dame GP (10th)
Owen Ott, Penn Trafford (11th)
Cole Wilson, Pine Richland (10th)
Brayden Connolly, Point Pleasant-WV (12th)
Brayden McCloskey, Reynolds (11th)
Jacob Wright, Riverbend-VA (11th)
Jonny Slaper, St. Edward-OH (10th)
Chad Falcon, St. Joseph Regional-NJ (11th)
Jacob Heath, St. Vincent-St Mary-OH (9th)
Carter Weaverling, State College (11th)
Drew Cain, Trinity (12th)
Maverick Blackburn, Wadsworth-OH (12th)
Brody Evans, Waynesburg (11th)
Sebastian Robinson, Williamsport (12th)
215 lbs
1 - #5 TJ Stewart, Blair Academy-NJ (12th)
2 - #8 Dayton Pitzer, Mt. Pleasant (12th)
3 - #10 Jack Darrah, Wyoming Seminary (12th)
4 - #13 Andrew Blackburn-Forst, Lockport-IL (12th)
5 - HM Remy Brancato, Bergen Catholic-NJ (12th)
6 - Corey Boerio, Latrobe (11th)
7 - Carter Dilts, Kiski Area (12th)
8 - HM Eli Makel, Waynesburg (11th)
9 - Justin Thomas, Homewood Flossmoor-IL (12th)
10 - Joshua Sarasnick, Chartiers Valley (12th)
11 - Nick Pavlechko, State College (10th)
12 - Nathan Crispell, Benton (10th)
Lucas Lawler, Bishop McDevitt (9th)
Josh Ramey, Burgettstown (10th)
Luke Boylan, Burrell (9th)
Broxon Dean, Canon-McMillan (11th)
AJ SANDERS, Cedar Cliff (12th)
Micah Walizer, Central Mountain (12th)
Nick Presnell, Chestnut Ridge (11th)
Dennis Nichelson, Connellsville (12th)
Aden Roe, Council Rock North (11th)
Kirk Bearjar, Forest Hills (12th)
John Duran, Fort LeBoeuf (9th)
Christo Marion, Franklin Regional (12th)
Braeden Fluke, Great Bridge-VA (12th)
Eli Binakonski, Hempfield (11th)
Ryan DiMuccio, Laurel (11th)
Michael O'Hara, Manheim Twp. (12th)
Will Adkins, Moeller-OH (9th)
Cole Yonkin, Montoursville (10th)
Cooper Zentner, Mt. Lebanon (10th)
Aiden Buggey, North Allegheny (10th)
Corey Johnson, Northern York (10th)
Josh Page, Norwin (12th)
Jared Blobe, Notre Dame GP (11th)
Ayden Morris, Parkersburg South-WV (10th)
Scott Coy, Penn Trafford (12th)
Dante Cruz, Pine Richland (11th)
Dylan Keefer, Point Pleasant-WV (10th)
Jake Grasso, Riverbend-VA (12th)
Kai Mangold, Saegertown (9th)
Zach Delsanter, St. Edward-OH (11th)
Aiden Schlett, St. Joseph Regional-NJ (10th)
Dom Donatelli, Thomas Jefferson (10th)
Hunter Martin, Trinity (9th)
Richard Martsolf, West Allegheny (11th)
Charlie Lundy, Williamsport (12th)
285 lbs
1 - #1 Nick Feldman, Malvern Prep (12th)
2 - #2 Jim Mullen, St. Joseph Regional-NJ (11th)
3 - #14 Riley Robell, Bishop McDevitt (11th)
4 - Ty Banco, Trinity (11th)
5 - Leo Muzika, Faith Christian Academy (12th)
6 - HM Noah Tustin, Waynesburg (12th)
7 - HM Charles Crews, Williamsport (12th)
8 - Dominick Brogna, Bergen Catholic-NJ (12th)
9 - DJ Moehring, Wyoming Seminary (12th)
10 - Tyrese Washington, Manheim Twp. (12th)
11 - Aaron Ries, Wadsworth-OH (10th)
12 - Jacob Pressinger, Riverbend-VA (10th)
Andrew Wolfe, Benton (11th)
Archer Benedict, Blair Academy-NJ (12th)
Joseph Baronick, Burgettstown (10th)
Noah Livesay, Canon-McMillan (11th)
Hunter Garced, Cedar Cliff (12th)
Brayden Blackwell, Central Mountain (11th)
Matt Davis, Chestnut Ridge (11th)
Tyler Gallis, Connellsville (9th)
Caden Pustalek, Erie Prep (12th)
Dalton Gable, Forest Hills (12th)
Jack Sangl, Fort LeBoeuf (10th)
Quinton Nash, Great Bridge-VA (12th)
Dalton Bozich-Gockel, Hempfield (12th)
Nick Maule, Hickory (12th)
Amari Walker, Homewood Flossmoor-IL (12th)
Wyatt Held, Latrobe (11th)
Coltin Hill, Laurel (11th)
Riley Lefcakis, Mars (10th)
Lucas Stuerenberg, Moeller-OH (9th)
Gaven Farquharson, Montoursville (12th)
Ben Lloyd, Mt. Lebanon (9th)
Joseph Semelka, Mt. Pleasant (12th)
Joseph Booth, North Allegheny (10th)
Fred Hunter, Northern York (12th)
Grant Williams, Norwin (12th)
Mason Ludlow, Notre Dame GP (11th)
Eli Wheeler, Parkersburg South-WV (9th)
Joe Enick, Penn Trafford (11th)
Joey Schneck, Pine Richland (11th)
Kolton Weaver, Point Pleasant-WV (10th)
Mitchell Mason, Reynolds (12th)
Josh Perrine, Saegertown (12th)
Roman Royal, Seneca Valley (10th)
Chance Robinson, St. Edward-OH (12th)
Andy Vanscoy, St. Vincent-St Mary-OH (10th)
Shane Focht, State College (12th)
Logan Timko, Thomas Jefferson (12th)
Dom Vennare, West Allegheny (11th)