2021 US Marine Corps Junior and 16U National Championships
The Complete & Total 2021 Junior Freestyle Preview And Predictions Article
The Complete & Total 2021 Junior Freestyle Preview And Predictions Article
Everything you need to know before the Juniors get underway at Fargo including 100% accurate picks.
Jul 17, 2021
by JD Rader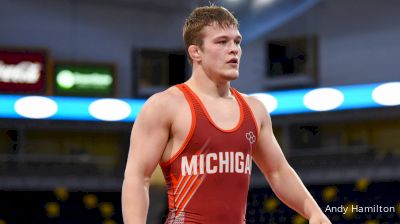 Unlock this video, live events, and more with a subscription!
Get Started
Already a subscriber? Log In
It's Fargo time baby! There's a whole lot to get into below, so I won't waste your time with a boring intro. I'm just going to remind you that USA Wrestling uses separation criteria as their way of seeding. So, don't freak out when brackets come out.
Separation Criteria for Junior Men's Freestyle and Greco-Roman Nationals
1. UWW Junior World placer in and out of style*
2. Junior/UWW Jr National champion in style OR UWW Cadet World placer in style
3. Cadet UWW World Placer out of style* OR Junior/UWW JR National placer 2-4 in style
4. 16U/UWW Cadet National Champion in style
5. Junior/UWW JR National placer 5-8 in style OR Junior/UWW JR National Champion out of style*
6. 16U/UWW Cadet National placer 2-4 in style
7. 16U/UWW Cadet National placer 5-8 in style OR 16U/UWW Cadet National Champion out of style*
8. Junior/UWW JR National placer 2-4 out of style*
9. Junior/UWW JR National placer 5-8 out of style* OR 16U/UWW Cadet National placer 2-4 out of style* OR Junior Folkstyle National Champion
10. Junior Regional Champion in style OR Junior Folkstyle National 2-4
100 lbs
100 lbs is lower than the lowest high school weight and this is the Junior division. Participation in this weight class has been declining for the past handful of years despite Fargo participation as a whole going up. There are only 16 athletes registered at this weight, and I haven't heard of most of them. Louisiana has the advantage, however, as they have three athletes registered. Maybe we will see a 16U bump up and take it.
Rader's Picks
Finals: Kaleb Ambrose over Zane Donley
---
106 lbs
This is Christian Forbes weight to lose imo. He'll be the only nationally ranked wrestler in the bracket. A tall and lanky 106-pounder from Broken Arrow, Forbes has already had success on the national level. At Fargo 2019, Forbes placed 5th at 16U 100 with a 12-2 win over Isiac Paulino, who will be one of the other main contenders at the weight. At Junior Duals last month, Forbes went undefeated in freestyle with a 10-0 win over Brandon Morvari.
Names To Watch
#4 Christian Forbes, OK
Isiac Paulino, MA
Scotty Moore, CA
Hunter Taylor, MO
Brandon Morvari, MN
Rader's Picks
Finals: Forbes over Taylor
---
113 lbs
Sorry 100 and 106 pounders, but 113 is the first weight that really feels like a Fargo weight in the Junior division. You can see it in the number of nationally ranked kids alone (9). At least one of those nationally ranked kids won't make the podium.
Ranked the highest of those nine wrestlers and the presumable favorite is Braeden Davis from Michigan. Davis has already gotten it done on the big stage. In 2019, he won 16U 88 lbs, beating Alan Koehler in the finals and Caleb Thoennes in the semis.
If you're from Illinois, you ought to feel pretty good about putting at least one guy on the podium at this weight. Gylon Sims, Ben Aranda, and Sammy Hayes all have legit shots. Sims is coming up from 106 where he won a state title this year. Ben Aranda had a decent showing at Junior Duals but did get blanked 10-0 by Thoennes. Northwestern commit Sammie Hayes took 4th at Junior 100 in 2019.
Names To Watch
#4 Braeden Davis, MI
#6 (106) Gylon Sims, IL
#10 Caleb Thoennes, MN
#11 Ben Aranda, IL
#13 Alan Koehler, MN
#13 (120) Caden Horwath, MI
#19 Kyison Garcia, UT
#20 (106) Ashton Jackson, IN
#20 Davian Guanajuato, AZ
Yanni Vines, AL
Sam Smith, OK
Drew Heethuis, MI
Cael Nasdeo, PA
Codie Cuerbo, OH
Sammie Hayes, IL
Rader's Picks
Finals: Davis over Thoennes
AAs: Aranda, Koehler, Sims, Vines, Hayes, Horwath
---
120 lbs
Cooper Flynn will be as heavy a favorite as any at this tournament. He's #22 on the class of 2021 big board and will be heading to Virginia Tech in the fall. He's won Super 32 and National Preps, but still needs to add a big stop sign to his collection before finishing his high school career.
That means no disrespect to the other solid wrestlers at this weight, Jett Strickenberger and Kannon Webster. Webster, who just completed his sophomore year, is already committed to Illinois whereas a Strickenberger is one of the few uncommitted but already graduated seniors competing.
Names To Watch
#2 Cooper Flynn, TN
#9 Jett Strickenberger, CO
#12 Kannon Webster, IL
Ethan Perryman, CA
Logan Graf, SD
Sean Seefeldt, OH
Jaden Pepe, PA
Chad Bellis, IA
Mitchell Neiner, WA
Reid Nelson, MN
Cole Hunt, GA
Braden Graff, IA
Dillon Campbell, OH
Zeth Romney, CA
Grigor Cholakyan, CA
Rader's Picks
Finals: Flynn over Webster
AAs: Strickenberger, Perryman, Seefeldt, Campbell, Hunt, Neiner
---
126 lbs
If you're only going to watch one weight in Fargo, make it this one. Nicolar Rivera is a Fargo champion and I don't even have him All-Americaning. At the top is Drake Ayala and Dean Peterson. Both wrestlers won their matches at last year's Who's #1, Ayala over Richard Figueroa and Peterson over Jordan Titus. While I'm not sure if Peterson has ever wrestled a freestyle match, Ayala will be going for his third Fargo title. He beat Nico Provo in the finals in 2019 and Chance Lamer in the finals in 2017. That freestyle experience is why I'm taking him over Peterson.
As I mentioned before, this weight isn't just two studs, it's chock full of hammers. Troy Spratley is a Super 32 finalist with wins over Titus, Cael Hughes, and Jesse Ybarra. Jore Volk is a Fargo champion. Gabe Whisenhunt is a Fargo finalist, Sergio Lemley is a multiple-time Indiana state champ, Mac Church is a Powerade champ, Gable Porter is an Iowa state champ. I could go on and on.
Watch Drake Ayala and Troy Spratley's Super 32 final below.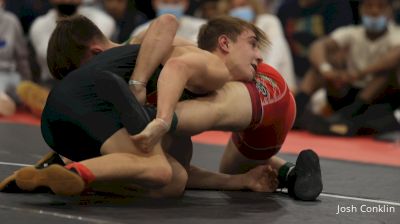 Unlock this video, live events, and more with a subscription!
Get Started
Already a subscriber? Log In
Names To Watch
#2 Drake Ayala, IA
#2 (132) Dean Peterson, NJ
#3 Troy Spratley, TX
#7 Gabe Whisenhunt, OR
#8 Nico Provo, CT
#11 Vincent Robinson, IL
#12 Sergio Lemley, IN
#16 Jore Volk, MN
Mac Church, PA
Cash Raymond, MN
Gable Porter, IA
Kai Owen, FL
Nicolar Rivera, WI
Nash Singleton, OR
Kelly Dunnigan, NJ
Cael Keck, MO
Braden Basile, FL
Santino Robinson, IL
Rader's Picks
Finals: Ayala over Peterson
AAs: Spratley, Provo, Whisenhunt, Volk, Dunnigan, Lemley
---
132 lbs
This weight is also deep, but will more than likely be owned by the star of the tournament, Nic Bouzakis. Bouzakis is currently #5 in the P4P rankings. He's won everything under the sun including Fargo in 2019. He didn't just win, actually, he dominated and won OW of the entire tournament.
While Bouzakis could run away with this one, it will be a scrap everywhere else. Indiana hammer Zeke Seltzer just committed to Missouri. Hunter Mason is only a sophomore, but is on the rise and had a good showing at NHSCAs. Maxximus Martinez went 5-0 at Junior Duals with wins over Ryder Block and Kelly Dunnigan. Block beat Drake Ayala during the Iowa high school regular season.
Names To Watch
#1 Nic Bouzakis, PA
#5 Zeke Seltzer, IN
#6 Hunter Mason, TN
#13 Emilio Ysaguirre JR, AZ
#15 Maxximus Martinez, CA
#16 Ryder Block, IA
#17 Garrett Grice, NE
#19 Richard Delsanter, OH
Carter McCallister, MO
Greyson Clark, WI
Danny Nini, FL
Derrick Cardinal, MN
Jake Niffenegger, OH
Luke Simcox, PA
Gregor McNeil, PA
Nasir Bailey, IL
Eligh Rivera, FL
Emilio Ysaguirre, AZ
Rader's Picks
Finals: Bouzakis over Mason
AAs: Seltzer, Block, Martinez, Cardinal, Bailey, Ysaguirre
---
138 lbs
I'm very excited about the thought of a Benji Alanis - Casey Swiderski final at 138. Both guys wrestle super hard and are very entertaining. Two of my favorites. Alanis, a senior, is committed to Northern Colorado. Swiderski will be attending Iowa State starting in the fall of 2022.
There is a large number of guys that could disrupt this potential final, however. Ramon Ramos has made a Fargo final in the past and Brennan Van Hoecke has placed third, but neither are ranked at the weight. All-in-all I think there are 17 D1 commits at this weight.
Names To Watch
#4 Benji Alanis, CO
#7 Casey Swiderski, MI
#12 Richard Fedalen, MD
#12 (145) Ty Whalen, NJ
#13 Tom Crook, FL
#15 Tagen Jamison, TX
#16 Brandan Chletsos, PA
#17 Alex Almeyda, NJ
#20 Kimo Leia, CA
Ramon Ramos, AZ
Blaine Brenner, WI
Joel Jesuroga, IA
Davin Rhoads, OH
Brennan Van Hoecke, FL
Jude Swisher, PA
Ismael Ayoub, OH
Jordan Cullors, OK
Brayden Ivy, TN
Weston Dalton, CO
Rader's Picks
Finals: Alanis over Swiderski
AAs: Fedalen, Whalen, Almeyda, Jamison, Ramos, Jesuroga
145 lbs
This weight took a hit with the losses of #1 Cody Chittum and #5 Hunter Garvin, but is still very interesting. Jordan Williams is money inside the FargoDome having never lost a freestyle match and bringing home two titles. This will be his first time in the Junior division, but don't expect that to affect anything too much. Williams went undefeated at Junior Duals this year with wins over Caleb Rathjen, Ty Whalen, Kael Voinovich, and Cole Becker. Now, can he keep the momentum rolling to a third-straight Fargo title?
Names To Watch
#3 Jordan Williams, OK
#4 Caleb Rathjen, IA
#8 Jackson Arrington, PA
#9 Matthew Bianchi, WI
#11 Kyle Dutton, MO
#15 Kaleb Larkin, AZ
#16 Henry Porter, CA
#18 Nicco Ruiz, CA
#20 Kelvin Griffin, PA
Teague Travis, OK
Connor Thorpe, WI
Kyle Dutton, MO
Kal Miller, MO
Fin Nadeau, MT
Gavin Brown, OH
Cole Becker, MN
Kael Voinovich, OH
Gavin Drexler, WI
Rader's Picks
Finals: Williams over Rathjen
AAs: Arrington, Bianchi, Larkin, Porter, Ruiz, Dutton
---
152 lbs
Caleb Henson and Cael Swensen will be the odds-on-favorites to make the finals, but watch out for Vincent Zerban. #87 on the class of 2021 big board but still uncommitted, Zerban is wrestling to try prove his worth somewhere. Henson did just beat Zerban at NHSCAs, but it's not unusual for results to flip in high school wrestling, plus that was folkstyle.
Watch Caleb Henson take out Vinny Zerban at NHSCAs below.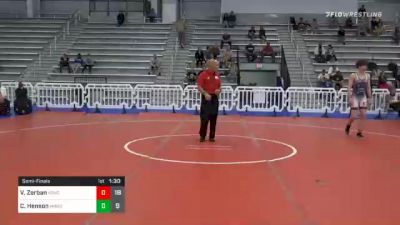 Unlock this video, live events, and more with a subscription!
Get Started
Already a subscriber? Log In
Names To Watch
#3 Caleb Henson, GA
#4 Cael Swensen, MN
#6 Vincent Zerban, IL
#8 Luka Wick, CA
#9 Mitchell Mesenbrink, WI
#13 Michael Kilic, GA
#15 Gabriel Schumm, CA
#16 Jonathan Ley, FL
#18 Erik Gibson, PA
#19 Nick Fea, NY
Thor Michaelson, WA
Nick Hamilton, NE
Nick Sanko, NY
Logan Ours, OH
Rader's Picks
Finals: Swensen over Zerban
AAs: Henson, Wick, Kilic, Mesenbrink, Ley, Gibson
---
160 lbs
Paniro Johnson and RJ Weston are both graduated seniors whose best finish at Fargo is 3rd. Rocco Welsh, Josh Barr, and Braeden Scoles are the young guns of the bracket as sophomores. Don't count them out, however. Welsh has already made the Super 32 finals, Barr place 4th at Fargo in 2019, and Scoles placed 4th at UWW Cadet World Team Trials this year. Scoles, MJ Gaitan, and Aiden Riggins did a three-way split at Junior Duals with Riggins beating Scoles, Scoles beating Gaitan, and Gaitan beating Riggins. It will be interesting to see how that plays out here.
Names To Watch
#5 Michael Caliendo, IL
#8 Rocco Welsh, PA
#9 Josh Barr, MI
#10 Aiden Riggins, IA
#11 Braeden Scoles, WI
#12 Antrell Taylor, NE
#13 (152) Robert Weston, GA
#14 Manuel Gaitan, CA
#16 Paniro Johnson, PA
#17 Tyler Lillard, PA
Adam Thebeau, IL
Jared Keslar, PA
Holden Garcia, PA
Robert Avila, IA
Graham Gambrall, IA
Gunner Filipowicz, GA
Dakota Morris, NJ
Landen Johnson, MN
Rader's Picks
Finals: Caliendo over Weston
AA: Welsh, Barr, Riggins, Scoles, Taylor, Gaitan
---
170
Manny Rojas will be lean and mean down at 170. He wrestled 189 for Michigan's regular season this year. The last time he was at 170, however, he won Super 32.
Hunter Lyden, Brayden Thompson, and Tate Naaktgeboren are all locks to AA imo. Lyden and Thompson have both AAd in the past and Naaktgeboren won Folkstyle Nationals this year. He's not ranked, but don't sleep on Evan Canoyer from Nebraska. The senior is committed to Cornell and placed 6th at Fargo in 2019.
Names To Watch
#4 (182) Manny Rojas, MI
#10 Hunter Lyden, MN
#14 Brayden Thompson, IL
#15 Tate Naaktgeboren, IA
#20 Tylynn Lukens, FL
Luke Geog, OH
Brad Gillum, IL
Sabino Portella, NJ
Mikey Dellagatta, NJ
Evan Canoyer, NE
Jared Stricker, WI
Rader's Picks
Finals: Rojas over Thompson
AAs: Naaktgeboren, Lyden, Dellagatta, Geog, Gillum, Canoyer
---
182 lbs
Two Fargo champs and a Super 32 champ at this weight. Bennett Berge won 182 at 16U in 2019, TJ Stewart won 16U 160 in 2019, and Brian Soldano actually won Super 32 over Berge in 2020. That was a one-point match in folkstyle, however.
Watch Brian Soldano and Bennett Berge's 2020 Super 32 final below.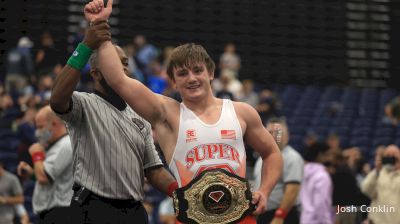 Guys To Watch
#3 Brian Soldano, NJ
#5 Clayton Whiting, WI
#8 Bennett Berge, MN
#9 TJ Stewart, MD
#15 Hayden Walters, OR
#16 Asher Ruchti, OR
#18 Remy Cotton, MI
#20 DeAnthony Parker, IL
Adam Ahrendsen, IA
Cole Hivnor, OH
Warren Hoyt, AL
Jake Evans, OH
Griffin Gammell, IA
Bryce Garcia, CO
Drake Buchanan, IN
Rader's Picks
Finals: Berge over Soldano
AAs: Whiting, Stewart, Walters, Parker, Ahrendsen, Cotton
---
195 lbs
Outside of 126 and especially before, this is the weight I have circled. Kolby Franklin won Fargo at 220 two years ago, but feels like nobody is even talking about him. Seth Shumate also won Fargo in 2019 over Evan Bates. Despite being the highest-ranked athlete, Rylan Rogers has never won Fargo. However, he did make the finals in 2019 and has an impressive hit list of wins including Cadet World Teamer Gavin Nelson.
Names To Watch
#2 Rylan Rogers, WA
#5 Seth Shumate, OH
#8 Dylan Fishback, OH
#9 Caden Rogers, PA
#10 (220) Evan Bates, IN
#11 Aiden Hanning, MA
#12 Kolby Franklin, PA
#14 Brandon Hoselton, IL
#15 Wyatt Voelker, IA
Quayin Short, MN
Logan Badge, MI
Spencer Mooberry, IA
Max Ramberg, WI
AJ Heeg, OK
Luke Duthie, PA
Rader's Picks
Finals: R Rogers over Fishback
AAs: Shumate, C Rogers, Bates, Franklin, Voelker, Bates
---
220 lbs
Christian Carroll had a breakout fall when he won Super 32 at 195. He slipped up a bit in April with a loss to Ben Kueter, which you can watch HERE. However, he looked back on track and solid up at 97 kg at Junior Nationals where he beat Kalob Runyon and Cade Lautt.
Martin Cosgrove is a New Jersey state champion and Super 32 third-place finisher but hasn't had quite the same success in freestyle. Noah Pettigrew is the only former Fargo champ in the bracket.
Names To Watch
#3 (195) Christian Carroll, IN
#4 (195) Martin Cosgrove, NJ
#4 Noah Pettigrew, GA
#6 Ben Vanadia, OH
#10 (285) Bennett Tabor, MN
#11 Ben Kueter, IA
#13 Kalob Runyon, IA
#14 Bradley Hill, IA
#15 Dominik Vacura, MN
Carter Grewe, WI
Logan Shephard, OH
Mason Cover, OH
Ashton Davis, TN
Dylan Russo, OH
Rader's Picks
Finals: Carroll over Pettigrew
AAs: Cosgrove, Pettigrew, Kueter, Tabor, Vanadia, Runyon
---
285 lbs
A potential #1 spot on the line at heavyweight. Current #1 Chase Horne placed 3rd at Fargo in 2019 but will be the favorite up at heavyweight this year. Trying to stop him will be Harley Andrews, who is coming up from 220 lbs.
Along with Horne, Xavier Doolan, Ryan Boersma, Gage Cook, Gabe Greenlee, Jacob Barnes, and Ryder Wiese are all D1 commits.
Names To Watch
#1 Chase Horne, GA
#3 (285) Harley Andrews, OK
#8 Xavier Doolin, MO
Ryan Boersma, IL
Gabe Greenlee, IA
Gage Cook, WA
Jacob Barnes, OR
Keith Miley, MO
Matthew Moore, CO
Antonio Ramos, MA
Ryan Stein, NY
Adolfo Betancur, RI
Ryder Wiese, OK
Rader's Picks
Finals: Horne over Andrews
AAs: Doolan, Boersma, Greenlee, Cook, Moore, Ramos
---
Team Race
You can read my full team race breakdown HERE.
Rader's Picks
1. PA
2. IL
3. MN
4. IA
5. MI