2021 Last Chance US Olympic Trials Qualifier
Contenders And Sleepers: The 2021 Last Chance Qualifier Preview
Contenders And Sleepers: The 2021 Last Chance Qualifier Preview
A breakdown of all six weights with some of their top contenders and wrestlers to watch
Mar 25, 2021
by JD Rader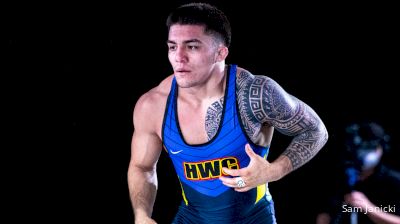 The last step before the 2021 Olympic Trials: the 2021 Last Chance US Olympic Trials Qualifier! The top two wrestlers at each weight will qualify for the Olympic Trials on April 2-3. Before you dismiss any of these guys take a look at the registration list and remember that in 2017 Thomas Gilman went from last chance qualifier to World silver. Nothing is impossible!
Watch the Last Chance Olympic Trials Qualifier LIVE on FloWrestling
Friday & Saturday, March 26-27 | 11:00 AM EST
Below is a breakdown of all six weights with some of their top contenders and wrestlers to watch.
57 kg
Contenders
Zane Richards is the lone wrestler currently ranked in our domestic men's freestyle top 10 that has yet to qualify for Olympic Trials. While he didn't place at the 2019 Senior Nationals after losses to Alan Waters and Nick Suriano, he was third at the 2019 US Open picking up wins over Jesse Delgado, Frank Perrelli, Darian Cruz, and Vito Arujau.
Frank Perrelli has been on the senior level scene since he finished up his career at Cornell in 2012. He will be looking to qualify for the Olympic Trials for the second time in his career as he went 1-2 at the 2012 Olympic Trials in Iowa City. Perrelli was seventh at the 2019 Senior Nationals beating Sean Russell and Darian Cruz, and fifth at 2020 Senior Nationals.
NCAA finalist Jack Mueller finished third at the 2020 Senior Nationals and had head-to-head wins over Perrelli and Russell. Mueller has made the U23 world team in 2018 and finished fifth at the World Championships.
The lone NCAA D1 champion in the field, Darian Cruz, was fifth at the 2019 US Open, seventh at 2019 Senior Nationals, but failed to place at the 2020 Senior Nationals after falling to Dylan Ragusin and Matt Ramos.
NCAA DII champion, Daniel DeShazer, is as dangerous as they come. In the 2017 World Team Trials Last Chance Qualifier finals, DeShazer had Thomas Gilman in a 6-0 hole early before Gilman stormed back to win. Gilman would go on to make the World Team and win a silver medal at the World Championships. DeShazer wrestled 61kg at the US Open in 2019, and did not place at the 2019 Senior Nationals falling to Nathan Tomasello and Zach Sanders.
Finally, two-time NCAA All-American, Sean Russell, had a nice 2020 Senior Nationals beating Jack Medley, Perrelli, and Sam Latona. As he continues to focus solely on freestyle, I could see him as a guy who has the potential to climb a few rungs on the ladder.
Keep An Eye On
Matt Ramos burst onto the scene in 2018 when he made a Cadet world team and brought home a gold medal from the World Championships. The now Golden Gopher had a strong 2020 Senior Nationals beating eventual NCAA finalists Brandon Courtney and Darian Cruz before falling to Sam Latona.
Flynn has been very successful on the high school freestyle circuit, placing fifth, third, and seventh at Fargo and was fourth at the always loaded Cadet World Team Trials. The Virginia Tech signee is currently ranked #22 in the class of 2021. It will be interesting to see how he stacks up against a field made of mainly senior-level wrestlers.
---
65 kg
Contenders
Pat Lugo made jumps as soon as he joined the Hawkeye program and that progress rolled over into freestyle. Lugo has looked great the past 12 months notching wins over Nahshon Garrett, Pletcher, Kolodzik, and Lizak. His only losses have come to Yianni Diakomihalis, Bajrang Punia, and James Green. That should be good enough to get him the #1 seed.
The #2 seed should go to Evan Henderson. He's got a decent hit list himself that includes wins over Jaydin Eierman and Joey McKenna. However, he did drop a match to Garrett at America's Cup, the same event Lugo beat Garrett. That is also the same event Henderson and Mitch McKee had their wild match where it looked McKee was going to pin Henderson only to have Henderson reverse and pin McKee. Still can never count Mitch McKee out.
Watch Evan Henderson and Mitch McKee trade pinning combinations below.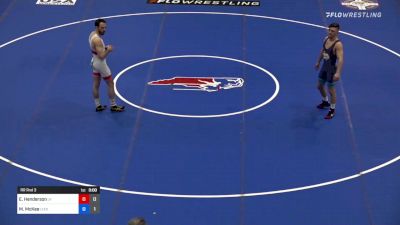 Unlock this video, live events, and more with a subscription!
Get Started
Already a subscriber? Log In
Lastly, Luke Pletcher. McKee teched Pletcher at 2020 Senior Nats, but after a couple more months under the tutelage of coach Keith Gavin it will be interesting to see if he's made the improvements to avoid getting gutted and head pinched.
Keep An Eye On
Of this next group, the wrestler I am most excited to watch is Shayne Van Ness. We get to see where one of the top recruits from the class of 2021 stacks up against the big dogs. SVN already beat Josh Saunders in February.
---
74 kg
Everyone in this bracket is contending just for an opportunity just to get a crack at Isaiah Martinez and/or Kyle Dake, just so that they can then challenge Jordan Burroughs, who is already sitting in the finals of the Olympic Team Trials best 2-of-3 series.
To wit, this bracket is full of brave men who are not afraid of a challenge.
Contenders
No one would be in Forth Worth if they didn't consider themselves a contender, but some wrestlers are more contendery than others, and we believe this quartet of worthies has the best chance of earning one of the two Team Trials spots on the line this weekend.
When he's not sampling the finest coffee beans from around the world, Cenzo can be found sampling the toughest wrestling competition from around the world (yikes, we literally pulled a muscle stretching for that reference). Cenzo was a force to be reckoned with at Penn State, winning two NCAA titles, making the finals three times, and earning the #2 seed at the canceled 2020 Tournament.
Joseph previously attempted to qualify for the OTT at the 2019 Bill Farrell, where he defeated 2018 Junior World Champion Mekhi Lewis before losing to teammate Jason Nolf and medically forfeiting on the backside.
Watch Cenzo defeat Mekhi below.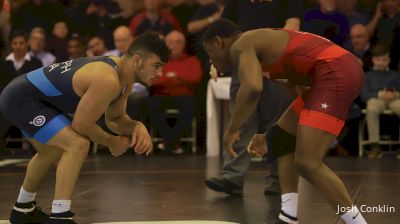 Unlock this video, live events, and more with a subscription!
Get Started
Already a subscriber? Log In
Marsteller never made the NCAA finals but was a two-time All-American at Lock Haven. He's been on the freestyle scene for a long time, wrestling in Baku, Azerbaijan in the 2012 Cadet World Championships, and more recently in Minsk, Belarus at the Medved in 2019.
Marsteller was also at the 2019 Bill Farrell but lost to Logan Mass in the round of 16 (which didn't get you pulled back into repechage according to Farrell rules). Chance also wrestled in Ft. Worth at 2019 Senior Nationals, losing to Mekhi Lewis in the quarterfinals before medically forfeiting out.
Pantaleo has stated that he feels more comfortable at 70kg and plans to own that division after the Olympics, but in the meantime, he is bumping up and entering the 74kg fray. He certainly proved his bona fides at the 150-Pound 8-Man Challenge.
Finally, Ryan Deakin will look to bounce back after a disappointing third palace finish at 2021 NCAAs at 157-pounds. He'll no doubt enjoy allowing his condor-like body to gain about five or six pounds, as 74kg is 162.8lbs, which Ryan will undoubtedly put to good use. Deakin has a junior world silver medal to his name and made 2019's Final X at 70kg.
Now, how's this for an impressive stat: 14 All-American honors were collectively earned by these four competitors. Not bad for a qualifying tournament for a qualifying tournament.
Keep An Eye On
Muhamed McBryde
Joshua Shields
Quentin Perez
Like all the men's freestyle fields, this is a deep and eclectic mix of talent.
McBryde is training at the OPTC in Colorado Springs and recently made a U23 world team. Dan Vallimont is a savvy veteran, having been a regular on the senior circuit since 2014. On the flip side is Anthony Artalona, who was denied his junior season in the NCAA by the Ivy League and has a long career ahead of him.
LaVallee and Berger have qualified for eight total NCAA tournaments. Both made the finals. Shields is also a four-time qualifier. He and Berger are both three-time All-Americans as well.
Ashworth and Perez did not have quite as much success at the collegiate level, however, both qualified for three-NCAA tournaments. Ashworth has been training in Laramie, where he matriculated at the University of Wyoming. Perez followed Cary Kolat, his coach while he was at Campbell, over to the Naval Academy to continue training.
Sleepers and Landmines
Cael McCormick
Jeremiah Moody
Speaking of service academies, Cael McCormick is a tough, hard-nosed wrestler from Army West Point that should absolutely not be slept on. And Jeremiah Moody once beat Mekhi Lewis in freestyle. People forget that.
---
86 kg
Contenders
Since coming out of retirement in the fall of 2020, two-time NCAA champ Gabe Dean has competed regularly. He won Senior Nationals with victories over Taylor Lujan, Trent Hidlay, and Nate Jackson, and while he fell to Lujan at the 195 lbs 8-man, he's been solid since then. He has wins over Mike Macchiavello and Bo Nickal and pushed David Taylor on a Nittany Lion Wrestling Club card. He wasn't planning to compete a year ago, but now he might be the favorite to win this bracket.
Nate Jackson might have more matches than anyone in the world during the last year. The two-time All-American was a Senior Nationals finalist this fall, took out World Team member Keith Gavin and Sammy Brooks at the 195 lbs 8-Man Challenge, Beat Brooks and Brett Pfarr at the RTC Cup while splitting matches with Drew Foster, and beat Wynn Michalak at FloWrestling 3: Adeline vs Tamyra. Jackson will be a serious contender to punch his ticket to the trials.
Mark Hall is a Junior World champ, an NCAA champ, and was the #1 seed at the 2020 NCAA Championships. Now he's turned his focus to full-time senior level freestyle, and that could spell trouble for the field this weekend. He lost a tight bout to Nate Jackson in January, but the field would be foolish to overlook him.
Taylor Lujan didn't get a chance to compete at the 2020 NCAA Championships, but he was the #1 seed and the favorite to bring home the title. He has logged solid results this year with a dominant U23 National title and a surprise come-from-behind victory over Gabe Dean at the 195 lbs 8-Man Challenge. He isn't the favorite here, but he's a dangerous match for anyone.
Drew Foster is another contender at the Last Chance. The NCAA champ and two-time All-American split with Nate Jackson at the RTC Cup and has steadily improved since becoming a full-time freestyler. Like Lujan, he's likely to be seeded below Dean and Jackson, but he could cause them problems.
Keep An Eye On
In addition to the five guys above, this bracket has enough depth that we could see plenty of shakeups in the early rounds. Four-time NCAA/NWCA All-American David McFadden brought home a silver medal from the Matteo Pellicone in Italy and also has a win over Vincenzo Joseph this winter.
NCAA finalist Max Dean looked solid at America's Cup and has been able to focus on freestyle since Ivy League institutions weren't able to compete in the NCAA season this year.
Three more NCAA or NWCA All-Americans will also be in this bracket in Michigan State's Cam Caffey, Campbell's Andrew Morgan, and Minnesota's Devin Skatzka. In short, this bracket will be juicy from the round of 16 on.
---
97 kg
Contenders
Braxton Amos got the four seed, but I think he's the favorite to win the weight. He was the #1 overall recruit in the class of 2020 after winning Fargo five times and Super 32 three times. In his only senior level freestyle results he's tech falled CJ Brucki and beat Tim Dudley 7-2. He's also entered in Greco!
Receiving the #1 seed was Ben Honis. Honis was an All-American for Cornell in 2018. Now competing for the Pennsylvania RTC, Honis has already defeated Scottie Boykin twice in 2021; once 10-8 and more recently 14-3.
Watch Ben Honis tech fall Scottie Boyking at America's Cup below.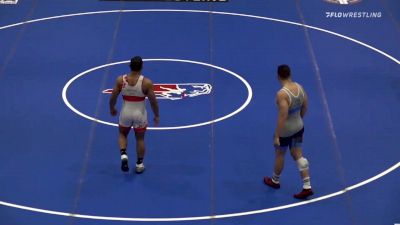 Unlock this video, live events, and more with a subscription!
Get Started
Already a subscriber? Log In
2017 Oklahoma State graduate and #2 seed Austin Schafer also defeated Boykin at America's Cup.
Keep An Eye On
We haven't seen Michael Boykin compete in quite some time. If he's as good as he was in 2019, he could be in the contender category. The NC State graduate made the 2019 U23 World Team Trials finals before falling to Chase Singletary. Singletary's Ohio State teammate Gavin Hoffman is another guy to keep an eye on this weekend. He's looking to improve upon his 1-2 performance at 2020 Senior Nationals.
---
125 kg
We saw most of the favorites to win the Tokyo team spot at the RTC Cup back in December. Two-time world bronze medalist Nick Gwiazdowski and 2021 NCAA finalists Gable Steveson and Mason Parris are already scheduled to compete in Ft. Worth the weekend after this one at the Olympic Team Trials. Here's who's looking to join them in the field.
Contenders
Hall was a cadet Pan-Am gold medalist back in 2009. He's since made a junior world freestyle team and the podium at the NCAA Championships. Formerly of Arizona State, the Idaho native is now with Sunkist Kids. He finished one match away from qualifying for the Olympic team trials when he placed second at the 2019 Senior Nationals, losing to Mason Parris in the finals. Hall beat the very formidable Dom Bradley in the semis to reach that finals match.
Watch Hall beat the Dom in the video below.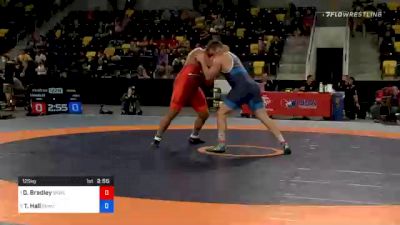 Unlock this video, live events, and more with a subscription!
Get Started
Already a subscriber? Log In
Though he's both an NCAA and NWCA All-American, Freestyle may be Jordan Wood's preferred style. The Gilbertsville, PA native won a cadet world bronze medal in 2014, placed 11th at the 2016 Junior World Championships, and made the finals of the 2019 U23 World Team Trials.
Yerba Mate enthusiast Danny Chaid was a two-time NCAA qualifier at North Carolina before returning back to his native California to compete for the California RTC. Chaid beat NCAA finalist Derek White at the 2020 Senior Nationals.
Keep An Eye On
Demertius Thomas
Michael Kosoy
White competed at the 2019 Bill Farrell and Senior Nationals down at 97kg. But the Oklahoma State Cowboy won't stop bulking and will take one last chance at qualifying for the Tokyo Games at 275-pounds.
Streck's last NCAA tournament was his first, back in 2018, when he finished in the round of 16 as a freshman. He did wrestling at 2021 America's Cup, however, where the Merrillville, Indiana native acquitted himself well but still took two losses to Tanner Hall.
When he's not shredding classic licks on his fiddle, Demetrius Thomas is wrecking house on the mat. Big Meech was the 8th and 7th seed at the 2019 and 2020 NCAA Championships.
Mchael Kosoy is a member of the fledgling Dam RTC. Welcome to the Dam RTC. He's also a volunteer assistant at Oregon State under the newly minted head coach Chris Pendleton.
Sleepers and Landmines
Ceron 'Sauce Daddy' Francisco
Ben Goldin
Mauro Correnti
Sauce is boss.
Also Correnti and Goldin are two tough wrestlers from the PRTC who are slept on at your own peril.