2021 Henri Deglane Grand Prix
7 Insane Rematches We Need To See At Henri Deglane
7 Insane Rematches We Need To See At Henri Deglane
The Henri Deglane Grand Prix will feature a number of familiar foes. Here are 7 rematches we'd love to see.
Jan 11, 2021
by David Bray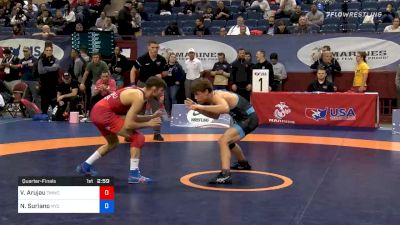 Some of the excitement around the Henri Deglane Grand Prix lies in the potential to see new opponents lock horns for the first time, but there are also some rematches that we'd love to see. Here are 7 that we'll be hoping for.
Watch the Henri Deglane Grand Prix LIVE on FloWrestling
Friday-Sunday, January 15-17 | 4:00 AM EST
Nick Suriano vs Vito Arujau
If Nick Suriano and Vito Arujau meet this weekend, they'll do so in a loaded field that includes World silver medalist Thomas Gilman. Their field was also loaded the last time they met in the 2019 Senior Nationals quarterfinals.
Suriano led for over half the match until Vito scored an edge of the mat takedown to take the criteria lead that would ultimately win him the match. Suriano's superb positioning and Vito's style of unorthodox excellence make this a fantastic clash of styles that will show us the kinds of adjustments each man has made.
Kyle Snyver vs Sharif Sharifov
Not only did Sharifov beat Snyder in the semifinals of the 2019 World Championships, he also beat one of Snyder's current coaches, Cael Sanderson, at the 2011 World Championships.
In 2019, Sharifov used precise re-attacks and a savvy counter to score, but the match felt like Snyder was an adjustment away from converting his attacks. Circle this as a match to hope for.
Yianni Diakomihalis vs Vladimer Khinchegashvili
Beat the Streets always creates dream matchups, and they did it again in 2020 when two-time NCAA champ Yianni Diakomihalis took on Olympic gold medalist Vladimer Khinchegashvili.
Yianni was in on the match-winning attack late, but it was Khinche who got the 4-4 criteria victory in the end. Both are toward the top o the list of the world's best scramblers, and the positions these guys get into are hard to find with most matchups. Sign me up for scramblefest part II.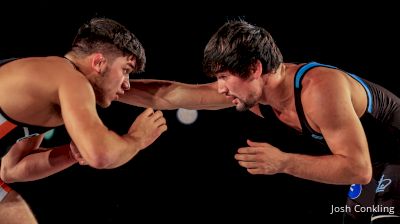 Thomas Gilman vs Reineri Andreu Ortega
After Andreu beat Gilman in a heated semifinal at the 2018 Pan Am Championships, it seemed like it was only a matter of time before these two tangled again. Gilman got his opportunity to even the score this year at the Pan Am Olympic Games Qualifier, one of the last events before most wrestling tournaments were canceled due to COVID-19.
Gilman didn't waste his opportunity, coming from behind to beat Andreu 4-3. The physicality between these two makes each of their matches a war. Hopefully we'll see another one on Saturday.
Kyle Snyder vs Reineris Salas Perez
Snyder has gotten the better of Salas in their previous matches, especially their 2020 Pan Am Games final where Snyder ran up the score.
Salas is capable of getting to Synder, and he proved it in 2018 at Beat the Streets. If you've somehow forgotten that incredible match, refresh yourself on one of Captain America's most dramatic comebacks.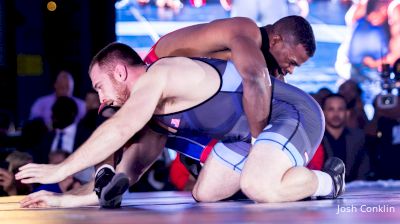 James Green vs Yianni Diakomihalis
The James Green vs Yianni Diakomihalis rivalry is one we might never have seen if not for this pandemic. The extra Olympic year led Green to make the drop to 65 kg which created the opportunity for him to compete agains Yianni at the RTC Cup.
The two met twice in two days. Yianni's first win came by criteria during pool competition, and his second was another criteria thriller. Green and Yianni's clash of styles makes their matches unpredictable, and their skill levels make their matches razor-thin. If we see them pair up again in France, I don't think anyone would mind.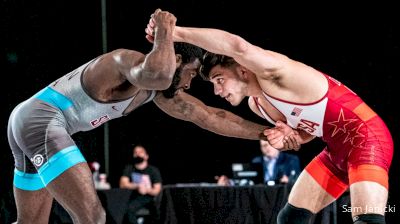 Nick Gwiazdowski vs Geno Petriashvili
Three time World champ and six time medalist Geno Petriashvili last competed with two time world bronze Nick Gwiazdowski at the 2017 World Clubs Cup. That was before we knew that Geno would win three straight World titles.
Gwiazdowski had yet to prove himself as the long-term US heavyweight, so his one point bout with Petriashvili signaled that he was gaining ground on the world. If they meet this weekend, it will be an opportunity for Gwiazdowski to show the progress he's made toward the #1 spot among the world's big men.