Despite A Loaded Weight Class, Roman Bravo-Young Is A Title Threat
Despite A Loaded Weight Class, Roman Bravo-Young Is A Title Threat
The 133-pound weight class is going to be insane next year, but if Roman Bravo-Young improves like he has before then he is a legit title threat.
Jun 4, 2020
by Hunter Sharpless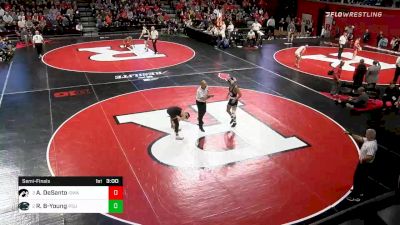 Unlock this article, live events, and more with a subscription!
Get Started
Already a subscriber? Log In
For about a decade, the words "Penn State" and "underdog" didn't belong in the same sentence — maybe not even the same page. Cael Sanderson's squad brought the crown home to State College eight times since the inception of the last decade, with only Iowa (2010) and Ohio State (2015) disrupting their reign of terror.
But now they are the underdogs.
As good as the Nittany Lions will be next year, the Iowa Hawkeyes are absolutely loaded, losing only a single starter, Pat Lugo, and gaining a hammer in Jaydin Eierman. If Penn State wants to reload rather than rebuild, they'll need their guys to outperform expectations, to truly embrace the dark horse mentality.
That starts with Roman Bravo-Young.
133 is chaos and we absolutely love it
Before beginning to look at RBY's prospects next year, you have to acknowledge two things about the 133-pound field: first, we don't know how exactly this class will shape up by the time the NCAA season starts, and second, no matter what does actually happen, 133 is going to be loaded. In our preseason rankings put together by Andrew Spey and David Bray, they've got the top five looking like this:
Sebastian Rivera
Daton Fix
Stevan Micic
RBY
Austin DeSanto
That's a sick group, and there's the lurking possibility that Nick Suriano joins the 133-pound ranks, too. But there are some remaining key questions: Will SeaBass bump up a weight? Will Fix drop down a weight?
No matter what happens, though, this weight is going to be difficult. A "worst-case" scenario for 133 is basically if you answer "yes" to those questions above. Let's say SeaBass does, in fact, move up, and Fix does, in fact, move down, and that Suriano doesn't join the party. That still leaves you with Micic, Bravo-Young, and DeSanto at the top, not to mention guys like Micky Phillippi, Sammy Alvarez, Montori Bridges, or Austin Gomez (who, you might remember, has pinned RBY).
I can't even begin to imagine a weight class that does include everyone: SeaBass, Micic, Nicky Pushups, Fix, RBY, DeSanto . . . this would be the stuff of legends.
If RBY levels up again, he can win a title
RBY is a legitimate title threat no matter how this weight shakes out in the fall, and the primary reason I think that's true, even with the star-studded list above, is the huge leap he made from his freshman year to his sophomore year. He hasn't taken a redshirt yet of course, so this will be his third year in State College with Cael.
Bravo-Young went 25-7 as a true freshman and showed everybody he was ready to go straight out of high school in Arizona. He boasted a 38% bonus-point mark, had three pins, qualified for NCAAs, and made a lot of noise. He was good, not great. Every now and then he got beat pretty bad: he lost a 10-0 major decision to Missouri's John Erneste at NCAAs (the only time he hasn't scored in his college career) and was pinned by Iowa State's Austin Gomez, with a few other losses sprinkled in there.
As a sophomore, he was nearly untouchable. He lost two times, once to SeaBass in the Big Ten Championships — a matchup that was a lot closer than the 7-2 final tally indicates — and once to Seth Gross, a former 133-pound NCAA champion and one of the best all-around wrestlers in the nation — which ended 6-5.
He beat everyone else, most of the time pretty easily. DeSanto beat Bravo-Young twice in the Nittany Lion's freshman year, and RBY returned the favor by beating the Hawkeye two times his sophomore year. As a freshman, RBY scored in the 20s three times; as a sophomore, he scored in the 20s six times, while wrestling 10 fewer bouts!
If RBY can level up even half as much as he did from his freshman to sophomore year, then I don't care who else is in the weight class: almost nobody can do what this kid can do.
There's still plenty of room to grow
Earlier this year, ahead of the Seth Gross-RBY matchup when Wisconsin and Penn State faced off, Mike Mal ran through a "Who Ya Got?" with these two insane 133-pounders. The part I want to focus on starts around the 8:15 mark. Here's the full video: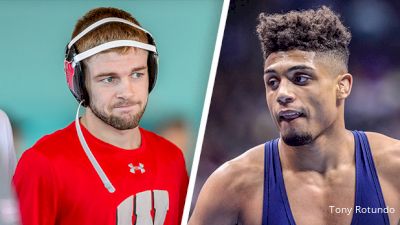 Unlock this video, live events, and more with a subscription!
Get Started
Already a subscriber? Log In
Like Mike points out, Bravo-Young is one of the fastest wrestlers in college wrestling right now, maybe THE fastest. Because of that, most guys aren't going to be able to lock down a single leg or a double; he's just going to evade the attack too quickly. But if you can bully him a little bit with some upper-body strength and hand fighting, you've got a chance to get in a scoring position. Ridge Lovett didn't quite get the two points here, but he did latch onto RBY's leg and for a moment looks like he might score (they actually start scrambling and RBY scores).
Let's revisit the Big Ten final with SeaBass for a second:
Around the 6:00 mark, the match changes because SeaBass engages a very physical attack on RBY. To that point, though, in the last 30 seconds of the second period, the score was knotted up 2-2 and either could've won the conference title.
To mitigate RBY's speed, SeaBass simultaneously locks RBY's head with his right hand and, with his left, throws down RBY's arm as he moves for the leg. The move is so fast, powerful, and explosive that it catches RBY out of sync, and SeaBass takes complete control of the leg and finishes strong for two points.
All of this is to say that Bravo-Young still has room to grow and improve, and given the fact that he leveled up so well from his freshman to sophomore year, that fact should probably scare people quite a bit. Only a narrow loss to Gross and a close tie with SeaBass separated RBY from perfection.
When we talk about Bravo-Young, we obviously talk about the speed, the quickness, and the flexibility — he's like Spiderman on the mat. But none of that speed matters much if he doesn't have the creativity and the wrestling IQ to score in those unique positions in which he finds himself, and that's what makes RBY the lethal wrestler that he is. In that same match against Lovett (around the 10:00 mark) the Cornhusker is literally dragging RBY by his leg across the mat, but instead of escaping the precarious, stretched position — RBY is doing the splits — he actually goes after Lovett's leg! Like Mike says, that's something 99 percent of wrestlers wouldn't think to do, let alone attempt.
No matter who wrestles at 133 next year, one thing is certain: Roman Bravo-Young is an assassin, he's going to get better, and he's aiming for a title.