Way Too Early Lineup Look: 2020-21 Stanford Cardinal
Way Too Early Lineup Look: 2020-21 Stanford Cardinal
A way-too-early look at the possible 2020-21 wrestling lineup of the Stanford Cardinal, led by Real Woods and Shane Griffith.
Apr 10, 2020
by Nick Zeller-Singh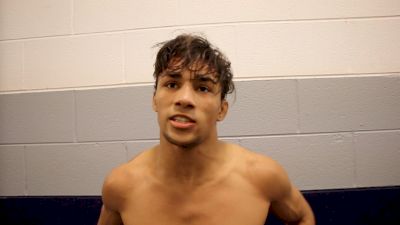 Unlock this video, live events, and more with a subscription!
Get Started
Already a subscriber? Log In
Unlock this article, live events, and more with a subscription!
Get Started
Already a subscriber? Log In
After finishing second at the Pac-12 Championships but unable to compete in the national limelight because of the coronavirus shutdown, the Stanford wrestling squad finished a pretty strong season. Although the Cardinal were not able to finish how they wanted, their lineup is young and the future is bright.
Compared to their conference rivals Arizona State, the Cardinal lineup is returning several key components. Unfortunately with the COVID-19 issue, we will not know who will win some of the close wrestle-offs and which recruits can make an immediate impact.
However, the Cardinal way-too-early lineup should have Pac-12 rivals and national competitors worried next season.
2020-21 Stanford Projected Lineup
125: Jackson DiSario
133: Dalton Young
141: Real Woods
149: Requir van der Merwe or Jaden Abas
157: Tyler Eischens
165: Shane Griffith
174: Jared Hill
184: Foster Karmon
197: Nathan Traxler
285: Seamus O'Malley
Lineup Looks: Iowa | Penn State | Cornell | Michigan | Ohio State | Missouri | Nebraska
125: Jackson DiSario, SO
The bright-eyed true freshman passed his first year with flying colors. Although he sat outside the top 25 season long, he finished with an impressive 21-9 record. He proved his promise by going 9-4 in duals and 2-1 at the Pac-12 Championships. However, he dropped two matches with a combined score 21-3 to Brandon Courtney and was dominated by North Carolina State's Jakob Camacho.
His spot is locked up as his competition is another true freshman, Logan Ashton. Their previous accolades were similar with multiple state medals and titles in Georgia. Yet DiSario came in with the higher ranking and a Greco-Roman background.
He proved he deserved the spot after a winning season.
133: Dalton Young, RSJR
It's tough to see Gabe Townsell leave after a rough senior season that cannot be redone. His multiple injuries hurt the Cardinal lineup in duals and the Pac-12 tournament. Young backed him up and plans to take the spot after Townsell.
Young lacks experience but he will fill the shoes. After an 8-3 season, he took the most reps besides senior Brandon Kier. Since Kier and Townsell leave the program, it's a matchup between Young and Luciano Arroyo.
Young should hold the spot coming into next season, though.
141: Real Woods, RSSO
It's nearly impossible for Woods to lose his starting position. Woods was considered one of the best freshmen in the country and a soon-to-be All-American. He will be the backbone for the lighter weights and begin the steamrolling offense of Stanford's lineup. Woods is going to look for bonus points in nearly every match next season and a podium finish.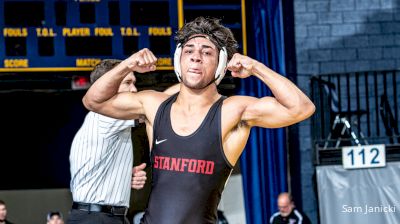 Unlock this video, live events, and more with a subscription!
Get Started
Already a subscriber? Log In
149: Requir van der Merwe, RSSR or Jaden Abas, RSSO
Inconsistency and injuries plagued van der Merwe's season. He began the season in the top 15 but faced problems at the Southern Scuffle and Pac-12 Championships. Since the Roadrunners' Russell Rohlfing and ASU's Josh Maruca are out of the picture, it should be smoother sailing for van der Merwe in Pac-12s next campaign.
Abas redshirted behind van der Merwe, but he dominated with a 23-4 record. The unattached wrestler could have been a debatable top-25 wrestler, too. He finished with decision wins against Northern Colorado's Andrew Alirez and George Mason's Closton DiBlasi. Plus, he got his feet wet in PAC-12 competition with a couple of wins and almost beating Bakersfield's Russel Rohlfing.
Abas has an open lane for success in Pac-12 play. With competition falling off, he can medal in Pac-12 this upcoming season individually and provide a handful of victories in the dual season. As for NCAAs, he will most likely capture a win or two but will not last through the bloodround.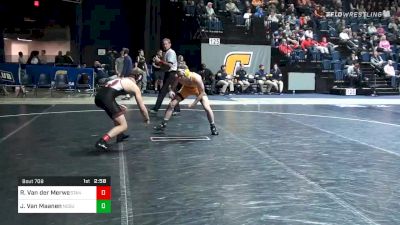 Unlock this video, live events, and more with a subscription!
Get Started
Already a subscriber? Log In
He'll be sitting in the middle of the stacked middleweights. If he can stay healthy, he can make a jump for a top-10 finish.
157: Tyler Eischens, RSSO
This part of the lineup can go two ways. This way-too-early look is the non-risky lineup where nobody jumps up a weight class. In this version, Eischens stays in the 157-pound class and competes with Jacori Teemer for a Pac-12 Championship. Plus, after a 21-9 record, he will be looking to crack and stay in the top 25 all season. The consistent wrestler may not pick up bonus points, but he can be a go-to guy in duals who will pick up three points for you.
The other version includes Dominick Mandarino coming off his redshirt and taking over the 157-pound class. This causes risks because it jumps Eischens and Griffith up a class even though they earned respect in their classes. The plus side of this is it brings more control over the 174-pound class. Eischens and Griffith may take downfalls, though.
165: Shane Griffith: RSSO
Griffith stirs the debate about who was the best freshman in the country. He completed a perfect season, including five wins against top-15 opponents. The grinding Griffith headlines the future Cardinal lineup, as he will look for five or six points every match.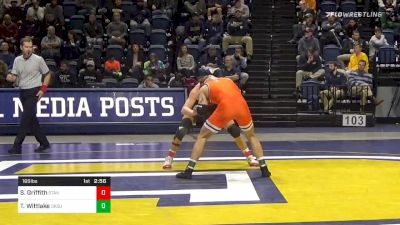 Unlock this video, live events, and more with a subscription!
Get Started
Already a subscriber? Log In
Depending on the weight class he lands next season, Griffith already sits as an All-American favorite. It may sound crazy, but the guys coming off Olympic redshirts should watch out the young Cardinal.
174: Jared Hill, RSSR
Hill has the nod for now. However, he's the odd man out in the situation if Mandarino takes over the 157-pound class. However, in this lineup, Hill will end the middleweight rein and begin the heavyweights run.
Stanford's heavyweight's success will be similar to Hill's almost .500 record. Hill can handle the duals against most of competition. His success in each dual can be the turning tide for Stanford.
184: Foster Karmon, RSJR
Karmon's record does not show his improvement. He will not be the strongest or quickest in this class, but the technician will turn heads and provide some certainty for the heavyweights. He will be another great tier-two wrestler in this lineup. Against top-tier wrestlers, he will refuse bonus points. In fact, in his 43 matches as a Cardinal, he has given up five or six team points only five times.
On the flip side, he has never lost to someone considered a lower-ranked wrestler last season. The eyes may say an average wrestler, but Karmon shows no signs of slowing down.
197: Nathan Traxler, RSSR
It's a final run for the decorated Traxler. He's seeking revenge after finishing taking losses to Kordell Norfleet, Noah Adams, and Tanner Sloan. Traxler's spot in the lineup is snagged but his accomplishments currently sit with Norfleet.
Traxler will handle competition leading up to the final months. He will have to turn another gear we haven't seen yet if Traxler wants to be the All-American. Currently, he sits on the bubble but Traxler's strength is nearly unmatched.
Lastly, Traxler's wins in duals will be key because he will be the last surefire win for the Cardinal lineup.
285: Seamus O'Malley, SO
David Showunmi and his backup Trevor Rasmussen are graduating. Therefore, it's a toss-up between Haydn Maley and O'Malley. O'Malley has the early nod before wrestle-offs due to the experience during the nonconference and Pac-12 dual season. He will complete the younger portion of the Cardinal lineup and remains a bit of a question mark headed into next year.
---
Nick Zeller-Singh is a student at Arizona State studying Sports Journalism. In addition to writing for FloWrestling, he appears on his college radio station, does play-by-play, and covers a variety of sports as a beat writer. Follow him on Twitter.