Unlock this article, live events, and more with a subscription!
Get Started
Already a subscriber? Log In
To make it through this quarantine, we're going to need smart people guiding us through these trying times. Smart people like the kind that go to Cornell, which is where our next way too early lineup look takes us.
While the NCAA tournament that never happened may not have been a great one by Big Red standards, the team they'll field next year has the looks of a potential trophy squad, which would be the first for Rob Koll since 2013, when current assistant Kyle Dake won his fourth national title.
It's fun to do these now (quarantine or not) because it's great to look back on them and see how things change from the week after NCAAs to mid-summer to right before the season and into the postseason. Also, I think I speak for everyone when I say we're hoping everything with COVID-19 clears up in ways that minimally impact the programs and their families moving forward.
2020-21 Cornell Projected Lineup
125: Dom LaJoie
133: Vitali Arujau
141: Josh Saunders
149: Yianni Diakomihalis
157: Colton Yapoujian
165: Julian Ramirez
174: Chris Foca
184: Max Dean
197: Ben Darmstadt
285: Lewis Fernandes
Please note we are operating under the assumption that athletes who were seniors this year will not be able to compete next season. I think this team sees a couple weight changes, obviously benefits heavily from the return of three guys off Olympic Redshirt, has some roster battles at 165 and 285, and relies heavily upon their 2019 recruits coming off greyshirt.
125: Dom LaJoie, JR
I'm sure many of you expected to see Greg Diakomihalis in this spot, but it appears his plan is to take a gap year and enter their lineup for the 2021-22 season. Despite having a losing record, LaJoie did his job at EIWAs and placed high enough to qualify for Minneapolis. He had two wins over fellow qualifiers this year in Joe Manchio and Antonio Mininno, and associate head coach Mike Grey loves the way he battles.
133: Vitali Arujau, SO
Vito went gap year at Finger Lakes, fourth place finish at NCAAs, and then Olympic Redshirt. I believe he'll slide up in weight and take over for Chas Tucker, so they shouldn't lose much in production. It is unfortunate though that Tucker didn't get to properly finish out his career with one final tournament, and you can hear Tucker's thoughts on it here.
While 133 will be tougher at the top than 125 next year, it's also probably a slightly more likely weight to win a title at with no Spencer Lee. Although they were in freestyle, he had a 6-0 lead on Daton Fix and beat Nick Suriano, so he should be just fine at this weight.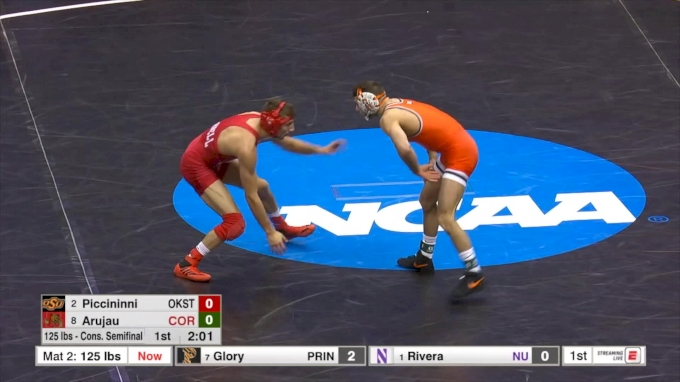 Unlock this video, live events, and more with a subscription!
Get Started
Already a subscriber? Log In
141: Josh Saunders, FR
I think this is the direction Cornell goes, but obviously it would not surprise me if Yianni wanted to stay at 141. Both of these guys have long term freestyle aspirations at 65kg so they'll want to stay around the weight, but no doubt it will be the two-time national champ who dictates this one. Saunders finished his career as the #8 prospect on our Senior Big Board and was the second major domino to fall (after Greg D) when putting together this excellent 2020 recruiting class.
149: Yianni Diakomihalis, JR
Bader and Bray just had Yianni on the show the other day, so go ahead and give that a listen if you haven't already. He's halfway to being a four-time champ, and if he becomes just the fifth person ever to do so, Cornell would have 40% of that list! With the Olympics getting postponed to 2021, I wouldn't be shocked to see Yianni do a modified schedule that has him wrestling in some freestyle tournaments to keep himself sharp for the Trials.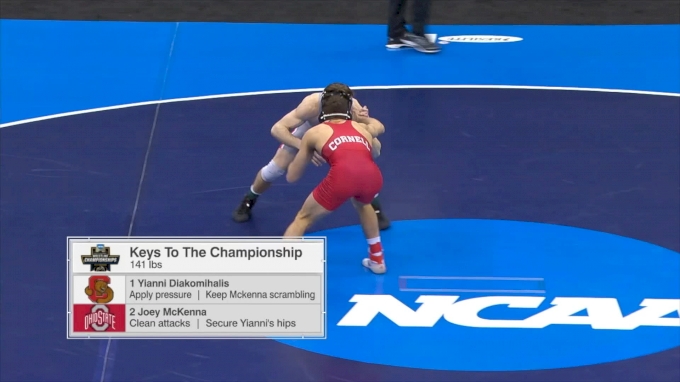 Unlock this video, live events, and more with a subscription!
Get Started
Already a subscriber? Log In
157: Colton Yapoujian, SO
Injuries cut short Yapoujians freshman season after CKLV. He went 12-3 overall and only got to wrestle in two duals. His three losses were all fine though: Hadyen Hidlay, Kendall Coleman and Jared Franek. In his first tournament of the year he beat Markus Hartman and Zach Hartman. He'll have some competition coming in from the 2020 recruiting class, but I think the 157 spot is his for next year at least.
165: Julian Ramirez, FR
I would say there is legit competition at this weight. There are the two Blair boys in Julian Ramirez and Andrew Merola, plus Jake Brindley. One of them will emerge from this roster battle, and right now I lean slightly Ramirez, but it's by a plurality and not a majority. I also wouldn't be shocked to see Andrew Berreyesa try to come down and make this weight once again.
174: Chris Foca, FR
I have been waiting a long time to see Chris Foca at the D1 level. He wrestled everywhere in high school, had a fearless mentality, was tough on top and not afraid to throw the kitchen sink at you. Not necessarily a national title threat as a freshman, but the kind of guy who should be ranked once given the opportunity and will always be a dark horse or upset special in any bracket he enters.
184: Max Dean, JR
Are you starting to see why this team can win a trophy? They bring back an NCAA champ in Yianni, a finalist in Dean, and a fourth place finisher in Vito. Saunders should be solid right away, and I think they'll be better year over year at 157, 165, and 174. He'll still have Louie DePrez in his conference, plus guys like Aaron Brooks, Trent Hidlay, Hunter Bolen and Nino Bonaccorsi nationally.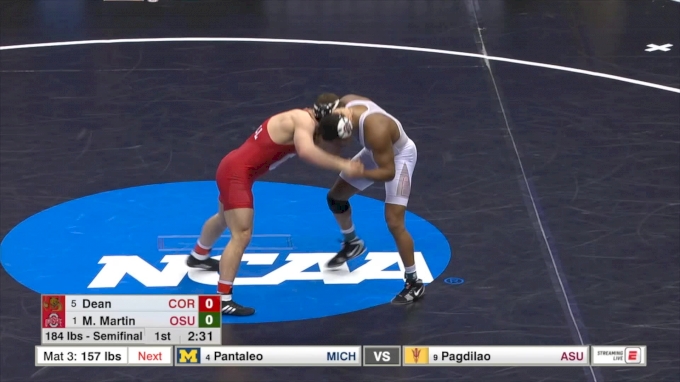 Unlock this video, live events, and more with a subscription!
Get Started
Already a subscriber? Log In
197: Ben Darmstadt, JR
The coaching staff experimented with him at 184 before getting him back up to 197 for the second half of the year. He rolled his way through EIWAs and was the four seed for Minneapolis and with Kollin Moore gone, Darmstadt seems to be among a group of national title contenders that includes Noah Adams among others. They realistically have four guys who could make the finals, and with 14 pinfalls this year he could get finalist points even without making it to Saturday night.
285: Lewis Fernandes, FR
Another roster battle here between 2017 recruit Brendan Furman, who was an NCAA qualifier this year, and Fernandes, coming off his greyshirt year competing for Finger Lakes. I think they let this one play out but that ultimately Fernandes gives them more upside, as Furman had a dozen losses, but did beat three other qualifiers. Meanwhile Fernandes pinned Yaraslau Slavikouski and beat Cary Miller. He won two Jersey titles to Furman's one PA title.