Unlock this article, live events, and more with a subscription!
Get Started
Already a subscriber? Log In
With everyone craving a return to normalcy, we're here trying to provide you some wrestling content to take your mind off the world around you. That means looking ahead to next season, one that hopefully is minimally impacted by the coronavirus.
Today's way too early lineup look takes us to Ann Arbor. Michigan is similar to Cornell in what they bring to the table next year is bolstered a ton by the guys returning from Olympic Redshirt. Head coach Sean Bormet kept morale high during a bit of a down season for the Wolverines, knowing there is light at the end of the tunnel.
It's fun to do these now (quarantine or not) because it's great to look back on them and see how things change from the week after NCAAs to mid-summer to right before the season and into the postseason. Also, I think I speak for everyone when I say we're hoping everything with COVID-19 clears up in ways that minimally impact the programs and their families moving forward.
2020-21 Michigan Projected Lineup
125: Jack Medley
133: Stevan Micic
141: Joey Silva
149: Kanen Storr
157: Will Lewan
165: Cam Amine
174: Logan Massa
184: Myles Amine
197: Andrew Davison
285: Mason Parris
That's a salty lineup with top-end talent, depth at several weights, and upside from top to bottom. They've got breakout potential, young guys able to make a jump, and lineup flexibility that should come in handy as they push to repeat the accomplishments of and even exceed the team that won a trophy in 2018.
Please note we are operating under the assumption that athletes who were seniors this year will not be able to compete next season.
Lineup Looks: Iowa | Penn State | Cornell
125: Jack Medley, SR
When you're looking for difference makers on this team, you start with Jack Medley. If you just look at his .600 win percentage and only picking up bonus in a quarter of his matches you might not think much. But he beat seven NCAA qualifiers and was solidly a top-15 guy by any metric. He's not afraid to win matches on the mat and is exactly the type of unsung hero that gets overlooked when looking at the composition of a trophy squad.
133: Stevan Micic, SR
Micic completes his doctorate next year and we all know that he feels anything less than an NCAA title will be a disappointment based on his own high expectations for himself. There's perhaps no lightweight more technically sound and you have to think his success at the world level will give him the confidence to make a national championships seem even more attainable than it was before. Once again, 133 is looking like the most intriguing weight in the country.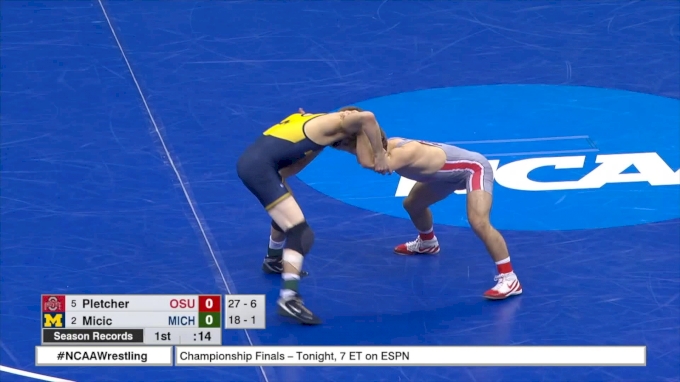 Unlock this video, live events, and more with a subscription!
Get Started
Already a subscriber? Log In
141: Joey Silva, SO
This is one of those weights where the Maize & Blue have some flexibility and depth. Their options include bumping Silva up from 133, both Mattin brothers (junior Drew and sophomore Cole), though the younger one may redshirt, and then Ben Freeman coming back from injury. I think Silva is the clubhouse leader and not having to worry as much about weight will allow him to do what he does best: be stronger and tougher than anyone and as hard as anyone in the country to score on. Remember, this guy was blow-for-blow with Seth Gross at Big Tens.
149: Kanen Storr, SR
Man, what a strange career for Kanen Storr. He lost out on an NCAA tournament when he transferred from Iowa State and missed out on another one this year. He hasn't quite been able to push through to All-American level, but again, the upside is there. It's not just the three guys coming back from Olympic Redshirt, it's the seniors Storr and Medley that can provide that X-Factor of raising their level in their final season.
157: Will Lewan, SO
Although they have some options at 141, I don't think there will be much to think about weight change wise in the first four weights. But from 157-184, they've got some decisions to make. I think it will be Lewan, but Cam Amine was a 152 his senior year of high school and I can't imagine he was cutting much during his redshirt year at 165. So I'd imagine they will have some discussion about Amine dropping or Lewan going up, switching weights, or wrestling off for 157, especially depending upon what Logan Massa wants to do.
165: Cam Amine, FR
The other thing that makes the return of Massa and Myles Amine so difficult is what happens with Jelani Embree. This is all the stuff I mentioned when I said Michigan has flexibility and depth, as they have five guys for four weights. Amine went 15-5 in his redshirt year and had a win over Cael McCormick, who would have been the #21 seed at NCAAs. He was our 17th rated prospect on the 2019 Big Board.
174: Logan Massa, SR
There's a very real possibility Massa stays at 165, at which point you'd have to think Amine goes 174 because they otherwise don't have anyone really for that weight. Massa won Senior Nationals at 74kg, beating Mekhi Lewis in the finals. He was multiple folkstyle wins over Alex Marinelli and Evan Wick, so he can win a title at 165, but if he's not too small he makes more sense with their lineup at 174.
184: Myles Amine, SR
My hunch that Amine bumps is based on him spending all this time at 86kg getting bigger for his Olympic run, but they do have Jelani Embree here, however, it will clearly be Amine's call. His main nemesis Mark Hall will be gone, as will Zahid Valencia, but I think along with 133, Amine going up to 184 makes that a tremendously fascinating weight next year.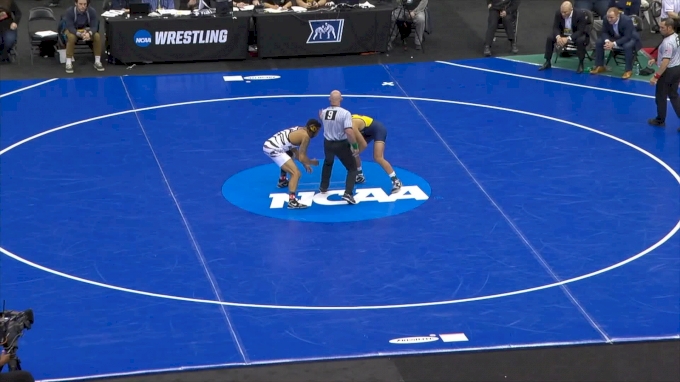 Unlock this video, live events, and more with a subscription!
Get Started
Already a subscriber? Log In
197: Andrew Davison, JR
A freak injury halted Davison's season after just one tournament, and with just 18 career matches against Division I opponents, health and experience are the main hurdles to finding out his true potential. I think they try to get Davison in there first, though Gaige Garcia is a stud freshman coming in. The two-time Pennsylvania state champ will also be playing football for the Wolverines, so I think Bormet and his staff will slow play bringing Garcia along after football season. Make no mistake about it though, this is their year to push for a trophy and a title, so if Garcia is their best option, expect him on the mats at Big Tens.
285: Mason Parris, JR
One of the nation's most improved wrestlers, he was the clear #2 and a legitimate Hodge finalist type guy until he lost to Gable Steveson in the Big Ten finals. Speaking with Adam Coon at the Pan Am qualifier, it's clear Parris has designs on breaking all of Coon's strength and weight room records, which doesn't guarantee any wins on a wrestling mat, but does speak to the kind of athlete Parris is. With 10 pins, a tech and five majors, he became a hugely important closer for Michigan and they will be relying on that type of bonus points as they make that team title push.