Unlock this article, live events, and more with a subscription!
Get Started
Already a subscriber? Log In
Yesterday, J'den Michael Tbory Cox announced that he would be moving up to 97 kg to try and make the Olympic Team.
Listen to J'den talk about this decision below:
Here's why I love that J'den chose to go 97 instead of 86.
J'den at 97 > J'den at 86
Half of J'den's video above is him discussing his mindset and the reason he chose 97 kg, and that reason was because he feels he will be the best version of himself at 97. I agree. It was no secret how tough the weight cut was for him to get to 86 in 2016 and 2017, and that was with a day before weigh-ins. I think 86 on a two-hour weigh-in would leave J'den depleted and not at 100 percent.
J'den vs Kyle > J'den vs David
Don't get me wrong, I would absolutely love to see J'den vs David Taylor round IV, especially with the beef between them and how exciting their first three matches were. You can watch those HERE. However, I just want to see J'den vs Kyle Snyder more. These two had quite the history up until they separated weight classes in 2016. Snyder won the last two (3-2 in the 2015 NCAA semifinals and 4-3 at the 2015 US Open), but Cox has evolved so much since then. He is now a World bronze medalist, Olympic bronze medalist, and two-time defending World champion. J'den has become one of the best pound-for-pound wrestlers in the world. You can basically throw their history out the window. It's a whole new ballgame this time around.
J'den vs Sadulaev >>>
If J'den can get past Snyder and the rest of the U.S. contenders at 97 to make the Olympic Team, it sets up one of the biggest potential matches of all time with Abdulrashid Sadulaev. Once again, Snyder vs Sadulaev is absolutely awesome and I would love to see round three, but J'den vs Sadulaev just excites me more.
I don't even know where to begin with this. Sadulaev is widely considered to be the pound-for-pound best wrestler in the World. However, if Sadulaev is P4P tier 1, J'den is P4P tier 1A. Sadulaev has one of the most diverse offensive arsenals in the world, but J'den has some of the best defense tactics. They are both incredibly explosive, athletic, and have great feel and scramble ability. I need it.
J'den has the potential to become the greatest of all time
Hear me out. I'm not saying J'den would be the GOAT after this year, but rather going 97 gives the chance to become the GOAT more so than 86. At 86 his two main obstacles would be David Taylor and Hassan Yazdani Charati. Two great wrestlers, but that's not quite as impressive as taking out Kyle Snyder, Sharif Sharifov, and Abdulrashid Sadulaev. If you're not familiar with their work — Kyle Snyder: youngest Olympic champion in U.S. history, and two-time World champion. Sharif Sharifov: Olympic champion and World champion. Abdulrashid Sadulaev: Olympic champion, four-time World champion, and potential to be the all-time World GOAT himself.
Beating three Olympic champions in one year including someone who could be the best of all time in Sadulaev and someone who gave Sadulaev his one international loss and is one of the best in American history? That's all-time stuff and puts J'den on the trajectory to possibly become at least the American GOAT.
J'den is well aware of what this could do for his legacy. He talked about it immediately following winning his second World gold medal last year.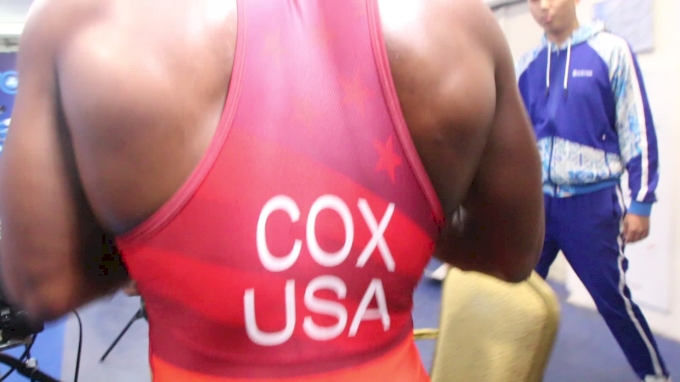 Unlock this video, live events, and more with a subscription!
Get Started
Already a subscriber? Log In