2023 Final X - Newark
A Brief History Of The Great Snyder vs Cox Rivalry
A Brief History Of The Great Snyder vs Cox Rivalry
Kyle Snyder and J'den Cox are slated to wrestle at Final X presented by Tezos on June 10, renewing one of the best rivalries in American history.
May 11, 2023
by Andrew Spey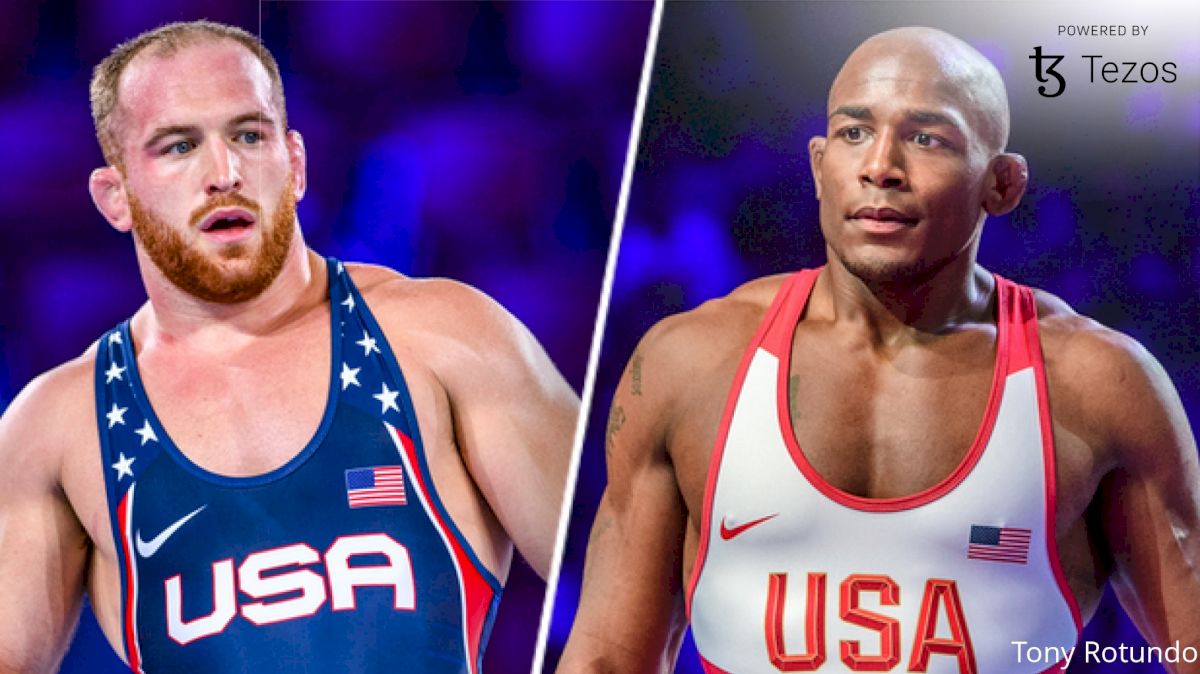 Is there a longer lasting rivalry in wrestling than Kyle Snyder vs J'den Cox? Certainly not one that is currently being fiercely contested at the senior level.
They've wrestled at Fargo, they've wrestled at NCAAs, they've wrestled at the Open and they've wrestled at the Rudis Supermatch, they're both in the top 20 of the best American wrestlers of all time, but they've yet to wrestle each other with a spot on the world or Olympic team on the line.
That's all set to change on June 10th at Final X presented by Tezos, with the 97kg world team spot going to the winner. But before J'den and Kyle settle things on the mat, it's best we get reacquainted with their rivalry and update its history.
It's Been Going On For Awhile
Snyder and Cox have been rivals for so long that it's already been seven years since we wrote a blog titled 'J'den Cox and Kyle Snyder: Through The Years'. The Cox vs Snyder rivalry is now in its second decade and still going strong.
Here's Snyder talking about wanting to wrestle J'den in his senior year of high school in 2014: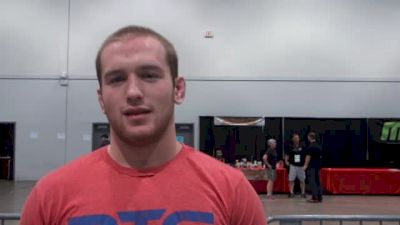 And here's J'den talking about wanting to wrestle Kyle at the 2022 Pan-Am Championships: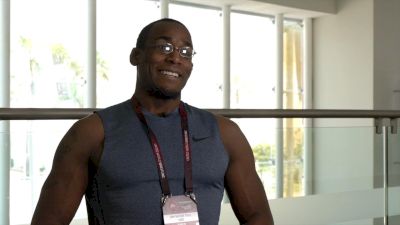 And They're 2 Of America's Most Decorated Wrestlers
Rarely have two Americans with this many world and Olympic medals competed for a world or Olympic team spot before. Kenny Monday and Dave Schultz both had Olympic golds and both battled for the 74kg spot for the better part of a decade.
Additionally, Jordan Burroughs has scrapped with both Kyle Dake and David Taylor while in the same weight class. But even those rivalries can't top the raw medal counts of Snyder and Cox at the time of their Final X bout.
Kyle Snyder: Olympic Gold, Olympic Silver, 3X World Gold, 2X World Silver, World Bronze, 8X Pan-AM Gold
J'den Cox: Olympic Bronze, 2X World Gold, World Silver, 2X World Bronze, 2X Pan-Am Gold
Combined that's three Olympic medals and 11 World medals. Oh yeah, plus 10 Pan-Am golds. That's all in one Final X matchup!
The History Part I: The Fargo Battles
Cox and Snyder were both born 1995 and both began wrestling at early ages, climbing up the national high school rankings until they collided in Fargo in the summer of 2011.
In an age group then called 'cadets', now more descriptively called 16U (short for "16-years-old and under"), Snyder and Cox met in the 215lb weight class in both Greco-Roman and freestyle.
J'den defeated Snyder in the Greco-Roman finals 2-1, 0-1, 1-0 (yes this was so long ago that all matches were decided in best two-out-of-three 2-minute periods. Ties were broken via the ball draw and clinch, UWW was called FILA, refs wore coats and ties, it was a weird time to be a fan of international wrestling) to earn a Fargo stop sign.
Snyder would have his revenge in the freestyle tournament, beating Cox on his side of the bracket 1-0, 1-1 (a bracket which was not a traditional looking bracket but something called 'vertical pairing'. The details aren't important but its something between a round-robin and traditional bracket that looked like a bowling score sheet. You can see what it looked like by checking out the brackets from this old Trackwrestling event page). Snyder went on to win the bracket while Cox would place third.
Here's a link to the Greco finals match. I couldn't find the freestyle bout, which doesn't mean it's not out there somewhere, just that I got tired of looking.
A year later in 2012, now graduated to the Junior divisions (which are still extant!), and up at 220lbs, Cox and Snyder met again in both the Greco-Roman and freestyle tournaments.
This time, the script would be flipped, as Snyder beat Cox early in the Greco bracket, (0-1, 2-0, 1-0), eventually winning a title while Cox would settle for third place.
In the freestyle bracket, this time it was Cox over Snyder (1-0, 1-0), with Cox going on to win the Fargo title while Snyder settled for third. Here's a link to the slightly less-than-scintillating matchup.
Below is the 2012 Greco bout, historically significant as being the last major Greco-Roman competition for either wrestler: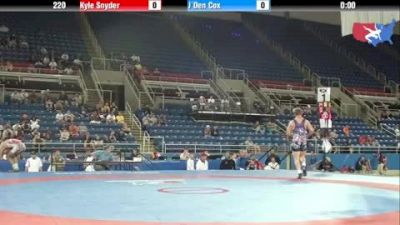 In summary, Cox and Snyder wrestled at Fargo four times in two years, splitting their matches 2-2 while also going 1-1 in each style.
The History Part II: The College Years...
Though close in age, Cox was one grade ahead of Snyder and graduated high school in the class of 2013, starting college at Missouri in his hometown of Columbia later that year. Snyder would finish his final prep year in Colorado at the Olympic Training Center a year later and beginning his college career at Ohio State in the fall 2014.
Both wrestlers were big 'gets' for their respective programs. Cox helped the Tigers attain the #7 national recruiting class, while Snyder and was instrumental in the Buckeyes finishing #2 in the recruiting class rankings a year later.
Cox wrestled right away, winning an NCAA title as a true freshman at 197 lbs in 2014. A year later Snyder would also start his college career during his true freshman season, also at 197-pounds. They didn't meet in the regular season as Cox wrestled heavyweight in the dual between the Buckeyes and Tigers.
But a meeting was set up for the semifinals of the 2015 NCAAs when J'den received the #1 seed and Snyder the #4. Both wrestlers won their first two bouts, which bore fruit in the form of a 3-2 win by Snyder, who got the only takedown of the match early in the first period.
Cox would ultimately finish fifth in the bracket, while Snyder would fall to Kyven Gadson in the finals and finish as runner-up. Neither wrestler would lose another match at the NCAA tournament for the rest of their collegiate careers.
Snyder then bumped up to 285 where he won three NCAA titles, two of those finals match being quite memorable with 2015 being a classic overtime win over two-time NCAA champ Nick Gwiazdowksi, and his 2018 title coming over Adam Coon, which visually resembled the size disparity between Hulk Hogan vs Andre the Giant.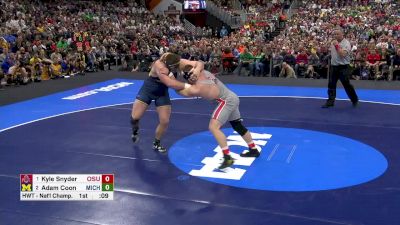 Unlock this video, live events, and more with a subscription!
Get Started
Already a subscriber? Log In
Cox meanwhile stayed at 197 and obliterated two years worth of college competitors, save for one loss via disqualification vs his nemesis from Ohio, Phil Wellington. J'den ended his collegiate career in his home state of Missouri at the 2017 NCAAs in St Louis.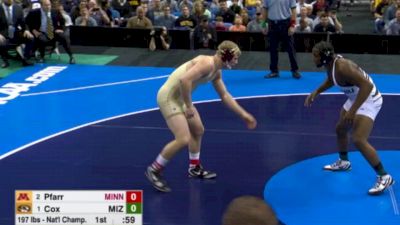 Unlock this video, live events, and more with a subscription!
Get Started
Already a subscriber? Log In
Typically, wrestlers don't start their international careers until after they graduate college, but Cox and Snyder are far from typical wrestlers, and indeed, some might say they helped usher in a new era where America's top wrestlers compete simultaneously in folkstyle and freestyle.
The History Part III ...Which Overlapped With The International Years
A little over a month after the 2015 NCAAs, the worst NCAAs for both J'den and Kyle, Cox and Snyder entered the 2015 U.S. Open (very annoying titled Senior Nationals in Trackwrestling, even though 2015 Senior Nationals was held in December and took the place of the 2016 U.S. Open due the timing of the Olympic Team Trials, but I digress).
Though they both notched takedowns, Snyder won again, 4-3. No known video of this match exists in digital form, so if you happen to have a copy, don't be shy. Your contribution to wrestling history will be appreciated, no questions asked, legal or otherwise!
In any event, Snyder won the tourney over Jake Varner in a proverbial passing of the torch from the London 96kg freestyle gold medalist at the London Games to the (spoiler alert) future 97kg freestyle gold medalist at the Rio Games. Cox finished fourth, medically forfeiting out of the 3rd place match.
Snyder would defeat Varner again at the world team trials (two times, in fact), and go on to win gold at the 2015 World Championship in Las Vegas, all before turning twenty years old.
In 2016, after both Snyder and Cox were done winning NCAA titles, Cox made a surprising announcement that he would be bumping down to 86kg (approximately 189.2 pounds). This was after Cox had bumped to 285-pounds multiple times in the past two NCAA seasons and there was a lot of discussion about Cox going heavyweight in his high school days.
Conversely, Snyder stayed at 97kg (approximately 213.4 pounds) but bumped up permanently to 285-pounds for the rest of his NCAA career.
The move worked out great for Team USA, as both J'den and Kyle made the Olympic teams and medaled in Rio. Cox defeated future Olympic medalist Kyle Dake in the OTT finals and then earned a bronze in Rio, while Snyder once again fended off Jake Varner before triumphing in Rio with a gold over Khetag Goyzumov of Azerbaijan.
My thoughts on Kyle and J'den's performances in Rio were the same as my thoughts on the 2022 U20 Worlds.
My thoughts on the U20 World Championships. pic.twitter.com/QPAIhyhpx3

— Andrew Spey (@SpeyWrestle) August 21, 2022
J'den would stay at 86kg for another year, winning an NCAA title in March of 2017, defeating David Taylor in the finals of the World Team Trials in June, and then winning a bronze medal at the World Championships in Paris in August.
Snyder, operating on the same timeline, would win NCAAs, World Team Trials, and then his third World or Olympic gold, completing the 2015-17 gold medal trifecta.
2018 brought the advent of the non-Olympic 92kg weight class, which Cox ably bumped up to, winning two golds in a row, in Budapest, Hungary, and Astana (then Nur-Sultan), Kazakhstan. Snyder stayed at 97kg and won a silver and bronze at those tournaments.
And in the midst of all this international winning we also got a glimpse of what a matchup would look like in the lead up to 2019's Beat the Streets, in the practice room of the New York Athletic Club.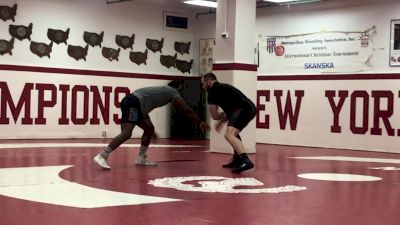 Unlock this video, live events, and more with a subscription!
Get Started
Already a subscriber? Log In
How tantalizing.
The History Part IV: The Olympic Trials Showdown That Wasn't
2019 turned into 2020 in the way that everyone expected it to, but then covid-19 caused a global pandemic that changed the course of so many events in ways that pretty much no one expected.
J'den announced he would be competing at 97kg for the 2020 Olympic Team Trials (which was not unexpected). But then the Team Trials (and like every other global event) were unexpectedly postponed.
The postponement was indefinite at the time, but eventually the trials were rescheduled for April 2021 in Fort Worth, Texas, and everyone got re-pumped for a potential matchup between Snyder and Cox in the 97kg finals.
But that was not to be, as J'den did not arrive for weigh-ins in time and was scratched from the tournament, much to the consternation of everyone.
Snyder would win those trials, then earn silver at the crowd-less Tokyo Olympics in July. That earned Snyder an automatic spot on the 2021 World Championship team at 97kg, which he took. Cox, thus, dropped back down to 92kg and competed alongside Kyle at the Oslo Worlds as teammates.
Snyder would again take silver, falling to the mighty Abdulrashid Sadulaev for the second time that year. Cox would beat everyone but Kamran Ghasempour of Iran in the semifinals and settle for bronze.
Our famous rivals would run it back at the same weights in Belgrade a year later at the 2022 Worlds, but not before their long-awaited senior level showdown took place thanks to the Rudis Supermatch.
On the eve of the 2022 NCAA Championships on March 16 in Detroit, Snyder and Cox finally went head-to-head at 97kg in a best two-of-three series. Snyder won both bouts, at first on criteria 5-5 and then 7-5 in match #2.
Then it was back to 2022's Belgrade Worlds. Cox would return to 92kg and earn a silver medal, while Snyder, the stalwart of 97kg, won gold for the first time since 2017.
The History Part V: That Which Hasn't Happened Yet
There are no guarantees in life, but the odds that we see Kyle Snyder and J'den Cox wrestle for a world team spot have never been higher.
Both wrestlers are arguably still in their prime. Cox is 28 and Snyder turns 28 later this year. Both have their longer-term sights set on the Paris Olympics of 2024, which makes the 2023 World Team so critical, as you have to make the team to win a 2023 World medal, and a 2023 World medal gets you a bye to the finals of the Paris Olympic Team Trials, which will greatly improve your odds of making the Olympic team vs qualifying through the rest of the bracket with everyone else.
All of which is to say that the stakes couldn't be higher.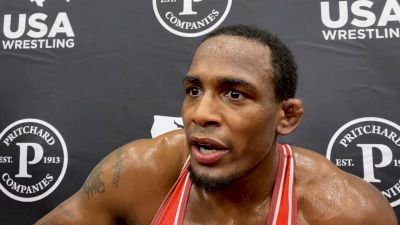 The good news for America is that whoever wins in Newark this June will be a gold medal contender, if not favorite, at the World Championships, so you win either way at Final X if you root for the Red, White and Blue.
Coda: Career Summaries
I note a bunch of notes on Kyle and J'den's respective careers, so rather than keep it to myself, I figured I'd end this blog by sharing it with all of you, the wise and learned wrestling fans. As such, an incomplete summary of each wrestler's career can be found below.
Kyle Snyder
HS: 3X National Prep Champ, Our Lady of Good Counsel, Maryland. Senior year at OTC
2011: 1st Fargo 16U Free 215lbs (beat J'den), 2nd Fargo 16U Greco 215lbs (lost to J'den),
2012: 3rd Fargo JR Free 220lbs (lost to J'den), 1st Fargo JR Greco 220lbs (beat J'den), 2nd U20 WTT 96kg
2013: 3rd Fargo JR Free 220lbs, 1st Fargo JR Greco 220lbs, 1st U20 US Open 96kg, 1st U20 WTT 86kg, Gold UWW U20 96kg, Bronze Deglane 96kg
2014: 1st U20 US Open 96kg, 1st U20 WTT 96kg, Bronze UWW U20 96kg
2015: 2nd NCAA 197lbs (beat J'den), 1st US Open 97kg (beat J'den), 1st WTT 97kg, Gold UWW Worlds 97kg
2016: BronzeYariguin 97kg, 1st NCAA 285lbs, 1st OTT 97kg, Gold Olympics 97kg
2017: Gold Yariguin 97kg, 1st NCAA 285lbs, 1st WTT 97kg, Gold UWW Worlds 97kg
2018: Gold Yariguin 97kg, 1st NCAA 285lbs, 1st Final X 97kg, Silver UWW Worlds 97kg
2019: Gold Final X 97kg, Gold Yasar Dogu 97kg, Bronze UWW Worlds 97kg
2020: Covid
2021: 1st OTT 97kg (no J'den), Silver Olympics 97kg, Silver UWW Worlds 97kg
2022: 1st Yariguin 97kg, 1st Rudis Supermatch 97kg (beat J'den 2X), 1st Final X 97kg, Gold UWW Worlds 97kg
2023: 1st Zagreb 97kg, 1st Kolov 97kg
J'den Cox
HS: 4X Missouri state champ, Hickman High School
2011: 3rd Fargo16U Free (lost to Snyder) 215lbs, 1st Fargo 16U Greco 215lbs (beat Snyder)
2012 :1st Fargo JR Free 220lbs (beat Snyder), 3rd Fargo JR Greco 220lbs (lost to Snyder)
2013: Junior Duals Free 220lbs
2014: 1st NCAA 197lbs, 6th WTT 97kg
2015: 5th NCAA 197lbs (lost to Snyder), 4th US Open 97kg (lost to Snyder)
2016: 1st NCAA 197lbs, 1st OTT Challenge 86kg, 1st OTT 86kg (beat Dake 2-1), 1st Olympic Qualifier 86kg, Bronze Olympics 86kg
2017: 1st NCAA 197lbs, 1st WTT 86kg (beat Taylor 2-1), Bronze UWW Worlds 86kg
2018: 1st Final X 92kg, Gold UWW Worlds 92kg
2019: 1st Final X 92kg (beat Nickal 2-0), 1st Yasar Dogu 92kg, Gold UWW Worlds 92kg
2020: Gold Pelado 92kg
2021: 1st WTT 92kg, Bronze UWW Worlds 92kg
2022: 2nd Rudis Supermatch 97kg (lost to Snyder 2X), 1st Final X 92kg, Silver UWW Worlds 92kg
2023: 1st US Open 97kg
Final X is the Beat the Streets New York Benefit
It is the second straight year Final X will serve as the Beat the Streets New York Annual Benefit. This year's event will be the 13th BTSNY Annual Benefit. These unique and electrifying annual events help BTSNY raise more than $1 million each year to support local youth wrestling programs which empower young people in New York City. The BTSNY Annual Benefit after-party will follow the conclusion of Final X. Benefit tickets and sponsorship packages (Final X plus exclusive after-party celebration access), that also provide the best wrestling-event seats, are available at give.btsny.org/beatthestreetsbenefit2023. For more information on ticket packages, email Katrin Pokalyukhin at katrin@btsny.org. Event-only tickets for Final X without access to the BTSNY after-party celebration are available on Ticketmaster.