2020 Escape the Rock
The Ultimate Escape The Rock Preview
The Ultimate Escape The Rock Preview
Everything you need to know about the 2020 Escape the Rock high school wrestling tournament.
Jan 16, 2020
by John Foster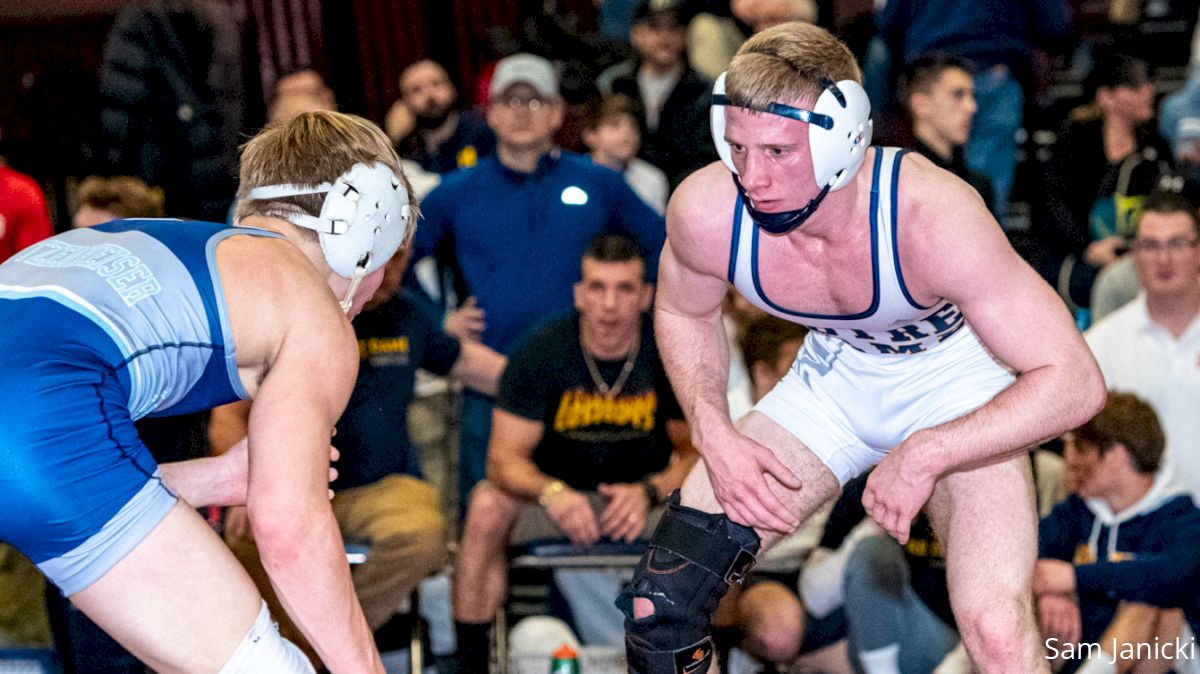 Unlock this article, live events, and more with a subscription!
Get Started
Already a subscriber? Log In
I always love Escape The Rock, coming just after the holiday tournaments have shaken up the rankings, it allows the new stars to continue to burn bright, and others to seek equal parts redemption and revenge. This year features a barrage of talent, with a stack of nationally ranked wrestlers colliding with the local heroes. All of it highlighted by the never-ending Pennsylvania / New Jersey border war. We even dialed up a little snow to get everyone in that January tournament mood! Luckily, if you can't join us matside you can take in every second of the action in the cozy comfort of your own home.
Watch Escape the Rock LIVE on FloWrestling
Saturday, January 18 | 10:00 AM ET
Are we slated for another edition of the tight Ryan Crookham and Eddie Ventresca rivalry? Can Brett Ungar or Kenny Hermann get his crown? Is 120 madness? Is 152 madness? What weight is Cole Handlovic? Is 170 complete and utter madness? Can the arena even hope to contain Gaige Garcia and Nick Feldman? All of your burning questions (and more!) answered below.
Tournament Schedule | Team List | FloArena Brackets
---
106 Pounds
The Seeds
Sean Logue, Father Judge (10)
Zach Jacaruso, Delaware Valley (9)
Logan Attisano, Legacy Christian (10)
Tommy Link, Malvern Prep (9)
Matt Eberly, New Kent (9)
Carson Wagner, Northampton (9)
Trevon Gray, Oscar Smith (11)
Chad Ozias, Connellsville (10)
Cael McIntyre, Bethlehem Catholic (9)
Evan Maag, Notre Dame GP (10)
Kade Davidheiser, Hill School (10)
Max Martin, Great Bridge (10)
Josh Jasionowicz, Stroudsburg (11)
Cavan Kinne, Council Rock South (11)
Luke Mentzer, Chambersburg (9)
Cooper Haase, Kissimmee Osceola (9)
We kick things off with our only bracket that doesn't feature a nationally ranked wrestler, which feels especially weird given it is a lightweight bracket in Pennsylvania. Clearly a young bunch without a ton of results to parse. Tommy Link has had a stellar freshman season, finishing 8th at Beast and Ironman. A few of these guys have hit but nothing major, so we will get to see a lot of feeling out taking place early on. Logue had been having a great season to date before suffering his first loss, 10-7 to Connor Werner, so he will be looking to bounce back and put things right.
Jacaruso started his high school career in an odd way by getting DQ'd and then having to forfeit his next two matches. Since then he has been proving a point with a string of quick pins. Attisano is a returning bloodround guy here, but didn't place in the Ironman bracket with Link. Eberly is solid but had quick exits from Ironman and Beast, including being beaten by Link. Wagner was bloodround at Beast and is a Fargo Greco placer. Ozias made the bloodround at Powerade. Davidheiser beat Link before he set off climbing the backside.
I am leaning into Link on this one, but I really like Jacaruso.
Foster's Picks: 1. Link 2. Jacaruso 3. Logue 4. Wagner
---
113 Pounds
The Seeds
Brett Ungar, Notre Dame GP (11)
Kelly Dunnigan, Don Bosco (11)
Erik Roggie, St. Christopher's (11)
Jacob Craig, Hill School (10)
Joe Manno, St. Joseph's Regional (10)
Mason Prinkey, Connellsville (11)
Matt Ellis, Legacy Christian (10)
Braxton Appello-Fries, Easton (10)
Luke Poore, Caravel Academy (9)
Jay Maldanado, Boyertown (11)
Dante Frinzi, Bethlehem Catholic (10)
Dom Findora, Downingtown West (10)
Spencer Barnhart, Malvern Prep (9)
Zeke Dubler, Glendale (9)
Austin Pollard, Colonial Forge (10)
Connor Crescimano, Delaware Valley (10)
Brett Ungar is having a season where he can just taste those elusive titles. The #7 ranked wrestler, who won a New Jersey state title last year, has come up just short in the majors, losing the Ironman final to Gary Steen, and the Beast final to Stevo Poulin. He has to be hoping that he will get a chance to stand atop the podium here. Beast did well to break this down for us as Ungar beat Dunnigan there, and Dunnigan beat Roggie in the round prior.
Kelly Dunnigan has been right on Ungar's heels, whether in the NJ bracket, or in finishing 3rd at Beast, and sits at 8th nationally. He is also a former FloNats finalist and Fargo placer. I am a big fan of 17th ranked Erik Roggie, partially from seeing so many of his matches but also because he brings such a different equation to be solved to the weight class. Roggie's length creates all kinds of problems for his opponents and it has earned him 5th at Beast, 6th at Ironman and 6th at Super 32 this year.
Jacob Craig was right behind with a 6th place finish at Beast, and Poore was 7th with Manno in the bloodround, where he lost to Craig, who then lost to Dunnigan. These guys have seen a fair amount of one another. That helps settle my nerves as I go against my usual instincts and pick chalk here.
Foster's Picks: 1. Ungar 2. Dunnigan 3. Roggie 4. Craig
---
120 Pounds
The Seeds
Dustin Norris, Cincinnati La Salle (11)
Kyle Hauserman, Council Rock North (11)
Brandon Chletsos, Notre Dame GP (10)
Alex Almeyda, St. Joseph's Regional (10)
Dayton Delviscio, Malvern Prep (12)
Killian Delaney, WC Henderson (12)
Kole Biscoe, Southern Columbia (10)
Karl Shindledecker, Chambersburg (10)
Georgio Mazzeo, Paulsboro (12)
Shane Percelay, Pope John XXIII (11)
Mike Tandurello, Don Bosco (11)
David Bragg, Oscar Smith (12)
Boede Campbell, Legacy Christian (9)
Ethan Renegar, JW Robinson (12)
Joey Miranda, Kingsway (10)
Kyle Miller, Quakertown (12)
The top five in this bracket can all win this thing. It's as simple as that. Having 6th ranked Alex Almeyda somewhat justifiably as your 4th seed based on losing to Brando Chletsos at Beast personifies how crazy this could all get. Rounding out the national rankings, DustinNorris is 8th, Kyle Hauserman is 18th and Chletsos and Delvisco are right on the bubble. They all bring serious game to the mat and we can expect a mega batch of quarters from this crew with each round afterwards being absolute fireworks.
Chletsos has to be circled here as his run on the back of the Beast blemished a lot of resumes and was a big part of the early buzz around the Notre Dame Green Pond team depth. He beat Delviscio and Almeyda with breathing room before dropping a tight third-place match to Cooper Flynn on a takedown in the final period. Here is the thing about that Almeyda win though - you have to watch the matches and not just read results. Almeyda had made the semi and looked to have Dean Peterson in real danger in OT, before Peterson called for injury as the crowd moaned. Getting the reset he would escape and dash Almeyda's dreams, so he took that match on the backside completely wiped out and then defaulted.
In fact, Almeyda has been can't miss viewing all year, including a 3rd place Super 32 run through #2 Jordan Titus (Twice! Including a pin!) and a recent win over 10th ranked Cali stud Carlos Negrete. Norris will want to quiet all of that buzz but it is hard to forget that he didn't place in that same S32 bracket, including being beaten soundly by Peterson. What he did do was beat Tristan Lujan there and then go on to have a solid Ironman, finishing 4th. Almeyda will have taken note that Titus had a fair bit of distance between them in their semi though.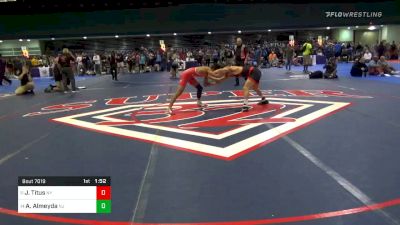 Unlock this video, live events, and more with a subscription!
Get Started
Already a subscriber? Log In
Kyle Hauserman is coming in hot after his awesome Powerade win, getting his face on the national radar. Delviscio was 7th in that bracket and also grabbed the last spot on the podium at Ironman. Does Shindledecker get in the conversation? He only lost 2-1 to Delviscio before having to medically forfeit out at Beast. Killian Delaney is a former state finalist and is incredibly tough and has been at 126 all season, throwing a wrench into the proceedings. He is a serious trap match here. Biscoe is also a former state finalist.
Get ready for some juicy quarters and basically complete madness in this bracket! I actually think Almeyda is the class of this crew and he will show that this weekend, but nothing is for certain with this whirlpool of talent. I have all upsets in the semis.
Foster's Picks: 1. Almeyda 2. Delaney 3. Norris 4. Chletsos
---
126 Pounds
The Seeds
Ryan Crookham, Notre Dame GP (10)
Eddie Ventresca, Pope John XXIII (12)
Cole Skinner, Cincinnati La Salle (12)
Camron Lacure, Legacy Christian (10)
Luke Lucerne, Council Rock North (12)
Kyle Waterman, Council Rock South (12)
Kelvin Griffin, Hill School (10)
Mackenzie Bell, Kingsway (12)
Matt Mayer, Bethlehem Catholic (11)
Sam McGonagle, WC Henderson (11)
Ethan Grey, Caravel Academy (11)
Sammy Gerard, JW Robinson (10)
Suds Dubler, Glendale (10)
Logan Pierson, Great Bridge (11)
Ray Goode, New Kent (11)
Reed Fullmer, Malvern Prep (9)
Let's get it on! For two straight years I have sat through scorching matches at Beast of the East between 2nd ranked Ryan Crookham and #7 Eddie Ventresca, and these two always bring it. Both are state champs who have insane mat games and the scrambles here should be mind-boggling. Crookham won the takedown battle and the final this year 5-4, which was essentially a reversal of Ventresca's 4-3 win in the quarters last year. (Eddie would finish 2nd and Ryan 3rd).
Crookham was also the runner up at Ironman this year losing a tight contest to Nic Bouzakis. Along the way he majored Cole Skinner 11-0 so you can see the drop off here pretty easily. Both Crookham and Ventresca can work their way to a final so we shouldn't be robbed of what will likely be a major highlight of the tournament.
That's not to say that Skinner is not tough as he is a past Fargo champ and state champ, so he should lead that second tier, but I also like Kelvin Griffin who finished 4th at Beast and could be problems here, keeping in mind that he only lost 3-0 to Crookham. Mackenzie Bell was 7th in that bracket and he and Ethan Grey had an exciting 11-6 battle right before Griffin pinned Bell. Grey had come out of nowhere to reach the quarters there. Lacure is talented but not there against elite guys yet, shown by getting tech'd by Crookham. He has beaten Bell before. Shoutout to Suds Dubler for having the best name in the tournament.
I would love to pick Ventresca to swing this rivalry back in his favor, and anything goes in this one, but my gut is telling me that this is Crookham's year. Should be one to remember no matter how it ends.
Foster's Picks: 1. Crookham 2. Ventresca 3. Griffin 4. Lacure
---
132 Pounds
The Seeds
Patrick Noonan, Stroudsburg (12)
Joey Olivieri, Hanover Park (11)
Brock McMillen, Glendale (11)
Casey Wiles, Cincinnati La Salle (11)
Evan Buchanan, Atlee (12)
Justin Bierdumpfel, St. Joseph's Regional (12)
Evan Gleason, Bethlehem Catholic (11)
Jaekus Hines, Kissimmee Osceola (11)
Jaheid Lucas, Oscar Smith (11)
Josh Pence, JW Robinson (11)
Preston Machado, Delaware Valley (11)
Dagen Condomitti, Northampton (9)
Patrick Jordon, New Kent (9)
Ian Yoder, Southern Columbia (11)
Quinn Tobin, Spring Ford (12)
Jake Gentile, Kingsway (11)
When you attend these events you can end up making unintended connections. At Beast this year it became evident that I was completely surrounded by 19th ranked Joey Olivieri's family during his finals match against Jimmy Carmany of Brecksville. Carmany was a surprise to be there and everyone had been scrambling to get info on him. He quickly showed that it would be a tough battle but the gathered were confident in Olivieri's ability to handle anything that was thrown at him. The match was there for Joey time and time again, nearly garnering back points, and I found myself swept up in the emotion pouring out all around me. Up 1-0 and riding hard we could all sense he was about to pull it out, only for Carmany to spring a surprise reversal with four seconds on the clock and steal it all away. I must have been walled off by a dozen hearts breaking all at once, and mine broke just a little along with them.
10th ranked Patrick Noonan really turned my head when I was calling matches at Super 32 as he just couldn't stop taking out ranked guys, including 9th ranked Anthony Clark. He already added a Journeyman and NHSCA title and comes in having finished 4th at Powerade after getting caught in the Gabe Willochell cinderella run. My worry here is Noonan doesn't always finish the job, and as talented as he is, he is not unbeatable, having dropped three matches already this year.
Unlock this video, live events, and more with a subscription!
Get Started
Already a subscriber? Log In
Brock McMillen only had one loss last year on his way to a state title and has been lights out again this season. He is also a past FloNats champ. I really like how Evan Buchanan has been wrestling, gutting out 7th place finishes at Ironman and Beast. Casey Wiles is a returning 6th and hasn't seen full action this year, coming off a 3rd place finish at the DCC Invitational. Evan Gleason was in the bloodround at Ironman and then bettered that by finishing 6th at Beast. Dagen Condomitti is looking to follow in his brother's footsteps and make some noise here.
Noonan is fantastic, but he can drop matches, and if Olivieri is in the lead this final, I am sure he won't let it slip away.
Foster's Picks: 1. Olivieri 2. Noonan 3. McMillen 4. Buchanan
---
138 Pounds
The Seeds
Kenny Herrmann, Bethlehem Catholic (12)
Jacob Perez-Eli, Paulsboro (12)
Gavin Brown, Legacy Christian (10)
Alex Poore, Caravel Academy (10)
Jake Niffenegger, Cincinnati La Salle (10)
Cade Balestrini, Shikellamy (12)
Mike Cetta, St. Joseph's Regional (11)
Finnegan McFadden, Kingsway (11)
Ty Chittum, Great Bridge (10)
Ethan Szerencitis, Northampton (12)
Dominic DeFalco, Quakertown (11)
Zach Martin, Neshaminy (11)
Holden Garcia, Notre Dame GP (9)
Zach Needles, Spring Ford (11)
Sam Beckett, Hill School (10)
Damian Weaver, Lyndhurst (9)
I am, what they call in this business, a big Kenny Hermann fan. After calling his controversial Super 32 video replay win over Wyatt Henson I feel like we are bonded in a way. I also enjoy his rangy and unorthodox style that can cause a multitude of problems for opponents. Coming in sporting the 8th ranking, he casts a bit of a shadow over this bracket. Hermann is having a great season and is just missing winning those finals. Runner-up at Super 32 and Beast, along with 3rd at Ironman. He is a returning runner-up here as well and this should be his chance to take his turn on the top of the podium.
Perez-Eli was 4th here last year and also a state finalist and is followed by a batch of up and coming sophomores. Brown is a returning 4th, a state champ, Fargo placer and made the bloodround at Ironman. Poore was 6th at Beast and turned my head at Ray Oliver. Niffenegger is a returning 8th, a Fargo placer, state finalist and also made the bloodround at Ironman. The upperclassmen return with Balestrini who made the S32 bloodround, Cetta was 8th at Beast, where McFadden and Garcia made the bloodround. On the backside at Beast Cetta beat McFadden and then lost to Poore. The youngsters could turn this upside down, but it is Perez-Eli I most want to see battle Hermann.
Football has kept Perez-Eli from too many national tournaments, but he has still managed a tidy 100 wins and when you dig deep enough you find nuggets like his freshman NHSCA bracket where he finished 4th just behind Chase Saldate, Peyton Hall, and Patrick Noonan, with victories over Bryce Hepner and tight matches with Craft and Noonan. A ton of talent is there and we might just get to finally see it on display for the whole country to see.
Foster's Picks: 1. Hermann 2. Perez-Eli 3. Poore 4. Niffenegger
---
145 Pounds
The Seeds
Cole Handlovic, Bethlehem Catholic (12)
Jagger Condomitti, Northampton (11)
Anthonio Petrucelli, OJR (12)
Darnai Heard, Cincinnati La Salle (11)
Kaya Sement, Pope John XXIII (12)
Travis Ragland, New Kent (10)
Jared Kesler, Connellsville (10)
Jesse Alvarado, Great Bridge (11)
Dakota Morris, Kingsway (10)
Liam Gordon, JW Robinson (11)
Michael Dellagatta, St. Joseph's Regional (9)
Nicholas Alvarez, Legacy Christian (10)
Sam Hayes, Council Rock North (12)
Isaiah Wright, Malvern Prep (10)
Tristan Rutter, Glendale (12)
Reynaldo Garcia, Mariana Bracetti (11)
Cole Handlovic is ranked 10th at 152 and is making things really interesting dropping to 145. Jagger Condomitti is #5 at this weight and both were finalists at Beast of the East, but at different weights. Has Handlovic had enough of Dalton Harkins who beat him in tie-breakers in both the Ironman quarters and Beast final? Handlovic has had a weird season, stuck in these incredibly stressful tight matches and coming out on the wrong end of them in the end. To underline that, he has been a finalist here twice, but never won. Can the change in weight also change his luck?
Condomitti looked incredible at Beast, edging Bretli Reyna in a great match before handling Jackson Dean. He ran into a Manzona Bryant steamroller in the final, but no one was touching Bryant on that day. Jagger might be best known in PA for that huge win over Ryan Anderson (to Anderson's credit, he held a big advantage in their lifetime series). Locals might also recall that the next match in the dual was Handlovic quickly quieting the crowd with a victory of his own.
It's a mixed bag below those two. Petrucelli is a state 5th and can get into some wild ones, including a 12-8 loss to Erik Gibson this year. The Heard family certainly know how to wrestle. Ragland is a Fargo placer and Kesler placed at Powerade. Alvarado and Morris both made the Beast bloodround and are NHSCA placers.
Sement is my wild card here as he was a Journeyman finalist and then went 3-2 at the Princeton Open, picking up some college wins before losing to Beau Bartlett. At Beast he was involved in a wild and heated battle with Joey Zargo where he had him on the run and was winning the takedown battle but kept giving up penalties until he let loose arguing being given the second one and was DQ'd. Could he ruin this entire party?
We are going to have to wait until weigh-ins to see if this holds, because Handlovic ending up in 152 makes it even spicier and leaves this wide open for Condomitti.
Foster's Picks: 1. Handlovic 2. Condomitti 3. Sement 4. Petrucelli
---
152 Pounds
The Seeds
Dalton Harkins, Malvern Prep (12)
Cam Robinson, Council Rock North (12)
Dylan Weaver, Lyndhurst (11)
AJ Tamburrino, Hatboro Horsham (12)
Kolby Allred, Great Bridge (12)
Nick Vafiadis, New Kent (10)
Stefano Sgambellone, St. Joseph's Regional (12)
Tate Nichter, Chambersburg (11)
Matt Lackman Bethlehem Catholic (12)
Jack McGill Spring Ford (11)
Nick Hall Caravel Academy (10)
Wesley Barnes Southern Columbia (9)
Matt Park JW Robinson (12)
Matt Garcia Pope John XXIII (12)
Sterling Waters Oscar Smith (12)
Dominic Deintinis Parsippany (12)
In a tournament that will be filled with wild quarterfinals, this could be the best of all of them. The top eight are stellar and the entire field is solid. 5th ranked Dalton Harkins leads the charge, truly coming into his own during his senior season. This is a wrestler that went from being 5th here last year to winning Ironman and Beast. He had a tiny hiccup losing 1-0 to Brayden Roberts to finish 3rd at Powerade, so he will want to climb back on top of the podium this weekend.
We will surely have a rankings shake-up following this one as Cam Robinson is ranked 15th, Tamburrino is #18 and Weaver and Allred were just nudged from the rankings and might as well be 21st and 22nd. Robinson should have beaten #1 ranked Chase Saldate at Super 32, losing only on a technical violation. He is a returning finalist here and state finalist and was 5th at Powerade where Harkins beat him. He also holds two tight wins over Tamburrino who was 3rd here in that same bracket and is a past state 3rd and NHSCA champ. AJ is wrestling like he is on a mission this year, can he avenge those losses to Robinson?
Weaver is pretty interesting as he has added weight. He was a finalist here last year at 138, beating Harkins 9-8 along the way, and Lackman in SV. He was 3rd in Jersey, losing a tight one to JoJo Aragona, but his schedule so far doesn't give a great indication as to how he is adjusting, with only a wild Mount Mat Madness finals loss to Buford's Nick Stonecheck to gauge matters.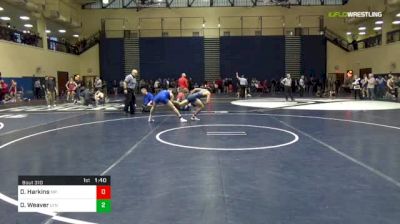 Unlock this video, live events, and more with a subscription!
Get Started
Already a subscriber? Log In
I have seen a lot of Kolby Allred and can attest that he has really jumped levels this season. When I watched his matches at Beast I was on the edge of my seat, and he was only a point away from seeing Harkins in the final, falling to Cole Handlovic 2-1 in the semi on a takedown with just 9 seconds remaining. He finished 3rd and with a quick pin over Ty Weathersby (who beat Nichter, and Vafiadis beat Weathersby) and will be desperate to get to that semi and find out what would have happened.
I always pick Tate Nichter to make trouble in every bracket he enters. Vafiadis and Hall are Fargo placers and are both incredibly tough outs here. Lackman has a lot of quality wins at lighter weights and could be a menace up here. You can go as deep as McGill and Barnes for upset potential, and the entire round of 16 looks like a blast.
Does Harkins keep this run rolling full steam ahead? How big of a wild card is Weaver? Can Allred put it all together knowing he is so close? Is Robinson the steady force here and who will fall prey to an early upset, as there are traps at every turn? If it stays chalk the AJ vs Allred quarter could be insane, and either will throw the kitchen sink at Harkins. I think he does it, but not without a few scares.
Foster's Picks: 1. Harkins 2. Robinson 3. Allred 4. Tamburrino
---
160 Pounds
The Seeds
Andrew Cerniglia, Notre Dame GP (12)
Luke Nichter, Chambersburg (12)
Andrew Clark, Collingswood (12)
Dillon Sheehy, Council Rock North (12)
Matt Kidwell, Father Judge (12)
Matt Colajezzi, Council Rock South (10)
Jack Wehmeyer, Malvern Prep (10)
Casper Hinklie, Connellsville (12)
Brayden Hohman, New Kent (11)
Connor Fritsch, Pope John XXIII (12)
Grigol Khochisavili, Central (12)
Harrison Smith, Great Bridge (11)
Machias Magill, Delaware Valley (12)
Austin Boaman, OJR (12)
Shawn Williams, Paulsboro (11)
Jameson Knotts, St. Christopher's (11)
Andrew Cerniglia is having a breakout season. He has always been tough and skilled, but the reigning state champ and #5 ranked wrestler in the country has absolutely stormed some of these tournaments this year. Luke Nichter is a returning champ here, and won't give an inch without a fight, but Cerniglia put up 11 points on him in a period at Beast less than a month ago (eventually winning by fall). Cerniglia went on to distance himself from Clay Ulrey in the final there as well. The only blemish so far is barely losing to Paddy Gallagher in the Ironman final, and he had Paddy on the run. He is just next level right now.
The seeds play out pretty smoothly with Nichter having beaten Clark at Beast, Clark has wins over the lower portion of the field but could be in a precarious spot here. Dillon Sheehy is a returning 5th here and was 4th at Powerade where he pinned highly touted Luca Augustine and stayed in there with Gabe Arnold. Colajezzi will have the home mat advantage and has put together a nice season, mostly at 170. Nichter will have to be wary of Wehmeyer who finished 6th at Ironman and had a tighter match with Cerniglia there. Of course, Wehmeyer also lost to Augustine on the back there, so it will be a heated set of quarters outside of Cerniglia.
This is Cerniglia and then everyone else, but the scrap for 3rd and 4th should be interesting, and Nichter, as much as I like his skillset, is not a lock to repeat as a finalist.
Foster's Picks: 1. Cerniglia 2. Nichter 3. Sheehy 4. Wehmeyer
---
170 Pounds
The Seeds
Angel Garcia, Mariana Bracetti (12)
Brandon Green, Paulsboro (12)
Leonard Pinto, Stroudsburg (11)
Jaden Bullock, Oscar Smith (12)
Dominic Falcone, Easton (11)
Caden Rogers, Malvern Prep (10)
Brenden Spicer, Father Judge (12)
Anthony Bernieri, Caravel Academy (12)
Anthony DeRosa, Bethlehem Catholic (11)
Tristen Dagstani, Tuscarora (11)
Gannon Jones, New Kent (12)
Alex Ward, Battlefield (12)
Traisach Roland, Northampton (12)
Alan Alexander, Boyertown (10)
Gunner Spain, Neshaminy (12)
Carson Mello, Chambersburg (12)
All year long 170 has been the most fun weight at nearly every tournament, and that is not about to stop here. I AM HERE FOR THIS BRACKET!!!! As you run down the seeds it is obvious that there are a lot of really talented kids, but it is impossible to ignore the two massive wildcards that bring the biggest potential to swing this whole thing in their direction. I may not be able to get consistent results yet out of Lenny Pinto or Jaden Bullock, but I sure as heck can get an avalanche of excitement!
Let's start with Pintomania! The 7th ranked stud won't be happy with losing to Shane Reitsma at Powerade, but he will like how he beat Mac Stout to earn his 3rd place finish. His NHSCA title and Fargo run didn't turn into a Super 32 title, as he finished 5th, but he can beat anyone, dismantling the likes of Tyler Stoltzfus and Connor O'Neill. Does he start to find that elusive consistency here and put it all together? On talent alone Pinto is on a different level, but he needs to show that in every match across a weekend like he has in the offseason.
Bullock was the recruiting story out of Ironman, shocking the crowd with his impressive victory over Nevan Snodgrass and giving Tyler Stoltzfus a challenge in the final. Opponents took notice and are trying to navigate his tough top game, so he hasn't been able to replicate those results. However, there are still plenty of those flashes to remind you how dangerous he is. At Powerade Mac Stout showed how to hand fight and keep things on your feet against him, but few wrestlers are as good and as powerful as Mac Stout. Angel Garcia also kept things in hand at their meeting at Beast on his way to a 5-2 victory but it was also a case of Bullock just never really getting into the match until the third period, so I don't consider it a given should they meet again.
The 14th ranked Garcia is long and exceptionally quick in tight spaces, wrapping up his opponents like a spider as he tries to find just the right spot to plunge some venom into them. He also has an array of little trips that I like, making up for a lack of bulk when riding by sometimes making people drag him around the mat at the waist as he kicks in and twists their feet under them. A very crafty wrestler who relies on aspects of his game that are either the perfect counter to some of the power mavens here, or leaves him terribly exposed.
Brandon Green might not be a national name but he has earned his bones as a state champ and with back to back 3rd place finishes at NHSCA and is a returning 3rd here as well. That New Jersey state championship was a crazy 13-9 win over Reitsma who just beat Pinto. Perhaps most importantly, he has traded two insanely tight matches with Garcia, and they will be itching to do battle once again, as long as it is in the final.
Falcone and Rogers are full of fight as well and won't be easy outs. We might have to wait a day for it, but the quarters here should be a lot of fun and the semis could be spectacular. Any of the top four could win the whole thing. Last year here Garcia beat Green and Green beat Pinto (hence the seeding) but I feel certain it won't play out exactly the same. I am making a wild bet here but put it all on Pintomania!
Foster's Picks: 1. Pinto 2. Garcia 3. Green 4. Bullock
---
182 Pounds
The Seeds
Sam Fisher, Fauquier (12)
Joey Milano, Spring Ford (11)
Max Hale, Downingtown West (12)
Dillon Walker, Cincinnati La Salle (11)
Isaiah Reinert, Easton (11)
Giani Gilch, Council Rock South (12)
Nolin Eaddy, Kissimmee Osceola (11)
Jack Farinaro, St. Joseph's Regional (11)
Derek Berlitz, Notre Dame GP (10)
Kevin Pandorf, Kingsway (11)
Andrew Connolly, Malvern Prep (10)
Dakota Rodgers, Connellsville (12)
Zion Carpenter, Oscar Smith (12)
Tyler Waltman, Southern Columbia (11)
Riley Gallager, Northampton (12)
Jason Pascucci, Neshaminy (12)
I am a huge fan of Sammie Fisher and I want him to win as many tournaments as is possible. He has put it on the line anywhere and everywhere, wrestling all styles on any mat that will have him. He has worked his way to the podium at all of the majors, but this season has to have been deflating as he has been unable to better those past results. After starting at 195 where he was ranked as high as 6th, and hoping the weight opened up for him, he is somewhat starting over again ranked 19th at 182. The field won't be looking to make it much fun for him.
Strong challenges should come from Joey Milano and Max Hale. Milano has been awesome this year, including two wins over Drew Clearie, a big one over Brock Delsignore, pinned Reinert and beat Hale 3-2 in their meeting. That shapes up a potentially fantastic semi assuming Hale can get there. He is definitely talented but his results are all over the place. He can get a quick pin or be blown out, but I put more credence on his matches where he beat Luke Chakonis 3-1 or lost 3-2 to Jack Wimmer.
Dillon Walker was injured for a good bit of last season and was at 170 at Super 32 where he displayed a real edge against Connor O'Neill and lost a tight 5-4 battle to Jaden Bullock. He has been tough in Ohio this season and is a wild card here. There is a barrel of NHSCA placers in Reinert, Gilch, Farinaro and Waltman who all know how to make their way through a big tournament. Carpenter is a state placer and Connolly hit the podium at Powerade, showing how deceivingly deep this bracket might be. Reinert can pull an upset here or there but he has to avoid Hale at all costs as he has already pinned and majored him this season. Gilch will be avoiding getting pinned again by Reinert, and so on. Expect some exciting quarters and a nervous Fisher trying to navigate his way through.
I don't think anything will come easy for this bunch and we could have some surprisingly amazing matches but I do think Fisher will finish on top. These are the tournaments he has to win, and he knows it.
Foster's Picks: 1. Fisher 2. Milano 3. Walker 4. Hale
---
195 Pounds
The Seeds
Gaige Garcia, Southern Columbia (12)
Nick Feldman, Malvern Prep (10)
Chase Mielnik, Downingtown West (12)
Jason Henderson, Delaware Valley (11)
Azeem Bell, AI Dupont (12)
Emmanuel Ayi-Bonte, Potomac Senior (12)
Derek Schemaeling, Hill School (11)
Jason Sine, Notre Dame GP (11)
Oh lordy is this ever a collision course with two bulls stampeding towards one another! We don't get to see Gaige Garcia early in the season due to his football obligations (the 3rd ranked Garcia is committed to play both football and wrestle at The University of Michigan) so there aren't any Super 32 championships in his resume, but this will serve as one of the biggest upperweight finals of the year. To say that I live for matches like this is a massive understatement!
Garcia is an elite athlete is all aspects. He didn't lose a match last year, including winning here and cruising to a state title over Kolby Franklin, and he surely looks to do it all over again for his senior campaign. He is simply unstoppable. Garcia is tough and he is intense. When he was a sophomore he only lost three bouts, and they were all super tight and to elite competition. There is a new sophomore in Pennsylvania that reminds me a lot of him in matching that athleticism and intensity.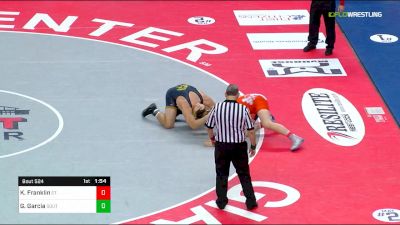 Unlock this video, live events, and more with a subscription!
Get Started
Already a subscriber? Log In
Feldman might only be in his second year of high school, but his #7 ranking nationally is no mistake. The kid is a savage and destroyed the offseason before rampaging into the Ironman final where he lost to Seth Shumate 10-8 in a wild one. He then tore up Beast on his way to a trophy and was barely edged 3-2 by Luke Stout in the Powerade final. Can Garcia also edge him out, or does Feldman take that next step and start winning all of these finals? If not now, that moment can't be far behind.
All of Pennsylvania will be huddled matside for this one, so it hardly needs the hype, but some matches you have to hype anyway!
Below that it is a little bit of a drop-off. Chase Mielnik has been at 220 all season so he will be one to watch early to see how the cut goes. He split matches with the always entertaining Hugo Harp this year, including losing a blood round match at Beast 11-10 that had one of the craziest big men finishes of the year with Harp doing to ol' leap over him on the re-start at the buzzer for the takedown. Rarely seen with the 220's! Henderson is also one who has juggled weights. Bell made the quarters at Beast and wrestled Luke Chakonis tough before exiting. Ayi-Bonte has potential to surprise a guy here or there but I don't think we will see him. Not seeded Nick Alvarado is a major star on the gridiron for Don Bosco and it might be worth watching early to see if that can start to translate to the mat.
I am going with the upset pick, but won't be shocked if Garcia just looks to put the shackles on and eek out a result to defend his title here.
Foster's Picks: 1. Feldman 2. Garcia 3. Mielnik 4. Bell
---
220 Pounds
The Seeds
Kyonte Hamilton, Georgetown Prep (11)
Cory Johnston, Glendale (12)
Michael Toranzo, St. Joseph's Regional (11)
Adam Young, Shikellamy (11)
Jamar Christian, New Kent (12)
Wyatt Hull, Chambersburg (12)
Matthew Cruise, Easton (10)
Logan Flynn, Hatboro Horsham (12)
Gianluca Birnbaum, Hanover Park (12)
Christian Brady, Paulsboro (12)
All Kyonte, all the time. If you follow my writing at all you are aware that I have been beating the drum about how Kyonte Hamilton needs to turn his potential into results. It is safe to say that he has done so in impressive fashion. (And shut me up to boot!) Following a solid Ironman where a loss to Noah Pettigrew robbed him of a chance to face Braxton Amos, he stormed back to third and then took that new focus and determination and blasted the field at Beast, including dominating Pettigrew in their rematch and confidently dispatching Ethan Hatcher. Junior year is huge for the big men, and Kyonte, now ranked #3 in the country, is making the most of it.
It might be tough for the field to challenge him if he is fully focused. Torzano is an NHSCA 3rd placer and made the bloodround at Beast, but that is as close as the accolades get, so there is a fair distance. Cruise was also an NHSCA placer as a freshman so he might be a young face to watch to see if he can muscle his way into the semi. Young and Hull and crew are grinders and bangers, so this bracket could go sideways below Hamilton with some wild pins.
Cory Johnston could make things interesting in the final if he has jumped levels this year. He has mostly been collecting forfeits so it hasn't been easy to tell, but his lone big match was a 3-2 loss to Jake Ryan, who should be considered a contender for a state title at either 220 or 285 depending on what he wrestles, and is a bubble national rankings guy who I like. I am picking him to survive the bottom bracket but it's Kyonte City after that.
Foster's Picks: 1. Hamilton 2. Johnston 3. Young 4. Cruise
---
285 Pounds
The Seeds
Coltin Deery, Malvern Prep (11)
Lear Quinton, Southern Columbia (12)
Jim Mullen, St. Joseph's Regional (9)
Blake Lambert, Northampton (12)
Jeremy McGuigan, Quakertown (12)
Matt Micale, Downingtown West (11)
Max Harar, Council Rock North (11)
Sean Brogan, Spring Ford (12)
Alex Birchmeier, Broad Run (9)
Robert Terra, Boyertown (11)
Zach Magdelinskas, Neshaminy (12)
Brandon Armstrong, Paulsboro (10)
The 10th ranked Cole Deery will be looking to continue his monster run this season. I had noted him as a trap opponent last season but he has made an enormous jump this year, underlined by not only his championships, but how he has won them. Deery brought home an Ironman title avenging his loss to Max Millin last year at Beast. Millin returned the favor at Beast but Deery took third with authority. He then avenged his loss to Isaiah Vance from states last season by completely controlling him in the Powerade final.
The story here could be more about who faces him in the final and I am really big on freshman Jim Mullen. Though he very much looks his age, which usually means getting trampled at heavyweight, he has a ton of skill and mat savviness well beyond his years. Deery pinned him at Beast, but he won't fear anyone else here. Lear Quinton holds the higher seed, but he was also beaten by Kevin Hudson this season, who Mullen bested for 5th at Beast. Keep your eyes on Mullen all weekend as he will be a name you will most certainly see in the heavyweight conversations very soon.
There is not a whole lot that separates Lambert, Harar and crew. McGuigan lost 7-4 this season to Nate Miller and Lambert 6-2 to our barometer Kevin Hudson, so it is a collection of grinders. I will make a special shoutout to freshman Alex Birchmeier following in his big brother John's giant footsteps. Alex won a few matches at Mad Mats right around the corner from me and it will be fun to see him taking his first steps on to the national stage.
Foster's Picks: 1. Deery 2. Mullen 3. Quinton 4. McGuigan