2019 Big Ten Wrestling Championship
The Exhaustive & Indispensable 2019 Big Ten Championships Preview
The Exhaustive & Indispensable 2019 Big Ten Championships Preview
Everything you need to know about the 2019 Big Ten Wrestling Championships in Minneapolis, Minnesota.
Mar 7, 2019
by Andrew Spey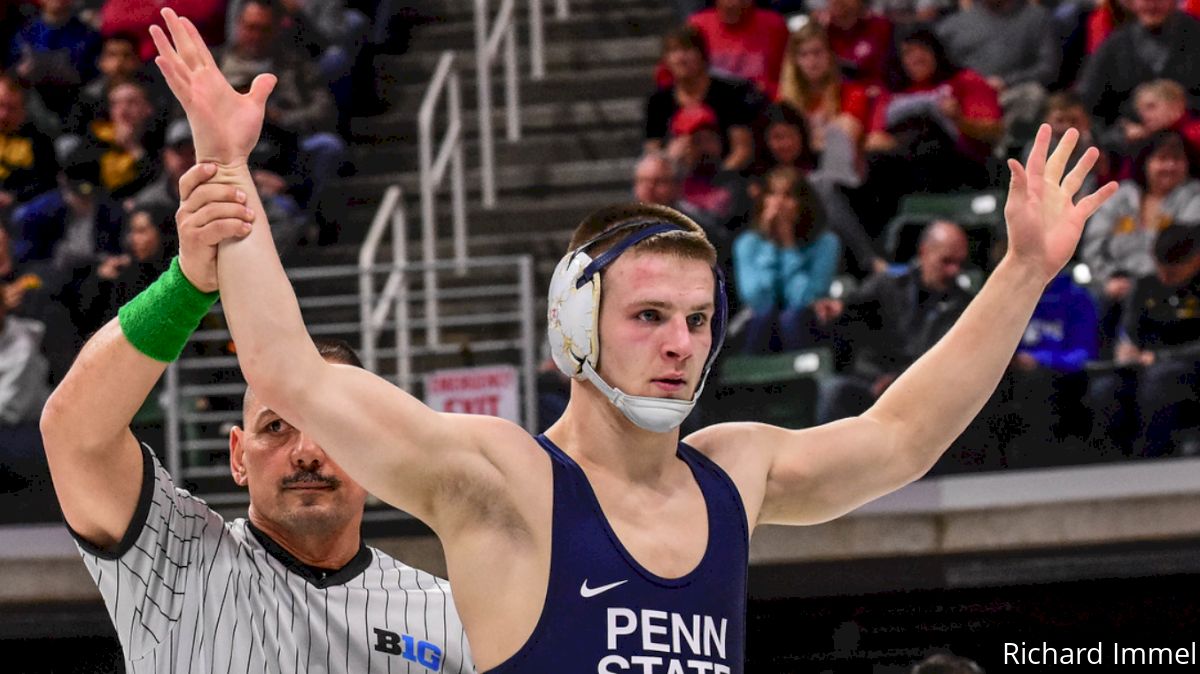 Unlock this article, live events, and more with a subscription!
Get Started
Already a subscriber? Log In
It's nearly that time. The raddest conference tournament of them all.
The NCAA has released their automatic qualifying allocations and the Big Ten has just come out with its conference championship pre-seeds. Now, we preview all ten weight divisions of the Big Ten Tournament. Later this weekend, tie on the feedbag, crack open a beverage of your choice, max and relax and enjoy the Big Tens, the most scintillating of all the preludes to the NCAA tournament.
Watch the Big Ten Championships LIVE on FloWrestling
Wrestling starts Saturday, March 9, 10 a.m. CT
A couple of quick notes: the rankings below are from the FloWrestliing NCAA Top 20. Additionally, an "AQ" after a name means they earned an automatic qualifying spot for the Big Ten Conference. If the wrestler who earned the bid does not enter the Big Ten Tournament for any reason, then their AQ gets tossed out and the number of auto-bids available is reduced by one. For example, with nine auto-bids at 125, you have to place in the top nine to earn a berth to the NCAA Tournament (yes, they will wrestle back to ninth place in Minneapolis). Hypothetically, if Malik Heinselmen does not wrestle at Big Tens for whatever reason, there will then be only eight bids up for grabs. Anyone who does not earn an auto-bid at the tournament will have to rely on a wild card invite to wrestle in Pittsburgh.
125 Pounds
9 auto-bids
#1 Sebastian Rivera (Northwestern) AQ
#3 Spencer Lee (Iowa) AQ
#6 Sean Russell (Minnesota) AQ
#11 RayVon Foley (Michigan State) AQ
#12 Travis Piotrowski (Illinois) AQ
#13 Drew Mattin (Michigan) AQ
#14 Zeke Moisey (Nebraska) AQ
#17 Elijah Oliver (Indiana)
#20 Devin Schroder (Purdue) AQ
Malik Heinselman (Ohio State) AQ
Brandon Cray (Maryland)
Ethan Rotundo (Wisconsin)
Devin Schnupp (Penn State)
The Big Ten secured more automatic qualifiers than any other conference by a large margin (more on that here). Elijah Oliver, despite being in the top 20, did not do enough to earn a qualifying spot for the conference, so he will have to steal a bid from the nine that were earned or hope for a wild card invite.
FloWrestling's 125-pound Big Ten Rankings
Spencer Lee's defense of his national title officially begins Saturday morning. Barring any injury default or a major upset, that path will likely take him to the finals for a highly anticipated rematch with Sebastian Rivera. Lee was shocked in a 7-3 upset by Rivera in the finals of the Midlands. We didn't get a rematch a month later when Northwestern hosted Iowa at the end of January as Perez Perez stepped on to the mat for the Hawkeyes at 125 pounds.
There are plenty of landmines who will be looking to crash that Big Ten finals party, however. Two senior All-Americans that were wrestling for non-Big Ten teams last season who can't be discounted are Sean Russell, formerly of Edinboro, and Zeke Moisey, a transfer from West Virginia. Russell has been one of the most consistent 125-pounders this season, having lost a mere three times, all to wrestlers ranked in the top four.
In their first and so far only meeting as Big Ten rivals, Russell trailed Moisey by four points in the third period before the freshly minted Gopher pancaked the newly dubbed Husker for a pinfall, securing the three-seed at Big Tens for Russell.
Foley, Piotrowski, Mattin and Oliver have all qualified for nationals before, yet are still looking for their first All-American finish. Oliver will be the sentimental favorite, as this will be his fourth trip to the NCAA Tournament should he make it to Pittsburgh.
In Minneapolis, with the aforementioned wrestlers, plus Malik Heinselman and Devin Schroder, you can guarantee at least two All-American contenders will lose in the first round of action Saturday morning.
Spey's Spredictions
1. Sebastian Rivera
2. Spencer Lee
3. RayVon Foley
4. Sean Russell
---
133 Pounds
8 auto-bids
#1 Stevan Micic (Michigan) AQ
#3 Austin DeSanto (Iowa) AQ
#4 Nick Suriano (Rutgers) AQ
#6 Ethan Lizak (Minnesota) AQ
#9 Roman Bravo-Young (Penn State) AQ
#10 Luke Pletcher (Ohio State) AQ
#16 Ben Thornton (Purdue) AQ
Dylan Duncan (Illinois) AQ
Colin Valdiviez (Northwestern)
Jen Lantz (Wisconsin)
Paul Konrath (Indiana)
Jevon Parrish (Nebraska)
Orion Anderson (Maryland)
There are only eight AQs for an insane amount of talent at 133 pounds in the Big Ten, but there is an insane amount of talent at 133 pounds across the NCAA this season. 133 is gnarly. That will make it difficult for Colin Valdiviez to improve on his 2-2 record at the 2018 NCAAs. He'll need to steal a bid or get a wild card to wrestle in Pittsburgh.
Paul Konrath, who has a victory this season over last year's third-placer Tariq Wilson, will also have to steal a bid or hope to receive a wild card invite.
FloWrestling's 133-pound Big Ten Rankings
So only eight automatic qualifiers, but behold the bevy of badasses battling for those bids. We can start with the NCAA runners-up, as there are three of them. Suriano was a runner-up last season at 125, while Micic finished second at 133, also in Cleveland. Ethan Lizak was a national runner-up in 2017 in St. Louis. Lizak and Micic both also have fourth-place All-American honors on their resumes. Suriano earned the No. 3 seed at the 2017 NCAA Tournament before having to withdraw due to injury.
Also with a fourth-place finish at NCAAs is Luke Pletcher, who accomplished that honor last year in Cleveland at 133 pounds. Additionally, Austin DeSanto and Roman Bravo-Young are in the top-tier mix. True sophomore DeSanto is a newcomer to the Big Ten, having transferred from Drexel in the offseason, while RBY is a newcomer to the NCAAs, this being his true freshman year.
How those six titans finish in Minneapolis will be crucial to determining seeds in Pittsburgh. Micic is the only undefeated wrestler of the bunch, whose tally includes wins over Suriano and Pletcher. Stevan was limited to only 13 matches so far this season, however, partly due to his international competition schedule where he competes for the Republic of Serbia.
DeSanto has also beaten Suriano, and his two losses on the season have come at the hands of Big 12 wrestlers. Roman Brovo-Young has a loss to Ben Thornton and Austin Gomez (who also beat DeSanto, incidentally), but recently beat Luke Pletcher in tie-breaking ride-outs, which was likely major factor in him receiving the No. 4 preseed. Lizak, meanwhile, lost to DeSanto and Pletcher, but beat Thornton, who beat RBY.
It's all very confusing and even our own Mike Mal and Dan Lobdell were stumped with regard to sorting out these seeds, as you can see in the video below.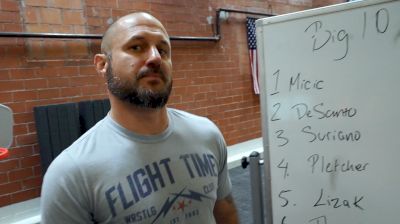 The competitors probably wouldn't care if the Big Tens used random draw, as they would have to go through a hellacious quarterfinal and semifinal regardless of how the seeds play out. Which means you, as a viewer, will sleep on these rounds of the tournament at your own peril!
Spey's Spredictions
1. Nick Suriano
2. Stevan Micic
3. Austin DeSanto
4. Roman Bravo-Young
---
141 Pounds
9 auto-bids
#2 Nick Lee (Penn State) AQ
#3 Joey McKenna (Ohio State) AQ
#5 Michael Carr (Illinois) AQ
#7 Kanen Storr (Michigan) AQ
#8 Tristan Moran (Wisconsin) AQ
#9 Mitch McKee (Minnesota) AQ
#20 Chad Red (Nebraska) AQ
Max Murin (Iowa) AQ
Nate Limmex (Purdue) AQ
Pete Lipari (Rutgers)
Kyle Luigs (Indiana)
Danny Bertoni (Maryland)
Austin Eicher (Michigan State)
Alec McKenna (Northwestern)
Another monstrous weight for the Big Ten, with nine auto bids up for grabs. Pretty much everyone who you'd expect to earn an auto-bid did, so we will have to see an upset or two if any bids are going to be stolen.
FloWrestling's 141-pound Big Ten Rankings
A rematch of Lee and McKenna's epic dual meet match looms large over the bracket, but it will have to come in the semifinals rather than the finals, because if the preseeds are maintained, Michael Carr will be the No. 1 seed and Lee and McKenna the No. 2 and No. 3.
All three of those wrestlers are having stellar seasons. Nick Lee has but one loss on the year, to Tristan Moran. That intra-conference defeat is likely the one thing keeping the Nittany Lion from the No. 1 preseed. Lee's head-to-head victory over McKenna, however, gives Lee the No. 2 ranking, while McKenna slides to No. 3, despite majoring Moran 14-2 and beating the formidable Jaydin Eierman of Missouri in out-of-conference matchup at the Cliff Keen Las Vegas Invitational.
Nationally, the defending champ Yianni Diakomihalis is still the favorite to take the 141-pound crown in Pittsburgh. It should come as a surprise to no one if any of the Lee, McKenna, Carr troika find themselves in the finals match with Yianni on the Saturday night of nationals.
Also don't be shocked if some of the other 141-pounders from the Big Ten make some deep runs in Pittsburgh. Chad Red is an All-American, and his ranking of No. 20 is a result of an early-season rut he found himself in, not of his potential to place at NCAAs. Max Murin is a still-developing redshirt freshman with a very high ceiling, as evidenced by his ability to give everyone he faces a seven-minute wars.
Kanen Storr and Mitch McKee are both finishing up their third seasons in a D1 wrestling room and are making consistent gains. For example, McKee was finally able to solve Kaid Brock, who had beaten McKee four times in the previous two seasons.
Tristan Moran meanwhile remains the ultimate wild card. He may be the toughest to predict when his excellent wins such as the one over Nick Lee or his comeback victory over Mitch McKee are juxtaposed against head-scratching losses to Corey Shie and Joey Gould at Midlands (with all due respect to Misters Shie and Gould).
Whoever emerges from this bracket full of butchers will be plenty battle-tested and prepared to face whatever challenges are thrown at them in Pittsburgh.
Spey's Spredictions
1. Joey McKenna
2. Michael Carr
3. Nick Lee
4. Mitch McKee
---
149 Pounds
6 auto-bids
#1 Anthony Ashnault (Rutgers) AQ
#3 Micah Jordan (Ohio State) AQ
#11 Pat Lugo (Iowa) AQ
#12 Cole Martin (Wisconsin) AQ
#13 Brady Berge (Penn State) AQ
Thomas Thorn (Minnesota) AQ
Shayne Oster (Northwestern)
Malik Amine (Michigan)
Baby J Bannister (Maryland)
Jordan Shearer (Nebraska)
Christian Kanzler (Illinois)
Jaden Enriquez (Michigan State)
Fernie Silva (Indiana)
Parker Filius (Purdue)
With only six bids available, 149 is one of the Big Tens weaker weight classes. Yet it still features the No. 1-ranked wrestler in the nation, three All-Americans and five top 20 competitors.
With six being the magic number, expect the championship quarterfinals and consolation semifinals to be dog fights, as seventh and eighth won't be enough to guarantee to a trip to Pittsburgh.
FloWrestling's 149-pound Big Ten Rankings
Three-time All-American Anthony Ashnault missed all of last season due to injury, but was mercifully granted a medical redshirt by the NCAA. Ashnault has taken full advantage of the opportunity, mobbin' to an undefeated record which includes five top ten wins.
Ashnault was one of the preseason title contenders, as was his Big Ten rival and two-time All-American Micah Jordan. Ashnault won his first and so far only collegiate match with Jordan in the finals of the Cliff Keen Las Vegas Invitation by the score of 14-10.
Watch Ashnault vs. Jordan in Vegas: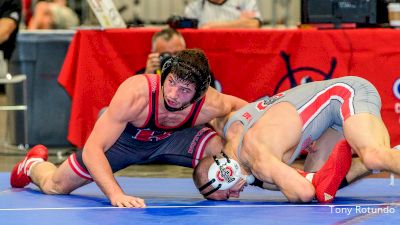 Unlock this video, live events, and more with a subscription!
Get Started
Already a subscriber? Log In
Jordan has moved up and down the Buckeye lineup during his four years as a starter, wrestling 141 in 2016 and 157 in 2018. Micah had his best finish at NCAAs, however, at 149-pounds in 2017, where he finished fourth. That would imply that Jordan is back at his ideal weight for his final senior season run at the brass ring.
A trio of mid-ranked wrestlers will be trying to upend the predicted Micky-Schnaulty rematch. Pat Lugo qualified for two NCAA Tournaments at Edinboro before transferring to Iowa and redshirting (to allow for the graduation of four-time 149-pound All-American Brandon Sorenson). Lugo has been wrestling well recently, beating two ranked wrestlers, Kaden Gfeller and Cole Martin, in consecutive matches to close out the dual-meet season.
Cole Martin has been a stalwart for the Badgers. This will be the third NCAA Tournament for Martin, still only a junior. Though not yet an All-American, Cole could do some damage in Pittsburgh. Martin has a victory over the very highly regarded Penn State freshman Brady Berge, himself also an All-American contender.
A few other landmines to keep an eye on are All-American Tommy Thorn and NCAA qualifiers Baby J Bannister and Malik Amine.
Spey's Spredictions
1. Anthony Ashanult
2. Micah Jordan
3. Pat Lugo
4. Brady Berge
---
157 Pounds
9 auto-bids
#1 Jason Nolf (Penn State) AQ
#2 Tyler Berger (Nebraska) AQ
#3 Ryan Deakin (Northwestern) AQ
#5 Alec Pantaleo (Michigan)
#7 Kaleb Young (Iowa) AQ
#8 Ke-Shawn Hayes (Ohio State) AQ
#9 Eric Barone (Illinois) AQ
#10 Steve Bleise (Minnesota) AQ
#13 Griffin Parriott (Purdue) AQ
#17 John Van Brill (Rutgers) AQ
#18 Jake Danishek (Indiana)
Jacob Tucker (Michigan State)
Garrett Model (Wisconsin)
Adam Whitsell (Maryland)
Alec Pantaleo and Jake Danishek failed to earn auto-bids for the conference due to having sub-.700 winning percentages and either not having enough matches qualify for the RPI rating (Pantelo) or not having a top 29 RPI (Danishek). At 157 this year you needed to achieve two of three things: 1) a top 29 RPI, 2) a top 29 rank in the NWCA Coaches' Poll, or 3) a .710 winning percentage against D1 competition.
The Big Ten still earned an impressive nine auto-bids, and because Pantaleo and Danishek were both in the Coaches' Poll, at No. 5 and No. 22, respectively, they'll have a very good chance of attaining wild card invites if they don't finish in the top nine.
FloWrestling's 157-pound Big Ten Rankings
Outside of Nolf, this weight class has been pure chaos. Take, for instance, Griffin Parriott. He has a win over two-time All-American Tyler Berger and bloodround finisher John Van Brill (both in-conference victories). Yet Parriott also has losses to Jacob Tucker, who has never qualified for the NCAA Tournament, and Jake Danishek, who missed qualifying last season (both are in-conference defeats).
Parriott's up-and-down season is reflected in his No. 9 preseed. Meanwhile Berger, despite the CKLV loss, earned the No. 3 preseed, thanks to wins over pretty much everyone else, including No. 3 Deakin, No. 4 Hidlay, No. 7 Young, No. 8 Hayes, No. 9 Barone and No. 10 Bleise, though not Nolf. Nolf beat everyone.
Berger is also lifetime 0-2 against Pantaleo, losing 9-3 both times. Pantaleo's decision to wrestle the Midlands at 149 doomed him to not having enough matches at 157 to earn an auto-bid for the conference. Yet his in-conference wins over Van Brill, Hayes, Parriott, Tucker and Barone make him a pretty clear No. 4 preseed.
Nolf, Berger and Pantaleo are the only B1G 157-pounders that have climbed the podium in March, but just about every other postseason starter has the talent to join them this year. There are, alas, just eight precious All-American spots available. Which makes the Big Ten Championships, with the auto-bids and the potential boost to one's NCAA seed, all the more important.
There have been fewer sure things in college wrestling this year than Jason Nolf, but beyond that at 157-pounds this season, all bets are off.
Spey's Spredictions
1. Jason Nolf
2. Ryan Deakin
3. Alec Pantaleo
4. Tyler Berger
---
165 Pounds
9 auto-bids
#1 Vincenzo Joseph (Penn State) AQ
#2 Alex Marinelli (Iowa) AQ
#3 Evan Wick (Wisconsin) AQ
#6 Isaiah White (Nebraska) AQ
#7 Logan Massa (Michigan) AQ
#18 Joey Gunther (Illinois) AQ
Te'Shan Campbell (Ohio State) AQ
Bryce Martin (Indiana) AQ
Carson Brolsma (Minnesota) AQ
Tyler Morland (Northwestern)
Phillip Spadafora (Maryland)
Stephan Glasgow (Rutgers)
Austin Hiles (Michigan State)
Cole Wysocki (Purdue)
Like 157, there are nine auto-bids available at 165. There were fewer surprises at this weight class, however, as only the nine Big Ten wrestlers who appear in the final NWCA Coaches' Poll earned bids. That doesn't mean those bids are fait accompli, however. There are no easy outs, and it's feasible that any one of the 14 Big Ten 165-pound starters could earn a trip to Pittsburgh.
FloWrestling's 165-pound Big Ten Rankings
There is a reason this weight class is a perennial favorite, not just in the Big Ten, but nationwide. Just look at the heavy hitters entering this bracket. No weight class seems to get reloaded as quickly and as consistently with primo caliber talent.
Starting at the top, you have two-time national champion, Vincenzo Joseph, still with two cracks at the NCAA Tournament left in his college career. Cenzo is not unbeatable, having amassed six losses in the previous two seasons, but in this 2018-19 season he sports an unblemished 21-0 record.
Cenzo has had a few close calls, though, needing sudden victory to beat Logan Massa and having matches go down to the wire against Isaiah White and Chance Marsteller.
Watch Joseph and White from the PSU/Nebraska dual: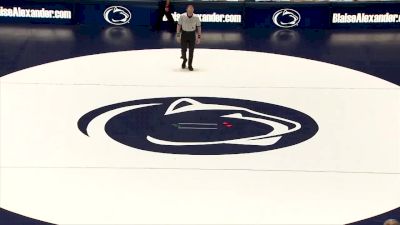 Unlock this video, live events, and more with a subscription!
Get Started
Already a subscriber? Log In
Joseph nevertheless remains the favorite and the No. 1 preseed. However, if anyone has an argument to be a co-favorite, it's Alex Marinelli. The Bull has avenged a 16-3 drubbing from Evan Wick at the 2018 NCAAs twice this year, first in the Midlands finals and later in a dual meet. Marinelli was also one of the select few people who can say they beat Vincenzo Joseph in college. If the No. 2 preseed Marinelli wants to be responsible for Cenzo's seventh collegiate loss, he'll probably have to once again go through No. 3 preseed Evan Wick, who has only lost to Marinelli this season.
And then there's Logan Massa and Isaiah White. Neither wrestler attained All-American honors last season, but that is not due to lack of talent, more so it speaks to the insane meat grinder that is the 165-pound weight class. Massa took third two years ago at the NCAAs in St. Louis but struggled to regain his peak form after an injury in the fall of 2017. White has been in and around the top 10 since transferring to Nebraska two seasons ago from DII Notre Dame College. White and Massa are 1-1 in their lifetime NCAA series, with White taking the most recent match 6-2 in the semis of the Cliff Keen Las Vegas Invitational.
Joey Gunther, who comes to his native Illinois program by way of the Iowa Hawkeyes, and Te'Shan Campbell, who made it to Ohio State and the Buckeyes after two seasons as a Panther in Pittsburgh, are two very deadly landmines to be wary of in Minneapolis.
Spey's Spredictions
1. Vincenzo Joseph
2. Alex Marinelli
3. Evan Wick
4. Logan Massa
---
174 Pounds
8 auto-bids
#1 Mark Hall (Penn State) AQ
#4 Myles Amine (Michigan) AQ
#9 Mikey Labriola (Nebraska) AQ
#12 Dylan Lydy (Purdue) AQ
#13 Devin Skatzka (Indiana) AQ
#14 Ethan Smith (Ohio State) AQ
Ryan Christensen (Wisconsin) AQ
Joe Grello (Rutgers) AQ
Drew Hughes (Michigan State)
Mitch Bowman (Iowa)
Carver James (Illinois)
Jake Covaciu (Indiana)
Josh Ugalde (Maryland)
Braxton Cody (Northwestern)
Here's another typically massive Big Ten weight class where all the automatic qualifiers went to the wrestlers you'd expect them to (more or less), but at the same time you wouldn't be surprised to see a few of those bids stolen by wrestlers who didn't earn auto-bids for the conference. That would be bad news for wrestlers in other conferences hoping for wild card bids, but that's how the system is set up, for better or for worse (we think for the better, if you will indulge a brief editorial).
FloWrestling's 174-pound Big Ten Rankings
Mark Hall is the most credentialed 174-pound wrestler in the conference, and arguably in the nation. Although he lost in the finals in Cleveland to Zahid Valencia, he's a two-time finalist, one-time champ and the only undefeated wrestler in the NCAA at 174. Hall will also have another year of eligibility after Minneapolis to terrorize the division.
Hall is the favorite to win a B1G title, but Myles Amine is hot on his heels, losing by a single point to Hall in their meeting one month ago. Myles has "a mean" streak and an argument for being one of the most slept-on wrestlers in the country. Amine earned a third- and fourth-place finish at NCAAs in his first two years of eligibility and just two of Amine's nine losses in the last two seasons came at the hands of non-NCAA champs.
After those two studs, the Big Ten has a solid mix of vets and youngin's. Mikey Labriola and Ethan Smith have a good shot of pulling off the rare feat of achieving All-American status as freshmen. Additionally, Dylan Lydy, Devin Skatzka and Ryan Christensen have all made it to the big dance before and are hoping to wrestle their first match on Saturday. For Christensen, who was recently reactivated after missing some time due to injury, this will be his last shot at glory following three previous trips to the NCAAs in which he did not place.
Drew Hughes, Joe Grello and Mitch Bowman are three more landmines to look out for in yet another stacked Big Ten bracket.
Spey's Spredictions
1. Mark Hall
2. Myles Amine
3. Mikey Labriola
4. Ryan Christensen
---
184 Pounds
8 auto-bids
#1 Myles Martin (Ohio State) AQ
#4 Taylor Venz (Nebraska) AQ
#7 Shakur Rasheed (Penn State) AQ
#8 Emery Parker (Illinois) AQ
#15 Cash Wilcke (Iowa) AQ
#19 Jelani Embree (Michigan) AQ
Cameron Caffey (Michigan State) AQ
Mason Reinhardt (Wisconsin) AQ
Max Lyon (Purdue)
Nick Gravina (Rutgers)
Norman Conley (Indiana)
Brandon Krone (Minnesota)
Kyle Jasenski (Maryland)
Brendan Devine (Northwestern)
Ho-hum, another weight class, another eight auto-bids, six ranked wrestlers, four All-Americans and a national champion. 184 is also another weight class where it's very conceivable, likely even, that one or more of those bids are stolen by someone who didn't earn a qualifier for the conference. So make sure you tune in for the blood round because that's when those tickets to Pittsburgh will be punched.
FloWrestling's 184-pound Big Ten Rankings
Is it possible for an undefeated three-time All-American, two-time finalist and national champion to be overlooked? Hopefully not, but one could argue that Myles Martin should be getting a greater share of the national media spotlight. It's tough to be out-shined with credentials like that, but then no conference has as many bright shining stars as the Big Ten.
Martin has been making himself difficult to ignore all season long, whipsawing through a very tough 184-pound weight class both in and out of conference. Martin has yet to wrestle Shakur Rasheed, who earned the No. 2 preseed, but he has beaten Taylor Venz—the No. 3 preseed and the second-highest ranked wrestler in the conference—twice this season, 11-5 in the finals of the Cliff Keen Las Vegas Invitational and 12-5 in a dual meet.
Watch MyMar and Venz at the CKLV:
Shakur Rasheed is perhaps the biggest enigma in the conference, if not the NCAA, although not with regards to if he is any good. Rasheed is indeed quite good, as is plainly evidenced by his resume, which includes an All-American honor last season. However, that seventh-place finish in Cleveland was at 197-pounds, and Rasheed has seen limited action at 184 this season, which may or may not be his final year of eligibility.
Sugar Shak is undefeated in conference this season, but that only amounts to three matches: a tech-fall of Brendan Devine, and regular decisions over Mason Reinhardt and Jelani Embree. Rasheed did pin No. 11 Sammy Colbray of Iowa State in 45 seconds (Rasheed is absolutely deadly with his cross-face cradle), but he is still an enigma in how he stacks up with the best of the Big Ten 184-pounds elite. Luckily for all of us, that mystery will be solved this weekend in Minneapolis.
The next two dudes to keep an eye on are Taylor Venz and Emery Parker. Parker beat Venz in the third-place bout at last year's NCAAs, but Venz got his revenge in a dual meet this season. Parker and Venz also split two additional matches in the 2017-18 season, so the ultimate rubber match could happen in the consolation round, as Venz has the No. 3 preseed and Parker the No. 4, or potentially it could occur in Pittsburgh, as both wrestlers will be getting wild cards if they somehow fail to finish in the top eight in Minneapolis.
Cash Wilcke is a two-time blood-round finisher at 197-pounds. He's favored to win a bid to Pittsburgh fairly easily. It'll likely be more challenging for a trio of talented freshmen—Cam Caffey, Jelani Embree and Mason Reinhardt—to earn bids, especially with top 20 bubble contenders Nick Gravina, Max Lyon and Norman Conley in need of a stolen bid to continue their seasons.
Spey's Spredictions
1. Myles Martin
2. Taylor Venz
3. Shakur Rasheed
4. Emery Parker
---
197 Pounds
5 auto-bids
#1 Bo Nickal (Penn State) AQ
#2 Kollin Moore (Ohio State) AQ
#5 Jacob Warner (Iowa) AQ
#10 Christian Brunner (Purdue) AQ
#12 Eric Schultz (Nebraska) AQ
Jackson Striggow (Michigan)
Dylan Anderson (Minnesota)
Brad Wilton (Michigan State)
Matt Correnti (Rutgers)
Beau Breske (Wisconsin)
Zack Chakonis (Northwestern)
Andre Lee (Illinois)
Jake Kleimola (Indiana)
Niko Cappello (Maryland)
197 is the skimpiest weight class in the Big Ten when it comes to total AQs earned, but that doesn't mean the Big Ten lacks for top-tier talent, as it doesn't get much more top tier than Bo Nickal. But with only five bids to go around, expect a lot of competitive matches. Wrestlers in this bracket won't be able to default out after making the semis and still ensure themselves an expense-paid trip to Pittsburgh in two weeks.
FloWrestling's 197-pound Big Ten Rankings
Will anyone be able to stop Bo Nickal from romping through the bracket and winning his third Big Ten title? From the looks of this recent match between Nickal and Kollin Moore, the No. 2 197-pounder in both the conference and nation, it appears unlikely.
Whether or not Bo Nickal strolls or struggles through the bracket, there will be intense battles at every round. Kollin Moore is a two-time All-American (third & fourth), who is the favorite to meet Nickal in the finals, but he will be challenged. National-qualifier Eric Schultz took Moore to sudden victory just a few weeks ago. Christian Brunner was also able to hold his match with Moore to a regular decision.
The young Jacob Warner will another name to watch this postseason and the subsequent three. The blue-chip Hawkeye recruit impressed in his redshirt season last year and got right back to business this year. He's 9-0 against Big Ten starters this season and picked up his second career win over three-time All-American Willie Miklus in an early-season dual.
A few more names of potential top five party crashers include Jackson Striggow, Brad Wilton, Matt Correnti and Dylan Anderson. They are also names to remember after the tournament, as all four of them have at least one year of eligibility remaining.
Spey's Spredictions
1. Bo Nickal
2. Kollin Moore
3. Jacob Warner
4. Eric Schultz
---
285 Pounds
7 auto-bids
#1 Gable Steveson (Minnesota) AQ
#3 Anthony Cassar (Penn State) AQ
#6 Trent Hillger (Wisconsin) AQ
#7 Sam Stoll (Iowa) AQ
#8 Conan Jennings (Northwestern) AQ
#9 Mason Parris (Michigan) AQ
#10 Youssif Hemida (Maryland)
#11 Chase Singletary (Ohio State) AQ
#12 David Jensen (Nebraska)
Christian Colucci (Rutgers)
Fletcher Miller (Indiana)
Jacob Aven (Purdue)
Chase Beard (Michigan State)
Deuce Rachal (Illinois)
285-pounds is arguably the Big Ten's most dominant weight class, featuring nine of the nation's top 12 heavyweights. Unfortunately for the Big Ten, two of those top 12 heavies did not earn auto-bids. Youssif Hemida and David Jensen, ranked No. 8 and No. 9 in the latest NWCA Coaches' Poll, respectively, both had sub-.700 winning percentages and did not receive an RPI rating in the top 30. The coaches' poll rankings easily met the qualifying threshold, but you need to attain two of the three categories, and so the Big Ten is going to have to rely on receiving at least two wild card invites to get all their top 20 heavies to Pittsburgh.
As a result, expect to see some serious rumbling in every round of this tournament.
FloWrestling's 285-pound Big Ten Rankings
There have been true freshman champs before. Both Spencer Lee and Yianni Diakomihalis accomplished the feat just last year. But there hasn't been an undefeated true freshman NCAA champ since 1947 (that stat brought to you by the one and only Daniel Roy Lobdell). Gable Steveson has the opportunity to reach such rarified air in Pittsburgh, assuming things play out according to seed in Minneapolis, which just so happens to be Steveson's home turf.
As the No. 1 preseed, Steveson will have to win three matches at Minneapolis. This will all but guarantee he receives the No. 1 seed in Pittsburgh, where Steveson will have to win five more to complete the historic feat.
Gable earned the No. 1 preseed, and the accompanying hype, by beating nearly all the top heavyweights in the country. Steveson's hit list includes No. 2 Derek White, No. 5 Jordan Wood, No. 6 Trent Hillger, No. 8 Conan Jennings, No. 10 Youssif Hemida, No. 12 David Jensen (Steveson also beat Jensen last season while he was a senior in high school) and No. 14 Cory Daniel.
Watch Steveson defeat Tate Orndorff in the CKLV finals:
Two heavyweight seniors whom Gable has yet to wrestle are Sam Stoll and Anthony Cassar (although this may or may not be Cassar's final year of eligibility). Stoll placed fifth last season in Cleveland but has been hampered by injuries this season. Cassar borrowed a page from Derek White's playbook and did a Nittany Lion Bulk Job this offseason, moving up to heavyweight after wrestling all of last season at 197-pounds. Cassar lost out on the postseason starting job to Shakur Rasheed in 2018, but was able to win this 285-pound spot from teammate Nick Nevills in 2019.
As if wrestling needed further evidence for being the most brutal, yet meritocratic, sport in the world, Nevills, along with Chandler Rogers, will be a two-time All-American who sits out the postseason in his final year of eligibility. To see such an outcome is both heartbreaking and inspiring.
Also in his final year of eligibility is two-time NCAA-qualifier Conan Jennings, who is attempting to finally put the pieces together for a March podium run. Another competitor to heed is David Jensen, a junior looking to punch his first ticket to nationals. Trent Hillger and Chase Singletary, conversely, are redshirt freshmen. Mason Parris is, like Steveson, a true freshman phenom, and rounds out the list of contenders who earned automatic bids. There is no easy path to those qualifying spots, however, and every entrant is a potential bid thief.
Please be advised that the mammoth melee gets moving in Minneapolis this Saturday morning. See you there wise and learned wrestling friends!
Spey's Spredictions
1. Gable Steveson
2. Anthony Cassar
3. Mason Parris
4. Trent Hillger