2019 NCAA Championships
2019 NCAA Tournament Automatic Qualifier Allocations
2019 NCAA Tournament Automatic Qualifier Allocations
The NCAA has announced each of the automatic qualifier allocations for the upcoming conference tournaments.
Mar 1, 2019
by Wrestling Nomad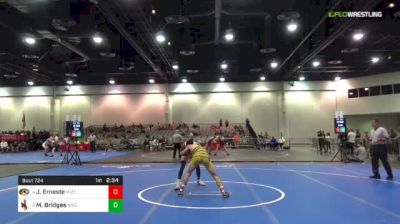 The NCAA has announced the automatic qualifier allocations for each of the eight upcoming conference tournaments. Check out all 286 allocation spots below.
For the final coaches ranking before conference weekend, go here. For the final RPI ahead of the conference tournaments, click here.
Remember that the baseline to earn an allocation for your conference is to hit two of the following three criteria: Top-33 in the coaches poll, Top-33 in the RPI, and a winning percentage of at least .700 against Division 1 opponents at your same weight. Please note that these are baseline numbers that can be slid up or down slightly to achieve the desired number of allocations.
125 Pounds
| | | |
| --- | --- | --- |
| Weight | Conference | Allocation |
| 125 | ACC | 2 |
| 125 | Big 12 | 5 |
| 125 | Big Ten | 9 |
| 125 | EIWA | 4 |
| 125 | EWL | 1 |
| 125 | MAC | 4 |
| 125 | Pac-12 | 3 |
| 125 | SoCon | 1 |
| | Total | 29 |
The #NCAAWrestling DI 125 qualifier allocations… pic.twitter.com/o9HxvnDUj5

— NCAA Wrestling (@ncaawrestling) March 1, 2019
133 Pounds
| | | |
| --- | --- | --- |
| Weight | Conference | Allocation |
| 133 | ACC | 4 |
| 133 | Big 12 | 5 |
| 133 | Big Ten | 8 |
| 133 | EIWA | 4 |
| 133 | EWL | 2 |
| 133 | MAC | 3 |
| 133 | Pac-12 | 2 |
| 133 | SoCon | 1 |
| | Total | 29 |
The #NCAAWrestling DI 133 qualifier allocations… pic.twitter.com/nvhnryl0tb

— NCAA Wrestling (@ncaawrestling) March 1, 2019
141 Pounds
| | | |
| --- | --- | --- |
| Weight | Conference | Allocation |
| 141 | ACC | 4 |
| 141 | Big 12 | 6 |
| 141 | Big Ten | 9 |
| 141 | EIWA | 3 |
| 141 | EWL | 1 |
| 141 | MAC | 4 |
| 141 | Pac-12 | 1 |
| 141 | SoCon | 1 |
| | Total | 29 |
The #NCAAWrestling DI 141 qualifier allocations… pic.twitter.com/xrS6idaDAi

— NCAA Wrestling (@ncaawrestling) March 1, 2019
149 Pounds
| | | |
| --- | --- | --- |
| Weight | Conference | Allocation |
| 149 | ACC | 4 |
| 149 | Big 12 | 7 |
| 149 | Big Ten | 6 |
| 149 | EIWA | 5 |
| 149 | EWL | 1 |
| 149 | MAC | 1 |
| 149 | Pac-12 | 2 |
| 149 | SoCon | 2 |
| | Total | 28 |
The #NCAAWrestling DI 149 qualifier allocations… pic.twitter.com/MHeTRBsQRv

— NCAA Wrestling (@ncaawrestling) March 1, 2019
157 Pounds
| | | |
| --- | --- | --- |
| Weight | Conference | Allocation |
| 157 | ACC | 4 |
| 157 | Big 12 | 1 |
| 157 | Big Ten | 9 |
| 157 | EIWA | 6 |
| 157 | EWL | 1 |
| 157 | MAC | 5 |
| 157 | Pac-12 | 2 |
| 157 | SoCon | 1 |
| | Total | 29 |
The #NCAAWrestling DI 157 qualifier allocations… pic.twitter.com/2ac5S1SIvy

— NCAA Wrestling (@ncaawrestling) March 1, 2019
165 Pounds
| | | |
| --- | --- | --- |
| Weight | Conference | Allocation |
| 165 | ACC | 4 |
| 165 | Big 12 | 6 |
| 165 | Big Ten | 9 |
| 165 | EIWA | 4 |
| 165 | EWL | 3 |
| 165 | MAC | 1 |
| 165 | Pac-12 | 1 |
| 165 | SoCon | 1 |
| | Total | 29 |
The #NCAAWrestling DI 165 qualifier allocations… pic.twitter.com/ylpVt6VM4G

— NCAA Wrestling (@ncaawrestling) March 1, 2019
174 Pounds
| | | |
| --- | --- | --- |
| Weight | Conference | Allocation |
| 174 | ACC | 3 |
| 174 | Big 12 | 5 |
| 174 | Big Ten | 8 |
| 174 | EIWA | 5 |
| 174 | EWL | 1 |
| 174 | MAC | 2 |
| 174 | Pac-12 | 1 |
| 174 | SoCon | 2 |
| | Total | 27 |
The #NCAAWrestling DI 174 qualifier allocations… pic.twitter.com/eeox21iGPZ

— NCAA Wrestling (@ncaawrestling) March 1, 2019
184 Pounds
| | | |
| --- | --- | --- |
| Weight | Conference | Allocation |
| 184 | ACC | 5 |
| 184 | Big 12 | 5 |
| 184 | Big Ten | 8 |
| 184 | EIWA | 6 |
| 184 | EWL | 1 |
| 184 | MAC | 2 |
| 184 | Pac-12 | 1 |
| 184 | SoCon | 1 |
| | Total | 29 |
The #NCAAWrestling DI 184 qualifier allocations… pic.twitter.com/C9biX1SS1c

— NCAA Wrestling (@ncaawrestling) March 1, 2019
197 Pounds
| | | |
| --- | --- | --- |
| Weight | Conference | Allocation |
| 197 | ACC | 4 |
| 197 | Big 12 | 7 |
| 197 | Big Ten | 5 |
| 197 | EIWA | 6 |
| 197 | EWL | 1 |
| 197 | MAC | 1 |
| 197 | Pac-12 | 2 |
| 197 | SoCon | 2 |
| | Total | 28 |
The #NCAAWrestling DI 197 qualifier allocations… pic.twitter.com/nljfob5kGc

— NCAA Wrestling (@ncaawrestling) March 1, 2019
285 Pounds
| | | |
| --- | --- | --- |
| Weight | Conference | Allocation |
| 285 | ACC | 3 |
| 285 | Big 12 | 6 |
| 285 | Big Ten | 7 |
| 285 | EIWA | 4 |
| 285 | EWL | 2 |
| 285 | MAC | 4 |
| 285 | Pac-12 | 2 |
| 285 | SoCon | 1 |
| | Total | 29 |
The #NCAAWrestling DI 285 qualifier allocations… pic.twitter.com/in7msRfmFA

— NCAA Wrestling (@ncaawrestling) March 1, 2019
By Conference
| | | |
| --- | --- | --- |
| | Conference | Allocation |
| Total | ACC | 37 |
| Total | Big 12 | 53 |
| Total | Big Ten | 78 |
| Total | EIWA | 47 |
| Total | EWL | 14 |
| Total | MAC | 27 |
| Total | Pac-12 | 17 |
| Total | SoCon | 13 |
| | Total | 286 |
The #NCAAWrestling DI qualifier allocations by conference... pic.twitter.com/8iBaks6nbS

— NCAA Wrestling (@ncaawrestling) March 1, 2019