2019 Big Ten Wrestling Championship
B1G Preview: Ohio State Eyeing 3rd Straight Conference Tournament Crown
B1G Preview: Ohio State Eyeing 3rd Straight Conference Tournament Crown
An overview of Ohio State's season heading into the Big Ten championships and how they can set themselves up for NCAAs.
Mar 8, 2019
by Wrestling Nomad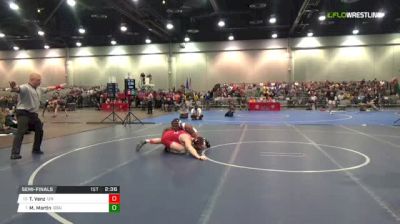 Unlock this article, live events, and more with a subscription!
Get Started
Already a subscriber? Log In
Tom Ryan and the Ohio State coaching staff have built the Buckeyes into an unmistakeable force in the Division 1 wrestling landscape. The past four years have certainly born that out.
Check the stats: an NCAA team title in 2015, followed by a third place finish in 2016. Second place finishes at the national tournament each of the past two years, including last year's squad that scored the 15th most team points ever.
Watch the 2019 Big Ten Championships Live on Flo
March 9-10 | 10:00 AM Central
Their performances at the conference tournament have been impressive as well: a shared team title in 2015, a third place finish the next year, and outright team titles in 2017 and 2018. Indeed, the program has set quite a standard for itself.
They have a chance at a threepeat this weekend at Big Tens, but they are still looking up at prohibitive favorites Penn State for NCAAs. This weekend is their opportunity to knock off a few Nittany Lions and Hawkeyes to set up some easier paths to place at the national tournament.
Big Ten Previews: Lightweight | Middleweight | Upperweight
125lbs #8 Malik Heinselman: 21-7
There were two main questions about the true freshman coming into this season: Would he redshirt and would he be big enough? His redshirt was pulled in the second half of the year, and he hasn't looked terribly small every time out.
Regarding his spot on the team, Heinselman's goal is to give them another qualifier. With nine bids available, winning his first round matchup against Devin Schroder, someone he did not face this year, would go a long way in doing that.
133lbs #5 Luke Pletcher: 20-4
While Pletcher more than doubled his number of bonus point wins from last season and better than tripling his bonus rate, he still has shown to have difficulty putting up points in big matches, as best evidenced in late season losses to Roman Bravo-Young and Chas Tucker. But even against the likes of Ben Thornton, Anthony Tutolo, and Dylan Duncan he had to eke out one point victories.
Now to some extent bonus points don't matter if you're winning (Jason Tsirtsis never had a bonus point victory in his career at the NCAA tournament), but in a weight with Stevan Micic and Daton Fix, Pletcher is going to need to put more points on the board to come close to giving the Buckeyes national champ like production in their team score near his hometown in Pittsburgh.
His first shot at redemption comes in the quarters against RBY, and if he wins he'll get Micic in the semis. Since beating Micic in the 2017 CKLV semis, he's lost four straight to the Serbian Sickle.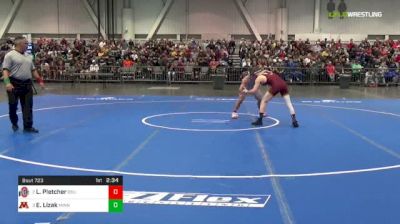 141lbs #3 Joey McKenna: 16-2
Ohio State didn't just lose big guns last year in BoJo, NaTo, and Kyle Snyder. They're also losing three more this year in McKenna, Micah Jordan, and Myles Martin. McKenna has become a leader since transferring in for his junior year, and now seeks that elusive national title.
His losses this season are to #1 Yianni Diakomihalis 7-5 and to #2 Nick Lee 7-6, the latter of which he can avenge in the semis on Saturday night. However, unless Yianni gets upset at EIWAs, the best McKenna can do is get the two seed at NCAAs.
149lbs #2 Micah Jordan: 22-1
It's pretty rare that wrestlers meet three separate times in tournament finals during one season, but that's exactly what could happen with Jordan and Anthony Ashnault. The first one was a match of the year contender, with the Scarlet Knight storming out to a 10-0 lead in the first after turning Mickey twice. But then Jordan stormed back, taking Ashnault down four times in the third period. We can only hope their potential B1G final will be as action packed.
157lbs #7 Ke-Shawn Hayes: 18-7
Hayes quarterfinal loss to Troy Heilmann and Kollin Moore's losses to Kyle Conel will always stick out in the minds of Ohio State fans, the kinds of matches that are more memorable than even the the joyous uplifting ones. That came after a season of being perceived as undersized when he wrestled off at 141 to start the year. Now he's had another season of being undersized after starting by wrestling off Mickey for 149.
Hayes is in a similar position this year where his NCAA seed may be approximately what his Big Ten seed is. The opportunity to get a third crack at Tyler Berger is his chance to throw a monkey wrench into the seeding. Otherwise, he's looking at something in the 8-10 range.
165lbs #6 Te'Shan Campbell: 17-4
Along with Joey McKenna, Te'Shan Campbell transferred in after his sophomore season two years ago. While Campbell hasn't been overwhelming in his two seasons in a Buckeye singlet, he gives them another NCAA qualifier and another way to score team points at the national tournament. Everyone knows that Penn State scores huge points in both advancement and bonus, but doesn't always get a full team of point scorers.
With nine guys qualifying out of this weight, Campbell should have no problem making it to the show. But he'll need to do something like upset Isaiah White, which he did last year at CKLV, to really give himself a shot at a seed that could push Ohio State north of 100 points in Pittsburgh.
Unlock this video, live events, and more with a subscription!
Get Started
Already a subscriber? Log In
174lbs #6 Ethan Smith: 15-8
Just like Heinselman and Singletary, Ethan Smith's assignment this year was to replace a four-time AA. It was unclear at the beginning of the year if the duty would fall to Smith or Campbell, but the decision was made at the beginning of February to have Campbell drop to 165.
His two biggest wins in conference were over Drew Hughes and Ryan Christensen, both of whom he is seeded ahead of. Smith is also in the awkward position of being right in the sweet spot of awkward seeding situations. Since all 33 wrestlers will be seeded this year, the 16/17 seed, who would get the top seed second round, is less valuable than say the 19 seed, which gets the three seed second round.
184lbs #1 Myles Martin: 17-0
At some point we'll need to go back and analyze Martin's prodigious neutral output from this season. From the variety of attacks to the speed with which he finished him and the sheer volume of output, it was among the more dominant years we've seen from someone on their feet. If, as most of us expect, it continues into his final postseason, it will be the proper coronation for the wrestler he has grown into throughout his college career.
Very simply all Myles can do this weekend is cement himself as the #1 seed for NCAAs. He can improve to 4-0 against Taylor Venz, or possibly 3-1 against Emery Parker, proving how far he's come since Parker upset him at the 2017 national tournament. He's never faced Cash Wilcke or Shakur Rasheed, but this would be his opportunity to silence the two most rabid fan bases in the country.
197lbs #2 Kollin Moore: 16-1
One unfortunate side effect of having a transcendent wrestler in your weight class is that people may forget how good the second and third place guys are. Moore is a two-time All-American with over half of his victories coming by bonus.
He hasn't faced Jacob Warner and has never faced Willie Miklus, so there could be some roadblocks waiting. But he'll get his hands on Warner in the semis and try to set up a revenge match with Bo Nickal. No one outside of the Buckeye locker room expects Moore to win that one, but isn't that what makes wrestling worth watching?
285lbs #5 Chase Singletary: 18-5
Singletary had the unenviable task of replacing Kyle Snyder, but fared relatively well in doing so. He'll get a third crack at Mason Parris in the quarterfinals, and has split with him so far.
For Singletary, this season is about setting him up to be a contender in that soon promises to be a very deep weight class. With the influx of talent coming in, making it to the Round of 12 and giving himself a headstart heading into next season could prove extremely valuable. That starts with finishing at or above his seed this weekend in Minneapolis.