2019 Big Ten Wrestling Championship
Big Ten Championships: Upperweight Preview
Big Ten Championships: Upperweight Preview
Breaking down everything you need to know about the 174-, 184-, 197- and 285-pound weight classes at the 2019 Big Ten Wrestling Championships.
Mar 7, 2019
by Andrew Spey
Unlock this article, live events, and more with a subscription!
Get Started
Already a subscriber? Log In
It's nearly that time. The most righteous conference tournament of them all.
The NCAA has released its automatic qualifying allocations and the Big Ten has just come out with its conference championship preseeds. Now, we preview the 174-, 184-, 197- and 285-pound divisions of the Big Ten Tournament. Later this weekend, tie on the feedbag, put on your robe and slippies, max and relax and enjoy the Big Tens, the most scintillating of all the preludes to the NCAA tournament.
Watch the Big Ten Championships LIVE on FloWrestling
Wrestling starts Saturday, March 9, 10 a.m. CT
A couple of quick notes: the rankings below are from the FloWrestliing NCAA Top 20. Additionally, an "AQ" after a name means they earned an automatic qualifying spot for the Big Ten Conference. If the wrestler that earned the bid does not enter the Big Ten Tournament for any reason, then their AQ gets tossed out and the number of auto-bids available is reduced by one. For example, with eight auto-bids at 174, you have to place in the top eight to earn a berth to the NCAA Tournament. Hypothetically, if Joe Grello does not wrestle at Big Tens for whatever reason, there will then be only seven bids up for grabs. Anyone who does not earn an auto-bid at the tournament will have to rely on a wild card invite to wrestle in Pittsburgh.
174 Pounds
8 auto-bids
#1 Mark Hall (Penn State) AQ
#4 Myles Amine (Michigan) AQ
#9 Mikey Labriola (Nebraska) AQ
#12 Dylan Lydy (Purdue) AQ
#13 Devin Skatzka (Indiana) AQ
#14 Ethan Smith (Ohio State) AQ
Ryan Christensen (Wisconsin) AQ
Joe Grello (Rutgers) AQ
Drew Hughes (Michigan State)
Mitch Bowman (Iowa)
Carver James (Illinois)
Jake Covaciu (Indiana)
Josh Ugalde (Maryland)
Braxton Cody (Northwestern)
Here's another typically massive Big Ten weight class where all the automatic qualifiers went to the wrestlers you'd expect them to (more or less), but at the same time you wouldn't be surprised to see a few of those bids stolen by wrestlers who didn't earn auto-bids for the conference. That would be bad news for wrestlers in other conferences hoping for wild card bids, but that's how the system is set up, for better or for worse (we think for the better, if you will indulge a brief editorial).
FloWrestling's 174-pound Big Ten Rankings
Mark Hall is the most credentialed 174-pound wrestler in the conference, and arguably in the nation. Although he lost in the finals in Cleveland to Zahid Valencia, he's a two-time finalist, one-time champ and the only undefeated wrestler in the NCAA at 174. Hall will also have another year of eligibility after Minneapolis to terrorize the division.
Watch Hall vs. Labriola in a dual meet from this January: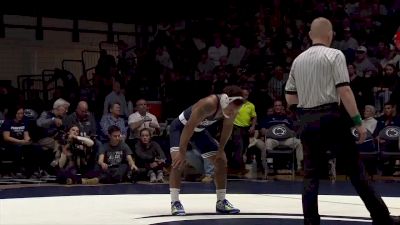 Hall is the favorite to win a B1G title, but Myles Amine is hot on his heels, losing by a single point to Hall in their meeting one month ago. Myles has "a mean" streak and an argument for being one of the most slept-on wrestlers in the country. Amine earned a third- and fourth-place finish at NCAAs in his first two years of eligibility and just two of Amine's nine losses in the last two seasons came at the hands of non-NCAA champs.
After those two studs, the Big Ten has a solid mix of vets and youngin's. Mikey Labriola and Ethan Smith have a good shot of pulling off the rare feat of achieving All-American status as freshmen. Additionally, Dylan Lydy, Devin Skatzka and Ryan Christensen have all made it to the big dance before and are hoping to wrestle their first match on Saturday. For Christensen, who was recently reactivated after missing some time due to injury, this will be his last shot at glory following three previous trips to the NCAAs in which he did not place.
Drew Hughes, Joe Grello and Mitch Bowman are three more landmines to look out for in yet another stacked Big Ten bracket.
Spey's Spredictions
1. Mark Hall
2. Myles Amine
3. Mikey Labriola
4. Ryan Christensen
184 Pounds
8 auto-bids
#1 Myles Martin (Ohio State) AQ
#4 Taylor Venz (Nebraska) AQ
#7 Shakur Rasheed (Penn State) AQ
#8 Emery Parker (Illinois) AQ
#15 Cash Wilcke (Iowa) AQ
#19 Jelani Embree (Michigan) AQ
Cameron Caffey (Michigan State) AQ
Mason Reinhardt (Wisconsin) AQ
Max Lyon (Purdue)
Nick Gravina (Rutgers)
Norman Conley (Indiana)
Brandon Krone (Minnesota)
Kyle Jasenski (Maryland)
Brendan Devine (Northwestern)
Ho-hum, another weight class, another eight auto-bids, six ranked wrestlers, four All-Americans and a national champion. 184 is also another weight class where it's very conceivable, likely even, that one or more of those bids are stolen by someone who didn't earn a qualifier for the conference. So make sure you tune in for the blood round because that's when those tickets to Pittsburgh will be punched.
FloWrestling's 184-pound Big Ten Rankings
Is it possible for an undefeated three-time All-American, two-time finalist and national champion to be overlooked? Hopefully not, but one could argue that Myles Martin should be getting a greater share of the national media spotlight. It's tough to be out-shined with credentials like that, but then no conference has as many bright shining stars as the Big Ten.
Martin has been making himself difficult to ignore all season long, whipsawing through a very tough 184-pound weight class both in and out of conference. Martin has yet to wrestle Shakur Rasheed, who earned the No. 2 preseed, but he has beaten Taylor Venz—the No. 3 preseed and the second-highest ranked wrestler in the conference—twice this season, 11-5 in the finals of the Cliff Keen Las Vegas Invitational and 12-5 in a dual meet.
Watch MyMar and Venz at the CKLV:
Shakur Rasheed is perhaps the biggest enigma in the conference, if not the NCAA, although not with regards to if he is any good. Rasheed is indeed quite good, as is plainly evidenced by his resume, which includes an All-American honor last season. However, that seventh-place finish in Cleveland was at 197-pounds, and Rasheed has seen limited action at 184 this season, which may or may not be his final year of eligibility.
Sugar Shak is undefeated in conference this season, but that only amounts to three matches: a tech-fall of Brendan Devine, and regular decisions over Mason Reinhardt and Jelani Embree. Rasheed did pin No. 11 Sammy Colbray of Iowa State in 45 seconds (Rasheed is absolutely deadly with his cross-face cradle), but he is still an enigma in how he stacks up with the best of the Big Ten 184-pounds elite. Luckily for all of us, that mystery will be solved this weekend in Minneapolis.
The next two dudes to keep an eye on are Taylor Venz and Emery Parker. Parker beat Venz in the third-place bout at last year's NCAAs, but Venz got his revenge in a dual meet this season. Parker and Venz also split two additional matches in the 2017-18 season, so the ultimate rubber match could happen in the consolation round, as Venz has the No. 3 preseed and Parker the No. 4, or potentially it could occur in Pittsburgh, as both wrestlers will be getting wild cards if they somehow fail to finish in the top eight in Minneapolis.
Cash Wilcke is a two-time blood-round finisher at 197-pounds. He's favored to win a bid to Pittsburgh fairly easily. It'll likely be more challenging for a trio of talented freshmen—Cam Caffey, Jelani Embree and Mason Reinhardt—to earn bids, especially with top 20 bubble contenders Nick Gravina, Max Lyon and Norman Conley in need of a stolen bid to continue their seasons.
Spey's Spredictions
1. Myles Martin
2. Taylor Venz
3. Shakur Rasheed
4. Emery Parker
197 Pounds
5 auto-bids
#1 Bo Nickal (Penn State) AQ
#2 Kollin Moore (Ohio State) AQ
#5 Jacob Warner (Iowa) AQ
#10 Christian Brunner (Purdue) AQ
#12 Eric Schultz (Nebraska) AQ
Jackson Striggow (Michigan)
Dylan Anderson (Minnesota)
Brad Wilton (Michigan State)
Matt Correnti (Rutgers)
Beau Breske (Wisconsin)
Zack Chakonis (Northwestern)
Andre Lee (Illinois)
Jake Kleimola (Indiana)
Niko Cappello (Maryland)
197 is the skimpiest weight class in the Big Ten when it comes to total AQs earned, but that doesn't mean the Big Ten lacks for top-tier talent, as it doesn't get much more top tier than Bo Nickal. But with only five bids to go around, expect a lot of competitive matches. Wrestlers in this bracket won't be able to default out after making the semis and still ensure themselves an expense-paid trip to Pittsburgh in two weeks.
FloWrestling's 197-pound Big Ten Rankings
Will anyone be able to stop Bo Nickal from romping through the bracket and winning his third Big Ten title? From the looks of this recent match between Nickal and Kollin Moore, the No. 2 197-pounder in both the conference and nation, it appears unlikely.
Whether or not Bo Nickal strolls or struggles through the bracket, there will be intense battles at every round. Kollin Moore is a two-time All-American (third & fourth), who is the favorite to meet Nickal in the finals, but he will be challenged. National-qualifier Eric Schultz took Moore to sudden victory just a few weeks ago. Christian Brunner was also able to hold his match with Moore to a regular decision.
The young Jacob Warner will another name to watch this postseason and the subsequent three. The blue-chip Hawkeye recruit impressed in his redshirt season last year and got right back to business this year. He's 9-0 against Big Ten starters this season and picked up his second career win over three-time All-American Willie Miklus in an early-season dual.
A few more names of potential top five party crashers include Jackson Striggow, Brad Wilton, Matt Correnti and Dylan Anderson. They are also names to remember after the tournament, as all four of them have at least one year of eligibility remaining.
Spey's Spredictions
1. Bo Nickal
2. Kollin Moore
3. Jacob Warner
4. Eric Schultz
285 Pounds
7 auto-bids
#1 Gable Steveson (Minnesota) AQ
#3 Anthony Cassar (Penn State) AQ
#6 Trent Hillger (Wisconsin) AQ
#7 Sam Stoll (Iowa) AQ
#8 Conan Jennings (Northwestern) AQ
#9 Mason Parris (Michigan) AQ
#10 Youssif Hemida (Maryland)
#11 Chase Singletary (Ohio State) AQ
#12 David Jensen (Nebraska)
Christian Colucci (Rutgers)
Fletcher Miller (Indiana)
Jacob Aven (Purdue)
Chase Beard (Michigan State)
Deuce Rachal (Illinois)
285-pounds is arguably the Big Ten's most dominant weight class, featuring nine of the nation's top 12 heavyweights. Unfortunately for the Big Ten, two of those top 12 heavies did not earn auto-bids. Youssif Hemida and David Jensen, ranked No. 8 and No. 9 in the latest NWCA Coaches' Poll, respectively, both had sub-.700 winning percentages and did not receive an RPI rating in the top 30. The coaches' poll rankings easily met the qualifying threshold, but you need to attain two of the three categories, and so the Big Ten is going to have to rely on receiving at least two wild card invites to get all their top 20 heavies to Pittsburgh.
As a result, expect to see some serious rumbling in every round of this tournament.
FloWrestling's 285-pound Big Ten Rankings
There have been true freshman champs before. Both Spencer Lee and Yianni Diakomihalis accomplished the feat just last year. But there hasn't been an undefeated true freshman NCAA champ since 1947 (that stat brought to you by the one and only Daniel Roy Lobdell). Gable Steveson has the opportunity to reach such rarified air in Pittsburgh, assuming things play out according to seed in Minneapolis, which just so happens to be Steveson's home turf.
As the No. 1 preseed, Steveson will have to win three matches at Minneapolis. This will all but guarantee he receives the No. 1 seed in Pittsburgh, where Steveson will have to win five more to complete the historic feat.
Gable earned the No. 1 preseed, and the accompanying hype, by beating nearly all the top heavyweights in the country. Steveson's hit list includes No. 2 Derek White, No. 5 Jordan Wood, No. 6 Trent Hillger, No. 8 Conan Jennings, No. 10 Youssif Hemida, No. 12 David Jensen (Steveson also beat Jensen last season while he was a senior in high school) and No. 14 Cory Daniel.
Watch Steveson defeat Tate Orndorff in the CKLV finals:
Unlock this video, live events, and more with a subscription!
Get Started
Already a subscriber? Log In
Two heavyweight seniors whom Gable has yet to wrestle are Sam Stoll and Anthony Cassar (although this may or may not be Cassar's final year of eligibility). Stoll placed fifth last season in Cleveland but has been hampered by injuries this season. Cassar borrowed a page from Derek White's playbook and did a Nittany Lion Bulk Job this offseason, moving up to heavyweight after wrestling all of last season at 197-pounds. Cassar lost out on the postseason starting job to Shakur Rasheed in 2018, but was able to win this 285-pound spot from teammate Nick Nevills in 2019.
As if wrestling needed further evidence for being the most brutal, yet meritocratic, sport in the world, Nevills, along with Chandler Rogers, will be a two-time All-American who sits out the postseason in his final year of eligibility. To see such an outcome is both heartbreaking and inspiring.
Also in his final year of eligibility is two-time NCAA-qualifier Conan Jennings, who is attempting to finally put the pieces together for a March podium run. Another competitor to heed is David Jensen, a junior looking to punch his first ticket to nationals. Trent Hillger and Chase Singletary, conversely, are redshirt freshmen. Mason Parris is, like Steveson, a true freshman phenom, and rounds out the list of contenders who earned automatic bids. There is no easy path to those qualifying spots, however, and every entrant is a potential bid thief.
Please be advised that the mammoth melee gets moving in Minneapolis this Saturday morning. See you there wise and learned wrestling friends!
Spey's Spredictions
1. Gable Steveson
2. Anthony Cassar
3. Mason Parris
4. Trent Hillger