2019 Big Ten Wrestling Championship
Big Ten Championships: Lightweight Preview
Big Ten Championships: Lightweight Preview
Breaking down everything you need to know about the 125, 133 & 141-pound weight classes at the 2019 Big Ten Wrestling Championships.
Mar 5, 2019
by Andrew Spey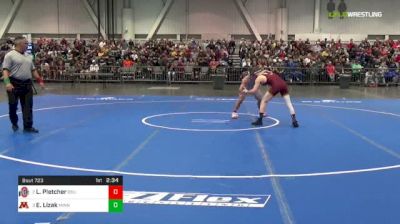 Unlock this article, live events, and more with a subscription!
Get Started
Already a subscriber? Log In
It's nearly that time. The raddest conference tournament of them all.
The NCAA has released their automatic qualifying allocations and the Big Ten has just come out with its conference championship preseeds. Now, we preview the 125-, 133- and 141-pound divisions of the Big Ten Tournament. Later this weekend, you break out the snack food of your choice, kick off your shoes, recline and enjoy the Big Tens, the toughest of all the preludes to the NCAA Tournament.
Watch the Big Ten Championships LIVE on FloWrestling
Wrestling starts Saturday, March 9, 10 a.m. CT
A couple of quick notes: the rankings below are from the FloWrestliing NCAA Top 20. Additionally, an "AQ" after a name means they earned an automatic qualifying spot for the Big Ten Conference. If the wrestler who earned the bid does not enter the Big Ten Tournament for any reason, then their AQ gets tossed out and the number of auto-bids available is reduced by one. For example, with nine auto-bids at 125, you have to place in the top nine to earn a berth to the NCAA Tournament (yes, they will wrestle back to ninth place in Minneapolis). Hypothetically, if Malik Heinselmen does not wrestle at Big Tens for whatever reason, there will then be only eight bids up for grabs. Anyone who does not earn an auto-bid at the tournament will have to rely on a wild card invite to wrestle in Pittsburgh.
125 Pounds
9 auto-bids
#1 Sebastian Rivera (Northwestern) AQ
#3 Spencer Lee (Iowa) AQ
#6 Sean Russell (Minnesota) AQ
#11 RayVon Foley (Michigan State) AQ
#12 Travis Piotrowski (Illinois) AQ
#13 Drew Mattin (Michigan) AQ
#14 Zeke Moisey (Nebraska) AQ
#17 Elijah Oliver (Indiana)
#20 Devin Schroder (Purdue) AQ
Malik Heinselman (Ohio State) AQ
Brandon Cray (Maryland)
Ethan Rotundo (Wisconsin)
Devin Schnupp (Penn State)
The Big Ten secured more automatic qualifiers than any other conference by a large margin (more on that here). Elijah Oliver, despite being in the top 20, did not do enough to earn a qualifying spot for the conference, so he will have to steal a bid from the nine that were earned or hope for a wild card invite.
FloWrestling's 125-pound Big Ten Rankings
Spencer Lee's defense of his national title officially begins Saturday morning. Barring any injury default or a major upset, that path will likely take him to the finals for a highly anticipated rematch with Sebastian Rivera. Lee was shocked in a 7-3 upset by Rivera in the finals of the Midlands. We didn't get a rematch a month later when Northwestern hosted Iowa at the end of January and Perez stepped on to the mat for the Hawkeyes at 125 pounds.
Watch Lee and Rivera at the 2018 Midlands: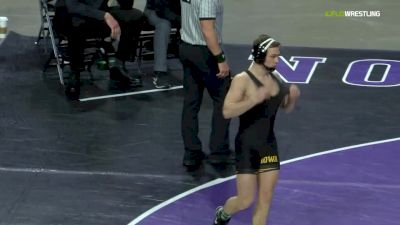 Unlock this video, live events, and more with a subscription!
Get Started
Already a subscriber? Log In
There are plenty of landmines who will be looking to crash that Big Ten finals party, however. Two senior All-Americans that were wrestling for non-Big Ten teams last season who can't be discounted are Sean Russell, formerly of Edinboro, and Zeke Moisey, a transfer from West Virginia. Russell has been one of the most consistent 125-pounders this season, having lost a mere three times, all to wrestlers ranked in the top four.
In their first and so far only meeting as Big Ten rivals, Russell trailed Moisey by four points in the third period before the freshly minted Gopher pancaked the newly dubbed Husker for a pinfall, securing the three-seed at Big Tens for Russell.
Foley, Piotrowski, Mattin and Oliver have all qualified for nationals before, yet are still looking for their first All-American finish. Oliver will be the sentimental favorite, as this will be his fourth trip to the NCAA Tournament should he make it to Pittsburgh.
In Minneapolis, with the aforementioned wrestlers, plus Malik Heinselman and Devin Schroder, you can guarantee at least two All-American contenders will lose in the first round of action Saturday morning.
Spey's Spredictions
1. Sebastian Rivera
2. Spencer Lee
3. RayVon Foley
4. Sean Russell
133 Pounds
8 auto-bids
#1 Stevan Micic (Michigan) AQ
#3 Austin DeSanto (Iowa) AQ
#4 Nick Suriano (Rutgers) AQ
#6 Ethan Lizak (Minnesota) AQ
#9 Roman Bravo-Young (Penn State) AQ
#10 Luke Pletcher (Ohio State) AQ
#16 Ben Thornton (Purdue) AQ
Dylan Duncan (Illinois) AQ
Colin Valdiviez (Northwestern)
Jen Lantz (Wisconsin)
Paul Konrath (Indiana)
Jevon Parrish (Nebraska)
Orion Anderson (Maryland)
There are only eight AQs for an insane amount of talent at 133 pounds in the Big Ten, but there is an insane amount of talent at 133 pounds across the NCAA this season. 133 is gnarly. That will make it difficult for Colin Valdiviez to improve on his 2-2 record at the 2018 NCAAs. He'll need to steal a bid or get a wild card to wrestle in Pittsburgh.
Paul Konrath, who has a victory this season over last year's third-placer Tariq Wilson, will also have to steal a bid or hope to receive a wild card invite.
FloWrestling's 133-pound Big Ten Rankings
So only eight automatic qualifiers, but behold the bevy of badasses battling for those bids. We can start with the NCAA runners-up, as there are three of them. Suriano was a runner-up last season at 125, while Micic finished second at 133, also in Cleveland. Ethan Lizak was a national runner-up in 2017 in St. Louis. Lizak and Micic both also have fourth-place All-American honors on their resumes. Suriano earned the No. 3 seed at the 2017 NCAA Tournament before having to withdraw due to injury.
Also with a fourth-place finish at NCAAs is Luke Pletcher, who accomplished that honor last year in Cleveland at 133 pounds. Additionally, Austin DeSanto and Roman Bravo-Young are in the top-tier mix. True sophomore DeSanto is a newcomer to the Big Ten, having transferred from Drexel in the offseason, while RBY is a newcomer to the NCAAs, this being his true freshman year.
How those six titans finish in Minneapolis will be crucial to determining seeds in Pittsburgh. Micic is the only undefeated wrestler of the bunch, whose tally includes wins over Suriano and Pletcher. Stevan was limited to only 13 matches so far this season, however, partly due to his international competition schedule where he competes for the Republic of Serbia.
DeSanto has also beaten Suriano, and his two losses on the season have come at the hands of Big 12 wrestlers. Roman Brovo-Young has a loss to Ben Thornton and Austin Gomez (who also beat DeSanto, incidentally), but recently beat Luke Pletcher in tie-breaking ride-outs, which was likely major factor in him receiving the No. 4 preseed. Lizak, meanwhile, lost to DeSanto and Pletcher, but beat Thornton, who beat RBY.
It's all very confusing and even our own Mike Mal and Dan Lobdell were stumped with regard to sorting out these seeds, as you can see in the video below.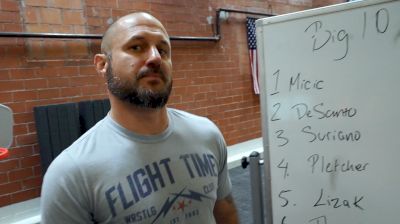 The competitors probably wouldn't care if the Big Tens used random draw, as they would have to go through a hellacious quarterfinal and semifinal regardless of how the seeds play out. Which means you, as a viewer, will sleep on these rounds of the tournament at your own peril!
Spey's Spredictions
1. Nick Suriano
2. Stevan Micic
3. Austin DeSanto
4. Roman Bravo-Young
141 Pounds
9 auto-bids
#2 Nick Lee (Penn State) AQ
#3 Joey McKenna (Ohio State) AQ
#5 Michael Carr (Illinois) AQ
#7 Kanen Storr (Michigan) AQ
#8 Tristan Moran (Wisconsin) AQ
#9 Mitch McKee (Minnesota) AQ
#20 Chad Red (Nebraska) AQ
Max Murin (Iowa) AQ
Nate Limmex (Purdue) AQ
Pete Lipari (Rutgers)
Kyle Luigs (Indiana)
Danny Bertoni (Maryland)
Austin Eicher (Michigan State)
Alec McKenna (Northwestern)
Another monstrous weight for the Big Ten, with nine auto bids up for grabs. Pretty much everyone who you'd expect to earn an auto-bid did, so we will have to see an upset or two if any bids are going to be stolen.
FloWrestling's 141-pound Big Ten Rankings
A rematch of Lee and McKenna's epic dual meet match looms large over the bracket, but it will have to come in the semifinals rather than the finals, because if the preseeds are maintained, Michael Carr will be the No. 1 seed and Lee and McKenna the No. 2 and No. 3.
All three of those wrestlers are having stellar seasons. Nick Lee has but one loss on the year, to Tristan Moran. That intra-conference defeat is likely the one thing keeping the Nittany Lion from the No. 1 preseed. Lee's head-to-head victory over McKenna, however, gives Lee the No. 2 ranking, while McKenna slides to No. 3, despite majoring Moran 14-2 and beating the formidable Jaydin Eierman of Missouri in out-of-conference matchup at the Cliff Keen Las Vegas Invitational.
Watch McKenna and Eierman in the CKLV finals: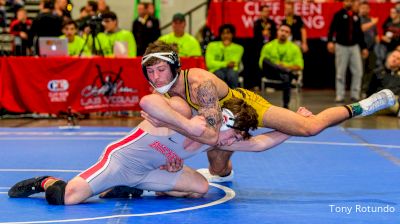 Unlock this video, live events, and more with a subscription!
Get Started
Already a subscriber? Log In
Nationally, the defending champ Yianni Diakomihalis is still the favorite to take the 141-pound crown in Pittsburgh. It should come as a surprise to no one if any of the Lee, McKenna, Carr troika find themselves in the finals match with Yianni on the Saturday night of nationals.
Also don't be shocked if some of the other 141-pounders from the Big Ten make some deep runs in Pittsburgh. Chad Red is an All-American, and his ranking of No. 20 is a result of an early-season rut he found himself in, not of his potential to place at NCAAs. Max Murin is a still-developing redshirt freshman with a very high ceiling, as evidenced by his ability to give everyone he faces a seven-minute wars.
Kanen Storr and Mitch McKee are both finishing up their third seasons in a D1 wrestling room and are making consistent gains. For example, McKee was finally able to solve Kaid Brock, who had beaten McKee four times in the previous two seasons.
Tristan Moran meanwhile remains the ultimate wild card. He may be the toughest to predict when his excellent wins such as the one over Nick Lee or his comeback victory over Mitch McKee are juxtaposed against head-scratching losses to Corey Shie and Joey Gould at Midlands (with all due respect to Misters Shie and Gould).
Whoever emerges from this bracket full of butchers will be plenty battle-tested and prepared to face whatever challenges are thrown at them in Pittsburgh.
Spey's Spredictions
1. Joey McKenna
2. Michael Carr
3. Nick Lee
4. Mitch McKee