2019 Big Ten Wrestling Championship
Big Ten Championships: Middleweight Preview
Big Ten Championships: Middleweight Preview
Breaking down everything you need to know about the 149-, 157- & 165-pound weight classes at the 2019 Big Ten Wrestling Championships.
Mar 6, 2019
by Andrew Spey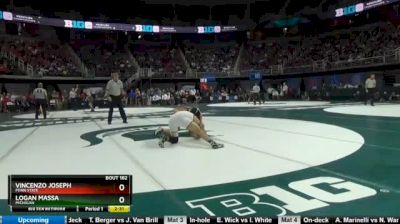 Unlock this article, live events, and more with a subscription!
Get Started
Already a subscriber? Log In
It's nearly that time. The gnarliest conference tournament of them all.
The NCAA has released its automatic qualifying allocations and the Big Ten has just come out with its conference championship preseeds. Now, we preview the 149-, 157- and 165-pound divisions of the Big Ten Tournament. Later this weekend, top off a beverage of your choice, slip off your socks, recline and enjoy the Big Tens, the most challenging of all the preludes to the NCAA tournament.
Watch the Big Ten Championships LIVE on FloWrestling
Wrestling starts Saturday, March 9, 10 a.m. CT
A couple of quick notes: the rankings below are from the FloWrestliing NCAA Top 20. Additionally, an "AQ" after a name means the wrestler earned an automatic qualifying spot for the Big Ten Conference. If the wrestler that earned the bid does not enter the Big Ten Tournament for any reason, then his AQ gets tossed out and the number of auto-bids available is reduced by one. For example, with six auto-bids at 149, you have to place in the top six to earn a berth to the NCAA Tournament. Hypothetically, if Brady Berge does not wrestle at Big Tens for whatever reason, there will then be only five bids up for grabs. Anyone who does not earn an auto-bid at the tournament will have to rely on a wild card invite to wrestle in Pittsburgh.
149 Pounds
6 auto-bids
#1 Anthony Ashnault (Rutgers) AQ
#3 Micah Jordan (Ohio State) AQ
#11 Pat Lugo (Iowa) AQ
#12 Cole Martin (Wisconsin) AQ
#13 Brady Berge (Penn State) AQ
Thomas Thorn (Minnesota) AQ
Shayne Oster (Northwestern)
Malik Amine (Michigan)
Baby J Bannister (Maryland)
Jordan Shearer (Nebraska)
Christian Kanzler (Illinois)
Jaden Enriquez (Michigan State)
Fernie Silva (Indiana)
Parker Filius (Purdue)
With only six bids available, 149 is one of the Big Tens weaker weight classes. Yet it still features the No. 1-ranked wrestler in the nation, three All-Americans and five top 20 competitors.
With six being the magic number, expect the championship quarterfinals and consolation semifinals to be dog fights, as seventh and eighth won't be enough to guarantee to a trip to Pittsburgh.
FloWrestling's 149-pound Big Ten Rankings
Three-time All-American Anthony Ashnault missed all of last season due to injury, but was mercifully granted a medical redshirt by the NCAA. Ashnault has taken full advantage of the opportunity, mobbin' to an undefeated record which includes five top ten wins.
Ashnault was one of the preseason title contenders, as was his Big Ten rival and two-time All-American Micah Jordan. Ashnault won his first and so far only collegiate match with Jordan in the finals of the Cliff Keen Las Vegas Invitation by the score of 14-10.
Watch Ashnault vs. Jordan in Vegas: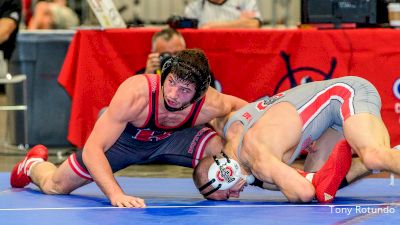 Unlock this video, live events, and more with a subscription!
Get Started
Already a subscriber? Log In
Jordan has moved up and down the Buckeye lineup during his four years as a starter, wrestling 141 in 2016 and 157 in 2018. Micah had his best finish at NCAAs, however, at 149-pounds in 2017, where he finished fourth. That would imply that Jordan is back at his ideal weight for his final senior season run at the brass ring.
A trio of mid-ranked wrestlers will be trying to upend the predicted Micky-Schnaulty rematch. Pat Lugo qualified for two NCAA Tournaments at Edinboro before transferring to Iowa and redshirting (to allow for the graduation of four-time 149-pound All-American Brandon Sorenson). Lugo has been wrestling well recently, beating two ranked wrestlers, Kaden Gfeller and Cole Martin, in consecutive matches to close out the dual-meet season.
Cole Martin has been a stalwart for the Badgers. This will be the third NCAA Tournament for Martin, still only a junior. Though not yet an All-American, Cole could do some damage in Pittsburgh. Martin has a victory over the very highly regarded Penn State freshman Brady Berge, himself also an All-American contender.
A few other landmines to keep an eye on are All-American Tommy Thorn and NCAA qualifiers Baby J Bannister and Malik Amine.
Spey's Spredictions
1. Anthony Ashanult
2. Micah Jordan
3. Pat Lugo
4. Brady Berge
---
157 Pounds
9 auto-bids
#1 Jason Nolf (Penn State) AQ
#2 Tyler Berger (Nebraska) AQ
#3 Ryan Deakin (Northwestern) AQ
#5 Alec Pantaleo (Michigan)
#7 Kaleb Young (Iowa) AQ
#8 Ke-Shawn Hayes (Ohio State) AQ
#9 Eric Barone (Illinois) AQ
#10 Steve Bleise (Minnesota) AQ
#13 Griffin Parriott (Purdue) AQ
#17 John Van Brill (Rutgers) AQ
#18 Jake Danishek (Indiana)
Jacob Tucker (Michigan State)
Garrett Model (Wisconsin)
Adam Whitsell (Maryland)
Alec Pantaleo and Jake Danishek failed to earn auto-bids for the conference due to having sub-.700 winning percentages and either not having enough matches qualify for the RPI rating (Pantelo) or not having a top 29 RPI (Danishek). At 157 this year you needed to achieve two of three things: 1) a top 29 RPI, 2) a top 29 rank in the NWCA Coaches' Poll, or 3) a .710 winning percentage against D1 competition.
The Big Ten still earned an impressive nine auto-bids, and because Pantaleo and Danishek were both in the Coaches' Poll, at No. 5 and No. 22, respectively, they'll have a very good chance of attaining wild card invites if they don't finish in the top nine.
FloWrestling's 157-pound Big Ten Rankings
Outside of Nolf, this weight class has been pure chaos. Take, for instance, Griffin Parriott. He has a win over two-time All-American Tyler Berger and bloodround finisher John Van Brill (both in-conference victories). Yet Parriott also has losses to Jacob Tucker, who has never qualified for the NCAA Tournament, and Jake Danishek, who missed qualifying last season (both are in-conference defeats).
Watch Parriott defeat Berger in sudden victory at the CKLV: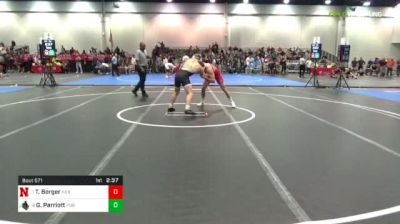 Unlock this video, live events, and more with a subscription!
Get Started
Already a subscriber? Log In
Parriott's up-and-down season is reflected in his No. 9 preseed. Meanwhile Berger, despite the CKLV loss, earned the No. 3 preseed, thanks to wins over pretty much everyone else, including No. 3 Deakin, No. 4 Hidlay, No. 7 Young, No. 8 Hayes, No. 9 Barone and No. 10 Bleise, though not Nolf. Nolf beat everyone.
Berger is also lifetime 0-2 against Pantaleo, losing 9-3 both times. Pantaleo's decision to wrestle the Midlands at 149 doomed him to not having enough matches at 157 to earn an auto-bid for the conference. Yet his in-conference wins over Van Brill, Hayes, Parriott, Tucker and Barone make him a pretty clear No. 4 preseed.
Nolf, Berger and Pantaleo are the only B1G 157-pounders that have climbed the podium in March, but just about every other postseason starter has the talent to join them this year. There are, alas, just eight precious All-American spots available. Which makes the Big Ten Championships, with the auto-bids and the potential boost to one's NCAA seed, all the more important.
There have been fewer sure things in college wrestling this year than Jason Nolf, but beyond that at 157-pounds this season, all bets are off.
Spey's Spredictions
1. Jason Nolf
2. Ryan Deakin
3. Alec Pantaleo
4. Tyler Berger
---
165 Pounds
9 auto-bids
#1 Vincenzo Joseph (Penn State) AQ
#2 Alex Marinelli (Iowa) AQ
#3 Evan Wick (Wisconsin) AQ
#6 Isaiah White (Nebraska) AQ
#7 Logan Massa (Michigan) AQ
#18 Joey Gunther (Illinois) AQ
Te'Shan Campbell (Ohio State) AQ
Bryce Martin (Indiana) AQ
Carson Brolsma (Minnesota) AQ
Tyler Morland (Northwestern)
Phillip Spadafora (Maryland)
Stephan Glasgow (Rutgers)
Austin Hiles (Michigan State)
Cole Wysocki (Purdue)
Like 157, there are nine auto-bids available at 165. There were fewer surprises at this weight class, however, as only the nine Big Ten wrestlers who appear in the final NWCA Coaches' Poll earned bids. That doesn't mean those bids are fait accompli, however. There are no easy outs, and it's feasible that any one of the 14 Big Ten 165-pound starters could earn a trip to Pittsburgh.
FloWrestling's 165-pound Big Ten Rankings
There is a reason this weight class is a perennial favorite, not just in the Big Ten, but nationwide. Just look at the heavy hitters entering this bracket. No weight class seems to get reloaded as quickly and as consistently with primo caliber talent.
Starting at the top, you have two-time national champion, Vincenzo Joseph, still with two cracks at the NCAA Tournament left in his college career. Cenzo is not unbeatable, having amassed six losses in the previous two seasons, but in this 2018-19 season he sports an unblemished 21-0 record.
Cenzo has had a few close calls, though, needing sudden victory to beat Logan Massa and having matches go down to the wire against Isaiah White and Chance Marsteller.
Watch Joseph and White from the PSU/Nebraska dual: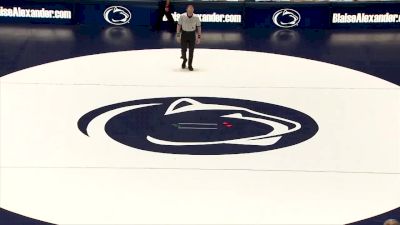 Unlock this video, live events, and more with a subscription!
Get Started
Already a subscriber? Log In
Joseph nevertheless remains the favorite and the No. 1 preseed. However, if anyone has an argument to be a co-favorite, it's Alex Marinelli. The Bull has avenged a 16-3 drubbing from Evan Wick at the 2018 NCAAs twice this year, first in the Midlands finals and later in a dual meet. Marinelli was also one of the select few people who can say they beat Vincenzo Joseph in college. If the No. 2 preseed Marinelli wants to be responsible for Cenzo's seventh collegiate loss, he'll probably have to once again go through No. 3 preseed Evan Wick, who has only lost to Marinelli this season.
And then there's Logan Massa and Isaiah White. Neither wrestler attained All-American honors last season, but that is not due to lack of talent, more so it speaks to the insane meat grinder that is the 165-pound weight class. Massa took third two years ago at the NCAAs in St. Louis but struggled to regain his peak form after an injury in the fall of 2017. White has been in and around the top 10 since transferring to Nebraska two seasons ago from DII Notre Dame College. White and Massa are 1-1 in their lifetime NCAA series, with White taking the most recent match 6-2 in the semis of the Cliff Keen Las Vegas Invitational.
Joey Gunther, who comes to his native Illinois program by way of the Iowa Hawkeyes, and Te'Shan Campbell, who made it to Ohio State and the Buckeyes after two seasons as a Panther in Pittsburgh, are two very deadly landmines to be wary of in Minneapolis.
Spey's Spredictions
1. Vincenzo Joseph
2. Alex Marinelli
3. Evan Wick
4. Logan Massa