2023 U23 & U20 World Team Trials
U20 World Team Trials Preview & Predictions
U20 World Team Trials Preview & Predictions
A breakdown of all 10 weights from this weekend's U20 World Team Trials wrestling tournament in Geneva, Ohio.
May 31, 2023
by JD Rader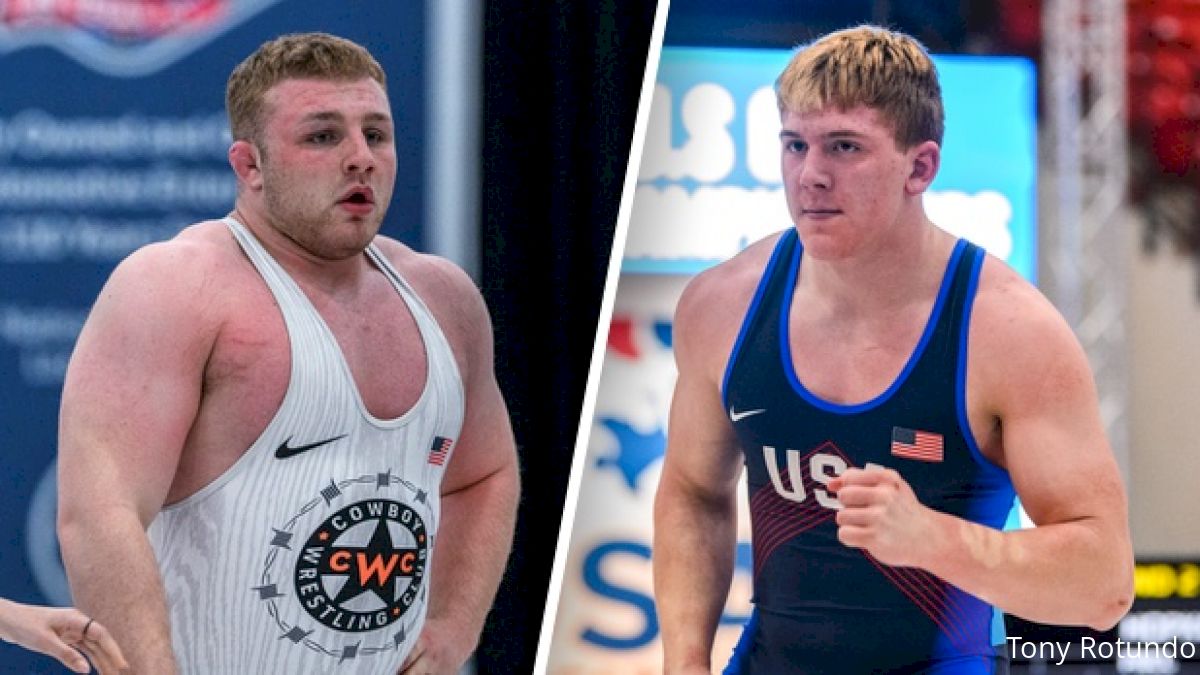 One of my favorite age-level tournaments of the year has arrived - the Junior World Team Trials. The nation's best high school upperclassmen and college underclassmen putting it on the line for a chance to represent their country overseas.
57 kg
Sitting Until Finals
Top Contenders
Outside of a 2-2 quarterfinal match with Kenneth Hendriksen, Luke Lilledahl breezed threw the Open. As a 2022 U17 World champion, expectations are already high on Lilledahl. But given that he beat 2022 U20 World champion Jore Volk in the finals 10-4 at the Open, many will expect Lilledahl to bring home gold once again if he makes the team.
Last year's 57 kg Open winner Troy Spratley did not compete in this year's Open. Volk and Spratley wrestled one of the best three-match series of last year's finals. Spratley lost the series, but he did take a match from Volk. He'll only have to win once if they meet this year. This will be the first look at Spratley since announcing his transfer from Minnesota to Oklahoma State in April.
I really like Iowa State 2024 commit Adrian Meza. He might be a little young for it to be his time, but he is the only one in the field with a recent win over Lilledahl. After a 5-3 loss in the Open semis to Volk, Meza fell to 5th place.
Watch Adrian Meza beat Luke Lilledahl below.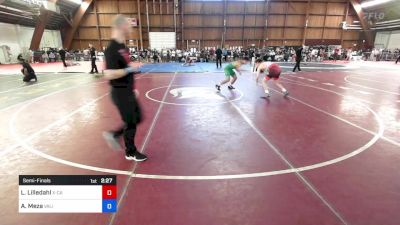 Unlock this video, live events, and more with a subscription!
Get Started
Already a subscriber? Log In
More Contenders
Prediction: Lilledahl over Volk
UPDATE: Bo Bassett has registered at 57 kg!
A U17 World champion and #28 in the pound-for-pound rankings, this is obviously a huge addition. In fact, Basset beat Lilledahl at Elite 8 Duals just last month. In 2015 Spencer Lee failed to make the Cadet World Team, but still made the Junior World Team and even won gold at Junior Worlds. Could Basset do the same?
---
61 kg
Sitting Until Finals
Top Contenders
Emilio Ysaguirre, Jr.
Nic Bouzakis is sitting to the finals and has been a star for a long time. However, the current hottest name on the block is Aden Valencia. Valencia wrestled in the Senior division at the Open and beat Michael Colaiocco, Shelton Mack, Josh Rodriguez, and Daniel DeShazer. And most recently beat Joe Colon at the Senior World Team Trials Challenge Tournament. While Valencia got valuable experience competing at this Senior events, Bouzakis has a massive advantage over Valencia sitting out until the finals.
Dropping his quarterfinal to Jace Rhodes and then forfeiting out to 8th place, Cael Hughes didn't have his best showing at the Open. If he comes back looking for redemption, watch out.
Emilio Ysaguirre took 3rd the open only losing to Nasir Bailey 7-6. His explosive style makes him a very dangerous match-up for anyone and he has only continued to get better at Arizona State.
More Contenders
Kale Peterson
Prediction: Bouzakis over Valencia
---
65 kg
Sitting Until Finals
Top Contenders
I think 65 kg is my favorite weight class in Geneva. It's so deep, Tyler Kasak has such a big advantage sitting out until the finals. Kasak earned that advantage by beating Pierson Manville, Kannon Webster, and Vince Cornella at the US Open. Kasak won a U17 World silver last year, so he proved he can do it at the World level too.
Jesse Mendez is the definition of "he's got that dawg in him." He's a contender in whatever bracket he's in. However, he had trouble getting to his offense against Kannon Webster at the Open, and a go-behind takedown for Webster won it for him. I would love to see a rematch between these two high-level wrestlers.
Another rematch I would love to see (two or three times even better) would be Vince Cornella vs Kasak. It was Kasak's closest match at the Open. After getting down 2-0, Cornella looked to be rolling until Kasak got him with a textbook low single.
Watch Kasak and Cornella's Open semifinal below.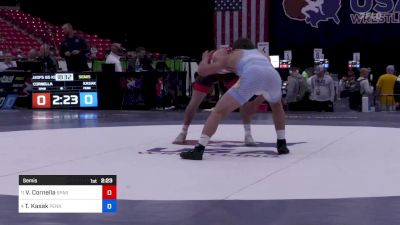 Unlock this video, live events, and more with a subscription!
Get Started
Already a subscriber? Log In
More Contenders
Prediction: Cornella over Kasak
---
70 kg
Sitting Until Finals
Top Contenders
70 kg is incredibly tough, but it's got the final boss that is Meyer Shapiro waiting in the finals. The #1 overall wrestler in the class of 2023, Shapiro cruised in the Open never winning a match by less than five points. One of those five-point Open matches came in the finals against Antrell Taylor. Taylor absolutely balled out as well at the Open teching his way to the finals including a 12-1 win over Paniro Johnson in the semis. If that version of Taylor shows back up in Ohio, he will be back in the finals.
Losing to both Jackson Arrington and John Wiley in Vegas, Beau Mantanona did not have a good Open. However, I chose to put him in the top contenders category because Beau Man is the type of wrestler to take losses and bounce back. After a rocky summer last year where he went 0-2 at U20s and lost to Kyle Dutton at Fargo, he bounced back with a big win over Tyler Kasak at Who's Number One.
More Contenders
Prediction: Shapiro over Johnson
74 kg
Sitting Until Finals
Top Contenders
While this truly is Mitchell Mesenbrink's weight to lose, Mesenbrink vs Joe Sealey is one of the most anticipated potential matchups in Geneva. We were denied of this match when Hunter Garvin beat Sealey in the US Open semifinals in Las Vegas. Garvin then lost to Mesenbrink in the finals 16-6. While Sealey is only the class of 2024, Sealey vs Mesenbrink could be a future roster battle as Mesenbrink is transferring to Penn State in the fall.
More Contenders
Matthew Bianchi
Prediction: Mesenbrink over Sealey
---
79 kg
Sitting Until Finals
Top Contenders:
79 kg is the weight of Rocco Welsh rivalries. Welsh, Gabe Arnold, and Josh Barr are all three top-10 recruits in the class of 2023 and at 170 lbs. Thus, we have some great rivalries. While Arnold and Barr have never met to my knowledge, Welsh has seen Barr and Arnold three times each. While Welsh holds the series lead over Barr 2-1, Arnold is in the lead over Welsh 2-1 including most recently in the US Open finals. That was just a 3-2 match with no takedowns being scored, so that result could clearly flip.
Luca Augustine stopped Arnold vs Barr from happening when he beat Barr 10-2 in the round of 16. Arnold then beat Augustine 8-1. Matthew Singleton is another freshman to watch. He struggled a bit as a true freshman this season at NC State, but there is a lot of promise there.
Watch Gabe Arnold beat Rocco Welsh in the Open finals below.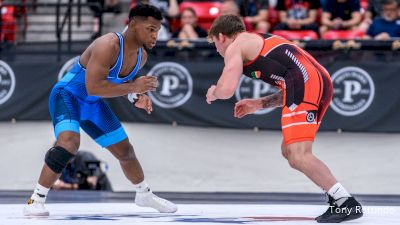 Unlock this video, live events, and more with a subscription!
Get Started
Already a subscriber? Log In
More Contenders
Prediction: Arnold over Augustine
---
86 kg
Sitting Until Finals
Top Contenders
Bennett Berge is halfway to going to back-to-back U20 World medals. He brought home silver at this weight last year. After winning the Open, he's the favorite, but it won't be easy with guys like Max McEnelly, Brayden Thompson, Clayton Whiting, and Connor Mirasola. Berge and McEnelly had an entertaining 7-4 final in Vegas. This was after McEnelly beat Brayden Thompson 3-1, using a blast double to score the only takedown.
Clayton Whiting had a strong showing at the Open on the front side beating Penn State commit Connor Mirasola, another guy who will be in the contention for the title here at 86 kg.
More Contenders
Prediction: Berge over McEnelly
---
92 kg
Sitting Until Finals
Top Contenders
I think 92 kg is the most open weight in the tournament. Any of the six names above could win this tournament, which is why this is the only weight with more than three top contenders. Jack Darrah has a huge advantage not having to go through the challenge tournament. Whomever makes it out will be a little tired no doubt.
Mac Stout is my pick to make it out of the challenge tournament. I was a little surprised when Darrah beat him 3-2 in the semis at the Open, but it was a legit victory. In fact, Stout's only points came off of a Darrah arm throw attempt.
Watch Stout and Darrah's US Open match below.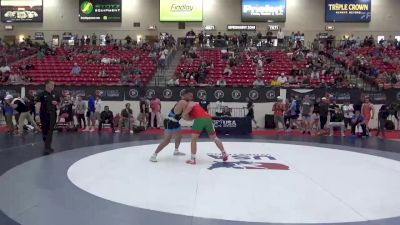 Unlock this video, live events, and more with a subscription!
Get Started
Already a subscriber? Log In
Little Rock's Stephen Little made it out of the top side at the US Open, defeating Gavin Nelson 11-4. An impressive showing for Little, but #12 on the 2023 Big Board and a 2021 U17 World Teamer, I wouldn't count Nelson out in a rematch.
Voelker moving up to 92 is interesting. He took 4th place at 86 kg at the Open. Having competed his redshirt year this year at UNI at 197, he might be better suited for 92 kg and likely trying to take advantage of how open the weight is.
Prediction: Stout over Darrah
---
97 kg
Sitting Until Finals
Top Contenders
With only six wrestlers registered as of May 30th, 97 kg will easily be the smallest bracket at U20s. US Open champion Camden McDanel will be waiting to see who he'll face in the best of three series. My pick is his US Open semifinal opponent Sawyer Bartlet. An Iowa State commit and #17 on the 2024 Big Board, Bartlet is extremely talented. However, I think he once again is outclassed by the 1 year older McDanel.
Prediction: McDanel ove Bartelt
---
125 kg
Sitting Until Finals
Top Contenders
Christian Carroll made his return to national freestyle competition in a big way at the Open teching everyone except Juan Mora (who isn't registered for WTT yet) en route to a title. However, that field was missing a major name - Koy Hopke. Hopke is a 2022 U17 World champion, #4 on the 2024 Big Board, and a Minnesota commit, but #2 in the country at heavyweight to Carroll. That's right, this will be for the #1 spot in the country. With Carroll currently occupying the #1 P4P spot as well with Hopke at #11, there is a lot more on the line than just a World Team spot at heavyweight. Carter Neeves and Bradley Hill are two top talents, but it appears to be a two pony race at 125.
More Contenders
Prediction: Hopke over Carroll