Women's Weekly
Women's Weekly: Sacred Heart Continues To Climb
Women's Weekly: Sacred Heart Continues To Climb
Paulina Biega has built a winning program from scratch, Wrestle Like a Girl continues to Bridge The D1vide, and Peyton Prussin signs a historic NIL deal.
Jan 31, 2023
by Kyle Klingman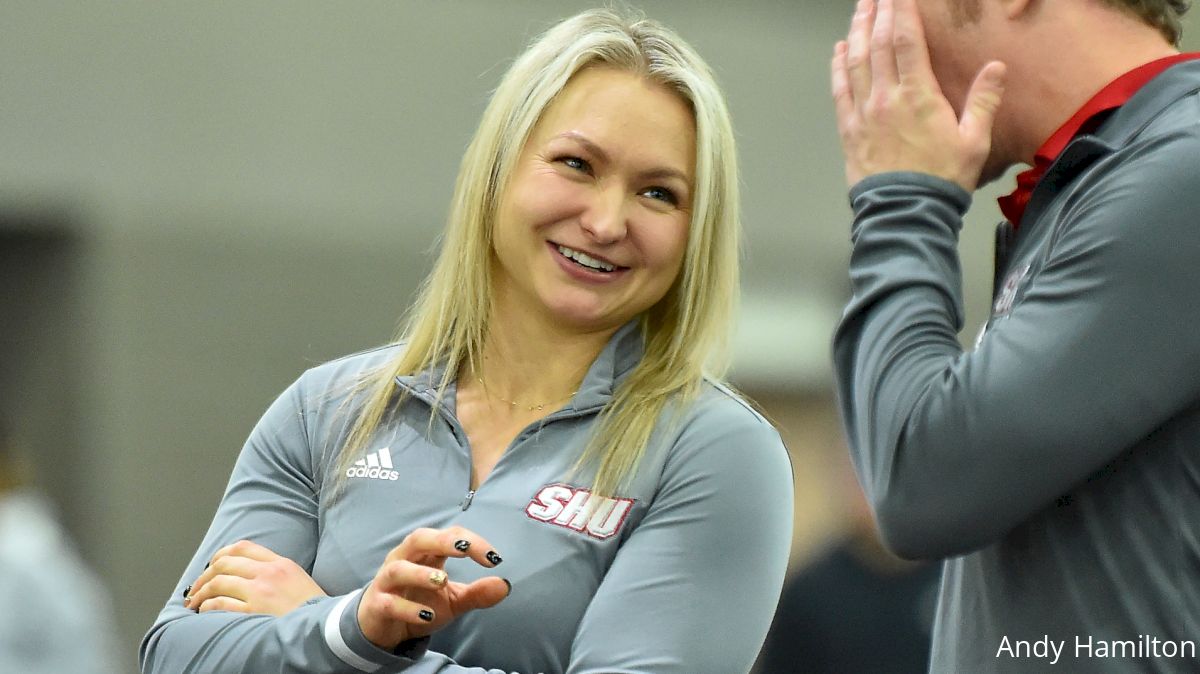 Watching Sacred Heart coach Paulina Biega at last year's Senior High School Nationals in Virginia Beach was a sight to behold. She was there recruiting talent, of course, but she also had a long line of parents and athletes who wanted to learn more about her program.
It was clear that Biega was making authentic connections with everyone who wanted to visit. Her magical personality opened the door to all the possibilities of what her program can provide.
The explosive growth of women's wrestling at the high school and college level is encouraging, but there are currently only four Division I programs. Sacred Heart was the second D1 team to add the sport following Presbyterian's historic announcement that it would offer men's and women's wrestling.
Biega said from the outset that this would be a process and that building a team from scratch takes time. She only had eight wrestlers during her inaugural campaign, but that total increased to 21 freshmen and sophomores this season.
The output has increased, too. The Pioneers went 6-4 with three All-American last season highlighted by Maddie Sandquist's third-place finish at 143 pounds. The team was so small that it couldn't compete at the National Duals.
This year, Biega's squad placed seventh at the National Duals where they faced Presbyterian in the first women's college wrestling dual between D1 programs. Sacred Heart is currently 15-4 on the season after picking up wins over East Stroudsburg (33-11) and Elmira (37-9).
"Paulina is a coach that expects a lot out of us both on and off the mat," Sandquist said. "She has helped me learn about the importance of who I am outside of athletics and how to navigate challenges in and outside the sport.
"The high expectations are challenging but they helped us elevate from a first-year program with a handful of wrestlers to a nationally ranked team in just a year. She and (assistant coach) Sean (Sloat) have fostered a team where the culture is about working hard and having fun."
Biega, a native of Poland, spent two seasons at NAIA power Campbellsville as an assistant for Lee Miracle before accepting her current position in Fairfield, Connecticut. There were times throughout the National Duals when she could be spotted cheering on her former team.
"Paulina is an amazing coach," Miracle said. "Her work ethic is unparalleled. She is consistently pushing herself to improve in all aspects of coaching. She genuinely loves her athletes and puts her heart and soul into helping them reach their goals."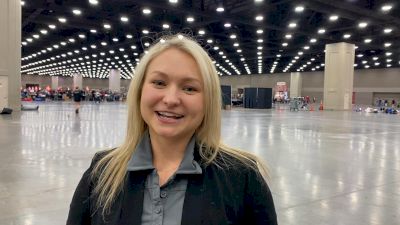 Hear from Paulina Biega after the 2023 NWCA Multidivisional National Duals
Bridge The D1vide
Wrestle Like a Girl and the Columbia Wrestling Club hosted a special women's freestyle exhibition in advance of the Columbia vs Cornell dual on Sunday, January 29. The event featured six women's showcase matches in an effort to grow D1 women's wrestling.
It was the first time that women's wrestling matches were held at Columbia. Kyra Barry, a Columbia graduate and USA Wrestling Woman of the Year in 2016, was enthusiastic about the growth of women's wrestling during her comments following the historic event.
"I got involved in 2010 and realized that only three states recognized women's wrestling as a high school sport," Barry said. "I remember being an 18-year-old on campus and wanting to play a sport that didn't exist. I'm proud and excited for this moment at my alma mater to host the first-ever women's matches."
Results
143: Viveca Pannell (MIT) over Victoria Ngai, FALL
116: Chloe Ayres (Princeton) over Sarine Mardirosian, FALL
143: Alina Antillon over Tess McGinely (Lehigh), FALL
136: Naomi Henry (NJCU) over Arian Carpio, 14-12
116: Isabella Frezzo (NJCU) over Caitlyn Walker, FALL
143: Maya Letona over Veloria Pannell (MIT), 11-1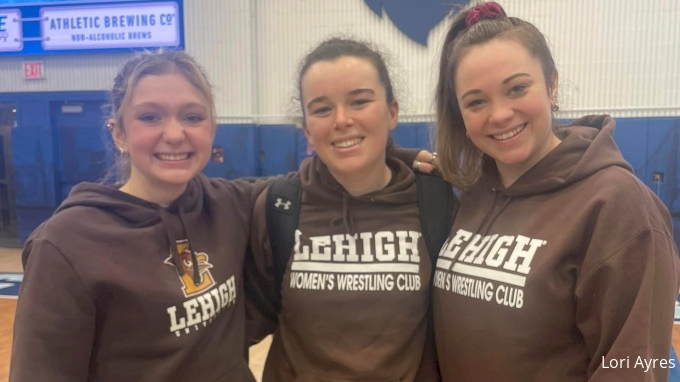 Peyton Prusin Power
Peyton Prussin has been the face of Life University and a face of women's wrestling. Now, she's a trendsetting pioneer. Prussin became the first female wrestler and the first NAIA wrestler to sign a deal with the WWE's Next in Line program.
"Peyton is fun, energetic, playful, caring, and joyful, but extremely focused and competitive when it's time to work," Life University coach Ashley Sword said. "We are thrilled for Peyton to have this partnership with WWE and excited to have a whole new group of fans opened up to her, our team, and the sport. The WWE could not have picked a better athlete for this opportunity."
Click here to read more about Prussin's historic WWE deal.
Peyton Prussin was signed to the WWE's third "Next In Line" Class
Numbers Game
FloWrestling's Lori Ayres hosted a conversation on Everything Women's Wrestling with Eve Duncan, Andrea Yamamoto, and Joan Fulp about the growth of women's wrestling. Be sure to catch the entire episode below, or click here for the encouraging growth numbers at the high school level.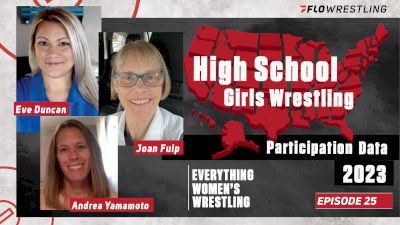 Cardinals Crush Conference Competition
The inaugural College Conference of Illinois and Wisconsin (CCIW) Championships took place on January 29, and, not surprisingly, North Central dominated the five-team tournament. The Cardinals outdistanced runner-up Aurora by 71 points to take the title.
Joe Norton's squad sent 15 wrestlers to the tournament and they all placed in the top three, including eight individual champions.
"It was so cool to host the first-ever CCIW Women's Wrestling Championships in our home arena. The CCIW is the first-ever NCAA Division III conference to hold a championship for women's wrestling.
"We are grateful that the administrators took the necessary steps to make this happen for all five teams, and it was super cool to win the championship. Our women wrestled as well as they have all season, and they supported each other in wins and losses. It was the perfect springboard into the championship portion of the season as we continue to compete for a national title."
Team scores
1. North Central — 112.5
2. Aurora — 41.5
3. Augustana — 25.5
4. Carthage — 24.5
5. Lakeland — 22.5
Individual champions
101: Madison Avila (North Central)
109: Angelina Graff (North Central)
116: Jaslynn Gallegos (North Central)
123: Amani Jones (North Central)
130: Alexis Janiak (Aurora)
136: Natasha Markoutsis (Aurora)
143: Kendall Bostelman (North Central)
155: Tiera Jimerson (North Central)
170: Yelena Makoyed (North Central)
191: Traeh Haynes (North Central)
Aurora's Lexi Janiak went big at the CCIW Women's Wrestling Championships — and her father loved every second of it. pic.twitter.com/DnrmzcYGzy

— FloWrestling (@FloWrestling) January 30, 2023
Pennsylvania Women's Collegiate Championships
The first Pennsylvania Women's Collegiate Championships took place over the weekend, and host East Stroudsburg won the team title over second-place Gannon. The Warriors had four champions, while Gannon and Lock Haven had three each.
Team Scores
1. East Stroudsburg — 90
2. Gannon — 61
3. Lock Haven — 37
4. Cedar Crest — 28
5. Alverinia — 25
6. Delaware Valley — 20
7. Ursinus — 19
Individual Champions
101: Chloe Kitagawa (Gannon)
109: Kaelani Shufeldt (Lock Haven)
116: Emily Klein (East Stroudsburg)
123: Sofia Macaluso (East Stroudsburg)
130: Mia Macaluso (East Stroudsburg)
136: Madison Matta (Lock Haven)
143: Grace Stem (Lock Haven)
155: Samira Stephens (Gannon)
170: Jewel Gonzalez (Gannon)
191: Shola Cascen (East Stroudsburg)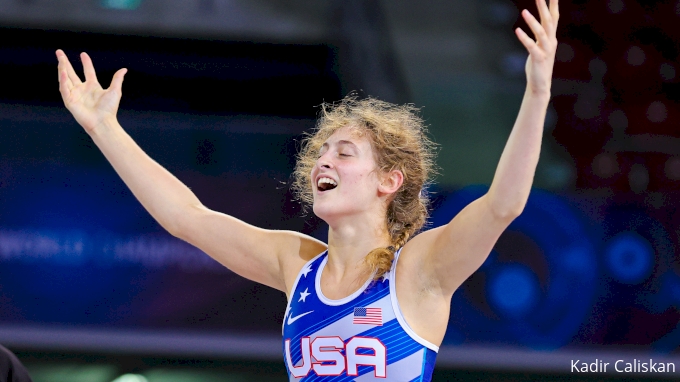 Sofia Macaluso was a 2022 U20 World silver medalist
Around The Horn
Below are links to tournament results from around the country.
Spire Classic
Indiana Tech Warrior Women's Open
Cerritos College Women's Open
Individual state wrestling champions via USA Wrestling
Wyoming Seminary Still #1
Wyoming Seminary remains the top girls' high school team in the country with Toppenish High School in Washington at #2. Below are the top 10 teams, or click here for the full list of 30.
1. Wyoming Seminary (Pa.) (1)
2. Toppenish High School (Wash.) (2)
3. Lebanon High School (Mo.) (7)
4. Liberty High School (Ariz.) (9)
5. Marina High School (Calif.) (8)
6. Harrison High School (Ohio) (10)
7. Chatfield High School (Colo.) (13)
8. SLAM Academy (Nev.) (5)
9. Westlake High School (Utah) (3)
10. Allen High School (Texas) (4)
Women's Spotlight: Victoria Seal
Simon Fraser's Victoria Seal loves her teammates, she loves her sister, and she loves Canada.