2023 North Carolina State vs Virginia Tech - Audio Only
Where Every Ranked Wrestler Could Compete Week 12 Of NCAA Wrestling
Where Every Ranked Wrestler Could Compete Week 12 Of NCAA Wrestling
Get ready for another week of NCAA duals! Here's every event on the calendar plus every place we could see a ranked wrestler compete during week 12.
Jan 17, 2023
by David Bray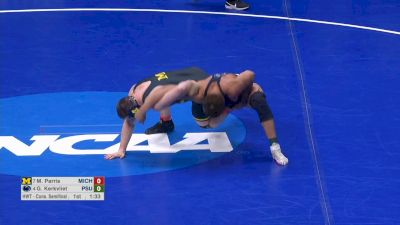 Unlock this video, live events, and more with a subscription!
Get Started
Already a subscriber? Log In
This weekend has plenty of spicy matchups on the team and individual level, especially on Friday night when Penn State takes on Michigan and Iowa battles Nebraska. Here's every match on the D1 calendar (compiled by Britt Malinski) and every time we could see all 330 ranked wrestlers in action.
Wednesday, January 18
Gettysburg at Franklin & Marshall, 7:00 PM
Thursday, January 19
Central Michigan at Duke, 7:00 PM
157 - HM Corbyn Munson, Central Michigan
285 - HM Jonah Niesenbaum, Duke
Friday, January 20
The Citadel at Gardner-Webb, 6:00 PM
165 - #23 Rodrick Mosley, Gardner-Webb
Minnesota at Indiana, 6:00 PM
125 - #4 Patrick McKee, Minnesota
133 - #16 Aaron Nagao, Minnesota
141 - #11 Jakob Bergeland, Minnesota
149 - #18 Michael Blockhus, Minnesota
149 - HM Graham Rooks, Indiana
157 - #16 Derek Gilcher, Indiana
157 - #18 Brayton Lee, Minnesota
165 - HM Andrew Sparks, Minnesota
174 - #14 Bailee O'Reilly, Minnesota
174 - #18 Donnell Washington, Indiana
184 - #11 Isaiah Salazar, Minnesota
197 - HM Michial Foy, Minnesota
285 - #24 Jacob Bullock, Indiana
285 - HM Garrett Joles, Minnesota
Lehigh at Penn, 6:00 PM
125 - HM Ryan Miller, Penn
133 - #6 Connor McGonagle, Lehigh
133 - #9 Michael Colaiocco, Penn
141 - HM Malyke Hines, Lehigh
149 - #11 Doug Zapf, Penn
149 - #24 Manzona Bryant, Lehigh
157 - #5 Josh Humphreys, Lehigh
157 - #20 Anthony Artalona, Penn
174 - #24 Nick Incontrera, Penn
184 - #19 Tate Samuelson, Lehigh
197 - #5 Michael Beard, Lehigh
285 - HM Nathan Taylor, Lehigh
George Mason at Clarion, 7:00 PM
149 - HM Kyle Schickel, Clarion
184 - #23 Will Feldkamp, Clarion
Lock Haven at Cleveland State, 7:00 PM
125 - #17 Anthony Noto, Lock Haven
133 - HM Gable Strickland, Lock Haven
Princeton at Columbia, 7:00 PM
125 - #2 Pat Glory, Princeton
125 - HM Nick Babin, Columbia
133 - HM Angelo Rini, Columbia
141 - HM Matt Kazimir, Columbia
157 - HM Cesar Alvan, Columbia
165 - #3 Quincy Monday, Princeton
165 - #20 Joshua Ogunsanya, Columbia
174 - HM Lennax Wolak, Columbia
197 - #24 Luke Stout, Princeton
North Carolina at Duke, 7:00 PM
125 - HM Jack Wagner, North Carolina
141 - #23 Lachlan McNeil, North Carolina
149 - HM Zachary Sherman, North Carolina
157 - #4 Austin O'Connor, North Carolina
174 - #8 Clay Lautt, North Carolina
184 - #13 Gavin Kane, North Carolina
285 - HM Jonah Niesenbaum, Duke
Ohio State at Maryland, 7:00 PM
125 - #9 Malik Heinselman, Ohio State
125 - #21 Braxton Brown, Maryland
133 - #13 Jesse Mendez, Ohio State
141 - HM Dylan D'Emilio, Ohio State
149 - #3 Sammy Sasso, Ohio State
149 - HM Ethen Miller, Maryland
157 - #23 Paddy Gallagher, Ohio State
157 - HM Michael North, Maryland
165 - #7 Carson Kharchla, Ohio State
174 - #6 Ethan Smith, Ohio State
184 - #5 Kaleb Romero, Ohio State
197 - #15 Jaxon Smith, Maryland
197 - #16 Gavin Hoffman, Ohio State
285 - #16 Tate Orndorff, Ohio State
285 - HM Jaron Smith, Maryland
Michigan at Penn State, 7:00 PM
125 - #23 Jack Medley, Michigan
133 - #1 Roman Bravo-Young, Penn State
133 - #10 Dylan Ragusin, Michigan
141 - #3 Beau Bartlett, Penn State
141 - #22 Cole Mattin, Michigan
149 - #12 Shayne Van Ness, Penn State
149 - #16 Chance Lamer, Michigan
157 - #6 Will Lewan, Michigan
157 - #21 Levi Haines, Penn State
165 - #5 Cameron Amine, Michigan
165 - #18 Alex Facundo, Penn State
174 - #1 Carter Starocci, Penn State
184 - #1 Aaron Brooks, Penn State
184 - #10 Matt Finesilver, Michigan
197 - #2 Max Dean, Penn State
285 - #1 Greg Kerkvliet, Penn State
285 - #2 Mason Parris, Michigan
Michigan State at Rutgers, 7:00 PM
125 - #12 Dean Peterson, Rutgers
125 - #24 Tristan Lujan, Michigan State
133 - #14 Joe Heilmann, Rutgers
133 - #17 RayVon Foley, Michigan State
141 - HM Joey Olivieri, Rutgers
149 - HM Anthony White, Rutgers
157 - #17 Chase Saldate, Michigan State
157 - #24 Andrew Clark, Rutgers
165 - HM Caleb Fish, Michigan State
184 - #14 Layne Malczewski, Michigan State
184 - #16 Brian Soldano, Rutgers
197 - #21 Cameron Caffey, Michigan State
285 - #22 Boone McDermott, Rutgers
Pittsburgh at Virginia, 7:00 PM
133 - #7 Micky Phillippi, Pittsburgh
133 - HM Garrett Grice, Virginia
141 - #6 Cole Matthews, Pittsburgh
141 - HM Brian Courtney, Virginia
149 - HM Jarod Verkleeren, Virginia
149 - HM Tyler Badgett, Pittsburgh
157 - HM Jake Keating, Virginia
165 - #14 Justin McCoy, Virginia
165 - HM Holden Heller, Pittsburgh
184 - #18 Reece Heller, Pittsburgh
184 - #22 Neil Antrassian, Virginia
197 - #4 Nino Bonaccorsi, Pittsburgh
197 - HM Michael Battista, Virginia
285 - #5 Dayton Pitzer, Pittsburgh
NC State at Virginia Tech, 7:00 PM
125 - #20 Eddie Ventresca, Virginia Tech
125 - HM Jarrett Trombley, NC State
133 - #5 Sam Latona, Virginia Tech
133 - #20 Kai Orine, NC State
141 - #5 Ryan Jack, NC State
141 - #12 Tom Crook, Virginia Tech
149 - #8 Caleb Henson, Virginia Tech
149 - #14 Jackson Arrington, NC State
157 - #7 Bryce Andonian, Virginia Tech
157 - #8 Ed Scott, NC State
165 - #22 Connor Brady, Virginia Tech
165 - HM Donald Cates, NC State
174 - #3 Mekhi Lewis, Virginia Tech
184 - #3 Trent Hidlay, NC State
184 - #6 Hunter Bolen, Virginia Tech
197 - #7 Isaac Trumble, NC State
197 - #22 Andy Smith, Virginia Tech
285 - #12 Owen Trephan, NC State
285 - #17 Hunter Catka, Virginia Tech
Appalachian State at VMI, 7:00 PM
125 - #19 Caleb Smith, App State
133 - #24 Sean Carter, App State
149 - #9 Jonathan Millner, App State
165 - HM William Formato, App State
174 - HM Will Miller, App State
Illinois at Northwestern, 8:00 PM
125 - #5 Michael DeAugustino, Northwestern
133 - #8 Lucas Byrd, Illinois
133 - #11 Chris Cannon, Northwestern
141 - #10 Frankie Tal Shahar, Northwestern
141 - HM Danny Pucino, Illinois
149 - #4 Yahya Thomas, Northwestern
157 - #12 Mike Carr, Illinois
157 - #14 Trevor Chumbley, Northwestern
165 - #12 Dan Braunagel, Illinois
165 - #24 Maxx Mayfield, Northwestern
174 - #7 Edmond Ruth, Illinois
174 - #19 Troy Fisher, Northwestern
184 - HM Dylan Connell, Illinois
197 - #9 Zac Braunagel, Illinois
197 - HM Andrew Davison, Northwestern
285 - #4 Lucas Davison, Northwestern
Northern Illinois at Ohio, 8:00 PM
149 - HM Alec Hagan, Ohio
157 - HM Peyten Kellar, Ohio
165 - #13 Izzak Olejnik, Northern Illinois
West Virginia at Oklahoma, 8:00 PM
125 - #7 Killian Cardinale, West Virginia
125 - #22 Joey Prata, Oklahoma
133 - HM Wyatt Henson, Oklahoma
141 - #24 Mosha Schwartz, Oklahoma
141 - HM Jordan Titus, West Virginia
149 - #22 Sam Hillegas, West Virginia
149 - #23 Mitch Moore, Oklahoma
165 - #8 Peyton Hall, West Virginia
165 - #17 Gerrit Nijenhuis, Oklahoma
174 - #21 Darrien Roberts, Oklahoma
184 - HM Anthony Carman, West Virginia
184 - HM Keegan Moore, Oklahoma
197 - HM Austin Cooley, West Virginia
285 - #18 Josh Heindselman, Oklahoma
285 - #20 Michael Wolfgram, West Virginia
Northern Colorado at Oklahoma State, 8:00 PM
125 - #15 Trevor Mastrogiovanni, OK State
125 - #18 Stevo Poulin, N. Colorado
133 - #2 Daton Fix, OK State
141 - #1 Andrew Alirez, N. Colorado
141 - #17 Carter Young, OK State
149 - HM Victor Voinovich, OK State
157 - #11 Kaden Gfeller, OK State
165 - #21 Wyatt Sheets, OK State
174 - #5 Dustin Plott, OK State
174 - HM Andrew Berreyesa, N. Colorado
184 - #12 Travis Wittlake, OK State
197 - HM Luke Surber, OK State
285 - HM Konner Doucet, OK State
Utah Valley at South Dakota State, 8:00 PM
125 - HM Tanner Jordan, SD State
141 - #9 Clay Carlson, SD State
157 - HM Cael Swensen, SD State
165 - #15 Tanner Cook, SD State
174 - #11 Demetrius Romero, Utah Valley
174 - #15 Cade DeVos, SD State
184 - #17 Cade King, SD State
197 - #12 Tanner Sloan, SD State
197 - #23 Evan Bockman, Utah Valley
285 - #14 AJ Nevills, SD State
Purdue at Wisconsin, 8:00 PM
125 - #8 Eric Barnett, Wisconsin
125 - #10 Matt Ramos, Purdue
133 - HM Taylor LaMont, Wisconsin
141 - #19 Parker Filius, Purdue
141 - HM Joseph Zargo, Wisconsin
149 - #2 Austin Gomez, Wisconsin
157 - #3 Kendall Coleman, Purdue
157 - #22 Garrett Model, Wisconsin
165 - #6 Dean Hamiti, Wisconsin
197 - #17 Braxton Amos, Wisconsin
285 - #11 Trent Hillger, Wisconsin
Cal Poly at Arizona State, 9:00 PM
125 - #6 Brandon Courtney, Arizona State
133 - #4 Michael McGee, Arizona State
141 - #15 Jesse Vasquez, Arizona State
149 - #5 Kyle Parco, Arizona State
149 - #17 Dom Demas, Cal Poly
184 - #20 Adam Kemp, Cal Poly
184 - #21 Anthony Montalvo, Arizona State
197 - #6 Bernie Truax, Cal Poly
197 - #20 Kordell Norfleet, Arizona State
285 - #6 Cohlton Schultz, Arizona State
285 - HM Trevor Tinker, Cal Poly
Nebraska at Iowa, 9:00 PM
125 - #1 Spencer Lee, Iowa
125 - #3 Liam Cronin, Nebraska
133 - #12 Brody Teske, Iowa
133 - HM Kyle Burwick, Nebraska
141 - #2 Real Woods, Iowa
141 - #4 Brock Hardy, Nebraska
149 - #10 Max Murin, Iowa
157 - #1 Peyton Robb, Nebraska
157 - #13 Cobe Siebrecht, Iowa
165 - #10 Patrick Kennedy, Iowa
165 - HM Bubba Wilson, Nebraska
174 - #2 Mikey Labriola, Nebraska
174 - #17 Nelson Brands, Iowa
184 - #8 Abe Assad, Iowa
184 - #15 Lenny Pinto, Nebraska
197 - #10 Jacob Warner, Iowa
197 - #13 Silas Allred, Nebraska
285 - #3 Tony Cassioppi, Iowa
285 - HM Cale Davidson, Nebraska
Saturday, January 21
Cornell at Brown, 12:00 PM
125 - #13 Brett Ungar, Cornell
133 - #3 Vito Arujau, Cornell
141 - #13 Vince Cornella, Cornell
149 - #1 Yianni Diakomihalis, Cornell
165 - #9 Julian Ramirez, Cornell
174 - #4 Chris Foca, Cornell
184 - #9 Jonathan Loew, Cornell
197 - #18 Jacob Cardenas, Cornell
285 - #15 Lewis Fernandes, Cornell
Binghamton at Harvard, 12:00 PM
174 - #13 Philip Conigliaro, Harvard
184 - #24 Jacob Nolan, Binghamton
197 - #11 Lou DePrez, Binghamton
285 - #10 Yaraslau Slavikouski, Harvard
285 - HM Cory Day, Binghamton
Franklin & Marshall at LIU, 12:00 PM
Franklin & Marshall at Hofstra, 4:00 PM
197 - HM Trey Rogers, Hofstra
Cornell at Harvard, 6:00 PM
125 - #13 Brett Ungar, Cornell
133 - #3 Vito Arujau, Cornell
141 - #13 Vince Cornella, Cornell
149 - #1 Yianni Diakomihalis, Cornell
165 - #9 Julian Ramirez, Cornell
174 - #4 Chris Foca, Cornell
174 - #13 Philip Conigliaro, Harvard
184 - #9 Jonathan Loew, Cornell
197 - #18 Jacob Cardenas, Cornell
285 - #10 Yaraslau Slavikouski, Harvard
285 - #15 Lewis Fernandes, Cornell
Rider at Princeton, 6:00 PM
125 - #2 Pat Glory, Princeton
149 - #20 Quinn Kinner, Rider
165 - #3 Quincy Monday, Princeton
197 - #8 Ethan Laird, Rider
197 - #24 Luke Stout, Princeton
Queens at Bellarmine, 7:00 PM
Davidson at Chattanooga, 7:00 PM
133 - #15 Brayden Palmer, Chattanooga
174 - #16 Rocky Jordan, Chattanooga
184 - HM Matthew Waddell, Chattanooga
George Mason at Edinboro, 7:00 PM
174 - HM Jared McGill, Edinboro
Lehigh at Navy, 7:00 PM
133 - #6 Connor McGonagle, Lehigh
141 - #21 Josh Koderhandt, Navy
141 - HM Malyke Hines, Lehigh
149 - #24 Manzona Bryant, Lehigh
157 - #5 Josh Humphreys, Lehigh
157 - HM Andrew Cerniglia, Navy
184 - #19 Tate Samuelson, Lehigh
184 - HM David Key, Navy
197 - #5 Michael Beard, Lehigh
197 - HM Jacob Koser, Navy
285 - #19 Grady Griess, Navy
285 - HM Nathan Taylor, Lehigh
Wyoming at North Dakota State, 8:00 PM
125 - HM Jore Volk, Wyoming
141 - #20 Dylan Droegemueller, ND State
149 - #19 Kellyn March, ND State
157 - #2 Jared Franek, ND State
157 - #15 Jacob Wright, Wyoming
165 - #11 Michael Caliendo, ND State
174 - HM Hayden Hastings, Wyoming
174 - HM Gaven Sax, ND State
184 - HM Deanthony Parker, ND State
197 - #14 Owen Pentz, ND State
285 - HM Juan Mora, ND State
Air Force at California Baptist, 9:00 PM
133 - #22 Cody Phippen, Air Force
165 - HM Giano Petrucelli, Air Force
174 - #22 Sam Wolf, Air Force
285 - #7 Wyatt Hendrickson, Air Force
Sunday, January 22
Central Michigan vs. CSU Bakersfield at Campbell, 11:00 AM
133 - #21 Chance Rich, CSU-Bakersfield
157 - HM Corbyn Munson, Central Michigan
VMI at Presbyterian, 12:00 PM
American vs. Central Michigan at Campbell, 1:00 PM
157 - HM Corbyn Munson, Central Michigan
CSU Bakersfield at Campbell, 1:00 PM
125 - HM Anthony Molton, Campbell
133 - #21 Chance Rich, CSU-Bakersfield
133 - HM Gabe Hixenbaugh, Campbell
184 - HM Caleb Hopkins, Campbell
197 - HM Levi Hopkins, Campbell
285 - #21 Taye Ghadiali, Campbell
Penn at Columbia, 1:00 PM
125 - HM Ryan Miller, Penn
125 - HM Nick Babin, Columbia
133 - #9 Michael Colaiocco, Penn
133 - HM Angelo Rini, Columbia
141 - HM Matt Kazimir, Columbia
149 - #11 Doug Zapf, Penn
157 - #20 Anthony Artalona, Penn
157 - HM Cesar Alvan, Columbia
165 - #20 Joshua Ogunsanya, Columbia
174 - #24 Nick Incontrera, Penn
174 - HM Lennax Wolak, Columbia
Northern Colorado at Little Rock, 1:00 PM
125 - #18 Stevo Poulin, N. Colorado
141 - #1 Andrew Alirez, N. Colorado
174 - HM Triston Wills, Little Rock
174 - HM Andrew Berreyesa, N. Colorado
Cleveland State at Ohio, 1:00 PM
149 - HM Alec Hagan, Ohio
157 - HM Peyten Kellar, Ohio
Michigan State at Penn State, 1:00 PM
125 - #24 Tristan Lujan, Michigan State
133 - #1 Roman Bravo-Young, Penn State
133 - #17 RayVon Foley, Michigan State
141 - #3 Beau Bartlett, Penn State
149 - #12 Shayne Van Ness, Penn State
157 - #17 Chase Saldate, Michigan State
157 - #21 Levi Haines, Penn State
165 - #18 Alex Facundo, Penn State
165 - HM Caleb Fish, Michigan State
174 - #1 Carter Starocci, Penn State
184 - #1 Aaron Brooks, Penn State
184 - #14 Layne Malczewski, Michigan State
197 - #2 Max Dean, Penn State
197 - #21 Cameron Caffey, Michigan State
285 - #1 Greg Kerkvliet, Penn State
Wyoming at South Dakota State, 1:00 PM
125 - HM Tanner Jordan, SD State
125 - HM Jore Volk, Wyoming
141 - #9 Clay Carlson, SD State
157 - #15 Jacob Wright, Wyoming
157 - HM Cael Swensen, SD State
165 - #15 Tanner Cook, SD State
174 - #15 Cade DeVos, SD State
174 - HM Hayden Hastings, Wyoming
184 - #17 Cade King, SD State
197 - #12 Tanner Sloan, SD State
285 - #14 AJ Nevills, SD State
Drexel at Bucknell, 2:00 PM
133 - #23 Kurt Phipps, Bucknell
141 - #14 Darren Miller, Bucknell
165 - HM Evan Barczak, Drexel
174 - #10 Michael O'Malley, Drexel
184 - HM Brian Bonino, Drexel
Kent State at Buffalo, 2:00 PM
125 - HM Jake Ferri, Kent State
157 - #19 Michael Petite, Buffalo
165 - HM Enrique Munguia, Kent State
184 - HM Giuseppe Hoose, Buffalo
Lock Haven at Clarion, 2:00 PM
125 - #17 Anthony Noto, Lock Haven
133 - HM Gable Strickland, Lock Haven
149 - HM Kyle Schickel, Clarion
184 - #23 Will Feldkamp, Clarion
Maryland at Illinois, 2:00 PM
125 - #21 Braxton Brown, Maryland
133 - #8 Lucas Byrd, Illinois
141 - HM Danny Pucino, Illinois
149 - HM Ethen Miller, Maryland
157 - #12 Mike Carr, Illinois
157 - HM Michael North, Maryland
165 - #12 Dan Braunagel, Illinois
174 - #7 Edmond Ruth, Illinois
184 - HM Dylan Connell, Illinois
197 - #9 Zac Braunagel, Illinois
197 - #15 Jaxon Smith, Maryland
285 - HM Jaron Smith, Maryland
Purdue at Minnesota, 2:00 PM
125 - #4 Patrick McKee, Minnesota
125 - #10 Matt Ramos, Purdue
133 - #16 Aaron Nagao, Minnesota
141 - #11 Jakob Bergeland, Minnesota
141 - #19 Parker Filius, Purdue
149 - #18 Michael Blockhus, Minnesota
157 - #3 Kendall Coleman, Purdue
157 - #18 Brayton Lee, Minnesota
165 - HM Andrew Sparks, Minnesota
174 - #14 Bailee O'Reilly, Minnesota
184 - #11 Isaiah Salazar, Minnesota
197 - HM Michial Foy, Minnesota
285 - HM Garrett Joles, Minnesota
The Citadel at Presbyterian, 2:00 PM
Michigan at Rutgers, 2:00 PM
125 - #12 Dean Peterson, Rutgers
125 - #23 Jack Medley, Michigan
133 - #10 Dylan Ragusin, Michigan
133 - #14 Joe Heilmann, Rutgers
141 - #22 Cole Mattin, Michigan
141 - HM Joey Olivieri, Rutgers
149 - #16 Chance Lamer, Michigan
149 - HM Anthony White, Rutgers
157 - #6 Will Lewan, Michigan
157 - #24 Andrew Clark, Rutgers
165 - #5 Cameron Amine, Michigan
184 - #10 Matt Finesilver, Michigan
184 - #16 Brian Soldano, Rutgers
285 - #2 Mason Parris, Michigan
285 - #22 Boone McDermott, Rutgers
Lindenwood at SIU Edwardsville, 2:00 PM
141 - HM Saul Ervin, SIUE
149 - #21 Caleb Tyus, SIUE
285 - #23 Colton McKiernan, SIUE
American vs. CSU Bakersfield at Campbell, 3:00 PM
133 - #21 Chance Rich, CSU-Bakersfield
Central Michigan at Campbell, 3:00 PM
125 - HM Anthony Molton, Campbell
133 - HM Gabe Hixenbaugh, Campbell
157 - HM Corbyn Munson, Central Michigan
184 - HM Caleb Hopkins, Campbell
197 - HM Levi Hopkins, Campbell
285 - #21 Taye Ghadiali, Campbell
Utah Valley at North Dakota State, 3:00 PM
141 - #20 Dylan Droegemueller, ND State
149 - #19 Kellyn March, ND State
157 - #2 Jared Franek, ND State
165 - #11 Michael Caliendo, ND State
174 - #11 Demetrius Romero, Utah Valley
174 - HM Gaven Sax, ND State
184 - HM Deanthony Parker, ND State
197 - #14 Owen Pentz, ND State
197 - #23 Evan Bockman, Utah Valley
285 - HM Juan Mora, ND State
West Virginia at Oklahoma State, 3:00 PM
125 - #7 Killian Cardinale, West Virginia
125 - #15 Trevor Mastrogiovanni, OK State
133 - #2 Daton Fix, OK State
141 - #17 Carter Young, OK State
141 - HM Jordan Titus, West Virginia
149 - #22 Sam Hillegas, West Virginia
149 - HM Victor Voinovich, OK State
157 - #11 Kaden Gfeller, OK State
165 - #8 Peyton Hall, West Virginia
165 - #21 Wyatt Sheets, OK State
174 - #5 Dustin Plott, OK State
184 - #12 Travis Wittlake, OK State
184 - HM Anthony Carman, West Virginia
197 - HM Luke Surber, OK State
197 - HM Austin Cooley, West Virginia
285 - #20 Michael Wolfgram, West Virginia
285 - HM Konner Doucet, OK State
Iowa at Wisconsin, 3:00 PM
125 - #1 Spencer Lee, Iowa
125 - #8 Eric Barnett, Wisconsin
133 - #12 Brody Teske, Iowa
133 - HM Taylor LaMont, Wisconsin
141 - #2 Real Woods, Iowa
141 - HM Joseph Zargo, Wisconsin
149 - #2 Austin Gomez, Wisconsin
149 - #10 Max Murin, Iowa
157 - #13 Cobe Siebrecht, Iowa
157 - #22 Garrett Model, Wisconsin
165 - #6 Dean Hamiti, Wisconsin
165 - #10 Patrick Kennedy, Iowa
174 - #17 Nelson Brands, Iowa
184 - #8 Abe Assad, Iowa
197 - #10 Jacob Warner, Iowa
197 - #17 Braxton Amos, Wisconsin
285 - #3 Tony Cassioppi, Iowa
285 - #11 Trent Hillger, Wisconsin
Arizona State at Stanford, 3:00 PM
125 - #6 Brandon Courtney, Arizona State
125 - HM Nico Provo, Stanford
133 - #4 Michael McGee, Arizona State
141 - #15 Jesse Vasquez, Arizona State
149 - #5 Kyle Parco, Arizona State
149 - #15 Jaden Abas, Stanford
157 - #10 Daniel Cardenas, Stanford
165 - #4 Shane Griffith, Stanford
174 - #23 Tyler Eischens, Stanford
184 - #21 Anthony Montalvo, Arizona State
197 - #20 Kordell Norfleet, Arizona State
197 - HM Nick Stemmet, Stanford
285 - #6 Cohlton Schultz, Arizona State
American at Campbell, 5:00 PM
125 - HM Anthony Molton, Campbell
133 - HM Gabe Hixenbaugh, Campbell
184 - HM Caleb Hopkins, Campbell
197 - HM Levi Hopkins, Campbell
285 - #21 Taye Ghadiali, Campbell