Women's Weekly
Women's Weekly: King Holds Court
Women's Weekly: King Holds Court
King University blew through the competition at the Tornado Open, Presbyterian has a new interim coach, and Adaugo Nwachukwu is on another level.
Jan 16, 2023
by Kyle Klingman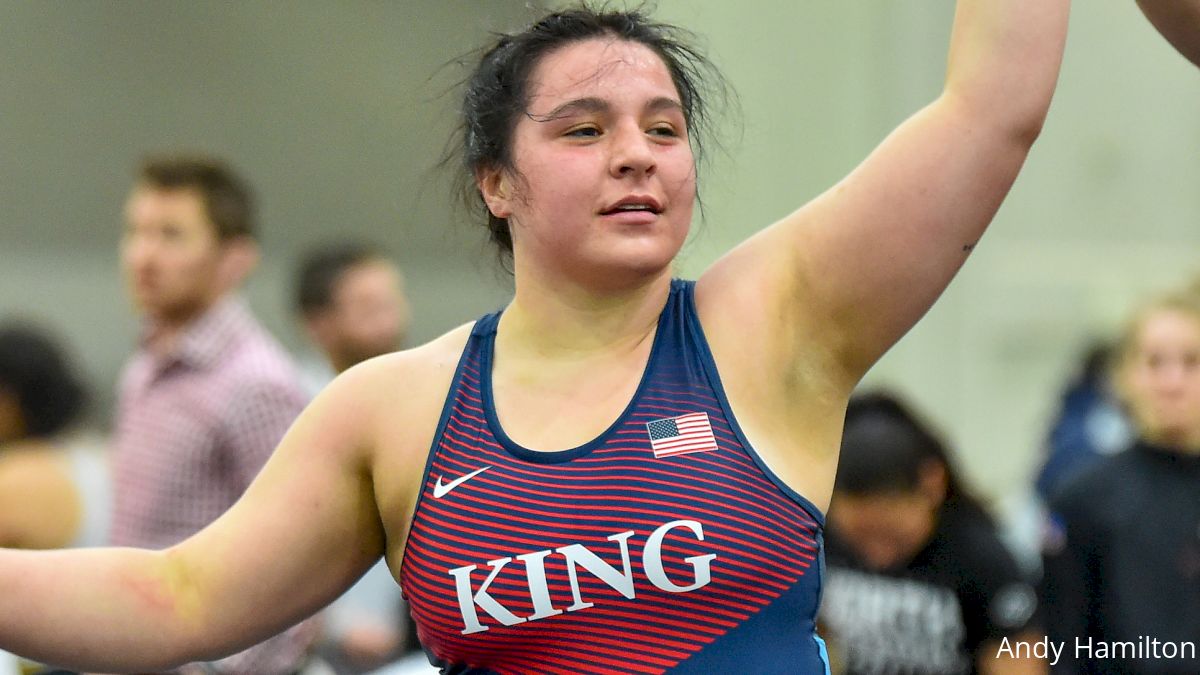 There was no post-National Duals hangover for King University. The Tornado wreaked havoc on the competition at home following a memorable weekend in Louisville, highlighted by a thrilling 23-21 win over North Central in the finals.
King hosted the Tornado Open on January 15 two days after decimating Mount Olive, 39-5, during a dual. The Trojans' only points came at 155 when the host team forfeited.
It also marked the return of reigning 143-pound national champion Ashlynn Ortega, who has been sidelined for several weeks. Ortega won by fall and then had an impressive showing in the tournament. She only wrestled three times, but she dominated two matches and won 4-1 over teammate Ana Luciano, who is expected to move down to 136.
In all, Jason Moorman's squad had 14 placers, including nine champions and a split title at 101 pounds.
"It was great to get our Tornado Open running again," Moorman said. "It has been a couple of years since we have hosted due to COVID — and it's always great to compete at home. We were really pleased with how our team performed.
"The brackets were not big, but at this point of the season, we don't need a ton of matches. I felt like we wrestled very cleanly this weekend and are headed toward peaking at the right times. It was also great to have Ortega back on the mats competing. She had a great weekend of wrestling."
Moorman should feel good about what he has going at 109 pounds since he might have the two best wrestlers at the weight. Teammates Dianna Holmes and Sage Mortimer faced off in the finals with Holmes securing a 10-8 win. He should feel good about 116, too. Samara Chavez won 3-0 over Danielle Garcia in the finals.
Each team can take up to 15 wrestlers to the national collegiate championships, so there's a chance for multiple King vs King matchups during the tournament — perhaps the finals.
The Tornado Open also marked the return of Xochitl Mota-Pettis. Mota-Pettis, known for her highly-entertaining and high-amplitude style, only had one match but it was a big one: a 10-0 tech over King's Montana DeLawder in the finals. The Rise RTC star hasn't competed since the 2022 U.S. Open in April.
Tornado Open Champions
101: Jessica Corredor (King) and Avery Kibelbek (King)
109: Dianna Holmes (King)
116: Samara Chavez (King)
123: Vayle-Rae Baker (King)
130: Xochitl Mota-Pettis (Rise RTC)
136: Viktorya Torres (King)
143: Ashlynn Orgega (King)
155: Tiffani Baublitz (King)
170: Cheyenne Bowman (King)
191: Rewa Chababo (Ozarks)
Click here for full Tornado Open results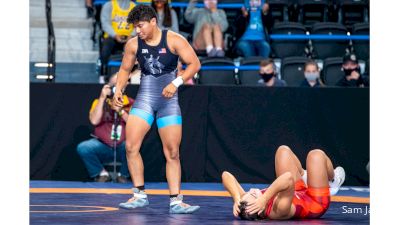 Unlock this video, live events, and more with a subscription!
Get Started
Already a subscriber? Log In
Xochitl Pota-Pettis put the wrestling world on notice with this big win at the 2020 US Nationals over a two-time World silver medalist
Who's Next For Adaugo Nwachukwu?
Augsburg defeated Iowa Wesleyan, 31-12, in Minneapolis on January 15 in an NCAA versus NAIA showdown. The Auggies looked sharp, winning four of six contested matches. The highlight, however, was the #1 vs #1 matchup at 136 pounds, which was the final match of the dual.
Adaugo Nwachukwu (Iowa Wesleyan) and Nina Makem (Augsburg) squared off for top college honors in the weight — and it wasn't even close. Nwachukwu scored a takedown and a pair of exposures in the first period then scored a takedown, exposure, and a four-point throw for a 14-2 technical superiority with 55 seconds remaining.
The inevitable question is this: Who can challenge Nwachukwu in college? She recently pinned NAIA #2 Paige Respicio of Providence at the National Duals and her closest match this season was a 13-4 win over Grand View's pound-for-pound #15 Andrea Schlabach, who is moving down to 130.
"This match was a great opportunity for me to test my offensives moves," Nwachukwu said. "She was a strong opponent with a good sense of position, but every single point I scored was from my offense so I'm impressed with myself."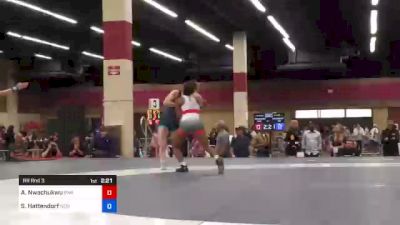 Unlock this video, live events, and more with a subscription!
Get Started
Already a subscriber? Log In
Adaugo Nwachukwu made the 2022 U20 World team during a three-match showdown with Skylar Hattendorf
Notes From Other Opens
The York University Women's Open, Golden Bear Invitational, Oregon Classic, and Will Abele Women's Open also took place over the weekend.
— Colorado Mesa's Marissa Gallegos was at the National Duals due to illness but she blitzed the York Open field. The Maverick star had all techs and gave up only two points on her way to the 123-pound title.
— Grand View won the York title with 106.5 points but no champions.
— Army WCAP won three York titles: Aleeah Gould (116), Bridgette Duty (143), and Tristan Kelly (170).
— Simon Fraser's Emily Cue won the 76 kg title at Golden Bear Invitational in Edmonton, Alberta featuring mainly Canada USport teams.
— Southwestern Oregon Community College had three champions at the Oregon Classic: Kendall Martin (116), Victoriana Kim (123), and Alexa Garcia (191).
— The Will Abele Women's Open, hosted by Ursinus College, was dominated by East Stroudsburg's six individual champions while Elmira won three titles out of nine contest weights. Click here for interviews with FloWrestling's Lori Ayres from the tournament.
Click the links below for full tournament results
York University Women's Open
Golden Bear Invitational
Will Abele Women's Open
Presbyterian Makes A Change
Presbyterian, one of four Division I women's wrestling programs, has a new head coach. Zach Sheaffer was promoted to Assistant Athletic Director for Compliance and Academic Services while Brian Vutianitis takes over as the interim head coach. The Blue Hose defeated Brewton-Parker on the road, 29-17, for Vutianitis's first dual win in his new role.
January 13, 2023
101 – Samantha Miller (PC) def. Elora Waterman (BPC) by Fall, 2:28 – 5-0 PC
109 – Cassandra Lopez (PC) def. Gabriela Galvez (BPC) by Fall, 1:56 – 10-0 PC
116 – Ainslie Lane (PC) def. Jamesa Robinson (BPC) by Fall, 2:29 – 15-0 PC
123 – Olivia Waller (PC) def. Ali Rodgers (BPC) Fall, 1:57 – 20-0 PC
130 – Catherine "CG" Bertrand (PC) def. Jorie Richardson (BPC) by TF, 10-0 – 24-0 PC
136 – Leidaly Rivera (BPC) def. Sierra Marie Miller (PC) by Dec., 12-7 – 24-3 PC
143 – Paige Wehrmeister (PC) def. Migdalys Ramos (BPC) by Fall, 2:17 – 29-3 PC
155 – India Page (BPC) def. Gabriella Shevlin (PC) by TF, 11-0 – 29-7 PC
170 – Taniyah Ford (BPC) won by Forfeit – 29-12 PC
191 – Savannah Pitts (BPC) won by Forfeit – 29-17 PC
McKendree Adds All-American Transfer
McKendree University keeps adding to its impressive recruiting haul. This time, it's an All-American transfer from King University.
Sophia Mirabella — a fourth-place finisher at the 2021 national collegiate women's wrestling championships — is officially a Bearcat. Mirabella left Bristol, Tennessee, last semester and is currently living in Lebanon, Illinois. Click here to learn more about Mirabella's decision.
The Return Of Kennedy Blades
Kennedy Blades hasn't competed since the 2021 Senior World Team Trials where she fell to Kylie Welker in the 72-kilogram best-of-three finals. She lost to Welker 4-4 in the opening match then injury defaulted when their heads collided late in the second bout.
Both reached the 202One Olympic Trials finals as teenagers with Blades facing Tamyra Mensah-Stock at 68 kg and Welker facing Adeline Gray at 76 kg. The current Sunkist Kids star made waves when she and her sister, Korina, signed with Arizona State to train with the Regional Training Center.
Kennedy will compete alongside four other American women at the Henri Deglane tournament in France on January 20-22. Forrest Molinari is a 2021 World bronze medalist at 65 kg who is moving up to 68 kg for this event. Emily Shilson, a three-time age-level World champion, and Audrey Jimenez, a two-time age-level World medalist, are both competing at 50 kg.
50 kg: Emily Shilson (TMWC)
50 kg: Audrey Jimenez (Sunkist Kids)
57 kg: Savannah Cosme (Sunkist Kids)
68 kg: Forrest Molinari (Sunkist Kids)
76 kg: Kennedy Blades (Sunkist Kids)
Running Eagles Soar
Life University and Campbellsville University have quite the NAIA rivalry going right now. The two met in Austin, Texas, on Friday, January 13 for a special live broadcast on FloWrestling. The Running Eagles took the dual, 26-14, in a hotly contested meet that saw both sides garnering significant wins.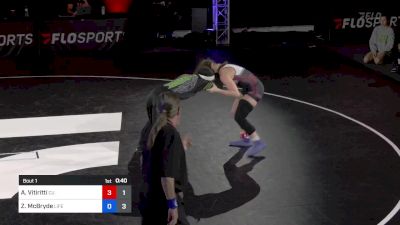 Unlock this video, live events, and more with a subscription!
Get Started
Already a subscriber? Log In
Watch a replay of the Life vs Campbellsville dual
Life coach Ashley Flavin talks about what went into Life's big win over Campbellsville and the week leading up to it.