The EIWA Dual Of The Week 2022-23
NCAA Week 9 Roundup: It's Tourney Time
NCAA Week 9 Roundup: It's Tourney Time
Recapping all the biggest stories from the ninth week of the 2022-23 NCAA D1 college wrestling season.
Jan 3, 2023
by Andrew Spey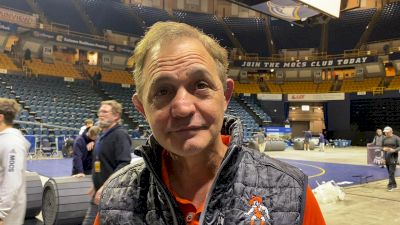 The holiday tournament season has come and gone! We delayed our roundup for one day to accommodate the finals of the Southern Scuffle falling on a Monday. Hey, if the Rose Bowl can be postponed a day, why not this, the granddaddy of wrestling blogs?
So this week, we're focusing on the Midlands, the Soldier Salute and the Southern Scuffle.
The Dual of The Century, of the Week
There were no duals last week, hence there is no dual of the century of the week. Would you like a refill on that Pepsi?
And Now: Tournament Turbo Time
Wildcats Go Wild As Hosts Of The 58th Midlands
Not only did the Wildcats of Northwestern ably perform their hosting duties, they also won the whole dang thing. This was, if you can believe it, the first team win for the Wildcats in program history.
Congratulations to our #Midlands58 Men's Team 🏆, @NUWrestle!

This marks the Wildcats' first @MidlandsChamps title in program history. pic.twitter.com/WIR0BkQdLv

— The Midlands (@MidlandsChamps) December 31, 2022
Senior All-American Yahya Thomas was named Outstanding Wrestler thanks to a run that saw him defeat Princeton's Marshall Keller, Bloomsburg's Cade Balestrini, Pittsburgh's Tyler Badgett, Penn's Doug Zapf, and Arizona State's Kyle Parco, in that order, to win the 149-pound division.
The Art Kraft Men's Champion of Champions Award goes to Yahya Thomas of @NUWrestle, who took home the 🥇 at 149 pounds.#Midlands58 pic.twitter.com/T5PzYEukQ1

— The Midlands (@MidlandsChamps) December 31, 2022
Northwestern also had champs at 157 and 285 with Trevor Chumbley and Lucas Davison.
Every upset from the Midlands can be found here.
The Hawkeyes Dominate The Inaugural Soldier Salute
The first-ever Soldier Salute was held in the Xtreme Arena in Coralville, Iowa, a proverbial stone's throw away from the University of Iowa's campus. This was the same arena that has hosted such as the 2022 World Team Trials Challenge Tournament and the 2022 UWW Men's & Women's Freestyle World Cup, among others.
The Hawks dominated with 8 champs and 10 other placers. Tough to do much better than that!
Good weekend in Coralville!

➡ @SoldierSaluteIA team champions
➡ 8 individual champions
➡ 3 runner-up finishers
➡ 1 third, 1 fourth, 3 fifth, 2 sixth

RECAP | https://t.co/6FnP2xQhPm#Hawkeyes pic.twitter.com/Vo0L9Y5BGK

— Iowa Hawkeye Wrestling (@Hawks_Wrestling) December 31, 2022
More Iowa results and more can be found here.
Spencer Lee notably won a title, his first collegiate tournament championship since the 2021 NCAAs. Lee buzzsawed his way to a 125-pound title, winning via two pinfalls, a tech, and a major.
Hear from Lee himself after his triumphant return to the mat.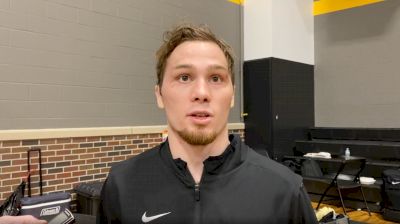 Jacob Wright of Wyoming and Ben Pasiuk of Army West Point were the only non-Hawkeyes to win titles in Coralville.
We Scuffled In The New Year In The 'Noog
On paper, Missouri and Oklahoma State were expected to be in a dogfight for the team title. And they were. But then came the Thundering Herd of North Dakota State, who were determined to have a say in how everything played out.
The Bison came to Chatanooga to shake things up, and shake they did, especially at the swirling cauldron of chaos that is 197-pounds, where Owen Pentz contributed to the rankings cacophony with a pinfall over #2 Ethan Laird of Rider.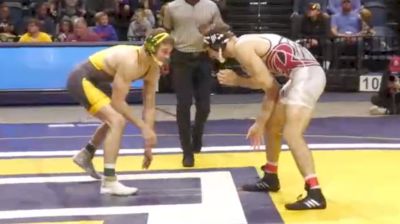 Unlock this video, live events, and more with a subscription!
Get Started
Already a subscriber? Log In
The Tigers were also hampered by injuries, which kept three of the number one presseds of the tournament off the mat. You can hear more from Tiger head coach Brian Smith on the topic here: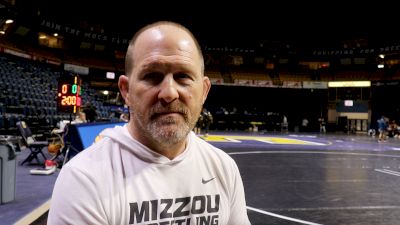 In the end, Oklahoma State brought too much firepower to McKenzie Arena, and they ran away with the team title. The Cowboys crowned three champs in Daton Fix, Dustin Plott, and Travis Wittlake at 133, 174 and 184. They also racked up nine other placers including four third-placers and a runnerup.
North Dakota State impressively finished in second place with three champs of their own. Kellyn March and Jared Franek both won finals over higher-ranked opponents, and in the 197-pound finals, Owen Pentz followed up his big win over Laird with an injury default win over Lou DePrez of Binghamton, who we hope makes a speedy recovery.
Additionally, Matt Ramos of Purdue won at 125, Andrew Alirez of Northern Colorado won 141 (and was also OW), Shane Griffith of Stanford won 165, and Zach Elam of Missouri also won titles.
Every upset of the Southern Scuffle can be found here.
Finally, no Scuffle would be complete with a harmonica solo from the number one Scufflonian himself, Mr. John F. Lennon.
Southern Scuffle in house announcer @JohnFLennon1 is legendary, rocked his harmonica before the quarters.#LetsScuffle pic.twitter.com/D3dKQcisKT

— Mark Bader (@MarkSBader) January 2, 2023
Around The Horn
It was suggested to me that this roundup should touch on more conferences each week than it had been, and I am nothing but responsive to your requests. I'll also continue to kindly ask, nay, implore, you all to reach out to me and let me know if there is anything I can do to improve your reading experience.
Big Ten
We pretty much covered this conference, with the headlines being Iowa and Northwestern's respective tournament team titles. Also winning titles at Midlands was Eric Barnett of Wisconsin at 125, and Edmond Ruth and Zac Braunagel of Illinois at 174 and 197.
However, If you'd like to know more about the Wolverines of Michigan, might I suggest our latest installment of Wolverine Insider? Or perhaps you are a Cornhusker fan? Well good news, we have you covered there as well!
Big 12
Some of the best Big 12 action took place in Eastern Tennessee at the Southern Scuffle. The top three placers were all Big 12 teams, with Oklahoma State taking the top spot, followed by North Dakota State and Missouri.
14 of the 20 finalists were Big 12 wrestlers, with NDSU having five finalists and Missouri and Oklahoma State having four apiece. Northern Colorado boasted the highest-ranked wrestler in the tournament, in #1 Andrew Alirez at 141, who will maintain that ranking thanks to his bracket-winning match over Missouri's #9 Allan Hart.
Iowa State rested several of their starters after putting forth maximum effort at the Collegiate Duals last week. You can learn more about the state of the Cyclones with our Insider column here.
ACC
Pitt had a very successful Midlands tournament, with All-American Cole Matthews and Hofstra-transfer Reece Heller earning titles at 141 and 184. The Panthers finished tied for second place in the team race with fellow Keystoners UPenn. Pitt amassed seven top-eight placers including a runner-up finish for heavyweight Dayton Pitzer, who, like Heller, had a breakout performance in Hoffman Estates, Illinois.
Will head coach Keith Gavin pull young Pitzer's redshirt and insert him into the lineup? We'll know in a couple of months at the latest!
We also have insider articles on the Hokies and the Wolfpack for you to VT and NCSU fans to enjoy.
MAC
SIU-Edwardsville was the highest-scoring MAC team at the Midlands. They had five top-eight placers, with Caleb Tyus placing fourth at 149 and veterans Saul Ervin and Colton McKiernan placing fifth at 141 and 285, respectively.
Rider also performed admirably at the Scuffle, with a trio of placers, including McKenzie Bell, who placed fourth at 141.
Pac-12
Arizona State finished sixth in a very competitive Midlands. An individual title eluded the Sun Devils but they had runner-up performances from Brandon Courtney, who returned to action at 125, and Kyle Parco at 149. Cohlton Schultz placed third at heavyweight, having lost to the aforementioned Pitzer in one of the bigger shockers of the week.
Stanford finished fourth at the Southern Scuffle, with one champ in Shane Griffith and eight other top-eight finishers, including Jaden Abas who battled back after a first-round loss to Virginia's Michael Gioffre to place third.
Little Rock also did well to finish tenth as a team with three placers including 174-pound Triston Wills who came in third.
EIWA
Army team captain Ben Pasiuk won the aptly named Soldier Salute. Pasiuk received a medical forfeit from fellow EIWA rival Lennox Wolak of Columbia in the finals.
Speaking of Army, check out our behind-the-scenes tour of the Army's historic West Point campus. Pay particular attention to the stunning camera work in that professional video!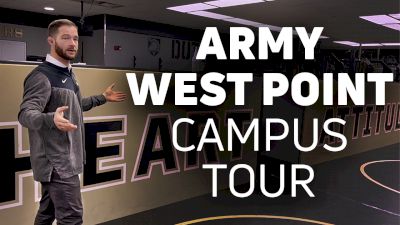 I also found this campus tour from 2011. Tough to believe that's 12 years ago already but I guess that's how the passage of time works!
Other EIWA-men that had productive holiday breaks include Michael Colaiocco of Penn and Quincy Monday of Princeton, who respectively won Midlands titles at 133 and 165. Monday is a returning NCAA runner-up who started the season at 165 for the All-Star Classic, dropped down to 157, and now appears to be back up at 165. We'll see if the new, new weight class sticks.
Colaiocco beat fellow Blair Academy alum, Chris Cannon, now at Northwestern, in the 133-pound Midlands finals. Colaiocco has been a stalwart for the Quakers since 2020, however, covid robbed him of two NCAA tournament appearances. Last season he received the #9 seed at the NCAAs and went 1-2 at the tourney, dropping his final two bouts of the season in nail-biters.
Penn finished tied for second with Pittsburgh, as the east and west of the Keystone State showed out in Chicago.
And at the Scuffle, Binghamton placed seventh with two finalists, Lou DePrez at 197 and Cory Day at heavyweight.
SoCon
UT-Chattanooga expertly hosted the Scuffle, as they have for many years. The Mocs had a finalist in Brayden Palmer at 133, who defeated Aaron Nagao and Ramazan Attasauov along the way. Chattanooga placed 16th as a team, a few spots below SoCon rival App State with finished in 13th place with three individual placers.
Lastly, there was much consternation about the participant composition of the holiday tournaments this season. For example:
The 2022 CKLV had the most ranked wrestlers of any tournament this year with 115. It also had the least percentage of "sit outs" - 22 ranked wrestlers sat out while their teams wrestled.

Soldier Salute-16 wrestled, 17 sat
Midlands-63 wrestled, 16 sat
Scuffle-65 wrestled, 20 sat

— Jon Kozak (@KozakJon) January 2, 2023
To this, I would only add that although the arc of the moral universe may bend toward justice, the arc of the wrestling community bends toward discontent. Which is not to say that anyone discontented with something about the sport is wrong, or that they shouldn't voice their opinion! That is the adversarial nature of the sport! We are strivers. Complacency is the enemy of progress, and if we are not making progress, then naturally we will spend much of our time being less than satisfied.
But if I may, I'd like to take a slightly rosier view of the current state of affairs, at least in these early days of the new year, and reflect back on how much better things are now than they were a mere 10 years ago. And if you weren't following wrestling closely 10 years ago, that's even better; the pie is growing!
So join me in hoisting a beverage of your choice, and cheers to the new year and the incredible possibilities that await us all. It's a great time to be a wrestling fan, please believe this.
See you next week, wrestling friends!