2022-23 Iowa State Wrestling
Cyclone Insider: ISU Looking For Coleman To 'Let It Fly' More Often
Cyclone Insider: ISU Looking For Coleman To 'Let It Fly' More Often
One night after dropping a decision to Trey Munoz, Marcus Coleman bounced back in a big way by stunning two-time NCAA champ Aaron Brooks.
Dec 29, 2022
by Roger Moore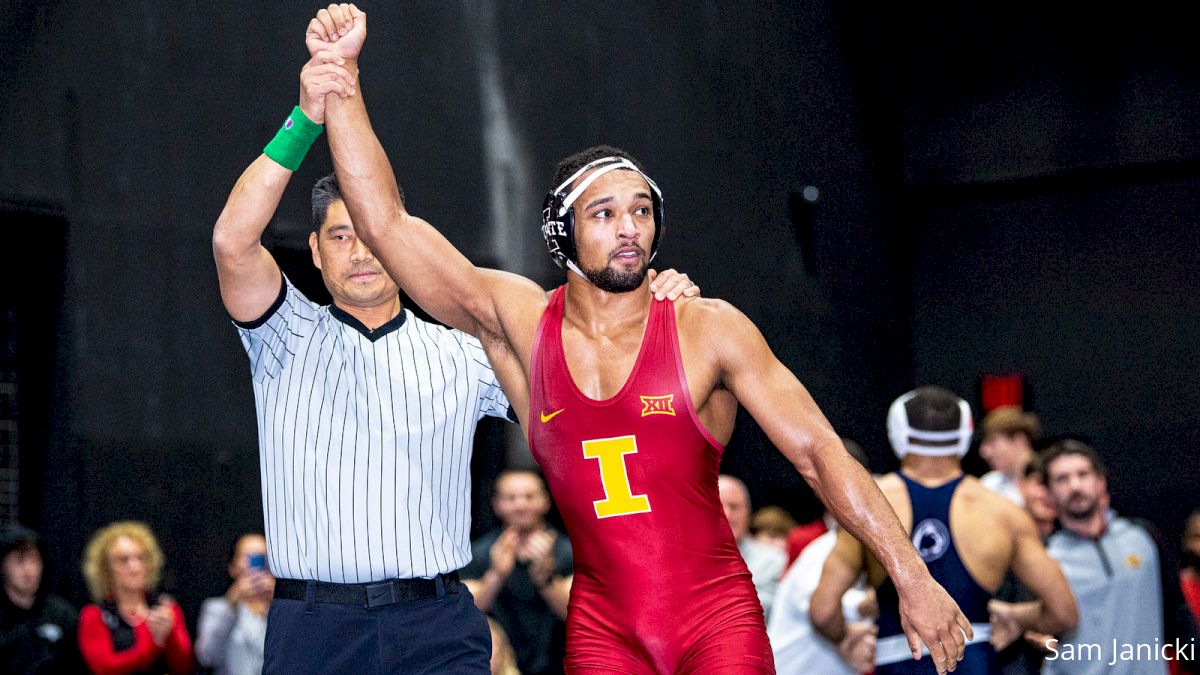 Unlock this article, live events, and more with a subscription!
Get Started
Already a subscriber? Log In
In four NCAA qualifying seasons, Iowa State senior Marcus Coleman compiled a 75-38 record, earning his first top-eight finish last March in Detroit. Getting over that hurdle of becoming an All-American is certainly not easy and entering the 2022-23 campaign there was no indication of Coleman, a local product from Ames, challenging for national titles.
And after an 8-4 loss to Oregon State's Trey Munoz on Day 1 of the Collegiate Duals in New Orleans Dec. 19, Coleman's first of this season, it appeared he might be just another "solid" 184-pounder. But a few hours later, against a good Cornell squad and Kevin Dresser's Cyclones battling the injury bug, Coleman bumped up to 197 pounds and scored a key win in ISU's 18-13 victory over the Big Red to set up a meeting with reigning national champion Penn State, who suits up the top dog at 184, two-time NCAA champion Aaron Brooks.
In the blink of an eye, a flurry produced a six-point second-period move that sparked Coleman's 9-7 win over Brooks. For the ISU veteran, it quickly erased the loss to Munoz 24 hours earlier and sent him back to Ames in a much better frame of mind. It also made the nation take notice of a dangerous veteran who, after getting over a hurdle in Detroit, might be ready to make significant noise in Tulsa this March.
"I'm proud how I came back because I came out of the gate slow, didn't have my best match (against Munoz)," said Coleman (8-1) on Wednesday. "But I was able to wipe it away and start new after that match. Pretty happy with my last two matches, but there are things I have to improve."
Pennsylvanians have "cement mixers." Oklahomans have "cow catchers." Everywhere in-between has its varieties of aptly-named "funk." Is there now a "Coleman?"
"When I was younger, in high school, I kind of messed around with it," said Coleman of his big counter of a single-leg shot against Brooks. "I've hit it before; it's been a while, though. Just picked it up wrestling live. I don't think anyone really showed it to me."
No matter when or where its inception, the biggest takeaway is the ability to scramble against fellow 184- and 197-pounders, something a sometimes conservative Coleman has not done in the past.
"Marcus just scrambles so well," said Dresser, who will send a partial squad to the Southern Scuffle to start the new year. "He's got little tricks; he's dangerous. He ends up on top in scrambles a lot. Don't know if there's a name to it … maybe it's a 'Coleman' now. We are trying to make him understand that he's got to let it fly more because when he lets it fly, that is what happens."
Speaking Of Chattanooga
Dresser will send a partial lineup to the Jan. 1-2 Southern Scuffle due in part to injuries and to rest some of his "old guys." ISU's top two 125-pounders — Kysen Terukina and Corey Cabanban — are out, while Cody Swiderski (141), Paniro Johnson (149), and Sam Schuyler (285) will also try and get well before a Jan. 7 date with Wyoming. Coleman and David Carr (157) are the "old guys" Dresser spoke of during "more of a medical report than opening statement" on Wednesday.
Holiday Numbers
1 – Number of ISU wrestlers still unbeaten this season. Carr improved to 10-0 with three victories in New Orleans.
2 – Number of career losses for Brooks before dropping a match to Coleman in New Orleans.
3 – Iowa State wrestlers named Big 12 Conference Wrestler of the Week this season the eight times it has been awarded. Coleman, the most recent, joins 149-pounder Paniro Johnson (Week 1) and 197-pounder Yonger Bastida (Week 5).
3 – Number of ISU wrestlers who took their first loss of the season in New Orleans, including Johnson, who suffered an overtime setback to Cornell superstar Yanni Diakomihalis. Said Dresser: "Paniro bounces back quick. Coming off the mat (after the loss) he said he was going to get that guy at the NCAAs. I might not have believed him before the season, but I do now."
16 – Number of wins for Cam Robinson, a junior 149-pounder, to lead the Cyclones. His only loss came to teammate Jason Kraisser in the 157-pound semifinals at the UNI Open (Dec. 10).
18 – Number of career pins for Coleman.