2022-23 Virginia Tech Wrestling
Hokie Insider: Past Adversity Pushing Latona Forward At 133
Hokie Insider: Past Adversity Pushing Latona Forward At 133
Lessons learned during a challenging sophomore season at 125 pounds have helped Sam Latona rise in the rankings this season at 133.
Dec 27, 2022
by Jim Carlson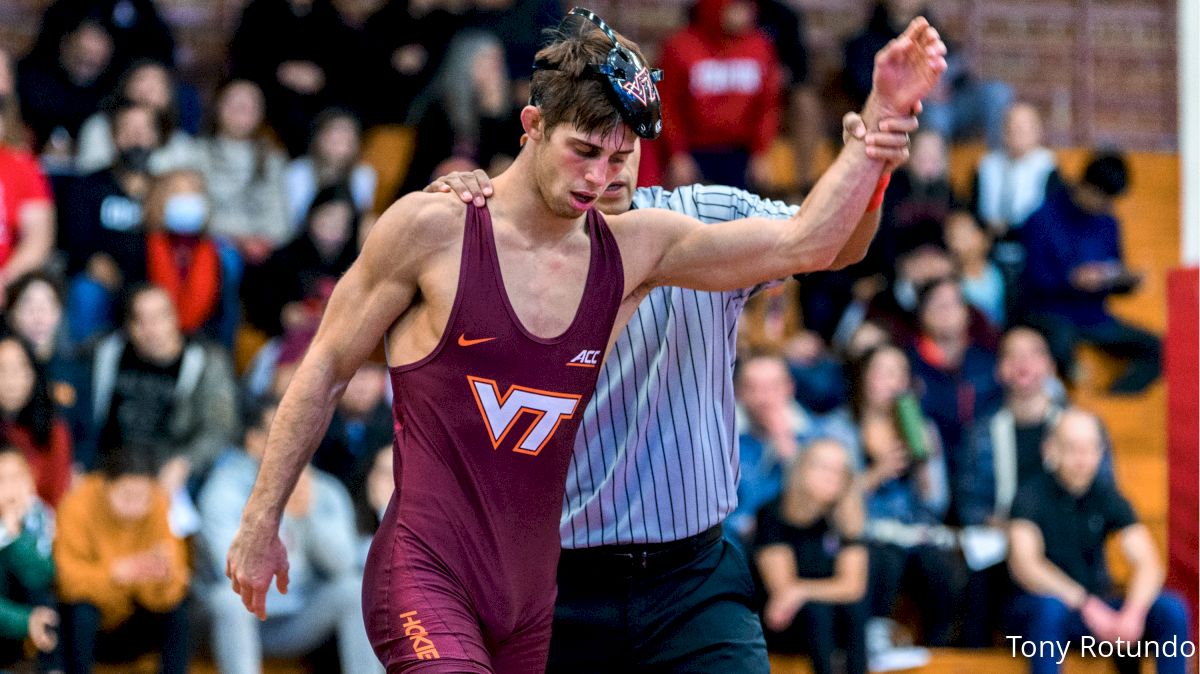 Unlock this article, live events, and more with a subscription!
Get Started
Already a subscriber? Log In
Few are the wrestlers who enroll in college, find immediate success, don't cut weight and don't handle a hardship or two.
Sam Latona came to Virginia Tech in 2019 from Alabaster, Alabama, with noteworthy credentials — one state title, two Fargo crowns and a lofty national high school ranking.
He sat behind 2020 NCAA qualifier Joey Prata while redshirting, winning 20 of 22 bouts and earning a couple of open tournament titles. Then came a COVID-shortened 2020-21 season in which Latona went 14-3 that included a 12-bout win streak, an Atlantic Coast Conference title at 125 pounds and a #2 seed at the NCAA Championships that resulted in a sixth-place All-America finish.
Things didn't go quite as smoothly last season. Latona won 14 matches once again, but lost nine, lost in the ACC finals and found himself with a #24 seed at the NCAAs. Just like in 2021, he made the quarterfinals but was pinned by eventual champion Nick Suriano of Michigan and lost his first consolation bout.
Reality caught up, Latona reasoned, and he had to deal with having success and then not having as much as he would have preferred.
"I thought I had a really good season," Latona said about his initial year of competition. "It was actually kind of interesting; I didn't really have much adversity during the season. I was undefeated in the regular season against ACC teams and I did really well and so I didn't have that much adversity, which I think actually probably hurt me.
"Last season I had a lot of adversity and I didn't necessarily know how to deal with it the correct way and go about it. But that comes with experience and just being around the sport, being around college wrestling for a while, so I feel I gained a lot of valuable experience last year as compared to the year before."
As most wrestlers know, just because you're a lightweight doesn't mean you don't have to cut weight.
Last year became a tough cut to hold 125; Latona could not bump up to 133 because teammate Korbin Myers opted to use his sixth season of eligibility.
"The plan was always for me to go 125 again," Latona said. "It was definitely a rough cut and probably had a lot to do with how I performed. Obviously, no excuses. It was my choice and it is what it is, but it probably had something to do with it.
"Ultimately I didn't reach the goals but you get past it and you move on and you figure out what the next best thing is. My coaches did a really good job, especially coach (Cody) Brewer still believing in me and letting me know that we're gonna keep working hard, we're gonna get on the right track and keep doing the right things and I'm gonna reach my goals one day."
A business management major who wants to be a college wrestling coach, preferably in the ACC, Latona will take a 15-4 record and a #9 ranking at his new weight — 133 — into a Jan. 6 home match with #10 Cornell. An expected bout against third-ranked Vito Arujau will be a good gauge for Latona, who dropped a 6-1 decision against Arujau in the Cliff Keen Las Vegas Invitational semifinals.
"I just think his day-to-day is a lot better at '33. And I think he feels better coming into practice. I think his mind's on the right thing and that's improving at wrestling," Virginia Tech coach Tony Robie said about Latona. "He's getting better at wrestling and not worried about what the scale says all the time, and I think he physically looks really good.
"I think he's wrestling at a high level right now. The big thing is just consistency. But he's great. He comes into practice and works his butt off. He's a great leader. He's constantly trying to make improvements and adjustments and we've seen progress from him throughout the season, and that's really what we're looking for."
Latona is looking for Tech to stay on its steady climb — the Hokies are #5 in the latest NWCA coaches poll — and he said the team culture is through the roof.
"It's just so cool being around the team and we're always together, always hanging out and we love each other and we're there for each other no matter what," he said. "We want to bring back a team trophy; that's our ultimate goal is being top four, top three in the country, and then obviously winning the ACC tournament and ACC duals and being ACC champs. But yeah, I think we're capable of even more than that."
The ACC, Latona said, is on solid ground.
"I see the ACC improving even more in the future," he said. "It would be awesome if we could maybe add another ACC team like Clemson or Florida State.
"But we're just gonna keep getting stronger as a conference and keep building, which is pretty cool to see because I feel like we're at the top … the best that the conference has ever been, and it's kind of cool that I'm competing in it."