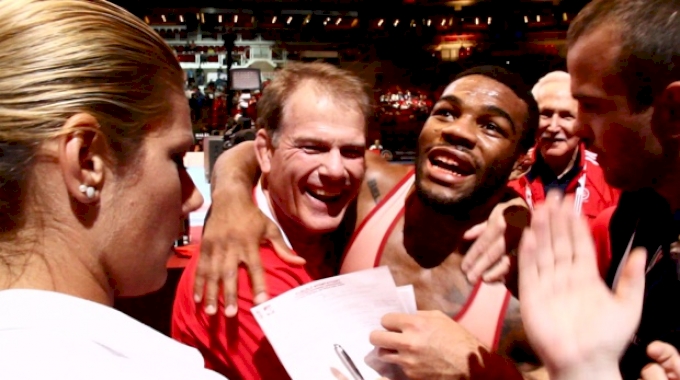 It's one of our favorite stories to tell: that of Jordan Burroughs winning his third straight World title just a month after breaking his ankle -all while extending his US record winning streak to 65-0.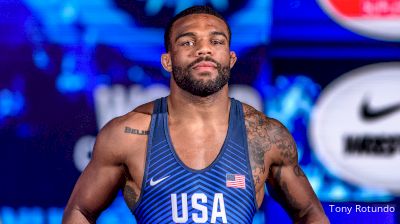 Jordan Burroughs
Nov 29, 2017
Jordan Burroughs is the greatest wrestler of this generation in the United States of America. He is the 2012 London Olympics Champion at 74 kg, five-time World Champion, and two-time NCAA Champion at Nebraska.
A New Jersey state champion at Winslow Township High School, Burroughs was recruited by Nebraska head coach Mark Manning and accepted a scholarship to be a Cornhusker in 2006. Jordan started as a true freshman, placing third at the Big 12 Championships and qualifying for the NCAA Tournament where he failed to place.
Burroughs hit his stride the following year, winning a Big 12 title and placing third at the 2008 NCAAs. In 2009 Burroughs would win his first NCAA title. An injury kept him from competing during the 2010 season but he came roaring back, better than ever, winning his second NCAA title at the 2011 Championship.
Burrough was also awarded the Hodge Trophy at the end of the 2011 as the most dominant wrestler in college. Jordan finished the season undefeated.
Wasting absolutely zero time, Burroughs came straight out of college to win his first World Championship in 2011, in the same calendar year as his last NCAA title, and hasn't looked back since. One year later, at the 2012 Games in London, Burroughs became an Olympic Champion. He won world titles in 2013 and 2015 and was bronze in 2014.
Burroughs missed the podium at the 2016 Rio Games but was back to his winning ways a year later in Las Vegas, winning his fourth world title at 74kg. Jordan added two bronze medals to his collection in 2018 and 2019.
Still in the hunt to make the Tokyo Games, Burroughs currently stands at an astounding eight world and Olympic medals.
Watch our documentary all about the famed wrestler, My Name is Jordan: