NCAA Week 3 Roundup: 149lbs In Tatters
NCAA Week 3 Roundup: 149lbs In Tatters
The biggest stories from the third week of the 2022-2023 college wrestling season.
Nov 21, 2022
by Andrew Spey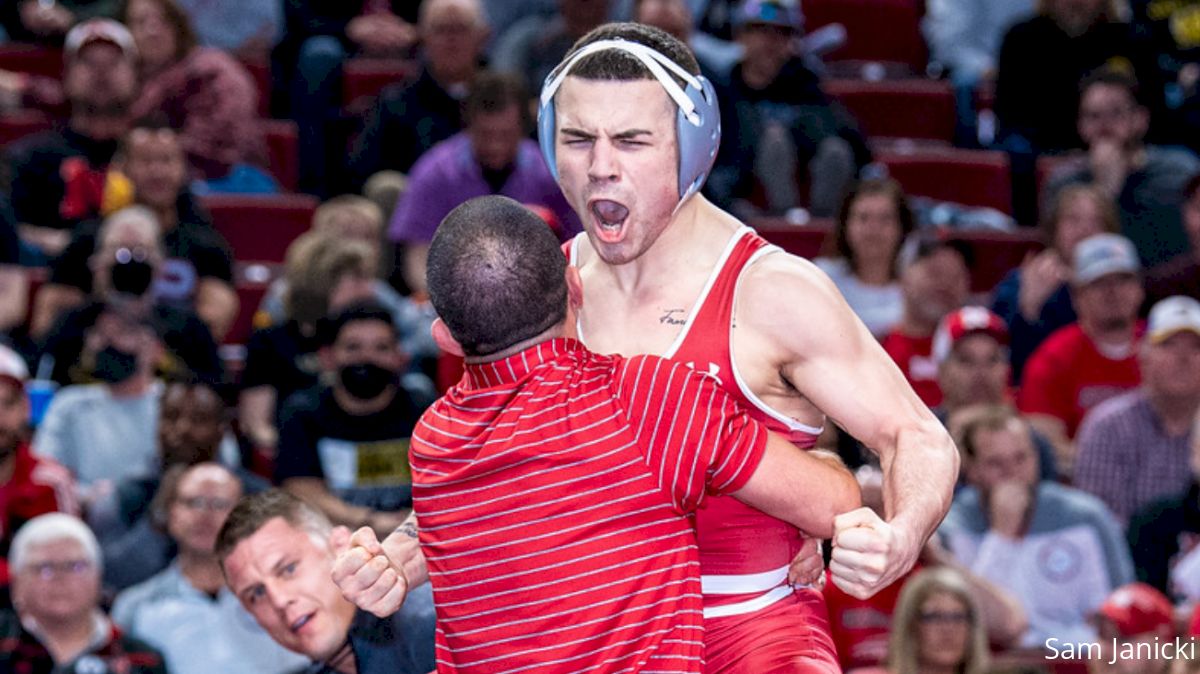 It's the third week of the 2022-23 NCAA season and the 149-pound weight class is simply in tatters.
It's not quite at the point where dogs and cats are living together or where our pets' heads are falling off, but these first three weeks of the season have been pandemonium for the top of the 149-pound rankings.
We also have a lot of wrestling results to cover please allow me to make like Taylor Swift and blame Ticketmaster for any technical difficulties anyone experienced last week so that I may stick to sports. Thank you.
Carl's Stone Cold Dual Of The Century Of The Week: Wisconsin at Cornell
149-Pounds, Is, As I Mentioned, In Tatters
New week, new top-tier 149-pound wrestler takes a loss. This time it was Austin Gomez beating #1 Yianni Diakomihalis. This is only the second loss in Yianni's collegiate career. The three-time national champion had been on a 75-match winning streak.
𝐃𝐚𝐧𝐠𝐞𝐫𝐨𝐮𝐬. 😤@agomez_149 picks up a decisive win against the 3x NCAA Champ. 👏@BadgerWrestling x @B1GWrestling pic.twitter.com/5mFFr12C3G

— Wisconsin On BTN (@WisconsinOnBTN) November 19, 2022
This is one week after Sammy Sasso lost to Caleb Henson and two weeks after Paniro Johnson upset Austin Gomez. And so the upper echelon of the weight class comes full circle in less than a month.
In a word: yowza.
Thankfully, figuring out how to rank 149 is no longer my responsibility, and I wish my colleagues JD Rader and Jon Kozak good luck and fortune as they tackle that conundrum. If you disagree with their decisions, all complaints should be directed to the guilty parties (Jon and JD), however, I will still be available to receive compliments if you do agree.
There were also plenty of other noteworthy results from that dual. Vito Arujau made his season debut for Cornell, beating All-American Taylor LaMont at 133. Freshman U20 world fifth-placer Vince Cornella beat #12 Joey Zargo of Wisconsin. Cornella the Cornellian will likely be in the rankings by Tuesday morning.
Wisconsin's DJ Hamiti took our Cornell's Julian Ramirez in a battle of top 10 165-pounders. Badger Braxton Amos, a 2021 U20 world champ in freestyle and bronze medalist in Greco, beat 2022 U20 freestyle silver medalist Jacob Cardenas. Additionally two-time All-American 'Thor' Hillger returned to form and defeated #10 Lewis Fernandes of Cornell.
Truly a dual worthy of Carl from ATHF's approval.
The Co-Dual Of The Week: Missouri at Arizona State
A top 20 wrestler in every match, 4 top 20 matchups and two top 10 matchups! Now that's what I call a high-quality dual meet!
Richie Figueroa of Arizona State beat Missouri's #14 Noah Surtin and Jesse Vasquez defeated #6 Allan Hart to fuel the victory for the Sun Devils. Vasquez in particular impressed as the third-year wrestler from California had barely more than a dozen varsity matches in his career at that point and had never wrestled in the postseason, while Hart is a three-time NCAA qualifier with over 60 D1 wins to his name.
NO. 24 @jessevasquezz UPSETS NO. 6!!!! THREE IN A ROW TO START FOR THE SUN DEVILS!!! pic.twitter.com/yTdqognt5O

— Sun Devil Wrestling (@ASUWrestling) November 18, 2022
Go Army Invite, Go Navy Classic
Famous rivals Army and Navy both held tournaments this weekend, the Black Knight Invite and the Navy Classic, respectively.
Penn State was amongst the ten D1 teams that made their way to West Point for the Army-hosted Invite. Nebraska and Michigan State were amongst the even dozen D1 programs in Annapolis for Navy's Classic.
Penn State took the crown at the Black Knight Invite, with Max Dean winning the 197-pound weight class and the Outstanding Wrestler honor. Check out the bad ass trophies Army handed out to the champs and OW.
Unique trophies at the Black Knight Invite hosted by @ArmyWP_Wres let's go! pic.twitter.com/nK9h47N5bG

— FloWrestling (@FloWrestling) November 20, 2022
Watch Dean pin his way to a 197lb Black Knight Invite title:
Unlock this video, live events, and more with a subscription!
Get Started
Already a subscriber? Log In
Penn State had 5 champs at the Black Knight Invite, while their Big Ten rival Nebraska won the same number of titles at the Navy Classic in Annapolis. Michigan State finished in second and the hosts in third at the United State Naval Academy.
The Most Classic Of All The Keystones
Five champs was the theme of the weekend at the big tournament, as Virginia Tech marched up the Shenandoah Valley and hung a right at the Mason-Dixon line to crash the Philly Wrestling party at the historic Palestra, where the Keystone Classic was taking place.
The Hokies needed all those points from their five titlists as they just barely out-placed the hosts, the Pennsylvania Quakers.
Adding to the chaos at 149 was Penn's Doug Zapf who beat Caleb Henson in the semis. Henson beat Sammy Sasso last week. Zapf was then stopped in the finals by Jon Jon Millner of Appalachian State. Milner lost to Sasso at the 2022 NCAA tournament, so go figure.
VT won 125, 133, 141, 165 and 184, with Sam Latona getting a big win in the 133 finals over Michael Colaiocco of UPenn.
The hosts didn't get shut out though, as Anthony Artalona won a dogfight in the 157 finals over Peter Pappas of George Mason.
Watch Artalona win a Keystone Classic title:
Unlock this video, live events, and more with a subscription!
Get Started
Already a subscriber? Log In
Arms Were Barred In The Albany Armory
Iowa completed their road trip to 'Banach Country' (ie New York) with two duals at the Journeymen Wrestling Armbar at the Armory in Albany a day after wrestling Army in West Point. Iowa now has dominion over the Hudson by dint of their three victories.
NC State also went 2-0 in Albany, beating a dangerous Illinois squad and a determined Central Michigan team.
The venue was also very old and dripping with character. It had a distinct Semi-Pro vibe. Which may have been due to the fact that a minor league basketball team, the Albany Patroons, have been playing there since the 1980s.
Surprising Results -- Or Are They?
Even though I am never surprised by any result and, in fact, expect everything that happens in college wrestling, there are results that, when judged by the consensus of the wrestling community (of which I myself am a pillar), would by definition be considered surprising (though without the slightest shred of disrespect implied for either wrestler).
Here are some of those allegedly "surprising" results from week 3.
149: Austin Gomez over Yianni Diakomihalis (already covered).
141: Jesse Vasquez over Allan Hart (see above).
174: Lennox Wolak of Columbia over #6 Ethan Smith of Ohio State. Ethan Smith is a four-time NCAA qualifier who placed fifth in 2021. He finished in the bloodround last year. Wolak is in his fourth year out of high school and started as a freshman for Columbia in 2020, however his best previous win to date was maybe Brad Laughlin or Daniel Manibog? Many were surprised by this result but I always knew Wolak was capable of the win while simultaneously respecting what Smith has accomplished and acknowledging him as the favorite going into the match.
133: Connor McGonagle of Lehigh over #8 Mickey Phillippi of Pitt. Phillippi is a four-time NCAA qualifier and three-time bloodrounder. He once beat Daton Fix. Some folks were shocked by McGonagle's victory, as he has never won the EIWAs and went 0-4 on two trips to the NCAAs. Naturally, I knew it was definitely not impossible and was thoroughly nonplussed by the outcome of the match.
157: Corbyn Munson of Central Michigan over #7 Ed Scott of NC State. Munson is no slouch, as he qualified for NCAAs last season and finished with 26 victories. Still, the win was a surprise to many because Ed Scott had a better record against a tougher schedule. But not to me!
141: #19 Cael Happel (Northern Iowa) DEC #5 Clay Carlson (South Dakota State), 8-6. Frankly, anyone who even briefly considered this result surprising is a disappointment (with all due respect to Carlson).
TERPS TERPS TERPS TERPS TERPS TERPS
Thanks to a pin at 125 and a match-clinching win at 285, Maryland defeated Pitt in the Panther's home gym for the Terrapin's first dual win over a ranked opponent since 2013.
For the first time since 2013, the Terps defeat a ranked opponent with an 18-16 win over No. 17 Pitt!#NCAAWrestling x 🎥 @TerpsWrestling pic.twitter.com/tZQmp5DuCi

— NCAA Wrestling (@NCAAWrestling) November 19, 2022
Small School Spotlight
Sacred Heart fears no team, as evidenced by their schedule, which, credit to head coach John Clark, nearly always features multiple contests against the highest-ranked programs in the nation. That courage was on display on Friday as the Pioneers took on the #2 ranked Iowa Hawkeyes.
Though Sacred Heart ultimately lost the dual, two wins over Iowa is nothing to sneeze at! Congrats to Mike Manta and Nick Palumbo on the dubs, and cheers to SHU, a New England school of a mere 5,500 undergrads.
Other Cool Content On FloWrestling
Of course, there are this week's trusty box scores, painstakingly assembled by the nimble fingers of your humble blogger.
It is also the eve of the NWCA All-Star Classic! We've made more content about this event than you have time to consume it all before the matches start, but here are a few pieces of content to wet your All-Star whistle before Tuesday at 8pm et.
And I will be live-blogging the event, because that is my profession, my calling, my telos. See you then!