2022 Iowa vs Army
Where Every Ranked Wrestler Is Set To Compete On Week 3 Of NCAA Wrestling
Where Every Ranked Wrestler Is Set To Compete On Week 3 Of NCAA Wrestling
Get ready for more ranked battles in week 3 of the NCAA season. Here's every single D1 event on the calendar plus all the ranked wrestlers we could see.
Nov 15, 2022
by David Bray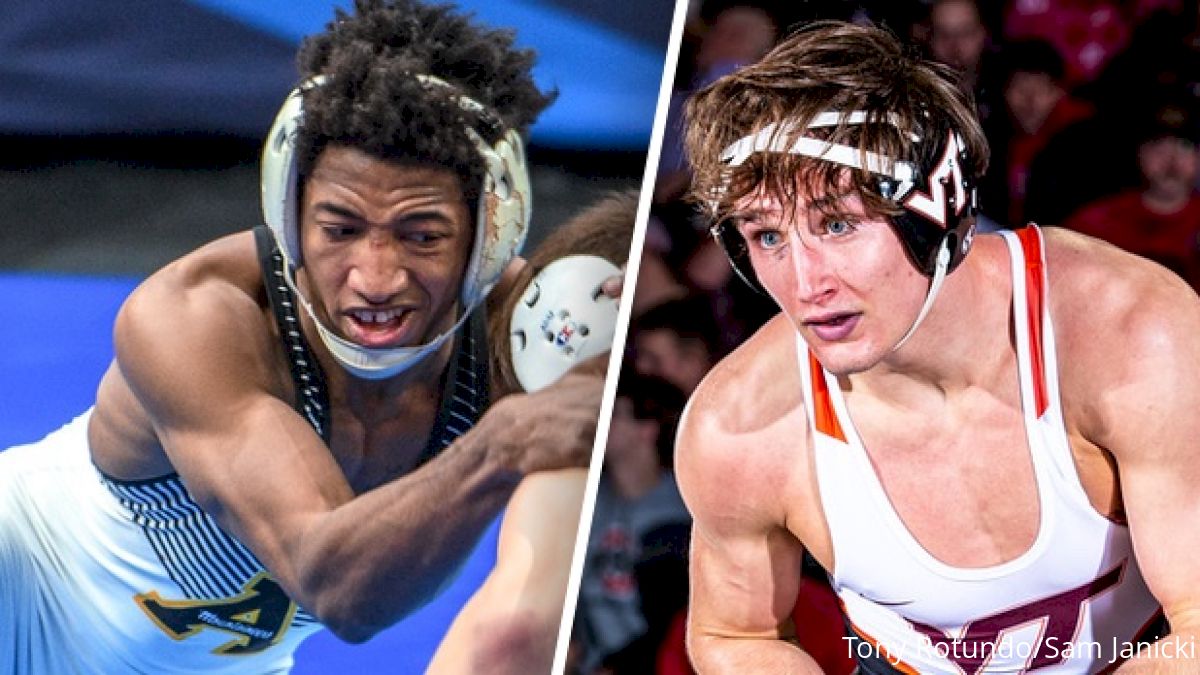 NCAA wrestling action keeps heating up. After back-to-back weekends with more than 50 upsets, week three sets the table for even more potential chaos than we've already seen. Here's a list of every D1 event on this weekend's calendar along with all the ranked wrestlers who could participate in that event. This list also includes links to events that are live on FloWrestling along with preview content where applicable. All times listed are Eastern Standard Time.
It's also noteworthy that international wrestling fans can look forward to the Bill Ferrell Memorial Invitational while women's college wrestling fans will be treated with the Missouri Valley Invitational and Lindenwood's Women's Tournament. This is also a big weekend for youth wrestling with the World of Wrestling Kickoff Classic going down in Tulsa.
Don't forget that the NWCA All-Star Classic goes down on Tuesday, November 22. That means the world has license to treat Thursday through Tuesday as a six-day wrestling holiday. Check out the incredible matchups we'll see at that event, then dive into all the outstanding wrestling we have to look forward to between now and then.
NWCA All-Star Classic Bout Order
125: #3 Pat McKee (Minnesota) vs #12 Kysen Terukina (Iowa State)
133: #5 Lucas Byrd (Illinois) vs #4 Michael McGee (Arizona State)
157: #4 Bryce Andonian (Virginia Tech) vs #2 Will Lewan (Michigan)
141: #1 Cole Matthews (Pittsburgh) vs #4 Andrew Alirez (Northern Colorado)
191: Kelani Corbett (Missouri Valley) vs Sydnee Kimber (McKendree)
170: Yelena Makoyed (North Central) vs Jessie Lee (Life)
149: #5 Sammy Sasso (Ohio State) vs #4 Austin Gomez (Wisconsin)
184: #1 Aaron Brooks (Penn State) vs #2 Parker Keckeisen (Northern Iowa)
165: #5 Dean Hamiti Jr. (Wisconsin) vs #1 Keegan O'Toole (Missouri)
143: Adaugo Nwachukwu (Iowa Wesleyan) vs Alara Boyd (McKendree)
109: Peyton Prussin (Life) vs Emily Shilson (Augsburg)
165: #3 David Carr (Iowa State) vs #1 (157) Quincy Monday (Princeton)
197: #2 Jacob Warner (Iowa) vs #4 Rocky Elam (Missouri)
285: #4 Anthony Cassioppi (Iowa) vs #2 Greg Kerkvliet (Penn State)
174: #1 Carter Starocci (Penn State) vs #2 Mekhi Lewis (Virginia Tech)
Thursday, November 17
Iowa at Army West Point, 7:00 PM
125 - #1 Spencer Lee, Iowa
125 - #22 Ethan Berginc, Army
133 - #11 Brody Teske, Iowa
141 - #2 Real Woods, Iowa
149 - #6 Max Murin, Iowa
165 - #15 Patrick Kennedy, Iowa
174 - #19 Nelson Brands, Iowa
174 - #21 Benjamin Pasiuk, Army
184 - #10 Abe Assad, Iowa
197 - #2 Jacob Warner, Iowa
285 - #4 Tony Cassioppi, Iowa
Missouri at Arizona State, 9:00 PM
125 - #5 Brandon Courtney, Arizona State
125 - #14 Noah Surtin, Missouri
133 - #4 Michael McGee, Arizona State
133 - #HM Connor Brown, Missouri
141 - #6 Allan Hart, Missouri
141 - #HM Jesse Vasquez, Arizona State
149 - #3 Kyle Parco, Arizona State
149 - #8 Brock Mauller, Missouri
157 - #15 Jarrett Jacques, Missouri
165 - #1 Keegan O'Toole, Missouri
165 - #19 Tony Negron, Arizona State
174 - #9 Peyton Mocco, Missouri
184 - #20 Anthony Montalvo, Arizona State
184 - #22 Colton Hawks, Missouri
197 - #4 Rocky Elam, Missouri
197 - #15 Kordell Norfleet, Arizona State
285 - #1 Cohlton Schultz, Arizona State
285 - #7 Zach Elam, Missouri
Friday, November 18
Michigan State at American, 6:00 PM
125 - #HM Tristan Lujan, Michigan State
133 - #9 Rayvon Foley, Michigan State
157 - #18 Chase Saldate, Michigan State
165 - #HM Caleb Fish, Michigan State
184 - #15 Layne Malczewski, Michigan State
197 - #14 Cameron Caffey, Michigan State
Princeton at Indiana, 6:00 PM
125 - #2 Pat Glory, Princeton
141 - #23 Cayden Rooks, Indiana
149 - #HM Graham Rooks, Indiana
157 - #1 Quincy Monday, Princeton
174 - #18 Donnell Washington, Indiana
184 - #HM Nate Dugan, Princeton
197 - #22 Luke Stout, Princeton
285 - #HM Jacob Bullock, Indiana
285 - #HM Matthew Cover, Princeton
Buffalo vs. Illinois at Armbar At The Armory, 6:30 PM
125 - #21 Justin Cardani, Illinois
125 - #HM Tristan Daugherty, Buffalo
133 - #5 Lucas Byrd, Illinois
149 - #HM Kevon Davenport, Illinois
157 - #20 Michael Petite, Buffalo
165 - #13 Dan Braunagel, Illinois
174 - #8 Edmond Ruth, Illinois
174 - #HM Jay Nivison, Buffalo
197 - #9 Zac Braunagel, Illinois
Central Michigan vs. NC State at Armbar At The Armory, 6:30 PM
133 - #19 Kai Orine, NC State
141 - #8 Ryan Jack, NC State
149 - #18 Johnny Lovett, Central Michigan
157 - #7 Ed Scott, NC State
184 - #3 Trent Hidlay, NC State
197 - #18 Isaac Trumble, NC State
285 - #19 Owen Trephan, NC State
Iowa vs. Sacred Heart at Armbar At The Armory, 6:30 PM
125 - #1 Spencer Lee, Iowa
133 - #11 Brody Teske, Iowa
141 - #2 Real Woods, Iowa
149 - #6 Max Murin, Iowa
165 - #15 Patrick Kennedy, Iowa
174 - #19 Nelson Brands, Iowa
184 - #10 Abe Assad, Iowa
197 - #2 Jacob Warner, Iowa
285 - #4 Tony Cassioppi, Iowa
Columbia at Ohio State, 7:00 PM
125 - #10 Malik Heinselman, Ohio State
133 - #13 Jesse Mendez, Ohio State
141 - #9 Dylan D'Emilio, Ohio State
141 - #16 Matt Kazimir, Columbia
149 - #5 Sammy Sasso, Ohio State
157 - #HM Paddy Gallagher, Ohio State
165 - #6 Carson Kharchla, Ohio State
165 - #12 Joshua Ogunsanya, Columbia
174 - #6 Ethan Smith, Ohio State
184 - #4 Kaleb Romero, Ohio State
197 - #10 Gavin Hoffman, Ohio State
285 - #8 Tate Orndorff, Ohio State
Maryland at Pittsburgh, 7:00 PM
125 - #HM Braxton Brown, Maryland
133 - #8 Micky Phillippi, Pittsburgh
141 - #1 Cole Matthews, Pittsburgh
141 - #HM Kal Miller, Maryland
149 - #HM Ethen Miller, Maryland
157 - #10 Dazjon Casto, Pittsburgh
165 - #HM Holden Heller, Pittsburgh
184 - #HM Reece Heller, Pittsburgh
197 - #8 Jaxon Smith, Maryland
197 - #11 Nino Bonaccorsi, Pittsburgh
285 - #24 Jaron Smith, Maryland
Binghamton at North Dakota State, 8:00 PM
141 - #14 Dylan Droegemueller, ND State
157 - #6 Jared Franek, ND State
165 - #21 Michael Caliendo, ND State
184 - #HM Jacob Nolan, Binghamton
184 - #HM Deanthony Parker, ND State
197 - #13 Lou Deprez, Binghamton
197 - #21 Owen Pentz, ND State
285 - #HM Juan Mora, ND State
Little Rock at Oklahoma, 8:00 PM
125 - #16 Joey Prata, Oklahoma
141 - #HM Mosha Schwartz, Oklahoma
149 - #19 Mitch Moore, Oklahoma
157 - #HM Jacob Butler, Oklahoma
165 - #14 Gerrit Nijenhuis, Oklahoma
174 - #13 Darrien Roberts, Oklahoma
174 - #HM Triston Wills, Little Rock
285 - #20 Josh Heindselman, Oklahoma
Wyoming at Oklahoma State, 8:00 PM
125 - #11 Trevor Mastrogiovanni, Oklahoma State
133 - #2 Daton Fix, Oklahoma State
141 - #18 Carter Young, Oklahoma State
149 - #HM Victor Voinovich, Oklahoma State
157 - #11 Jacob Wright, Wyoming
157 - #13 Kaden Gfeller, Oklahoma State
165 - #17 Wyatt Sheets, Oklahoma State
165 - #HM Cole Moody, Wyoming
174 - #4 Dustin Plott, Oklahoma State
174 - #16 Hayden Hastings, Wyoming
184 - #12 Travis Wittlake, Oklahoma State
197 - #3 Stephen Buchanan, Wyoming
197 - #23 Luke Surber, Oklahoma State
285 - #HM Konner Doucet, Oklahoma State
Augustana at South Dakota State, 8:00 PM
141 - #5 Clay Carlson, SD State
165 - #23 Tanner Cook, SD State
174 - #12 Cade DeVos, SD State
184 - #HM Cade King, SD State
197 - #16 Tanner Sloan, SD State
285 - #14 AJ Nevills, SD State
Buffalo vs. Iowa at Armbar At The Armory, 8:30 PM
125 - #1 Spencer Lee, Iowa
125 - #HM Tristan Daugherty, Buffalo
133 - #11 Brody Teske, Iowa
141 - #2 Real Woods, Iowa
149 - #6 Max Murin, Iowa
157 - #20 Michael Petite, Buffalo
165 - #15 Patrick Kennedy, Iowa
174 - #19 Nelson Brands, Iowa
174 - #HM Jay Nivison, Buffalo
184 - #10 Abe Assad, Iowa
197 - #2 Jacob Warner, Iowa
285 - #4 Tony Cassioppi, Iowa
Illinois vs. NC State at Armbar At The Armory, 8:30 PM
125 - #21 Justin Cardani, Illinois
133 - #5 Lucas Byrd, Illinois
133 - #19 Kai Orine, NC State
141 - #8 Ryan Jack, NC State
149 - #HM Kevon Davenport, Illinois
157 - #7 Ed Scott, NC State
165 - #13 Dan Braunagel, Illinois
174 - #8 Edmond Ruth, Illinois
184 - #3 Trent Hidlay, NC State
197 - #9 Zac Braunagel, Illinois
197 - #18 Isaac Trumble, NC State
285 - #19 Owen Trephan, NC State
Utah Valley at California Baptist, 10:00 PM
125 - #23 Eli Griffin, California Baptist
133 - #14 Hunter Leake, California Baptist
133 - #23 Haiden Drury, Utah Valley
141 - #20 Ty Smith, Utah Valley
149 - #HM Isaiah Delgado, Utah Valley
174 - #7 Demetrius Romero, Utah Valley
184 - #HM Jacob Armstrong, Utah Valley
197 - #HM Evan Bockman, Utah Valley
Saturday, November 19
Life Open, 9:00 AM
125 - #HM Jack Wagner, North Carolina
133 - #HM Joey Melendez, North Carolina
133 - #HM Dominic Zaccone, Campbell
141 - #HM Lachlan McNeil, North Carolina
149 - #12 Zachary Sherman, North Carolina
157 - #8 Austin O'Connor, North Carolina
174 - #5 Clay Lautt, North Carolina
174 - #HM Austin Murphy, Campbell
184 - #14 Gavin Kane, North Carolina
184 - #21 Caleb Hopkins, Campbell
197 - #HM Max Shaw, North Carolina
285 - #18 Taye Ghadiali, Campbell
Shorty Hitchcock Memorial Open, 9:30 AM
133 - #HM Pat Phillips, Franklin & Marshall
285 - #HM Vincenzo Pelusi, Franklin & Marshall
Lindenwood Open, 10:00 AM
125 - #14 Noah Surtin, Missouri
133 - #HM Connor Brown, Missouri
141 - #6 Allan Hart, Missouri
149 - #8 Brock Mauller, Missouri
157 - #15 Jarrett Jacques, Missouri
165 - #1 Keegan O'Toole, Missouri
174 - #9 Peyton Mocco, Missouri
174 - #HM Triston Wills, Little Rock
184 - #22 Colton Hawks, Missouri
197 - #4 Rocky Elam, Missouri
285 - #7 Zach Elam, Missouri
285 - #HM Colton McKiernan, SIUE
Navy Classic, 10:00 AM
125 - #15 Anthony Noto, Lock Haven
125 - #18 Jake Ferri, Kent State
125 - #HM Liam Cronin, Nebraska
125 - #HM Tristan Lujan, Michigan State
133 - #9 Rayvon Foley, Michigan State
133 - #17 Cody Phippen, Air Force
133 - #HM Gable Strickland, Lock Haven
141 - #17 Darren Miller, Bucknell
141 - #24 Brock Hardy, Nebraska
141 - #HM Josh Koderhandt, Navy
149 - #16 Dylan Martinez, Air Force
149 - #23 Kody Komara, Kent State
149 - #HM Alec Hagan, Ohio
157 - #3 Peyton Robb, Nebraska
157 - #16 Andrew Cerniglia, Navy
157 - #18 Chase Saldate, Michigan State
157 - #22 Peyten Kellar, Ohio
157 - #HM Nick Delp, Bucknell
165 - #HM Caleb Fish, Michigan State
165 - #HM Enrique Munguia, Kent State
165 - #HM Jordan Slivka, Ohio
174 - #3 Mikey Labriola, Nebraska
174 - #24 Sam Wolf, Air Force
184 - #15 Layne Malczewski, Michigan State
184 - #23 David Key, Navy
197 - #14 Cameron Caffey, Michigan State
197 - #19 Silas Alred, Nebraska
197 - #HM Jacob Koser, Navy
285 - #9 Wyatt Hendrickson, Air Force
285 - #11 Isaac Reid, Lock Haven
285 - #16 Grady Griess, Navy
Wisconsin at Cornell, 1:00 PM
#5 Cornell vs #10 Wisconsin Preview & Predictions
125 - #6 Eric Barnett, Wisconsin
133 - #3 Vito Arujau, Cornell
133 - #16 Taylor LaMont, Wisconsin
141 - #12 Joseph Zargo, Wisconsin
141 - #HM Vince Cornella, Cornell
149 - #1 Yianni Diakomihalis, Cornell
149 - #4 Austin Gomez, Wisconsin
157 - #17 Garrett Model, Wisconsin
157 - #HM Colton Yapoujian, Cornell
165 - #5 Dean Hamiti, Wisconsin
165 - #10 Julian Ramirez, Cornell
174 - #23 Chris Foca, Cornell
174 - #HM James Rowley, Wisconsin
184 - #7 Jonathan Loew, Cornell
197 - #HM Jacob Cardenas, Cornell
197 - #HM Braxton Amos, Wisconsin
285 - #10 Lewis Fernandes, Cornell
285 - #13 Trent Hillger, Wisconsin
Rutgers at Stanford, 5:00 PM
125 - #17 Dylan Shawver, Rutgers
133 - #20 Joe Heilmann, Rutgers
141 - #21 Sammy Alvarez, Rutgers
149 - #17 Jaden Abas, Stanford
149 - #HM Anthony White, Rutgers
157 - #21 Daniel Cardenas, Stanford
157 - #HM Andrew Clark, Rutgers
165 - #2 Shane Griffith, Stanford
174 - #15 Tyler Eischens, Stanford
174 - #HM Jackson Turley, Rutgers
184 - #16 Brian Soldano, Rutgers
285 - #HM Boone McDermott, Rutgers
Lehigh at Pittsburgh, 7:00 PM
125 - #24 Carter Bailey, Lehigh
133 - #8 Micky Phillippi, Pittsburgh
133 - #HM Connor McGonagle, Lehigh
141 - #1 Cole Matthews, Pittsburgh
149 - #HM Manzona Bryant, Lehigh
157 - #9 Josh Humphreys, Lehigh
157 - #10 Dazjon Casto, Pittsburgh
165 - #18 Brian Meyer, Lehigh
165 - #HM Holden Heller, Pittsburgh
174 - #HM Jake Logan, Lehigh
184 - #13 Tate Samuelson, Lehigh
184 - #HM Reece Heller, Pittsburgh
197 - #6 Michael Beard, Lehigh
197 - #11 Nino Bonaccorsi, Pittsburgh
285 - #HM Nathan Taylor, Lehigh
Sunday, November 20
Chattanooga vs. Northern Illinois, 9:00 AM
125 - #HM Blake West, Northern Illinois
133 - #HM Brayden Palmer, Chattanooga
149 - #HM Noah Castillo, Chattanooga
165 - #9 Izzak Olejnik, Northern Illinois
174 - #17 Rocky Jordan, Chattanooga
184 - #19 Matthew Waddell, Chattanooga
Cleveland State at Purdue, 9:00 AM
125 - #8 Matt Ramos, Purdue
141 - #22 Parker Filius, Purdue
157 - #14 Kendall Coleman, Purdue
157 - #HM Marcus Robinson, Cleveland State
184 - #HM Ben Vanadia, Purdue
197 - #12 Thomas Penola, Purdue
Keystone Classic, 9:30 AM
125 - #5 Brandon Courtney, Arizona State
125 - #19 Caleb Smith, App State
125 - #20 Ryan Miller, Penn
125 - #HM Eddie Ventresca, Virginia Tech
133 - #4 Michael McGee, Arizona State
133 - #10 Michael Colaiocco, Penn
133 - #12 Sam Latona, Virginia Tech
133 - #18 Sean Carter, App State
133 - #24 Richie Koehler, Rider
133 - #HM Pat Phillips, Franklin & Marshall
141 - #15 Tom Crook, Virginia Tech
141 - #HM Jesse Vasquez, Arizona State
141 - #HM McKenzie Bell, Rider
149 - #2 Jonathan Millner, App State
149 - #3 Kyle Parco, Arizona State
149 - #9 Caleb Henson, Virginia Tech
149 - #13 Quinn Kinner, Rider
149 - #15 Doug Zapf, Penn
157 - #4 Bryce Andonian, Virginia Tech
157 - #12 Anthony Artalona, Penn
157 - #HM Cody Bond, App State
165 - #19 Tony Negron, Arizona State
165 - #20 Lucas Revano, Penn
165 - #22 Connor Brady, Virginia Tech
165 - #24 William Formato, App State
165 - #HM Evan Barczak, Drexel
174 - #2 Mekhi Lewis, Virginia Tech
174 - #10 Michael O'Malley, Drexel
174 - #14 Philip Conigliaro, Harvard
174 - #HM Nick Incontrera, Penn
184 - #9 Hunter Bolen, Virginia Tech
184 - #20 Anthony Montalvo, Arizona State
197 - #15 Kordell Norfleet, Arizona State
197 - #17 Ethan Laird, Rider
197 - #HM Cole Urbas, Penn
197 - #HM Andy Smith, Virginia Tech
285 - #1 Cohlton Schultz, Arizona State
285 - #5 Yaraslau Slavikouski, Harvard
285 - #15 Hunter Catka, Virginia Tech
285 - #22 Ben Goldin, Penn
285 - #HM Vincenzo Pelusi, Franklin & Marshall
285 - #HM Jonah Niesenbaum, Duke
Black Knight Invite, 10:00 AM
125 - #22 Ethan Berginc, Army
125 - #HM Tristan Daugherty, Buffalo
133 - #1 Roman Bravo-Young, Penn State
133 - #HM Dominic Zaccone, Campbell
141 - #10 Beau Bartlett, Penn State
141 - #23 Cayden Rooks, Indiana
149 - #18 Johnny Lovett, Central Michigan
149 - #HM Graham Rooks, Indiana
157 - #20 Michael Petite, Buffalo
157 - #HM Terrell Barraclough, Penn State
165 - #HM Alex Facundo, Penn State
174 - #1 Carter Starocci, Penn State
174 - #18 Donnell Washington, Indiana
174 - #21 Benjamin Pasiuk, Army
174 - #HM Jay Nivison, Buffalo
174 - #HM Austin Murphy, Campbell
184 - #1 Aaron Brooks, Penn State
184 - #21 Caleb Hopkins, Campbell
184 - #HM Jacob Ferreira, Hofstra
197 - #1 Max Dean, Penn State
197 - #HM Trey Rogers, Hofstra
285 - #2 Greg Kerkvliet, Penn State
285 - #18 Taye Ghadiali, Campbell
285 - #23 Zachary Knighton-Ward, Hofstra
285 - #HM Jacob Bullock, Indiana
Daktronics Open, 10:00 AM
133 - #22 Kyle Biscoglia, UNI
141 - #5 Clay Carlson, SD State
141 - #14 Dylan Droegemueller, ND State
141 - #19 Cael Happel, UNI
149 - #11 Colin Realbuto, UNI
157 - #6 Jared Franek, ND State
157 - #19 Derek Holschlag, UNI
165 - #11 Austin Yant, UNI
165 - #21 Michael Caliendo, ND State
165 - #23 Tanner Cook, SD State
174 - #11 Lance Runyon, UNI
174 - #12 Cade DeVos, SD State
184 - #2 Parker Keckeisen, UNI
184 - #HM Cade King, SD State
184 - #HM Deanthony Parker, ND State
197 - #16 Tanner Sloan, SD State
197 - #21 Owen Pentz, ND State
285 - #14 AJ Nevills, SD State
285 - #21 Tyrell Gordon, UNI
285 - #HM Juan Mora, ND State
Chattanooga vs. Cleveland State, 10:30 AM
133 - #HM Brayden Palmer, Chattanooga
149 - #HM Noah Castillo, Chattanooga
157 - #HM Marcus Robinson, Cleveland State
174 - #17 Rocky Jordan, Chattanooga
184 - #19 Matthew Waddell, Chattanooga
Northern Illinois at Purdue, 10:30 AM
125 - #8 Matt Ramos, Purdue
125 - #HM Blake West, Northern Illinois
141 - #22 Parker Filius, Purdue
157 - #14 Kendall Coleman, Purdue
165 - #9 Izzak Olejnik, Northern Illinois
184 - #HM Ben Vanadia, Purdue
197 - #12 Thomas Penola, Purdue
Roadrunner Open, 12:00 PM
125 - #9 Brandon Kaylor, Oregon State
125 - #13 Antonio Lorenzo, Cal Poly
125 - #17 Dylan Shawver, Rutgers
125 - #23 Eli Griffin, California Baptist
133 - #14 Hunter Leake, California Baptist
133 - #20 Joe Heilmann, Rutgers
133 - #21 Chance Rich, CSU-Bakersfield
133 - #23 Haiden Drury, Utah Valley
133 - #HM Ethan Rotondo, Cal Poly
141 - #20 Ty Smith, Utah Valley
141 - #21 Sammy Alvarez, Rutgers
141 - #HM Cleveland Belton, Oregon State
149 - #14 Dom Demas, Cal Poly
149 - #17 Jaden Abas, Stanford
149 - #HM Anthony White, Rutgers
149 - #HM Isaiah Delgado, Utah Valley
157 - #21 Daniel Cardenas, Stanford
157 - #HM Andrew Clark, Rutgers
165 - #2 Shane Griffith, Stanford
165 - #16 Matthew Olguin, Oregon State
174 - #7 Demetrius Romero, Utah Valley
174 - #15 Tyler Eischens, Stanford
174 - #HM Aaron Olmos, Oregon State
174 - #HM Jackson Turley, Rutgers
184 - #6 Trey Munoz, Oregon State
184 - #16 Brian Soldano, Rutgers
184 - #18 Adam Kemp, Cal Poly
184 - #HM Jacob Armstrong, Utah Valley
197 - #5 Bernie Truax, Cal Poly
197 - #HM Evan Bockman, Utah Valley
285 - #HM Boone McDermott, Rutgers
Ohio State at North Carolina, 12:00 PM
125 - #10 Malik Heinselman, Ohio State
125 - #HM Jack Wagner, North Carolina
133 - #13 Jesse Mendez, Ohio State
133 - #HM Joey Melendez, North Carolina
141 - #9 Dylan D'Emilio, Ohio State
141 - #HM Lachlan McNeil, North Carolina
149 - #5 Sammy Sasso, Ohio State
149 - #12 Zachary Sherman, North Carolina
157 - #8 Austin O'Connor, North Carolina
157 - #HM Paddy Gallagher, Ohio State
165 - #6 Carson Kharchla, Ohio State
174 - #5 Clay Lautt, North Carolina
174 - #6 Ethan Smith, Ohio State
184 - #4 Kaleb Romero, Ohio State
184 - #14 Gavin Kane, North Carolina
197 - #10 Gavin Hoffman, Ohio State
197 - #HM Max Shaw, North Carolina
285 - #8 Tate Orndorff, Ohio State
Chattanooga at Purdue, 12:00 PM
125 - #8 Matt Ramos, Purdue
133 - #HM Brayden Palmer, Chattanooga
141 - #22 Parker Filius, Purdue
149 - #HM Noah Castillo, Chattanooga
157 - #14 Kendall Coleman, Purdue
174 - #17 Rocky Jordan, Chattanooga
184 - #19 Matthew Waddell, Chattanooga
184 - #HM Ben Vanadia, Purdue
197 - #12 Thomas Penola, Purdue
Cleveland State vs. Northern Illinois, 12:00 PM
125 - #HM Blake West, Northern Illinois
157 - #HM Marcus Robinson, Cleveland State
165 - #9 Izzak Olejnik, Northern Illinois
Columbia at Michigan, 2:00 PM
133 - #6 Dylan Ragusin, Michigan
141 - #13 Cole Mattin, Michigan
141 - #16 Matt Kazimir, Columbia
149 - #24 Chance Lamer, Michigan
157 - #2 Will Lewan, Michigan
165 - #4 Cameron Amine, Michigan
165 - #12 Joshua Ogunsanya, Columbia
184 - #11 Matt Finesilver, Michigan
285 - #3 Mason Parris, Michigan
Binghamton at Minnesota, 2:00 PM
125 - #3 Patrick McKee, Minnesota
133 - #HM Aaron Nagao, Minnesota
141 - #3 Jakob Bergeland, Minnesota
149 - #20 Michael Blockhus, Minnesota
157 - #5 Brayton Lee, Minnesota
165 - #HM Andrew Sparks, Minnesota
174 - #22 Bailee O'Reilly, Minnesota
184 - #8 Isaiah Salazar, Minnesota
184 - #HM Jacob Nolan, Binghamton
197 - #13 Lou Deprez, Binghamton
197 - #20 Garrett Joles, Minnesota
Iowa State vs. Grand View, 3:00 PM
125 - #12 Kysen Terukina, Iowa State
133 - #15 Zach Redding, Iowa State
141 - #11 Casey Swiderski, Iowa State
149 - #10 Paniro Johnson, Iowa State
165 - #3 David Carr, Iowa State
174 - #HM MJ Gaitan, Iowa State
184 - #5 Marcus Coleman, Iowa State
197 - #7 Yonger Bastida, Iowa State
285 - #12 Sam Schuyler, Iowa State
Edinboro vs. Northern Colorado, 5:00 PM
125 - #HM Stevo Poulin, N. Colorado
141 - #4 Andrew Alirez, N. Colorado
141 - #HM Gabe Willochell, Edinboro
157 - #23 Luke Kemerer, Edinboro
Glenville State at West Virginia, 5:00 PM
125 - #7 Killian Cardinale, West Virginia
149 - #21 Sam Hillegas, West Virginia
165 - #7 Peyton Hall, West Virginia
184 - #24 Anthony Carman, West Virginia
197 - #HM Austin Cooley, West Virginia
285 - #17 Michael Wolfgram, West Virginia
Edinboro at West Virginia, 6:30 PM
125 - #7 Killian Cardinale, West Virginia
141 - #HM Gabe Willochell, Edinboro
149 - #21 Sam Hillegas, West Virginia
157 - #23 Luke Kemerer, Edinboro
165 - #7 Peyton Hall, West Virginia
184 - #24 Anthony Carman, West Virginia
197 - #HM Austin Cooley, West Virginia
285 - #17 Michael Wolfgram, West Virginia
Northern Colorado vs. Glenville State, 6:30 PM
125 - #HM Stevo Poulin, N. Colorado
141 - #4 Andrew Alirez, N. Colorado
Northwestern at Virginia, 7:30 PM
125 - #4 Michael DeAugustino, Northwestern
133 - #7 Chris Cannon, Northwestern
141 - #7 Frankie Tal Shahar, Northwestern
149 - #7 Yahya Thomas, Northwestern
149 - #22 Jarod Verkleeren, Virginia
157 - #24 Jake Keating, Virginia
157 - #HM Trevor Chumbley, Northwestern
165 - #8 Justin McCoy, Virginia
174 - #20 Troy Fisher, Northwestern
184 - #HM Neil Antrassian, Virginia
197 - #24 Andrew Davison, Northwestern
285 - #6 Lucas Davison, Northwestern
Edinboro vs. Glenville State, 8:00 PM
141 - #HM Gabe Willochell, Edinboro
157 - #23 Luke Kemerer, Edinboro
Northern Colorado at West Virginia, 8:00 PM
125 - #7 Killian Cardinale, West Virginia
125 - #HM Stevo Poulin, N. Colorado
141 - #4 Andrew Alirez, N. Colorado
149 - #21 Sam Hillegas, West Virginia
165 - #7 Peyton Hall, West Virginia
184 - #24 Anthony Carman, West Virginia
197 - #HM Austin Cooley, West Virginia
285 - #17 Michael Wolfgram, West Virginia