2022 U23 World Championship
USA's U23 Men's Freestyle Team And Their Biggest Challengers
USA's U23 Men's Freestyle Team And Their Biggest Challengers
A breakdown of the 2022 USA U23 Men's Freestyle team and their toughest international competitors at the World Championships.
Oct 13, 2022
by Andrew Spey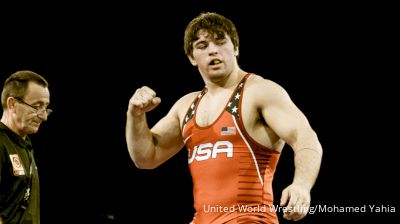 Unlock this video, live events, and more with a subscription!
Get Started
Already a subscriber? Log In
Team USA is bringing a very experienced men's freestyle squad to the U23 World Championships in Pontevedra, Spain. Every team member is a medal threat, but they'll have plenty of international challengers. Below is a breakdown of the toughest competitors we're expecting to see at each weight class.
Weight classes are the same for U23s as they are for the senior level. The expected lineups submitted by each country can be found here. International Men's Freestyle Rankings can be found here.
57kg: Vito Arujau, USA
Cornell's two-time All-American Vito Arujau will look to add to his U17 and U20 world silvers (from 2016 and 2019 respectively). The Long Island native was runnerup on the national team, (i.e. back up to the senior world team member) in 2021 and 2022. Arujau is currently ranked #3 nationally at 133-pounds in the NCAA.
Challengers
#15 Horst Lehr, GER - Lehr had climbed as high as #8 in the rankings before the most recent world championships, thanks to a 2021 World bronze medal and a win over Thomas Gilman. The Horse Slayer will be one of the favorites to win a U23 crown.
#16 Ahmad Javan, IRI - Javan beat Iran's 2021 World silver medalist and 2022 world teamer Alireza Sarlak at the most recent Takhti Cup, a prestigious Iranian tournament, but then lost to Sarlak in a rematch and failed to make the 2022 world team.
Tofig Aliyev, AZE - The Azeri youngster was second at the 2017 U17 Euros and third at the 2022 U23 Euros.
Toshiaya Abe, JPN - Here's the guy who beat Vito at the 2019 U20 World Championships. Abe was also Japan's rep at 57kg at the 2021 Senior World Championships, where he placed seventh.
Diamantino Iuna Fafe, GBS - One of Africa's rising stars, Iuna Fafe repped the West African nation Guinea-Bissau at the Tokyo Olympic Games and the last two senior World Championships.
61 kg: Aaron Nagao, USA
A surprise winner at the U23 World Team Trials (at least to some), Aaron Nagao beat the likes of Brody Teske, Dyan Shawver, and teammate Jake Gliva to earn his spot on Team USA. He'll look to prove his bona fides in Pontevedra.
Challengers
#5 Arsen Harutyunyan, ARM - One of the most accomplished wrestlers in the field, Harutyunyan won back-to-back bronze medals for Armenia at the 2021 and 2022 World Championships, his most recent medal coming by way of a 10-0 tech of Seth Gross in Belgrade last month.
Andrii Dzhelep, UKR -Though it occurred over four years ago, it's likely that Dzhelep is still thinking about getting revenge on Harutyunyan after the Ukrainian lost to him in the 2018 U20 Euro finals. Dzhelep (pronounced like peanut butter and Jellup), was U20 Euro runnerup in 2019 and a Euro runnerup in 2021.
Armin Habibzadeh, IRI - A U20 world silver medalist and U20 Asian champ in 2022.
Joey Silva, PUR - A blue-chip recruit from Lake Highland Prep in Central Florida, Silva was the Pan-Am runner-up in 2022 and also repped Puerto Rico at 61kg at the most recent world championship.
65 kg: Cole Matthews, USA
A three-time national qualifier who placed fifth at the NCAA Championship last March, Cole Matthews enters the season ranked #1 nationally at 141-pounds. He's got a busy month coming up, as he has a match with Iowa's #2 Real Woods at the NWCA All-Star Classic just a few weeks after U23 Worlds concludes.
Challengers
#5 Vazgen Tevanyan, ARM - Winner of the 2020 Individual World Cup (the pseudo World Championship that had limited participation due to covid), Tevanyan also beat Yianni Diakomihalis at the 2021 World Championship. Yianni would avenge that loss at the 2022 Worlds.
Khamzat Arsamerzouev, FRA - A U20 world bronze and Euro silver medalist.
Gamzatgadzsi Halidov, HUN - Like Ismail Musukaev, Halidov competes for Hungary but originally hails from the North Caucasus region of Russia.
Adlan Askarov, KAZ - Already a medalist at the U17, U20, and U23 level.
Sammy Alvarez, PUR - A stalwart on the Rutgers roster, Alvarez is entering his first major international tournament for Puerto Rico.
Hamzan Alaca ,TUR - Speaking of Rutgers wrestlers representing Puerto Rico, Alaca had a very competitive match with Sebastian Rivera at the 2022 Pellicone.
70 kg: Yahya Thomas, USA
Northwestern's Yahya Thomas has qualified for three NCAA tournaments, placing third in 2021 and falling one match shy of a second podium placement in 2022. He's shown proficiency in both folk and freestyle, as he also made the 2019 U20 world team.
Challengers
#2 Amir Yazdani, IRI - Iran also has Aliakbar Fazlikhalili registered, but the rumor is Amir Yazdani will get wrestle at U23s after he drew an Israeli opponent in the first round at the 2022 World Championships and then missed weight the next morning. In any event, if Baby Yaz is in Spain, he'll be one of the toughest wrestlers in any weight class, as evidenced by his 2021 world silver medal.
#16 Arman Andreasyan, ARM - Yet another young Armenian with senior-level experience, Andreasyan is a two-time fifth-placer at worlds.
Kanan Heybatov, AZE - A U20 world champ from this past August.
Syrbaz Talgat, KAZ - An Asian champ in 2021 and a bronze medalist in 2022, Talgat was outplaced in 2022 only by eventual world champ Narikuni of Japan and world bronze Akmataliev of Kyrgyzstan.
74 kg: David Carr, USA
Like Matthews, David Carr is also doubling up on participating at the U23 Worlds and the NWCA All-Star Classic. The two-time All-American and 2021 NCAA champ has a bout with Princeton's 2022 NCAA finalist Quincy Monday scheduled for November 22 in Austin, TX. Carr is also a 2016 U17 bronze medalist, and a U20 world champ from 2019.
Challengers
#15 Khadzhirmurad Gadzhiyev, AZE - This Azerbaijani has a history with Carr, having lost to the American at the 2019 U20 World Championships, later settling for a bronze medal. Gadzhiyev was a U20 gold medalist the year before that. Gadzhiyev has also medaled at several quality senior-level international tournaments since then, including the Yasar Dogu, the Henri Deglane, the Waclaw Ziolkowski, and the Matteo Pellicone.
Mohmmadsadegh Firouzpour, IRI - An Iranian with two age-level world medals, Firouzpour won a U20 bronze in 2019 and a U23 silver in 2021. He's also the younger brother to Iran's 92kg U23 world teamer, Amir Firouzpour.
Sagar Jaglan, IND - Jaglan got Dake-bombed in the 2022 World Championship quarters, then blanked by Iran's Emami in the bronze medal match. He had a better time at the 2022 U20 Worlds though, where he earned a bronze medal.
79 kg: Carter Starocci, USA
Penn State's two-time defending NCAA Champ is our third world teamer who will also participate in the NWCA All-Star Classic. Carter Starocci, who has three years of college eligibility remaining (and thus has the potential to be a five-time NCAA champ), is wrestling in his first major international freestyle tournament, though he did beat some very experienced Americans at the 2022 USA Senior World Team Trials, such as Alex Dieringer and David McFadden.
Challengers
Georgios Kougioumtsidis, GRE - A European champ at the senior and U23 levels in 2022, Kougioumtsidis represents the future of the resurgent Greek wrestling federation. He also placed eighth at the 2022 World Championships.
Arman Avagyan, ARM - Nothing but tough Armenian entries at this tournament. In 2021 Avagyan placed fifth at the senior world championships and won a bronze at U23 worlds in the same year.
Ashraf Ashirov, AZE - Lost to Kougioumtsidis in the 2022 Euro finals. Placed fifth at last year's U23 worlds.
Sobhan Yari, IRI - A U20 world champ from just a couple of months ago in Bulgaria.
Tony Negron, PUR - Former Penn State Nittany Lion, now Arizona State Sun Devil and competing internationally for Puerto Rico.
86 kg: Trent Hidlay, USA
Two-time NCAA All-American and 2021 finalist Trent Hidlay is an NCA State Wolfpacker by way of Lewistown, Pennsylvania. He's currently third in the NCAA rankings. Hoagie Hidlay also placed third at the 2019 U20 World Championships.
Challengers
Abubakr Abakarov, AZE - One of the most experienced U23 wrestlers, Abakarov has wrestled in (and medaled) just about every major international tournament you can name, with a bronze at the 2021 senior world championship representing his high water mark thus far.
Rakhim Magamadov, FRA - Part of a group of French wrestlers with Chechen roots, Magamadaov and his compatriots fled Russia with their families during the wars in Chechnya during the 90s and emigrated to France as refugees. There they grew up and developed their wrestling abilities in the French system. Magamadov has been the most successful of the bunch, at least for now, winning gold at the World and European U20 Championships in 2022.
Mukhammed Aliiev, UKR - Defeated Gholami of Iran in the 2021 U23 97kg World Championship finals.
Sajjad Gholami, IRI - Lost to Aliiev of Ukraine in the 2021 U23 97kg World Championship finals.
92 kg: Jacob Cardenas, USA
Part of the youth movement at Cornell, Jacob Cardenas joins his much lighter teammate Vito Arujau on the U23 team. The native New Jerseyan is currently ranked 22nd in the nation at 197-pounds and qualified for his first NCAA tournament last season.
Challengers
Amir Firouzpour IRI - A very accomplished wrestler at age-level championships, Firouzpour was a U20 world champ in both 2021 and 2022. He also won a gold medal at the 2022 Asian Championships and a bronze at the 2021 U23 Worlds. His countrymen Hasan Yazdani and Kamran Ghasempour have kept him off the Iranian senior world team.
Miriani Maisuradze, GEO - One of several 2022 senior world medalists, Maisuradze left Serbia with a bronze medal at 92kg.
Feyzullah Akturk, TUR - Though he left Belgrade empty-handed, Akturk snagged Euro senior and U23 gold this year.
97 kg: Tanner Sloan, USA
Can you guess many U20 men's freestyle world teamers from 2019 are reuniting for this 2022 U23 team? If you've been paying attention, you know the number is at least four (Vito, Yahya, Carr & Hidlay), and now Tanner Sloan makes five. Pretty cool! Sloan is a three-time NCAA qualifier for the Jackrabbits of South Dakota State and is currently ranked 14th in the NCAA at 197-pounds.
Challengers
Amirali Azarpira, IRI - Strong in every weight, Iran is sending the 2022 U23 champ back to the tournament in hopes that he claims another gold.
Radu Lefter, MDA - Experienced Moldovan Lefter will look for revenge after losing to Azarpira in the 2021 U23 finals.
125 kg: Tony Cassioppi, USA
The only returning member of the 2021 U23 world team is Anthony Cassioppi, however, Cassioppi made the most of his trip to Belgrade last summer, winning the heavyweight division in a loaded field. Big Tone is a two-time Pan-Am champ in both freestyle and Greco-Roman. He's also a three-time qualifier and two-time NCAA All-American, currently ranked fourth in the pre-season rankings. A classic triple threat!
Challengers
Amir Masoumi, IRI - Although Amir Zare represents a most formidable domestic roadblock, Iranian fans are very high on the potential of Masoumi, whose father was both an Olympian and a two-time world medalist for Iran. Maousmi the younger has a 2021 U17 and 2022 U20 gold medal to his name thus far. He soundly beat Nick Feldman and Jim Mullen respectively along the way to those titles.
Alisher Yergali, KAZ - Bumping up to heavyweight after showing proficiency and making the Olympics at 97kg for Kazakhstan, Yergali brings a plethora of experience to the tournament.
Team USA has only had three U23 gold medalists in history, Cassioppi, Bo Nickal (2019) and Richie Lewis (2017). Can the Stars and Stripes add to that total in Spain? Might they even add more than one for the first time ever? Let's all watch and find out!