2022 Senior World Championships
Women's Weekly: Amit Elor Makes History
Women's Weekly: Amit Elor Makes History
Lots of history was made at this year's Senior World Championships in Belgrade, and Amit Elor led the charge.
Sep 22, 2022
by Kyle Klingman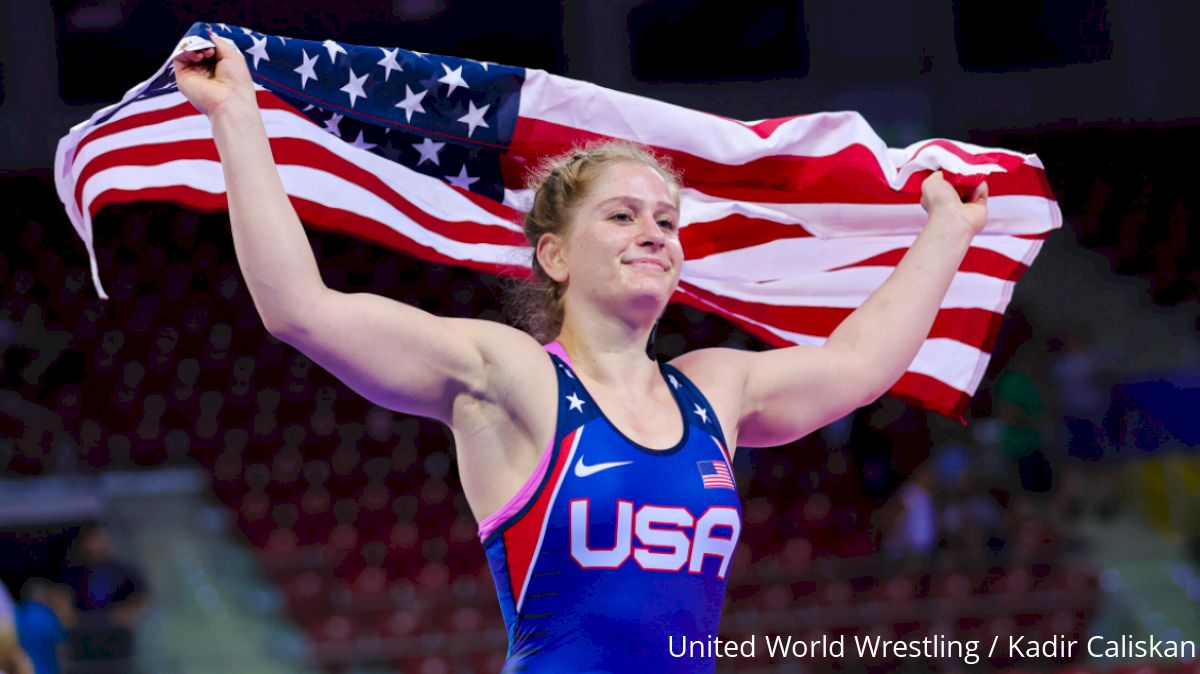 Three of four World Championships are complete following a historic performance by the U.S. women's freestyle team in Belgrade, Serbia. The team finished second behind Japan and crowned three individual World champions and won seven total medals.
Tamyra Mensah-Stock won her third World/Olympic title with an impressive gold medal run. She won four matches without surrendering a point, including a fall in the finals. Dom Parrish made her Senior-level World team debut and won the first international tournament of her career.
Amit Elor, 18, made became the youngest American to win a World title. Elor tore through the 72-kg division with four wins, including two technical superiorities and a fall. She won a U20 title earlier this year and will attempt to win her third gold medal of the season at the U23 World Championships. Elor's last loss came during the semifinals of the 2019 U17 World Championships.
Helen Maroulis added to her medal haul by earning silver at 57 kg. She currently has eight World/Olympic medals, including four gold, two silver, and two bronze.
Sarah Hildebrandt and Kayla Miracle have quite a collection of medals, too. Hildebrandt won bronze this year to go with her bronze at the 2020 Olympics and silvers at the 2018 and 2021 World Championships. Miracle has won medals at every level, including back-to-back silvers at the Senior Worlds.
Mallory Velte earned her way back to the podium after winning a bronze medal at 62 kg in 2018. She moved up to 65 kg and picked up another bronze this year.
The American women's freestyle teams have placed in the top four at every World Championship this year with the U23s to go.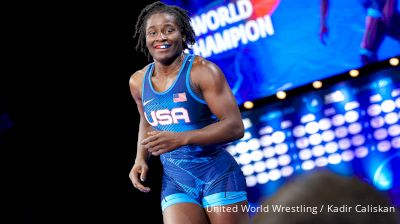 Watch highlights of Tamyra Mensah-Stock winning her third World/Olympic gold medal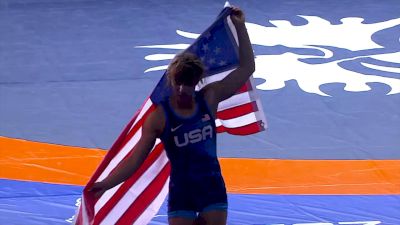 Dom Parrish made her first Senior-level World team and brought home a gold medal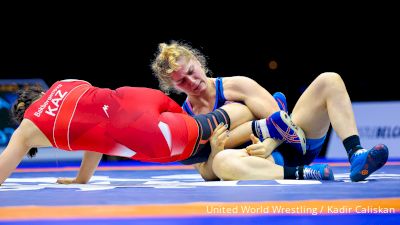 Amit Elor won the Senior World Championships at the age of 18
Senior World Championships
Team: 2nd
50 kg: Sarah Hildebrandt, BRONZE
53 kg: Dominique Parrish, GOLD
55 kg: Jacarra Winchester, FIFTH
57 kg: Helen Maroulis, SILVER
59 kg: Abby Nette
62 kg: Kayla Miracle, SILVER
65 kg: Mallory Velte, BRONZE
68 kg: Tamyra Mensah-Stock, GOLD
72 kg: Amit Elor, GOLD
76 kg: Dymond Guilford
U20 World Championships
Team: 3rd
50 kg: Audrey Jimenez, SILVER
53 kg: Katie Gomez, BRONZE
55 kg: Adriana Dorado Marin
57 kg: Sofia Macaluso, SILVER
59 kg: SaVannah Cosme
62 kg: Adaugo Nwachukwu, BRONZE
65 kg: Reese Larramendy, FIFTH
68 kg: Destiny Rodriguez
72 kg: Amit Elor, GOLD
76 kg: Tristan Kelly, BRONZE
U17 World Championships
Team: 4th
40 kg: Megan Valdez
43 kg: Erica Pastoriza, SILVER
46 kg: Gabriella Gomez, SILVER
49 kg: Audrey Jimenez
53 kg: Elena Ivaldi
57 kg: Shelby Moore, FIFTH
61 kg: Valerie Hamilton, SILVER
65 kg: Sydney Perry, FIFTH
69 kg: Jasmine Robinson
73 kg: Kaiulani Garcia, FIFTH
U23 World Team (October 17-23)
50 kg: Nyla Valencia
53 kg: Felicity Taylor
55 kg: Alisha Howk
57 kg: Alex Hedrick
59 kg: Lexie Basham
62 kg: Alex Liles
65 kg: Emma Bruntil
68 kg: Sienna Ramirez
72 kg: Amit Elor
76 kg: Dymond Guilford
World and Olympic champions from the United States
Tricia Saunders (1992, 1996, 1998, 1999)
Sandra Bacher (1999)
Kristie Davis (2000, 2003)
Iris Smith (2005)
Clarissa Chun (2008)
Elena Pirozhkova (2012)
Adeline Gray (2012, 2014, 2015, 2018, 2019, 2021)
Helen Maroulis (2015, 2016, 2017, 2021)
Jacarra Winchester (2019)
Tamyra Mensah Stock (2019, 2020, 2022)
Dom Parrish (2022)
Amit Elor (2022)
Is Simon Fraser Taking Over The World?
Simon Fraser University (located in Burnaby, British Columbia) had quite a performance at the Senior World Championships. Six alumni competed and all six were in medal matches. Here's a breakdown of how they performed in college and at this year's Worlds.
Justina Di Stasio (Canada)
2022 Worlds: fifth at 76 kg
College: 4-1-1-1 at WCWAs (2011-2014)
Ana Godinez (Canada)
2022 Worlds: fifth at 62kg
College: 1st at 2020 NCWWCs
Karla Godinez (Canada)
2022 Worlds: bronze at 55 kg
College: 1-1 at NCWWCs (2020 and 2022)
Helen Maroulis (USA)
2022 Worlds: silver at 57 kg
College: 1-1-1-1 at WCWAs (2010-11, 2013-14)
Note: Maroulis won her first title for Missouri Baptist
Dom Parrish
2022 Worlds: gold at 53 kg
College: 3-2-1-1 at WCWAs (2016-19)
Mallory Velte (USA)
2022 Worlds: bronze at 65 kg
College: 4-1-1-1 at WCWAs (2014, 2016-18)
Women's Spotlight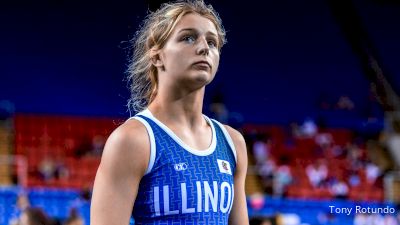 Aurora University freshman Lexi Janiak is a women's wrestling pioneer in Illinois. Learn more about how she helped blaze a trail that others are following.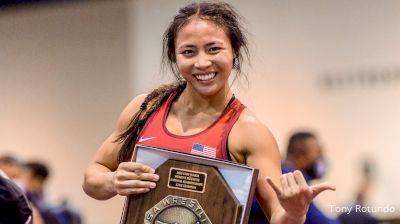 Tiare-Lynn Ikei won a Senior national title at the age of 17. Learn about her experience at the Elite Accelerator Program, how she deals with injuries, and her unique style.