2022 Senior World Championships
Team USA Men's Freestyle Updates At The 2022 World Championships
Team USA Men's Freestyle Updates At The 2022 World Championships
Updates on Team USA's men's freestyle wrestlers at the 2022 Senior World Championships.
Sep 18, 2022
by Andrew Spey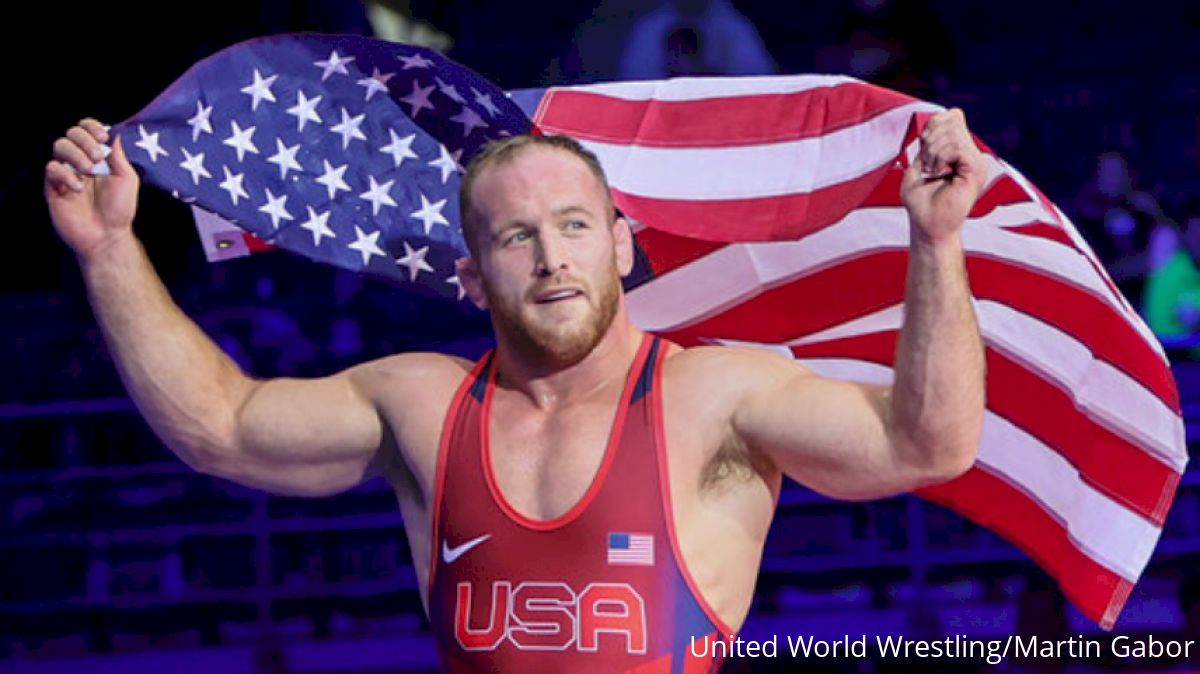 It's all about the team race: USA vs Iran! It's party time in Belgrade, let's go!
We'll recap the sessions in reverse chronological order, so the most recent session is the first thing you'll see, with older sessions appearing subsequently.
Day 4 Session 1
The first session of Day 4 of the men's freestyle tournament is also the last session of the entire event here in Belgrade. Hard to believe it'll all be over after three sets of medal matches, but that's what's happening!
The first piece of relevant news of the day was Seth Gross learning his bronze medal would be Harutyunyan of Armenia, who beat Dudaev, a Chechen wrestler for Albania 12-11 in the repechage.
Gross's bronze medal match would unfortunately not be as competitive, as Harutyunyan jumped out to an early lead and never let off the gas. Gross was unable to work a slide by from a two-on-one and never got an opportunity to work on top in par terre. Despite the 12-0 drubbing in his final match of the tournament, Gross registered a high-quality win over Atli of Turkey and pushed eventual champ, Rei Higuchi, to the limit.
Sebastian Rivera vs Bajrang Punia for bronze served as an appetizer for the gold medal main course. It was a highly entertaining bout with several lead changes, but ultimately Bajrang prevailed over Seabass 12-10.
The finals were also not without excitement but also ended in a downer. In an early flurry between Yianni Diakomihalis and Amouzad resulted in an 8-6 score in favor of the Cornellian. It was all Amouzad after that, however, as the Iranian turned up both his defense and offense, shutting out Yianni the rest of the way and adding enough points, courtesy of his vicious underhook, to win 13-8.
Kyle Snyder's final thought? That was a good finals match. Never in doubt, in fact I kind of doubted his opponent even wanted to be on the mat, Snyder dominated from start to finish. Tsakulov, a Slovakian by way of Russia, backed up for about 90% of the match. The other 10% of the time he was being takedown down or pushed out of bounds by Snyder, who won 6-0.
Also the Iranian 97 got pinned in the bronze medal match. Not gloating, just saying, the Iranian fans, for as great as they are, were also calling for passivity on every American all the time, even when it was patently absurd, like in Snyder's finals match. So I'm going to indulge in a small, harmless dose of pettiness.
Oh yeah, and the team title is still coming back to the US of A. Hell yeah.
And that's a wrap on Belgrade. Awesome job everyone. Including you wrestling fans, who are the most important people in this entire endeavor in my humble estimation. See you in Spain for the U23 Worlds!
Day 3 Session 2
Dake Wins Fourth Gold, Team USA Clinches Title
The semifinals went down more or less as expected. Gross put up seven points on Higuchi and had the 2022 Asian champ sweating it out until late in the match. It took Yianni less than a minute to tech Rivera, ending the American medal drought at 65/66 kilos, and Snyder got revenge over Mohammadian to secure his eighth straight world or Olympic medal, all before celebrating his 27th birthday.
Yianni's semifinal highlights: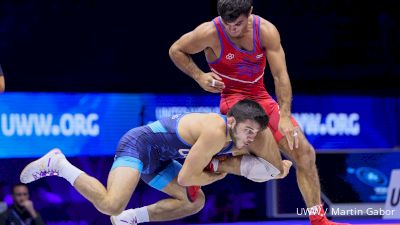 Also, Team USA clinched it's fourth World Championship Team Title. So that's cool. The other three titles came in 1993, 1995, and 2017.
Snyder's semifinal highlights: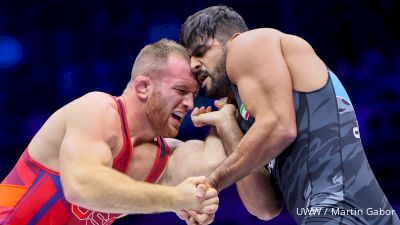 The US won one out of the three medal matches. Losing two out of three is never fun, but that's still a lot of hardware, and winning the team title certainly helped soothe some of the pains of defeat.
Also the win by Kyle Dake was sweet, as he added a fourth gold and fifth world or Olympic medal to his accolades. It wasn't the prettiest of wins but Salkazanov couldn't muster the offense necessary to beat Dake, who scored the only takedown of the bout. Kyle Dake, Jordan Burroughs and David Taylor all won gold for the first time in history. Which is pretty cool.
In the breaking news department, Dake announced he was moving to State College, PA and joining the NLWC as he pursues his quest for Olympic gold at the Paris Games. Which is kind of a big deal.
Yellow medals eluded Team USA at 57 and 92, unfortunately, as Thomas Gilman fell to Zelimkhan Abakarov, a former Russian wrestler of Chechen origin who now wrestles for Albania, and J'den Cox lost again to the indefatigable Kamran Ghasempour of Iran. Tomorrow, we put a bow on Belgrade and wrestle the final three sets of medal matches!
Day 3 Session 1
3 More Semifinalists Makes It 9 Out Of 10
Team USA continues it's insane hot streak going, winning all eight matches of the morning session of the penultimate day here in Belgrade. Yianni, Gross, and Snyder all stomped their way into the semifinals, guaranteeing they'll wrestle for medals.
Nine of 10 American men's freestyles made the semifinals. The team is a combined 33-2 going into the final two sessions of the competition.
Gross proved that winning Final X was no fluke, as he dominated his first two bouts, then beat 2018 & 2019 world medalist Suleyman Atli of Turkey 8-4 to punch his ticket to the semis.
Gross' quarterfinal highlights: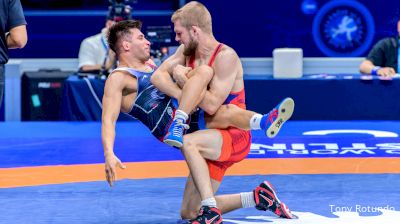 Also making a statement was Yianni Diakomihalis, who avenged his second-round loss from Oslo by beating Tevanyan of Armenia 4-0. A 10-0 tech over the aging but still dangerous two-time world medalist Dubov of Bulgaria (and revenge by proxy for Dan Dennis) set up a rematch with Bajrang Punia of India in the quarterfinals. Unlike their close bout at the 2019 Beat the Streets, this one was all Yianni. It was a 10-0 tech-fall, as Yianni shut down Bajrang's offense, scored four step-outs in the first and then pulled away in the second.
Yianni's quarterfinal highlights: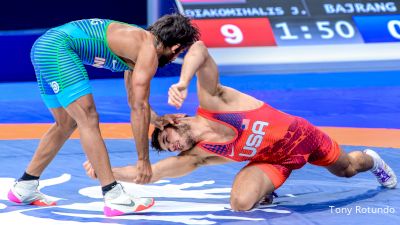 Unlock this video, live events, and more with a subscription!
Get Started
Already a subscriber? Log In
Captain America did Captain America things in his two bouts. A 4-1 win over Baranowski of Poland and a 10-0 tech over the tough but outmatched Magomedov of Azerbaijan.
The semis are set up as nicely. At 65kg we'll get an All-Amerian semifinal, as New York's Yianni takes on New Jersey's Sebastian Rivera who is wrestling for Puerto Rico. At 61kg, Seth Gross has the resurgent Rio silver medalists Rei Higuchi of Japan. Finally, Kyle Snyder has a shot at revenge with Mohammadian of Iran, who beat Kyle at the 2020 Matteo Pellicone.
Day 2 Session 2
Burroughs And Taylor Make History
We started the day with three finalists. How many more finalists would we add today? How about the magic number: 3. Thomas, Kyle, and J'den all won their semifinal matches. That very much kicks ass in this blogger's humble estimation.
Gilman had a tactical first period against Zou of China, but eventually wore him down and pulled away for an 8-2 win. That victory had the added benefit of eliminating Iran's Sarlak from medal contention, and guaranteed Iran would score zero team points at 57kg.
Gilman semifinal highlights: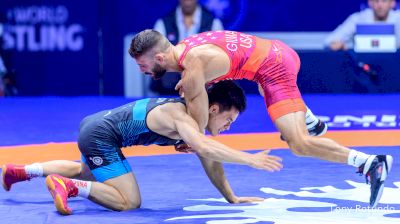 Dake decided to give everyone heart attacks in his 2-2 nailbiter over Emami of Iran. It was a weird match in a way Kyle's matches often are. Incredibly stingy defense punctuated by brief but furious explosions of action which often confound both fan and referee alike. It was a match with no takedowns, and Dake just enough to win. This was also obviously a big blow to Iran's team championship aspirations.
Dake's semifinal highlights: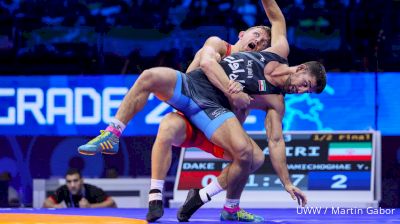 Unlock this video, live events, and more with a subscription!
Get Started
Already a subscriber? Log In
Finally, J'den Cox looked to be in peak form, gliding across the mat, denying his Azerbaijani opponent purchase on his legs and countering with the surprise of a conjurer. It was a dominant 7-0 win over a frustrated Nurmagomedov, who won a bronze medal at the 2021 World Championships.
Cox's semifinal highlights: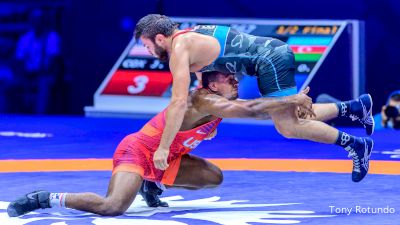 And that's how you guarantee three more medals for the final American tally.
In tomorrow's finals, Gilman will battle with an Albanian of Russian origin who defeated Micic in the semifinals. Dake will get a rematch with a Taimuraz Salkazanov, a Slovakian of Russian origin who Kyle defeated 7-3 in last year's 74kg World Championship finals in Oslo. Big Salk also beat Chamizo in the semifinals, just as he did in the 2022 Euro finals. Finally, J'den has a rematch with Ghasempour of Iran, who defeated Cox 3-3 on criteria in a nailbiter in Oslo.
And for the main event of the session, Team USA had three gold medal matches. Two of them made history.
First up, though, was Zain Retherford, who fell to Japan's Narikuni, who had perhaps the breakout performance of the tournament (we'll have to see what happens tomorrow). Narikuni got the first takedown and unfortunately Zain didn't get an opportunity for a rebuttal as Narikuni showed off some impressive par terre and laced Retherford four-times for the tech-fall.
That brought up Burroughs vs Nokhodi. It was the first of two consecutive USA vs Iran gold medal matches. Burroughs was also chasing John Smith's record of six world and Olympic golds and looking to cement his GOAT status. So, you know, no pressure.
Thankfully, JB knows a thing or two about performance under pressure. It was a tight bout, very similar to last year's final in Oslo. Burroughs scored the only takedown of the bout, and Nokhodi became Burroughs' fifth Iranian to lose to him in a world or Olympic final.
JB vs Nokhodi highlights: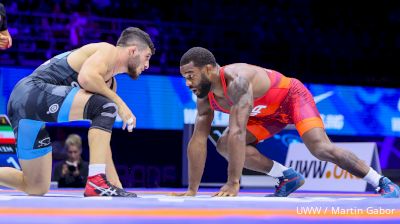 After that, it was time for David Taylor vs Hassan Yazdani part 5. The match lived up to the hype, at least if you're an American wrestling fan. For Iranians, well, there's always next year. David had the perfect game plan, shut down Yazdani's underhook and scrambled and reattacked his way to a 7-1 victory. Taylor's defense was equally brilliant. The DT vs Yaz rivalry is now a lopsides 4-1 in favor of David.
Highlights from DT vs Yaz Part V: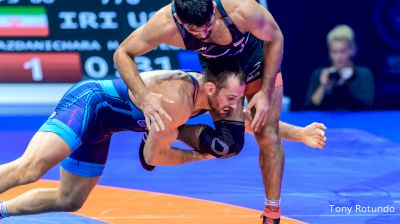 Overall just an extremely kick ass day. Not the easiest thing to put into words so I'll save some brain cells for tomorrow when Seth Gross, Yianni Diakomihalis, and Kyle Snyder take the mat!
Day 2 Session 1
Dake Bombs, J'den Rolls, And Gilman Thunders Into The Semis
Three more Americans start their tournaments, and all three understood the assignment (win). If you stayed up late or woke up early, you already know that Thomas Gilman, Kyle Dake, and J'den Cox all went combined 7-0 to make the semifinals. Considering they've all won world championships before, there's a good chance their records remain unblemished.
But that's to be determined next session. What has been determined is that Gilman romped over Australia and Mongolia (although the Mongolian is tough), Dake obliterated Kyrgyzstan and Monolgia and then murdered Jaglan of India with a quintessential Dake bomb, and Cox clean sheeted China and Poland 21-0 in total.
Gilman's quarterfinal highlights: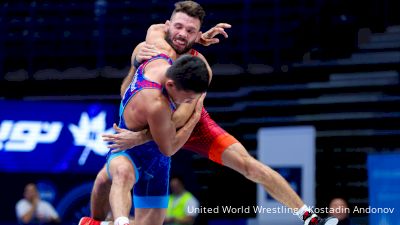 Unlock this video, live events, and more with a subscription!
Get Started
Already a subscriber? Log In
On the team race front, Iran put two in the semis, Emami at 74, who wrestles Dake, and Ghasempour, at 92, who wrestles Georgia next. Cox has Nurmagomedov of Azerbaijan. But at 57, Sarlak dropped a 6-2 bout to China, who Gilman wrestles next, giving Gilman an opportunity to eliminate Iran and ensure they score zero points at 57.
J'den's quarterfinal highlights: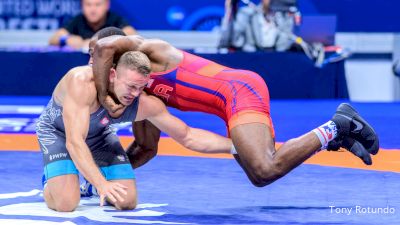 In other news, Stevan Micic made the semis, he has Abakarov of Albania. Darian Cruz fell to the Chinese wrestler who Gilman has in the semis, although Cruz did pick up a couple of nice wins in the prelims. Additionally, Mitch Finesilver and Malik Amine have been eliminated from the 74kg bracket.
Day 1 Session 2
JB, DT & Zain Power Into Finals
Team USA in three semifinal bouts and is looking for help in the fourth as we wrap up the first day of men's freestyle wrestling in Belgrade.
The good news is all three American semifinalists took care of business and made the finals. That's actually better than good news. That's kick ass news. That rules.
Unfortunately, we didn't get any help from Geno Petriashvili, who looked uncharacteristically sluggish in his 4-2 loss to Mongolia. Perhaps Hayden Zillmer tired him out? That has been suspected of happening in previous world championships, like when Metcalf lost to Taghavi in 2013. But I digress.
More importantly, the Zain Train rolled over the 2017 World Champ, Iakobishvili, 7-0. Retherford is unscored upon for the tournament. He'll take on Japan's Narikuni, who took out Kyrgyzstan's Akhmataliev in the semis in an 11-10 barnburner.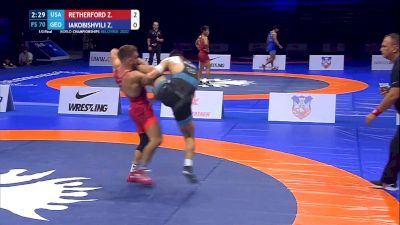 Burroughs had to beat both Umarpashaev and the mat official. Umarpashaev didn't seem to want to wrestle and preferred to just complain to the ref, who was happy to indulge him with several ridiculous caution and one penalty point calls. Thankfully, only one of them was upheld by the mat judge and chairperson, and JB steamrolled the Bulgarian 9-2. Burroughs gets a second consecutive world finals match with Nokhodi of Iran, who Jordan beat 5-1 last year in Oslo.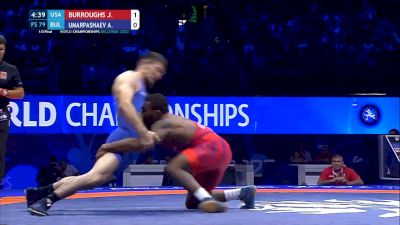 David Taylor obliterated his opponent from Kazakhstan 12-0. He's got Yazdani in the finals, and you all know the story with those two. Here's how both wrestlers got to the finals.
No one even comes close.

David Taylor 🇺🇸
Points Scored: 33
Points Allowed: 0

Hassan Yazdani 🇮🇷
Points Scored: 31
Points Allowed: 0

— FloWrestling (@FloWrestling) September 15, 2022
Not bad.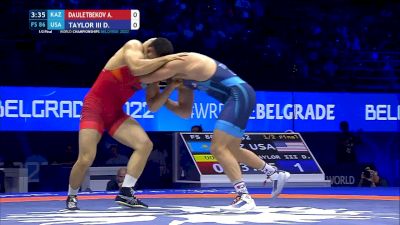 Finally, Zillmer is out, as mentioned, though he'll score 8 or 6 points as he's guaranteed 7th or 8th place (according to people who are crunching these numbers).
Thankfully, Amir Zare lost to Taha Akgul in the semis, so Iran will score 'only' between 10 and 15 at 125kg.
Gold is worth 25 team points and silver is worth 20, so 5 points will be traded at 79 and 86 when USA and Iran faceoff. At 70, Zain will score at least 20 more points than Iran, who gets zero from Amir Yazdani aka Baby Yaz.
Tomorrow, Gilman, Dake, & J'den take the mat at 57, 74 & 92kg hit the mat.
Day 1 Session 1
America Starts Hot, Goes 10-1
We start the men's freestyle tournament with some big guns, including one of USA Wrestling's most decorated competitors of all-time, Jordan Ernest Burroughs. Additionally, two of Penn State's most decorated student-athletes, David Taylor and Zain Retherford, take the mat. Finally, we can't forget the Jack Pine Savage, Hayden Zillmer, who has bulked up to heavyweight and made his first senior world team.
We all knew this tournament's team race was going to be a sprint to the finish between the USA and Iran, and that's already evident after one session. Each team put three wrestlers in the quarterfinals. The big difference at the moment is that Hayden Zillmer lost to Geno Petriashvili in the quarters but still has an extremely good chance of being brought back into the repechage and a very good chance of winning a bronze medal (imo). Whereas Iran will get zero points at 70kg.
The full story behind Amir Yazdani, who yesterday drew Israel's Josh Finesilver in the first round and subsequently missed weight this morning, will take too long to explain in this recap, but this Wikipedia page may be useful to anyone interested in learning more.
But getting back to the action on the mat, it was utter destruction for the three American semifinalists. They combined to outscore their opponents 74-2 while racking up six techs and one pin along the way.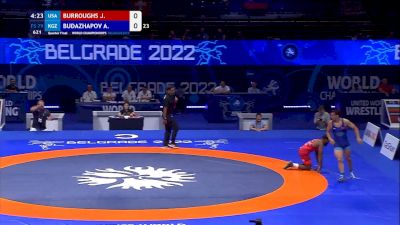 The semifinals will be battles for all of them. Zain has a 2017 world champ from Georiga, JB as the 2020 Yashar Dogu champ from Bulgaria, and DT has the 2022 Asian champ from Kazakhstan who just beat Myles Amine in the quarterfinals.
Results
57kg: Thomas Gilman - SILVER
Round of 16: 11-0 Tech-fall over Georgii Okorokov (AUS)
Quarterfinals: 5-1 Win over vs Zanabazar Zandanbud (MGL)
Semifinals: 8-2 Win over Wanhao Zou (CHN)
GOLD medal match: 7-2 Loss to Zelimkhan Abakarov (ALB)
61kg: Seth Gross - 5th
Round of 32: 13-2 Tech-fall over Andrii Dzhelep (UKR)
Round of 16: 7-0 Win over Eduard Grigorev (POL)
Quarterfinals: 10-4 Win over Suleyman Atli (TUR)
Semifinals: 14-7 Loss to Rei Higuichi (JPN)
BRONZE medal match: 12-0 Loss to Arsen Harutyunyan (ARM)
65kg: Yianni Diakomihalis - SILVER
Round of 32: 4-0 Win over Vazgen Tevanyan (ARM)
Round 16: 10-0 Tech-fall over Vladimir Dubov (BUL)
Quarterfinals: 10-0 Tech-fall over Bajrang Punia (IND)
Semifinals: 10-0 Tech-fall over Sebastian Rivera (PUR)
GOLD Medal Match: 13-8 Loss to vs Rahman Amouzad (IRI)
70kg: Zain Retherford - SILVER
Round of 32: 10-0 Tech-fall over Kevin Henkel (GER)
Round of 16: FALL over Marc Dietsche (SUI)
Quarterfinals: 5-0 Win over Arman Andreasyan (ARM)
Semifinals: 7-0 Win over Zurabi Iakobishvili (GEO)
GOLD medal match: 10-0 Loss to Taishi Narikuni (JPN)
74kg: Kyle Dake - GOLD
Round of 32: 10-0 Tech-fall over Islambek Orozbekov (KGZ)
Round of 16: 12-2 Tech-fall over Suldkhuu Olonbayar (MGL)
Quarterfinals: FALL over Sagar Jaglan (IND)
Semifinals: 2-2 Win over Yones Emami (IRI)
GOLD medal match: 3-1 Win over Tajmuraz Salkazanov (SVK)
79kg: Jordan Burroughs - GOLD
Round of 32: 11-1 Tech-fall over Sahergeldi Saparmyradov (TKM)
Round of 16: 12-1 Tech-fall over Dejan Mitrov (MKD)
Quarterfinals: 10-0 Tech-fall over Arsalan Budazhapov (KGZ)
Semifinals: 9-2 Win over Ali Umarpashaev (BUL)
GOLD medal match: 4-2 Win over Mohammad Nokhodi (IRI)
86kg: David Taylor - GOLD
Round of 16: 10-0 Tech-fall over Aron Caneva (ITA)
Quarterfinals: 11-0 Tech-fall over Ethan Ramos (PUR)
Semifinals: 10-0 Tech-fall over Azamat Dauletbekov (KAZ)
GOLD medal match: 7-1 Win over Hasan Yazdani (IRI)
92kg: J'den Cox - SILVER
Round of 16: 10-0 Tech-fall over Yuxiang Bi (CHN)
Quarterfinals: 11-0 Tech-fall over Radoslaw Marcinkiewicz (POL)
Semifinals: 7-0 Win over Osman Nurmagomedov (AZE)
GOLD medal match: 2-0 Loss to Ghasempour (IRI)
97kg: Kyle Snyder - Wrestling for GOLD
Round of 16: 4-1 Win over Zbigniew Baranowski (POL)
Quarterfinals: 10-0 Tech-fall over Magomedkhan Magomedov (AZE)
Semifinals: 4-1 Win over Mohammad Mohammadian (IRI)
GOLD medal match: vs Batyrbek Tsakulov (SVK)
125kg: Hayden Zillmer - 7th
Round of 32: 15-4 Tech-fall over Zyyamuhammet Saparov (TKM)
Round of 16: 3-2 Win over Robert Baran (POL)
Quarterfinals: 9-4 Loss to Geno Petriashvili (GEO)