2022 Senior World Championships
Team USA Women's Updates At The 2022 World Championships
Team USA Women's Updates At The 2022 World Championships
Updates on Team USA's Women's wrestlers at the 2022 Senior World Championships
Sep 14, 2022
by Andrew Spey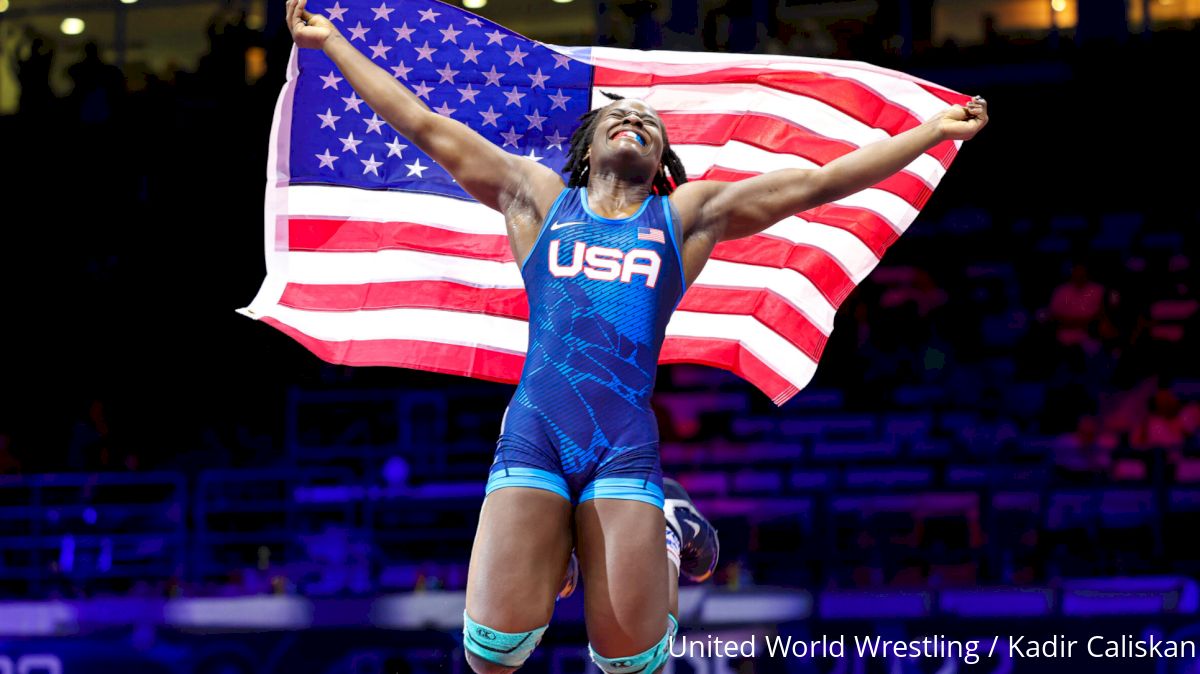 The American women continue to make strides on the senior level. Belgrade will be another opportunity to make a statement on the world stage.
We'll recap the sessions in reverse chronological order, so the most recent session is the first thing you'll see, with older sessions appearing subsequently.
Day 4 Session 1
Golden Finish For Tamyra & Amit - Team USA Takes 2nd
It's the second session of the day, but the only women's matches left to wrestle in Belgrade are the ones with gold and bronze medals on the line. The US has three women's looking to claim world titles.
First up is Helen, who unfortunately loses a tight, tactical 3-0 match to Sakurai of Japan. Sakurai had Helen's footsweeps scouted and whenever Maroulis would go for one, Sakurai would drop down on a leg, getting multiple stalemates. Sakurai managed an activity clock point in the first and two more in second period thanks to a slide-by and that was two more than she needed thanks to her stingy defense. Helen still claims her eighth world or Olympic medal and remains the GOAT of American female wrestlers.
No doubt about the second gold medal match for Team USA. Tamyra absolutely brutalized Ishii of Japan. A blast double that should have been four was called two about a minute into the match. That was followed by a go behind counter that turned into a suck back which planted Ishii on her back. A few seconds later, Tamyra Mensah-Stock secured there third world or Olympic gold medal via pinfall. It was a very enjoyable match to watch.
And the entire women's tournament concludes with Amit Elor's gold medal match against Kazakhstan. Elor wasn't going to let us bask in the moment any longer than she had to, as she got a takedown and four leg lace turns to end the match half way through the first period. And that's how you wrap up a World Championship!
Elor is still 18 years-old by the way.
Team USA finished in second place, 37 points behind the buzzsaw that is Japan but a whopping 73 points ahead of third-place China. Japan 190, USA 157, China 85, Mongolia 74, Ukraine 68 were the top five finishes that also earn bids to the 2022 Women's World Cup in Iowa City this December. Should be a blast, hope to see you there!
Day 3 Session 2
Nearly Perfect: Three Finalists And Three Medalists
Team USA started this session with three women in the semifinals and one in the finals. Halfway through the session they now have four women in the finals.
More brilliant foot sweep action from Helen Maroulis as she pins her way into the finals. Tamyra Mensah-Stock followed it up with a 10-0 demolition of the 2021 World Champ at 2021. Amit Elor injected a little more drama to the session, stopping a rally by her Japanese opponent and holding on to win 3-2.
Semifinal highlights from Tamyra: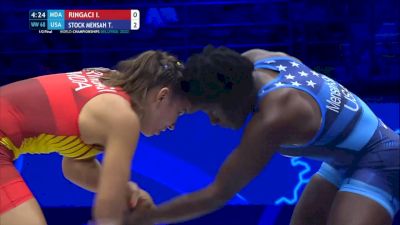 Additionally, Abby Nette was pulled back into the repechage as Grace Bullen became Norway's first finalist in 20-some years.
The hits kept coming in the medal matches. Unfortunately one of those hits was Sarah Hildebrandt hitting the mat after getting choked unconscious by an illegal move. Fortunately, Sarah is a total bad ass and recovered quickly. She then continued administering a beat down until the match was stopped due to the scoreboard reading 10-0 in Hildebrandt's favor.
Sarah's bronze medal highlights: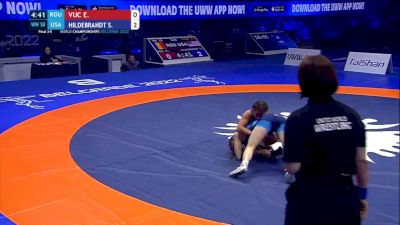 Dom Parrish was next. This being her first world team ever, Parrish figured she may as well make the most of it and decided to go out and win the whole dang tournament. Her Mongolian opponent, Khulan Batkhuyag, whose name means Wild Donkey Strong Armour, gave Dom all she could handle, but Parrish would not be denied, winning 4-2 *finger guns* pyew pyew!
Dom's gold medal highlights: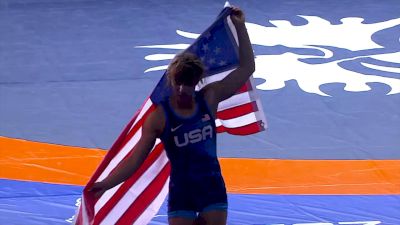 Finally, Mallory Velte capped off a perfect session for the Americans by dominating a physical bout with her Bulgarian foe. Bronze for Mal Pal!
Mallory's bronze medal highlights: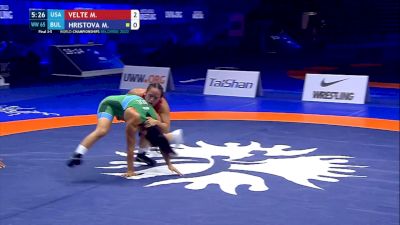 Tomorrow, Team USA tries to win four more medal, with up to three being potential golds. Japan has all but wrapped up the team title, and USA has essentially cinched up second, but the next four spots are all up for grabs, so the field for the upcoming World Cup in Iowa City this December is to be determined.
Day 3 Session 1
Maroulis, Mensah-Stock & Elor Punch Tickets To Semifinals
The final four women for Team USA started their quest four gold in Belgrade. Three are well on their way, as Helen, Tamyra and Amit all dominated their first two matches of the tournament. In fact, those three wrestlers racked up a combined total of two pins and four tech-falls over four matches, going unscored upon in the process.
The quarterfinals were most impressive. Maroulis dispatched a 2021 U23 world champ from Poland 10-0, Mensah-Stock beat Feng Zhou of China, avenging a rare loss which she suffered at the 2020 Matteo Pellicone finals. And Elor hip tossed a two-time world medalist to her back and secured a fall in 40 seconds.
Highlights from TMS's quarter: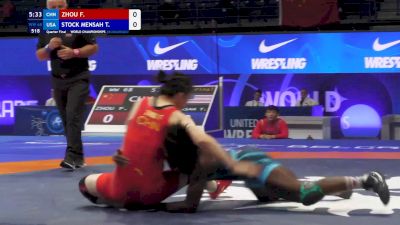 Pretty good!
Abby Nette took the only loss of the day so far for Team USA, dropping a bout to Norway's 2020 Euro Champ (and Campbellsville's 2018 WCWA champ) Grace Bullen. Nette's medal hope are still alive, though, as Bullen also took care of business in the quarters. A win by Bullen over Poland in the semis would pull Nette in repechage.
The challenges get tougher for our trio of semifinals as well. Helen has a 2021 world bronze medalist from Mongolia, Tamyra has 2021 world champ Ringaci of Moldova, and Amit has Furuichi of Japan, a U17, U20, U23, and senior world champ. That all goes down this afternoon, plus medal matches for Dom Parrish, Sarah Hildebrandt and Mallory Velte!
Day 2 Session 2
Dom Makes The Finals, Miracle Settles For Silver
We start the evening session knowing which medals Kayla Miracle and Jacarra Winchester will be wrestling tonight and not knowing which color medal Sarah Hildebrandt and Dom Parrish will ultimately pursue.
Unfortunately at 50kg, a gold medal is not to be. Hildebrandt scored the first takedown but her tenacious Mongolian opponent kept the pressure on and scored three more times to ultimately take the bout 6-2. Sarah will be favored to win bronze in her next match against a to-be-determined foe.
Parrish, however, took care of business, scoring the only offensive points of her tactical bout with a seasoned veteran and three-time Olympian from Greece. Parrish will face yet another Mongolian in the finals with a gold medal on the line.
And in the getting-by-with-help-from-our-friends department, Morikawa of Japan won her semifinal bout at 65kg, pulling Mallory Velte into the bronze medal match, as Morikawa's first match of the tournament was the quarterfinals. She'll have Hristova of Bulgaria.
The first of our two medal matches resulted in very painful heartache. Jacarra at one point had Xie of China beat 10-0 but a successful challenge changed things to 8-4, still in Winchester's favor. Jacarra then scored a takedown in the second period but a timely leg grab by Xie stopped an attempted trap arm gut wrench and caught the American on her back. Jacarra bridged valiantly but there was too much time left on the clock and a pinfall was called, ending Winchester's medal hopes in devastating fashion.
Things weren't much better in the final match of the day, as Kayla Miracle was blitzed 10-0 by Nonoka Ozaki of (where else?) Japan. The match was, at the very least, mercifully short and without drama. Two straight silver world medals for Kayla is still an awesome accomplishment, and she will have many more opportunities to earn gold in the future.
Tomorrow, the final four women start their tournament including two Olympic champs in Helen Maroulis and Tamyra Mensah-Stock, plus two up-and-coming talents in Abby Nette and the teenage phenom Amit Elor.
Day 2 Session 1
Hildebrandt And Parrish Tech-Smash To The Semis
A fresh crop of four Americans took the mat on Day 4 of the World Championships, and everything went according to plan in match one for three of them.
It was three tech-falls as Sarah Hildebrant and Dom Parrish both had clean 10-0 score sheets with Mallory Velte adding a 14-4 victory. Things were not quite as smooth for Dymond Guilford, who dropped a frustrating 3-0 bout to Japan. Guilford didn't get any help from the officials, getting put in the activity clock twice despite, in your humble blogger's estimation, generating the vast majority of the offense throughout the match.
Highlights of Dom's quarterfinal: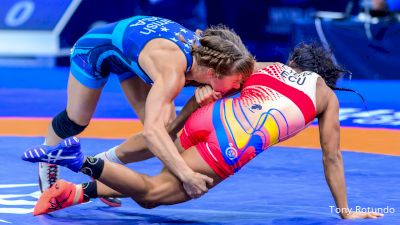 Guilford was later eliminated after Japan lost in the quarters to Olympic bronze medalist Yasemin Adar of Turkey.
In the quarters it was Velte's turn to run into the buzzsaw that is Japan, where she dropped a 2-0 physical bout to 2021 world silver and 2022 Asian gold, Miwa Morikawa.
The tech-fall train kept rolling for Parrish and Hildebrandt in the quarters, however, as Dom won 10-0 and Sarah defeated her opponent 11-0. Both are in the semifinals and ensured that they will both wrestle for a medal.
Day 1 Session 2
Miracle Advances To The Gold Medal Match
Jacarra Winchester unfortunately ran into the buzzsaw that is Japan's women's wrestling team, specifically reigning Olympic champ Mayu Shindoichi Mukaida. Two takedowns, two leg laces and a four-point double leg is how we got to a 12-0
Things went a little better in the second of two semifinal bouts featuring the Red White & Blue. Kayla Miracle was in a 3-0 hole early after getting taken down and losing a challenge. But Kayla was unphased and hit a well-timed fireman's carry, then held on to a tricep, repositioned herself, and stuck Ana Godinez of Canada for the fall!
Kayla Miracle will wrestle for a Gold medal tomorrow. Jacarra Winchester will wrestle for a bronze.
Day 1 Session 1
Jacarra and Kayla Make The Semis
Winchester and Miracle are in lockstep together in the prelims, which is a good thing as it means they both won their first two bouts. Team USA went 4-0 to start session 1 in women's freestyle, as Jacarra and Kayla enter the semifinals after convincingly winning their round of 16 and quarterfinal bouts.
Winchester had a very tough Mongolian in round 1, a 2022 Asian silver-medalist who was winning on criteria until fairly late in the match, when Winchester ripped a feet to back with tight double-overs to secure the win. A workmanlike 4-2 victory thanks to an early snap-down go-behind over a 2017 world bronze medalist from Poland advanced the 2019 world champ to the semis.
Similarly, Miracle had a close match with a first-round opponent until she blew it open late. Kayla's superior gas tank and a couple of thunderous double-leg feet-to-backs helped her win over a tough wrestler from China. In the quarters, her Azerbaijani opponent kept it close until the 2021 world silver-medalist broke a 1-1 tie with another activity-clock point and two takedowns to win 6-1.
Highlights of Kayla's quarterfinal: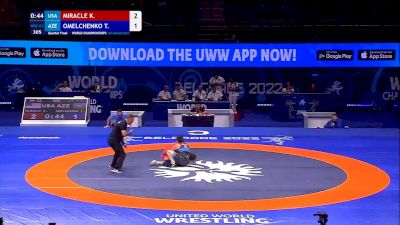 Things only get tougher from there, however, especially for Winchester, who has Japan's recently married Mayu Shindochi Mukaida, a Tokyo Games gold medalist, in the semis. Miracle has U23 world champ Ana Godinez from Canada, who wrestled Kayla competitively at the 2022 Bout at the Ballpark.
Results
50kg: Sarah Hildebrandt - BRONZE
Round of 16: 10-0 Tech-fall over Kamila Barbosa vito da silva (BRA)
Quarterfinals: 11-0 Tech-fall over Oksana Livach (UKR)
Semifinals: 6-2 Loss to Otgonjargal Dolgorjav (MGL)
BRONZE Medal Match: 10-0 Tech-fall over Emilia Vuc (ROU)
53kg: Dominique Parrish - GOLD
Round of 16: 10-0 Tech-fall over Mercedesz Denes (HUN)
Quarterfinals: 10-0 Tech-fall over Lucia Yepez (ECU)
Semifinals: 3-1 Win over Maria Prevolaraki (GRE)
GOLD medal match: 4-2 win over Khulan Batkhuyag (MGL)
55kg: Jacarra Winchester - FIFTH
Round of 16: 8-3 Win over Otgonjargal Ganbaatar (MGL)
Quarterfinal: 4-2 Win over Roksana Zasina (POL)
Semifinal: 12-0 Loss to Mayu Mukaida (JPN)
BRONZE Medal Match: Falls to Mengyu Xie (CHN)
57kg: Helen Maroulis - SILVER
Round of 16: Fall over Emma Tissina (KAZ)
Quarterfinals: Tech-fall over Anhelina Lysak (POL)
Semifinals: Fall over Davaachimeg Erkhembayar (MGL)
GOLD medal match: 3-0 Loss to Tsugumi Sakurai (JPN)
59kg: Abby Nette - Eliminated
Round of 16: 13-2 Loss to Grace Bullen (NOR)
Repechage: 4-0 Loss to Erdenesuvd Baterdene (MGL)
62kg: Kayla Miracle - SILVER
Round of 16: 17-6 Tech-fall over Xiaojuan Luo (CHN)
Quarterfinal: 6-1 Win over Tatiana Omelchenko (AZE)
Semifinal: Fall over Ana Godinez (CAN)
GOLD Medal Match: 10-0 Loss to Nonoka Ozaki (JPN)
65kg: Mallory Velte - BRONZE
Round of 16: 14-4 Tech-fall over Purevsuren Ulziisaikhan (MGL)
Quarterfinal: 2-0 Loss to Miwa Morikawa (JPN)
BRONZE Medal Match: 11-2 win over Mimi Hristova (BUL)
68kg: Tamyra Mensah-Stock - GOLD
Round of 16: 10-0 Tech-fall over Alla Belinska (UKR)
Quarterfinals: 10-0 Tech-fall over Feng Zhou (CHN)
Semifinals: 10-0 Tech-fall over Irina Ringaci (MDA)
GOLD medal match: FALL over Ami Ishii (JPN)
72kg: Amit Elor - Wrestling for GOLD
Round 16: 10-0 Tech-fall over Anastasiya Alpyeyeva (UKR)
Quarterfinals: Fall over Buse Cavusoglu, (TUR)
Semifinals: Win 3-2 over Masako Furuichi (JPN)
GOLD medal match: vs Zhamila Bakbergenova (KAZ)
76kg: Dymond Guilford - Eliminated
Round of 32: Loss 3-0 to Yuka Kagami (JPN)