2022 Senior World Championships
USA Greco Squad Locked In For Belgrade After Roster Turnover
USA Greco Squad Locked In For Belgrade After Roster Turnover
After three lineup changes and a coaching switch in the last three months, the USA Greco-Roman squad is set to take on the world in Belgrade.
Sep 7, 2022
by Timmy Hands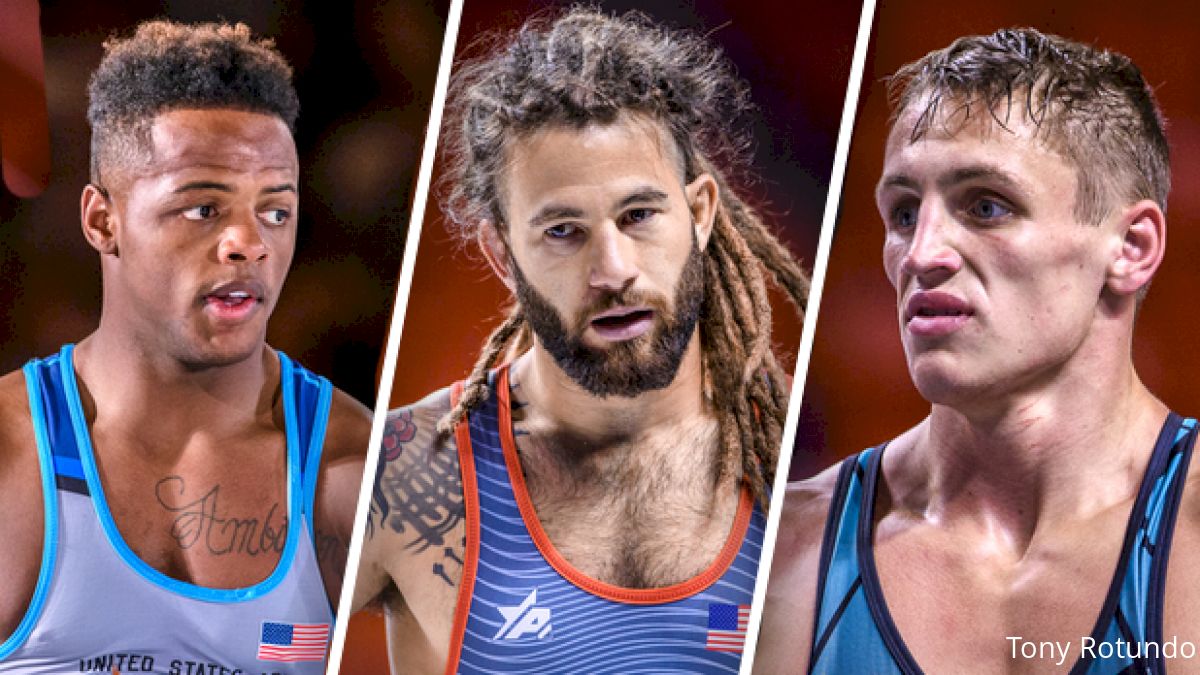 The 2022 United States Senior World Team is different from how it was originally composed in the aftermath of the Final X Series. Three athletes – all of whom having been recent Olympians – will no longer be suiting up in Belgrade. In addition, the acting head coach is not the same guy who was seen taking pictures alongside the Final X victors back in June, nor was he around when the majority of this year's World Teamers first began wrestling on the Senior level altogether.
How much any of this actually matters will be discovered in just a few days. For this moment, it still reigns as principle conversation fodder among hardcores. But once the first whistle blows come Saturday morning, all of the drama, tension, and side stories from the past two-plus months will disappear into the ether, at least temporarily.
Competition on the World level is funny that way. It is very efficient when it comes to nudging distractive discussions towards the back burner, which is where they always belong if unity and improved performance are the ultimate objectives.
Experienced World Team Members
Seven of the 10 Greco-Roman athletes repping Team USA this coming weekend are well-familiar with the territory. Six of the wrestlers were also in this spot a year ago.
Max Nowry (55 kg, Army/WCAP), Sammy Jones (63 kg, NYAC), Alan Vera (87 kg, NYAC), and Cohlton Schultz (130 kg, Sunkist) all competed in the '21 Oslo Worlds.
Meanwhile, Ildar Hafizov (60 kg, Army/WCAP) and Alex Sancho (67 kg, Army/WCAP) were both on the '20 Olympic Team.
And finally, there is Kamal Bey (77 kg, Army/WCAP), who was on the '18 World Team and was a Junior World Champion the year prior.
There is legitimate World-caliber experience on this US roster. A lot, in fact. Combined, these seven wrestlers account for 14 previous World/Olympic appearances.
First-Timers
"Mr. Fantastic" Benji Peak (72 kg, Sunkist/NTS), Spencer Woods (82 kg, Army/WCAP), and '21 Junior World bronze Braxton Amos (Sunkist/Wisconsin RTC) stand as the neophytes of the '22 U.S. World Team. But even with this trio, their relative newness to what Belgrade will have to offer should not invoke consternation.
Peak, who rose to Senior prominence two years ago by winning his first U.S. National title, is an authentic Greco-Roman athlete with plenty of overseas miles logged since enrolling at Northern Michigan University five years ago. While it is true that Peak has not yet battled it out in a World tournament before, he has the intangibles required to acquit himself well.
Late addition Woods was on the U23 World Team last year, as well as a Senior Trials runner-up. Like Peak, he also owns an Open title. It was two-time Olympian Ben Provisor who had earned the 82-kg slot over Woods this past June, but Woods was not seen as being far behind "Big Ben" on the mat. A confident, physical, and hungry competitor, Woods has been preparing for this opportunity since the moment he bolted the University of Maryland in favor of NMU.
Amos is not on the '22 roster to fill the shoes of '21 World bronze/recent retiree G'Angelo Hancock. That is not his job. Amos can present enough problems to foreigners based on his gas tank and competitiveness, never mind the dynamic total-wrestling ability of which he is capable. He doesn't have to be Hancock, and he doesn't have to play the same game opponents do. Amos simply needs to be himself, and push matches into the second period.
Keys For Advancement
Until the draws are released (Nowry is the only American who will enjoy a seed, which is fourth; everyone else will be subject to random bracket placement), imagining various potential paths to medal matches is a fool's errand. But there are items for which to look pertaining to each athlete based on their individual styles. One facet of competition that is true for all ten? Defend from par terre bottom, at all costs.
55 kg: Max Nowry
Crisp movement, two-on-ones, and create reasonable attempts. Nowry is normally looking to score from the feet but in recent bouts has been bitten by the passivity bug. That is normally OK due to his stout defense. It's just not a game he wants to play in Serbia. Fifth place in 2019, as well as highly-decorated from extensive travels across the globe, Nowry is one of the American program's best chances for hardware.
60 kg: Ildar Hafizov
Hafizov is not afraid of taking risks either standing or on the mat. His saltos have been a weapon since the dawn of his Senior career 16 years ago. The high gut from top par terre is also dependable, provided his lock and step are not compromised. Has the most even-keeled, pragmatic view of top competition. Hard to rattle. The most seasoned athlete leader on the team just so happens to be a guy who leads by example.
63 kg: Sammy Jones
A balance between aggression and patience is tough to navigate for most, but it is an area upon which Jones has improved greatly. He is one of this Team's best throwers. Expect a big attempt or two in his matches, regardless of the opposition. A wonderfully entertaining wrestler.
67 kg: Alex Sancho
Angular and classical describe Sancho internationally. His approach meshes much better overseas than it does in the States. If anything, he might do well to come with a little more pressure so as to goad adversaries into traps. Entering the best phase of his career.
72 kg: Benji Peak
Coming in at 6-foot-1, it is unlikely Peak will face off with an opponent who is of similar height and length. Greco might not be boxing, but it is a style where reach can actually play a role. Peak dictates tie-ups automatically, and finds underhooks sometimes simply by walking forward. He is developing an excellent lift; and because of his long frame, is difficult to lift. That, plus his ferocious drive, make him a possible player in this tournament.
77 kg: Kamal Bey
It has been four years since Bey was on a Senior Team, and it makes zero difference. The foreigners all know who he is and what he can do, which is throw and score in more ways than just about anyone else. You just hope the officials do not let opponents tie him up into do-nothingness. Counterparts understand that the best way to deal with Bey is to bottle him up. Then again, that could work to his advantage if those plodding ties can be cleared.
82 kg: Spencer Woods
Woods is Team USA's most physical wrestler. Heavy on the head, clubbing, slapping, snapping… Stateside, that is okay. Overseas is more strict in that regard. 87 can be a plodder's paradise, which if not careful could hinder his methodology. Defense in par terre is particularly vital in the upper-weights because scoring from the feet tends to be rare – making a hard pace that softens opponents up a worthwhile strategy.
87 kg: Alan Vera
Clean technique is Vera's strong suit. So much so, that he stacks up to virtually everyone in his weight category in terms of technical proficiency. He has had to mind his body during camp this summer, but it is nothing compared to his torn-apart knee from last year. If healthy, Vera has the tools to go on a run.
97 kg: Braxton Amos
As alluded to above, Amos' best asset is his overall wrestling prowess, which can be a difference-maker against rigid 97's whose plan it is to hang on wrists and do the waltz. That high motor (and willingness to fight and scramble) could negate a lot of those histrionics. He will compete harder than they do. He will have a higher lung capacity, as well. Again, and again, and again: Amos, like the rest, will need to stay glued to his stomach if passivity comes into play. Which it very likely will.
130 kg: Cohlton Schultz
A medal contender. In the past, one would have said that Schultz "is almost near" this level. He has now arrived. Schultz has always had the competitive maturity for Senior. He has now added the necessary layers of nuance to his skill-set. Schultz observes sound position and feels his way into off-balances and attempts. He never forces, never rushes. Turning other elite heavyweights is a challenge, but that's the case for nearly all of them. From bottom, he can float locks like a lightweight. Take his candidacy seriously.