2022 U20 World Championships
UWW U20 World Championships Match Notes - Day 1
UWW U20 World Championships Match Notes - Day 1
American men's freestylers sent four wrestlers to the semifinals. Follow along in real-time.
Aug 15, 2022
by Kyle Klingman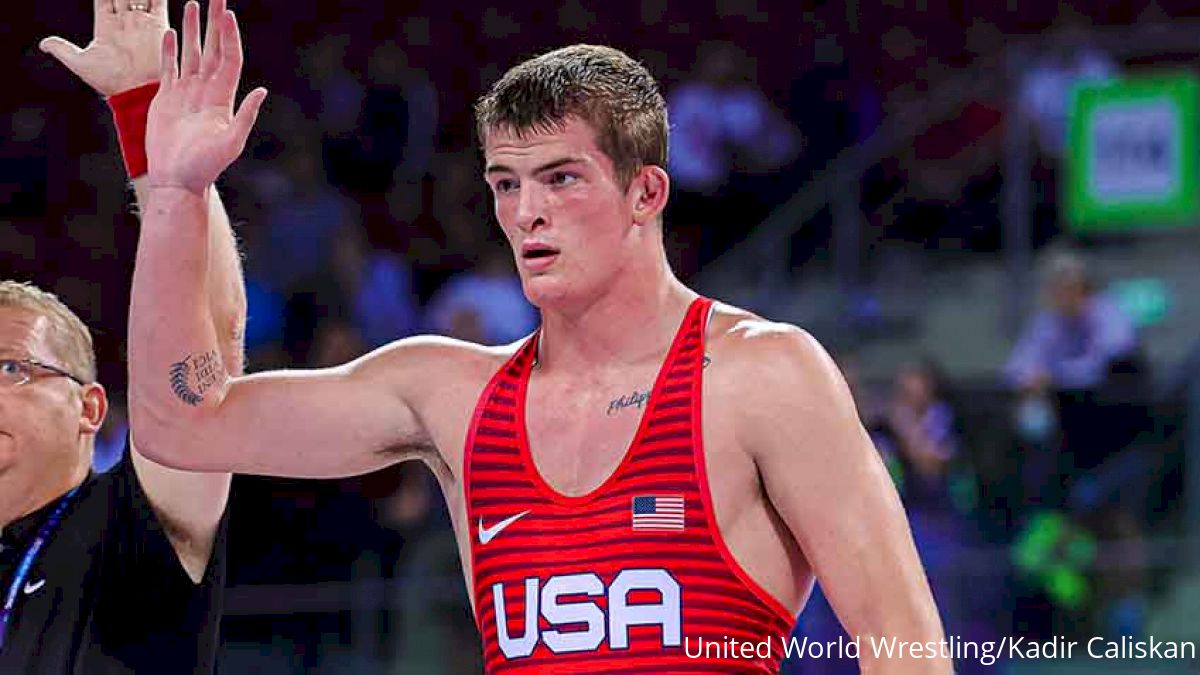 The United States men's freestyle team is off to a fast start at the UWW U20 World Championships with four of five wrestlers reaching the semifinals. Keep up to date with our live blog with action beginning at 11 a.m. Eastern.
Semifinals
57 kg - Jore Volk (USA) over Luka Gvinjilia (Georgia), 13-6
First period: Volk gives up the first two points on an arm throw with about a minute to go but takes a 2-2 criteria lead with a takedown with 30 seconds to go.
Second period: The ref warns both for hands to the face but action resumes with 2:15 remaining. Volk scores on a go-behind halfway through the period and earns a caution and one to take a 5-2 lead. Volk secures a pair of gut wrenches then secures a four-point throw from par terre but two points are given to Gvinijilia for a 13-4 lead by Volk. Gvinjilia gets his chance on top and picks up a turn to cut the lead to 13-6. Volk continues to wrestle hard to the last second and tackles Gvinjilia while he gave up as time expired.
Volk moves to the 57-kg finals with a 13-6 win.
65 kg -Umidjon Jalolov (Uzbekistan) over Vince Cornella (USA), 4-0
First period: Both wrestlers were warned for inactivity by the halfway mark, but Cornella gets put on the activity clock with 1:05 to go in the period. Jalolov earns the first point of the match on an activity clock violation to take a 1-0 lead at the break.
Second period: Jalolov fired off a double within the first minute but Cornella does a masterful job of countering with no points scored. Cornella is placed on the activity clock again and gives up a second point to fall behind, 2-0 halfway through the period. Jalolov scored off of an exposure near the edge of the mat to take a 4-0 lead with a minute to go. Cornella fights off a shot at the end of the period but can't score, giving Jalolov the 4-0 win and a spot in the finals. Cornella will wrestle for bronze.
70 kg - Mitchell Mesenbrink (USA) over Hayk Papikyan (Armenia), 6-3
First period: Messenbrink falls behind 1-0 with 1:15 remaining in the period after being placed on the activity clock. Papikyan takes a 1-0 lead into the break.
Second period: Messenbrink tries to fight off a shot but Papikyan eventually scores to take a 3-0 lead within the first 20 seconds. Messenbrink retaliates with a pair of takedowns for a 4-3 lead. Mesenbrink uses a relentless pace to score another takedown halfway through the period for a 6-3 lead. No scoring in the last half of the match but Mesenbrink wins, 6-3, to advance to the finals.
97 kg - Ben Kueter (USA) over Luka Khutchua (Georgia), 17-14
First period: Khutchua scored immediately then secured three straight gut wrenches to take an 8-0 lead in under 30 seconds. Kueter fired back a few seconds later with a takedown of his own and a gut wrench out of bounds to cut the lead in half. Kueter bull rushes Khutchua out of bounds with 45 seconds left but gives up a step out a few seconds later. Khutchua leads, 9-6. Kueter shows off his power with a driving takedown to take a 9-9 criteria lead after a caution and one against Khutchua.
Second period: Khutchua strikes first with a step out to take a 10-9 lead but Kueter scores off of a double and a leg lace to go ahead 13-10 with 1:52 remaining. Kueter fights off a shot and spins behind for another takedown to extend his lead to 15-10 with 1:08 to go. Khutchua hits a duck and turn to cut the lead to 15-14 but Kueter counters to go ahead 17-14. Kueter keeps him on his back until the end of the match for a 17-14 win and a spot in the gold medal finals.