Big Ten
Women's Weekly: Fargo Fever
Women's Weekly: Fargo Fever
Fargo. Ranking tournaments. New college programs. It was an exciting week for women's wrestling.
Jul 21, 2022
by Kyle Klingman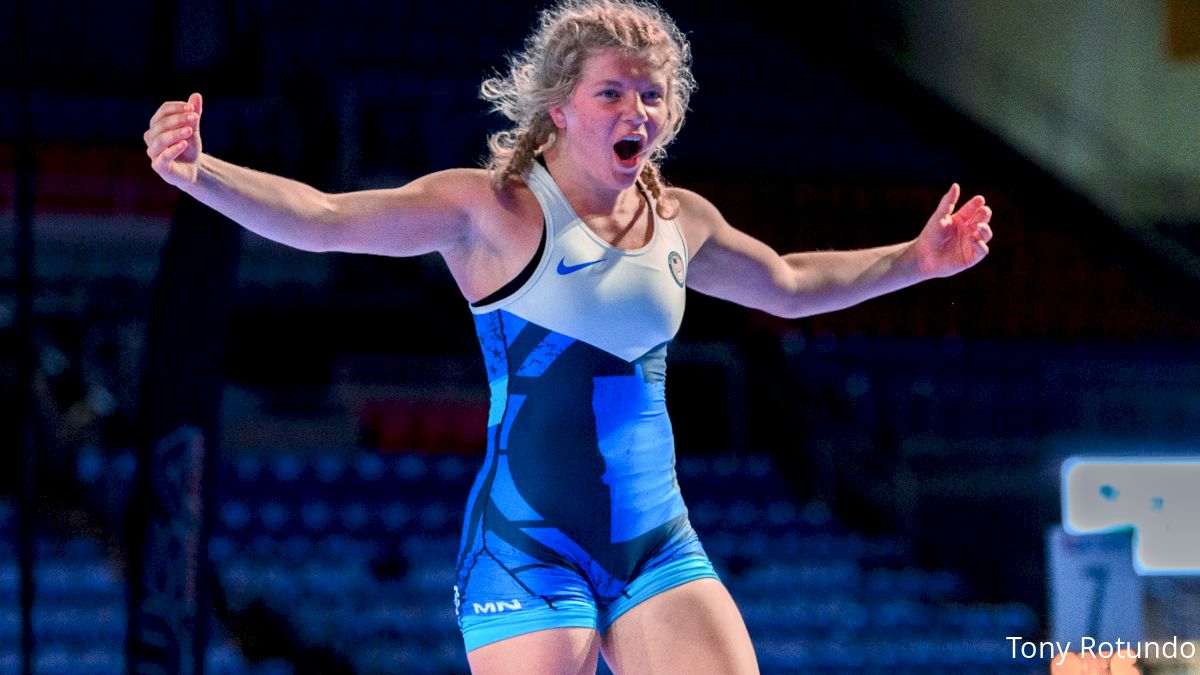 The past week has been filled with women's wrestling news — and all of it is exciting. Here are the highlights.
Iowa Makes History
As if the University of Iowa adding a women's wrestling program and sanctioning girls' high school wrestling wasn't enough, Iowa won its first 16U National title in Fargo. It was the first time a team other than California or Hawaii won a title. Click here for key moments in Iowa women's wrestling history. California continued its dominance of the Junior division but only crowned one champion.
Top 10 U16 Teams
1. Iowa, 90
2. Missouri, 87
3. California, 86
4. Michigan, 82
5. Minnesota, 81
6. Colorado, 74
7. Pennsylvania, 74
8. Arizona, 72
9. Illinois, 71
10. Indiana, 54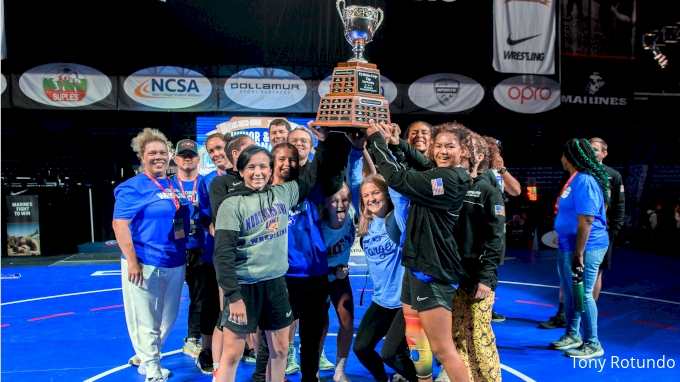 Iowa won its first 16U team title.
U16 Individual Champions
94 pounds: Katey Valdez (Colorado)
100 pounds: Rianne Murphy (Indiana)
106 pounds: Ava Ward (Missouri)
112 pounds: Molly Allen (Iowa)
117 pounds: Persaeus Gomez (Colorado)
122 pounds: Everest Leydecker (Arizona)
127 pounds: Skylar Little Soldier (Minnesota)
132 pounds: Carina Giangeruso (New Jersey)
138 pounds: Sarah Henckel (Connecticut)
144 pounds: Nebi Tsarni (Maryland)
152 pounds: Mishell Rebisch (Michigan)
164 pounds: Ella Pagel (Minnesota)
180 pounds: Sabrina Nauss (Michigan)
200 pounds: Savannah Isaac (Ohio)
Top 10 Junior Teams
1. California, 165
2. Michigan, 122
3. Illinois, 106
4. Missouri, 83
5. Texas, 74
6. Florida, 62
7. Minnesota, 60
8. Ohio, 56
9. Pennsylvania, 53
T-10. Indiana, 49
T-10. Washington, 49
Junior Individual Champions
100 pounds: Sterling Dias (Nevada)
106 pounds: Clare Booe (Florida)
112 pounds: Alexandra Szkotnicki (Maryland)
117 pounds: Juliana Diaz (Florida)
122 pounds: Cadence Diduch (Illinois)
127 pounds: Sarah Savidge (Colorado)
132 pounds: Janida Garcia (California)
138 pounds: Skylar Hattendorf (Massachusetts)
144 pounds: Sydney Perry (Illinois)
152 pounds: Mishell Rebisch (Michigan)
164 pounds: Brooklyn Hays (Utah)
180 pounds: Sabrina Nauss (Michigan)
200 pounds: Savannah Isaac (Ohio)
225 pounds: Eliana Bommarito (Michigan)
Two More Colleges Add Wrestling
Buena Vista University in Storm Lake, Iowa, and John Carroll University in University Heights, Ohio, announced the addition of women's wrestling as a varsity sport. Men's coach Mark Hawald will lead the women's program at JCU while Buena Vista is hopes to fill the position later this fall.
Good As Golding
Amy Golding (formerly Whitbeck) was named the head coach at Jamestown University. She takes over for Shauna Kemp who accepted the role of executive director of Safe Shelter in Jamestown. This is Golding's first head college coaching position after competing at Northern Michigan, Missouri Baptist, and SUNY-Brockport. She won a bronze medal at the 2010 Junior World Championships and dabbled in Mixed Martial Arts.
Jamestown will host the 2023 NAIA Championships — the first officially sanctioned collegiate women's championship event.
Hawkeyes Are Soaring
Iowa coach Clarissa Chun means business. Not only is she recruiting — and getting — the best wrestlers in the country, she's getting the best coaches, too. Chun crossed the border to get Tonya Verbeek — a three-time Olympic medalist who was Canada's head national team coach for men and women.
"I am super excited to bring Tonya to our program," Chun said. "She brings diversity and fresh ideas, coming from the Canadian system. She is someone who has been successful as an athlete and has worked with both the men's and women's national teams as a coach. I know she isn't afraid of digging deep and working hard. I love her spirit and her passion for the sport of wrestling.
"She knows what Iowa is about, she has been here and has brought her teams to train here in the past. She knows the support, the energy, and the atmosphere and is excited to be a Hawkeye."
Rams Reload
Texas Wesleyan finally has a new coach after Ray Bedford was controversially fired in May. Jose Lazo — Bedford's former assistant — takes over as head coach for the men's and women's programs. The Rams placed fifth at the 2022 NAIA Championships thanks to seven place winners and the program's first individual national title from Lexie Basham.
Tunisia Time
The United States had mixed results at the Zouhaier Sghaier in Tunisia over the weekend. Five of 10 members of the 2022 World team participated with Sarah Hildebrandt and Tamyra Mensah Stock earning golds.
Returning World and Olympic champion Helen Maroulis was pinned during her semifinal match after leading 7-4 late in the match. She did not wrestle for bronze. The storyline of the tournament, though, was the battle between Dymond Guilford and Yelena Makoyed at 76 kilograms.
The pair met twice during the tournament after Guilford won straight matches at Final X Stillwater. She extended the streak to three in a row with a 7-6 win but Makoyed won the gold medal match, 5-2, for her third international title this year.
Below are full results with links to matches.
50kg: Sarah Hildebrandt - Gold
50kg: Emily Shilson - Silver
53kg: Dominique Parrish - 4th
57kg: Helen Maroulis - 4th
57kg: Amanda Martinez - DNP
65kg: Emma Bruntil - Silver
68kg: Tamyra Mensah-Stock - Gold
72kg: Skylar Grote - Bronze
72kg: Marilyn Garcia - DNP
76kg: Dymond Guilford - Silver
76kg: Yelena Makoyed - Gold
76kg: Precious Bell - DNP
World Team Rewind
Here's a look back at Team USA's 1990 World team led by silver medalists Marie Ziegler and Afsoon Johnston. This was the second year the United States competed in the event after a successful tournament the year prior.
"Competing at the World Championships in Sweden was groundbreaking for women's wrestling and it was where I met some of my best friends, like Marie, Afsoon, and Trish," Shannon Williams said. "It was my first time away from home and I was psyched to be competing on such a big stage."
1990 World Team (6th) - Lulea, Sweden
44 kg: Marie Ziegler - Silver
47 kg: Afsoon Johnston - Silver
50 kg: Tricia Saunders - 6th
53 kg: Shannon Williams - 4th
57 kg: Asia de Weese - 5th