UWW
Women's Weekly: Final High School Rankings
Women's Weekly: Final High School Rankings
Final high school rankings are here, and so is Olivia Lichti's list of the 10 greatest wrestlers in the world.
Jul 1, 2022
by Kyle Klingman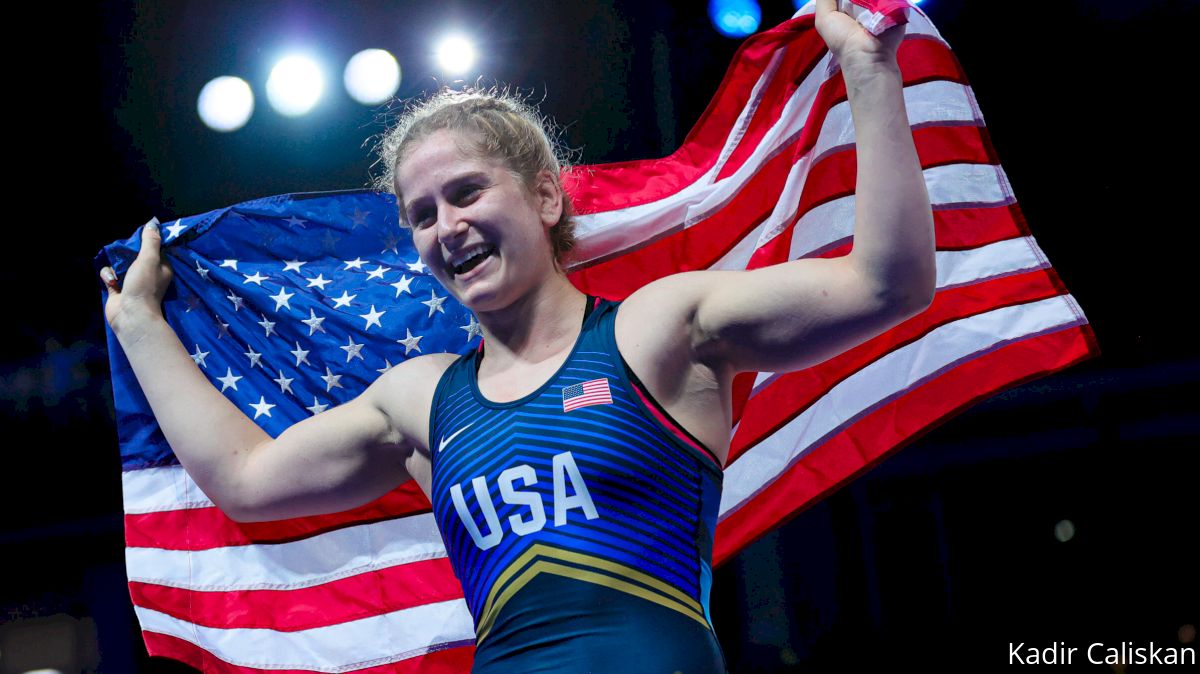 Final Rankings Are Here
Last week, it was the first set of national team high school rankings. This week, it's the final individual rankings of the 2021-22 season. Amit Elor leads the way in the pound-for-pound rankings after making the U20, U23, and senior World teams this year.
You can check out the full rankings here, and you can check out the top 10 in the pound-for-pound rankings below.
1. Amit Elor
2. Kylie Welker
3. Kennedy Blades
4. Audrey Jimenez
5. Shelby Moore
6. Katie Gomez
7. Eliana Bommarito
8. Skylar Hattendorf
9. Korina Blades
10. Jennifer Soto
Wrestle Rome
Team USA had quite a showing at the recent Matteo Pellicone ranking tournament in Rome on June 24. The American women's squad only sent six wrestlers but placed third behind Ukraine and Poland.
Skylar Grote (72 kg) and Yelena Makoyed (76 kg) won gold with Emma Bruntil earning silver at 65 kg and 2022 World teamer Abby Nette taking home bronze at 59 kg. Grote and Makoyed had impressive runs by defeating former World medalists on their way to Matteo Pellicone titles. This was Bruntil's fourth international medal of the year.
US Medalists
59 kg: Abby Nette, Bronze
65 kg: Emma Bruntil, Silver
72 kg: Skylar Grote, Gold
76 kg: Yelena Makoyed, Gold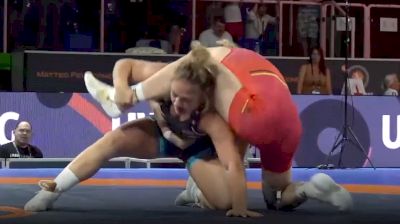 Unlock this video, live events, and more with a subscription!
Get Started
Already a subscriber? Log In
Watch scoring highlights from Skylar Grote's gold medal match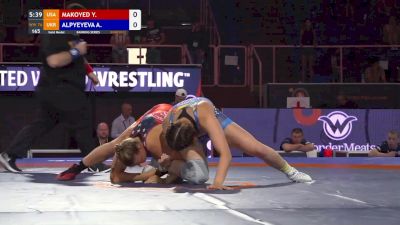 Unlock this video, live events, and more with a subscription!
Get Started
Already a subscriber? Log In
Watch scoring highlights from Yelena Makoyed's gold medal match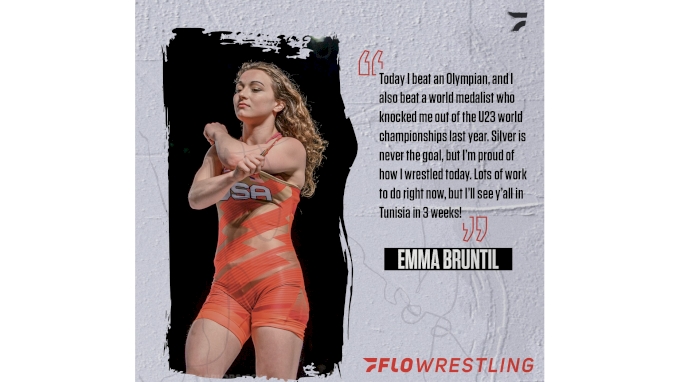 U17 Pan-American Championships
The United States cruised to a team title at the U17 Pan American Championships in Buenos Aires on June 25 thanks to 10 medals, including six golds, three silvers, and a bronze.
40 kg: Annalise Maralit, Gold
43 kg: Katelyn Valdez, Gold
46 kg: Isabella Bocanegra, Gold
49 kg: Ava Ward, Gold
53 kg: Persaeus Gomez, Gold
57 kg: Skylar Little Soldier, Silver
61 kg: Marissa Rumsey, Silver
65 kg: Sydney Perry, Silver
69 kg: Mishell Rebisch, Gold
73 kg: Kaiulani Garcia, Bronze
Felicity Taylor Transfers
The University of Iowa added to its already impressive recruiting haul when Felicity Taylor announced she was transferring from McKendree to the University of Iowa. The Spillville, Iowa, native enters the program with a long list of credentials, including four appearances in the national collegiate finals, a 2021 NCWWC championship (NCAA programs), a 2022 US Open title, and an appearance in Final X. She was also part of three consecutive team championships for the Bearcats.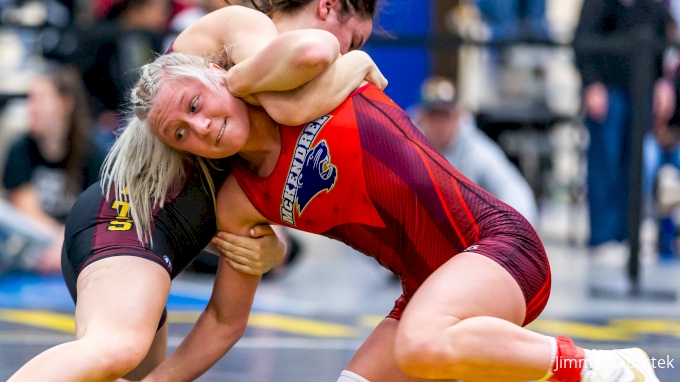 Felicity Taylor wrestled in the inaugural NCWWC tournament in 2020
Current Iowa Commits
Kylie Welker — #1 at 164 pounds
Ella Schmit — #6 at 122 pounds
Reese Larramendy — #1 at 144 pounds
Nyla Valencia — #3 at 112 pounds
Emilie Gonzalez — #10 at 106 pounds
Brianna Gonzalez — #1 at 100 pounds
Nanea Estrella — 2nd at 2022 NAIA Championships
Ava Bayless — #12 at 112 pounds
Bella Mir — #6 at 144 pounds
Sam Calkins — #1 at 200 pounds
Sterling Dias — #3 at 106 pounds
Felicity Taylor — 1st at 2021 NCWWC Tournament
Who's The Greatest?
FloWrestling's Olivia Lichti offered her top 10 list of the all-time greatest wrestlers in the world "after much thought and lot of going back and forth." Below is her full list with Senior World and Olympic credentials for each.
10. Yui Susaki (JPN): 3x World/Olympic champion
2017 Worlds: Gold
2018 Worlds: Gold
2020 Olympics: Gold
9. Natalie Vorobieva (RUS): 3x World/Olympic champion
2012 Olympics: Gold
2013 Worlds: Silver
2014 Worlds: Bronze
2015 Worlds: Gold
016 Olympics: Silver
2019 Worlds: Gold+
8. Tonya Verbeek (CAN): 6x World/Olympic medalist
2004 Olympics: Silver
2005 Worlds: Bronze
2008 Olympics: Bronze
2009 Worlds: Bronze
2011 Worlds: Silver
2012 Olympics: Silver
7. Stanka Zlateva (BUL): 5x World champion
2006 Worlds: Gold
2007 Worlds: Gold
2008 Olympics: Silver
2008 Worlds: Gold
2009 Worlds: Bronze
2010 Worlds: Gold
2011 Worlds: Gold
2012 Olympics: Silver
6. Helen Maroulis (USA): 4x World/Olympic champion
2012 Worlds: Silver
2014 Worlds: Bronze
2015 Worlds: Gold
2016 Olympics: Gold
2017 Worlds: Gold
2020 Olympics: Bronze
2021 Worlds: Gold
5. Mariya Stadnik (UKR/AZE): 2x World champion
2008 Olympics: Bronze
2009 Worlds: Gold
2011 Worlds: Silver
2012 Olympics: Silver
2014 Worlds: Bronze
2015 Worlds: Silver
2016 Olympics: Silver
2018 Worlds: Silver
2019 Worlds: Gold
2020 Olympics: Bronze
4. Adeline Gray (USA): 6x World champion
2011 Worlds: Bronze
2012 Worlds: Gold
2013 Worlds: Bronze
2014 Worlds: Gold
2015 Worlds: Gold
2018 Worlds: Gold
2019 Worlds: Gold
2020 Olympics: Silver
2021 Worlds: Gold
3. Risako Kawai (JPN): 5x World/Olympic champion
2015 Worlds: Silver
2016 Olympics: Gold
2017 Worlds: Gold
2018 Worlds: Gold
2019 Worlds: Gold
2020 Olympics: Gold
2. Saori Yosida (JPN): 16x World Olympic champion
2002 Worlds: Gold
2003 Worlds: Gold
2004 Olympics: Gold
2005 Worlds: Gold
2006 Worlds: Gold
2007 Worlds: Gold
2008 Olympics: Gold
2008 Worlds: Gold
2009 Worlds: Gold
2010 Worlds: Gold
2011 Worlds: Gold
2012 Olympics: Gold
2012 Worlds: Gold
2013 Worlds: Gold
2014 Worlds: Gold
2015 Worlds: Gold
2016 Olympics: Silver
1. Kaori Icho (JPN): 14x World/Olympic champion
2002 Worlds: Gold
2003 Worlds: Gold
2004 Olympics: Gold
2005 Worlds: Gold
2006 Worlds: Gold
2007 Worlds: Gold
2008 Olympics: Gold
2010 Worlds: Gold
2011 Worlds: Gold
2012 Olympics: Gold
2013 Worlds: Gold
2014 Worlds: Gold
2015 Worlds: Gold
2016 Olympics: Gold