Big Ten
National Champion Taylor Transfers To Iowa
National Champion Taylor Transfers To Iowa
Iowa picked up its biggest recruit yet when national champion Felicity Taylor announced she will be a Hawkeye.
Jun 23, 2022
by Kyle Klingman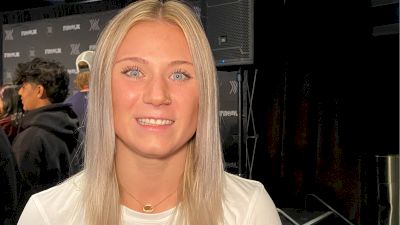 Iowa coach Clarissa Chun keeps adding to her recruiting haul and she may have just landed her best wrestler yet. Felicity Taylor announced on Instagram that she is transferring from McKendree to the University of Iowa after a successful college career that included three appearances in the national collegiate finals (NCAA programs), one in the WCWA finals, and a national title in 2021.
Taylor was part of three national team championships at McKendree but entered the transfer portal when her coach, Sam Schmitz, accepted the head men's position at Central Methodist. The Spillville, Iowa, native has been on a hot streak this year, winning the US Open at 53 kg in April and competing in Final X after reaching the finals of the World Team Trials.
Committing to the Hawkeyes was a change of heart for Taylor. She initially wasn't interested in Iowa after a spring visit but things changed once former Greco developmental coach Gary Mayabb was named as Chun's assistant.
"Change has always been a hard thing for me so I feel like I was kind of holding myself back," Taylor said. "I had a few more chats with Clarissa and I'm really excited to see what she has going for Iowa. I'm really excited to have Clarissa as a coach. I've only heard good things about her. I'm also excited for the assistant coach — Coach Mayabb.
"I've worked a couple of camps this summer and at both of those camps I didn't even talk about heading back to Iowa or the university but somehow Coach Mayabb found his way into the conversation. I feel that it was a sign and this is where I'm meant to be."
Taylor will redshirt next year in preparation for Iowa's inaugural 2023-24 season. All options are on the table, including an Olympic redshirt in 2024.
Current Iowa Commits
Kylie Welker — #1 at 164 pounds
Ella Schmit — #6 at 122 pounds
Reese Larramendy — #1 at 144 pounds
Nyla Valencia — #3 at 112 pounds
Emilie Gonzalez — #10 at 106 pounds
Brianna Gonzalez — #1 at 100 pounds
Nanea Estrella — 2nd at 2022 NAIA Championships
Ava Bayless — #12 at 112 pounds
Bella Mir — #6 at 144 pounds
Sam Calkins — #1 at 200 pounds|
Sterling Dias — #3 at 106 pounds
Felicity Taylor — 1st at 2021 NCWWC Tournament