2022 Final X NYC
The Complete Final X New York Women's Freestyle Preview
The Complete Final X New York Women's Freestyle Preview
The Final X New York card is headlined by a couple of the top hammers in the USA women's freestyle program and a few rising stars.
Jun 7, 2022
by Derek Levendusky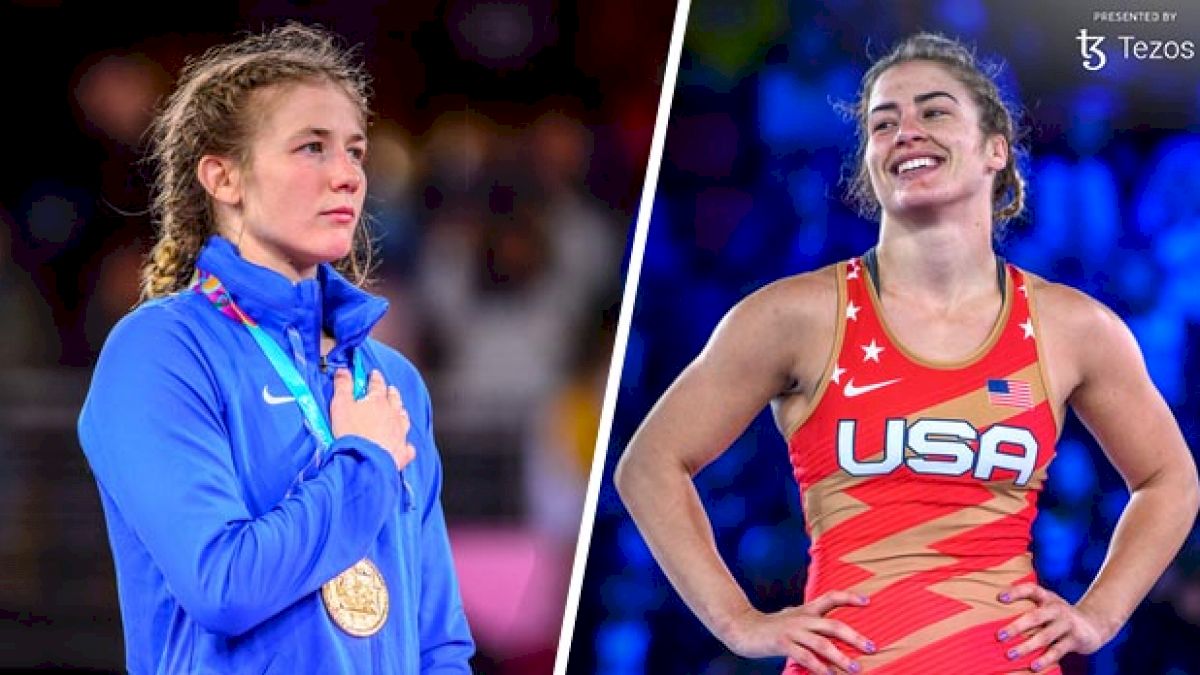 After an exciting weekend in Stillwater, where five women punched their tickets to Belgrade, get ready for Final X New York presented by Tezos, where five more best-of-three series will determine the rest of the U.S. women's freestyle World Team. The weights competing this weekend are 50 kilograms, 53 kg, 57 kg, 62 kg, and 72 kg and will kick off with "True Third" matches at 12:30 pm in the Hulu Theater at Madison Square Garden.
Two returning world medalists will defend their spots as 2021 silver medalist Sarah Hildebrandt (50 kg) and 2021 World champion Helen Maroulis (57 kg) all hit the mat. World silver medalist Kayla Miracle was scheduled to compete at Final X New York, but her series with Jennifer Rogers has been postponed due to medical reasons.
Final X New York also includes some women's "True Third" matches, where athletes who placed third at the Challenge Tournament (which is fourth on the National Team ladder) will have the opportunity to climb into the third spot on the National Team if they can beat the current person in the #3 spot. These matches only happen if the third-place finisher did not lose to the second-place finisher in earlier rounds of the Challenge Tournament.
Here's a preview of the five weights:
50 kg WFS: Sarah Hildebrandt (NY Athletic Club) vs. Alyssa Lampe (Sunkist Kids WC)
The last time these two met in the fall of 2020, it was all Hildebrandt. She earned a dominant 12-1 win over Lampe on Wisconsin RTC Card. That being said, Lampe is a wily veteran who knows how to make adjustments and looked fantastic at the World Team Trials Challenge Tournament, where she cruised to the finals to face Erin Golston. In that series, she showed she can win multiple ways, gaining a 10-9 razor-thin win in the first match and securing a fall in the second. With all that, this is Hildebrandt we're talking about, coming off a world-class year in which she earned a bronze medal at the Olympics and a silver medal for the second time at the World Championships. Lampe will have to be perfect to take down the 50-kg giant, and she'll have to stay away from Hildebrandt's leg lace.
53 kg WFS: Felicity Taylor (Bearcat WC/Titan Mercury WC vs. Dom Parrish (Sunkist Kids WC)
Felicity Taylor has been red hot since her college season at McKendree ended in March, winning the U.S. Open in April with an impressive tech fall over Alyssa Lampe (who was at 53 kg at the time), then owning the field at U23 Nationals in early May before securing a trip to Final X with her performance at the World Team Trials. Already a Senior-level threat coming into 2022, she seems to have leveled up against the field, but will face perhaps the best version of Sunkist Kids Wrestling Club's Dom Parrish that we've ever seen. Parrish hasn't wrestled as much as Taylor has, but she won bronze at the Yasar Dogu in Turkey in February, then controlled a very good Ronna Heaton at the World Team Trials with a 6-0 win. They've never hit at the Senior level, so this one will be very interesting to watch. "I'm feeling like me," said Parrish after her win at WTT. "I want to be the best in the world."
57 kg WFS: Helen Maroulis (Sunkist Kids WC) vs. Alex Hedrick (USOPTC/Titan Mercury WC)
This one is a rematch of Final X 2018, but don't expect it to be a rerun, where Maroulis dominated her young opponent in two straight, 10-0 and 12-0. "I learned what it's like to wrestle an Olympic champion," reflected Hedrick at World Team Trials a few weekends ago, "I got a feel at a very young age for wrestling someone of that calibur, so I'm excited to do it again, a few years older and a more mature wrestler."
Meanwhile, it's no secret that Maroulis is back at the top of her game, winning Olympic bronze in Tokyo last year and then her third world title in Oslo last fall. She's all business about Final X. "I really just treat this like any other World-Team-spot tournament," she told a group of wrestling media on a Zoom call, reflecting on her training for Final X. "I call it the second-most important tournament of the year. The first for me is World Championships, but this is right there with it because you have to win this to go to the World Championships."
72 kg WFS: Skylar Grote (NY Athletic Club) vs. Amit Elor (NYC RTC/Titan Mercury RTC)
Grote and Elor are both coming off a string of impressive accolades, with Grote winning the U.S. Open and the Pan Am Championships, while Elor is coming off her 2021 Junior world title, followed by earning World Team spots last month in the U20 and U23 divisions. This will be a battle of Grote's leg attacks versus Elor's powerful upper-body game. It's also an exciting mix of experience vs. youth as Elor is still in high school, while Grote has been on the Senior-level scene for some years now. Stay tuned as it will be very interesting to see what this one looks like. Will Grote break out to make her first World Team, or will Elor follow in Kylie Welker's footsteps from last year, showing that the youth movement is no joke — even against top Senior women.
Match order, Final X NYC:
Bout 1 – 77 kg GR — Kamal Bey vs. Britton Holmes
Bout 2 – 72 kg WFS — Skylar Grote vs. Amit Elor
Bout 3 — 65 kg MFS — Yianni Diakomihalis vs. Evan Henderson
Bout 4 – 87 kg GR — Alan Vera vs. Timothy Young
Bout 5 – 125 kg MFS — Hayden Zillmer vs. Nick Gwiazdowski
Bout 6 - 67 kg GR — Alejandro Sancho vs. Alston Nutter
Bout 7 – 53 kg WFS — Felicity Taylor vs. Dom Parrish
Bout 8 – 60 kg GR 60 kg — Dalton Roberts vs. Ildar Hafizov
Bout 9 - 97 kg GR — G'Angelo Hancock vs. Braxton Amos
Bout 10 - 50 kg WFS — Sarah Hildebrandt vs. Alyssa Lampe
Bout 11 - 74 kg MFS — Kyle Dake vs. Jason Nolf
Bout 12 - 57 kg WFS — Helen Maroulis vs. Alex Hedrick
Bout 13 - 79kg MFS — Jordan Burroughs vs. Chance Marsteller
Bout 14 - 86kg MFS — David Taylor vs. Zahid Valencia
TRUE THIRD NATIONAL TEAM WRESTLE-OFFS
Women's Freestyle 55 kg - Lauren Mason (Brunson UVRTC) vs. Alisha Howk (Sunkist Kids)
Women's Freestyle 57 kg - Cameron Guerin (Bearcat RTC/TMWC) vs. Amanda Martinez (Cardinal WC/TMWC)
Women's Freestyle 62 kg - Macey Kilty vs. (Sunkist Kids) vs. Alexandria Liles (Army WCAP)
Women's Freestyle 65 kg - Emma Bruntil (USOPTC/TMWC) vs. Maya Letona (NYC RTC)
FloWrestling will serve as the host broadcasting partner for Final X New York, presented by Tezos.