2022 Final X Stillwater
Match Notes From Final X Stillwater!
Match Notes From Final X Stillwater!
All the action from Final X Stillwater, presented by Tezos, as it happens!
Jun 3, 2022
by Andrew Spey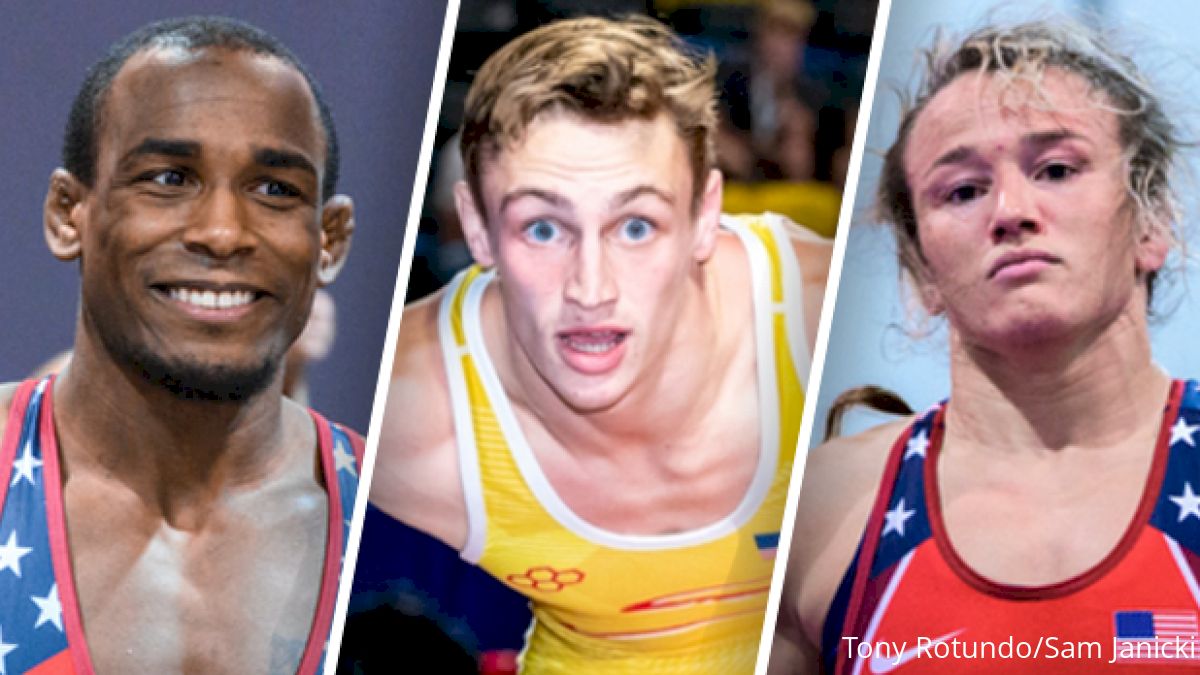 Unlock this article, live events, and more with a subscription!
Get Started
Already a subscriber? Log In
Hello friends. We are live bloggin Final X and we're thrilled you could be here to witness greatness (in both the fields of blogging AND wrestling).
Scores and replays inside FloArena.
Set up is looking quite decent here in historic Gallagher-Iba Arena.
Panoramic blogging perch. pic.twitter.com/feKwziVt5X

— Andrew Spey (@SpeyWrestle) June 3, 2022
The Final X matches begin at 3:00PM ET, with round of 1 of all the best 2-of-3 matches. Round 2 will begin at 8:00PM ET, with round 3 (if necessary), to begin as soon as possible after the conclusion of round 2.
Bout Order
Bout 1, 63 kg GR: Sammy Jones vs Jesse Thielke
Bout 2, 76 kg WFS: Dymond Guilford vs Yelena Makoyed
Bout 3, 130 kg GR: Tanner Farmervs Cohlton Schultz
Bout 4, 70 kg MFS: Zain Retherford vs Jordan Oliver
Bout 5, 72 kg GR: Pat Smith vs Benji Peak
Bout 6, 59 kg WFS: Lexie Basham vs Abby Nette
Bout 7, 82 kg GR: Ben Provisor vs Spencer Woods
Bout 8, 57 kg MFS: Thomas Gilman vs Vito Arujau
Bout 9, 55 kg GR: Max Nowry vs Brady Koontz
Bout 10, 61 kg MFS: Daton Fix vs Seth Gross
Bout 11, 55 kg WFS: Jenna Burkert vs Jacarra Winchester
Bout 12, 92 kg MFS: J'den Cox vs Nate Jackson
Bout 13, 65 kg WFS: Forrest Molinari vs Mallory Velte
Bout 14, 97 kg MFS: Kyle Snyder vs Kollin Moore
Bout 15, 68 kg WFS: Tamyra Mensah-Stock vs Sienna Ramirez
Blog note: I will group the round 1, 2, and 3 matches together in bout order.
About to distribute some hardware! pic.twitter.com/DwVQBkemVG

— Andrew Spey (@SpeyWrestle) June 3, 2022
Round 1
1st period: Two former world team members trying to get back on the sports' biggest stage. Thielke is part of the Army World Class Athlete Program and Jones is sponsored by the New York Athletic Club. Fron headlock for Jones. Thielke bails on the position and Jones scoots around for a takedown. Jones than lifts Theilke up chest to chest and launches him. A four-point throw for Wild Man Sam! But Thielke's corner challenges and wins, as upon further review, Jones had a successful throw but did not land Thielke in danger (ie on his back or at least past 90 degrees). So it's 4-0 Jones and that's how the period ends.
2nd period: Thielke, who was also a 2016 Olympian, reaches in for an arm drag and then chases down Jones to cut the lead in half. A gut wrench on the boundary and Thielke ties up the score 4-4 but leads on criteria and would win if the match ended with no other changes to the score. Pummeling in the center. 30 seconds to go. Jones starts to get a bit more frantic in his hand fight. And the match ends 4-4, Theilke takes round one!
Round 2
1st period: We could decide our first world team member in just a few minutes. Thielke gives up the first point due to a passivity call. Jones can't capitalize in par terre and they go back to their feet. Thielke cuts off Jones' escape routes and will get a step out point. He gains the lead on criteria and that's how the period ends.
2nd period: Thielke gets a body lock but he's walked out of bounds thanks to some crafty slogging by Jones, who takes the 2-1 lead. Jones gets a little too aggressive and grabs what I believe is a front headlock with no arms and so gets hit with a caution and 2. It's confirmed and Thielke Smooth takes the second match by a 3-2 score!
Our first senior world team member is Jesse Theilke of the Army World Class Athlete Program!
---
Round 1
1st period: With Adeline Gray not in the mix this year as she and her husband await the birth of twins, we'll see a new American on the world team. Guilford comes out firing of the whistle, grabs a single and scores the first takedown. Guildford stays agree and gets a body lock and wrests Maokoyed to the mat for two more. She repeats the maneuver for two more, making it 6-0. Makoyed strikes back and counters a Guilford attack and makes it 6-2. Makoyed then runs Guilford out of bounds for a step out. One might expect a fleeing call there but it's not made and Yelana's corner doesn't challenge so it's 6-3. 30 seconds left in the period. No more scores and we go to the second.
2nd period: All-time series between these two is 2-2, so someone is ending the day with the series lead and a senior world team spot. Guilford drops down on another single and trips for an 8-3 lead. Makoyed ramps up her attack rate but Guilford is ready for her. A little over a minute to go. Makoyed keeps the pressure on and drives Guilford down to the mat, out of bounds. One offered but it's two from the two other judges so it's a 8-5 lead now for Guiford. Dymond in on a shot. It's stalemated. 8-5 with 50 to go. Guilford slow to get in position. Action resumes, Mokoyed attacking. Guilford good counter and positioning and she's get a go behind for 2 more and a 10-5 lead. Just 20 seconds to go. Guilford warned about fleeing which stops the clock at 14 seconds. Time expires and Guilford wins the first round in an action packed slug fest. The crowd in GIA show their appreciation with a round of applause.
Round 2
1st period: Guilford comes out swinging just as she did in the first bout. She collects two off a single leg to gain an early lead. Makoyed will want to push the pace to try and wear Guilford down if she can't match her point-for-point in the first period. Guilford gets in deep on a double, Makoyed defends but gives up rear-standing position to Guilford who runs her out of bounds and picks up 1 + 1 on the step out and fleeing call. Makoyed answered with a single leg that she finishes on the edge of the mat to cut the lead in half. We hit the break with Guilford leading 4-2.
2nd period: Guilford gets Makoyed's back again and brings her down to the mat on Makoyed's side. Guilford smells blood and looks for a turn, making it 8-2. Back on their feet Guild collects one more takedown to get closer to the tech. Makoyed runs out of time for a comeback as Guilford steps on the gas and gets the final takedown for a 12-2 tech. The arena speakers crank up the Missy Elliot and Dymond shows off some dance moves to celebrate, engaging the crowd as she receives her trophy.
The USA's 76kg rep will be Dymond Guilford. A hard-earned privilege. Guilford will be a medal threat in Serbia for sure.
---
Round 1
1st period: The largest athletes in the building square off. Schultz was the 2021 senior level rep in Oslo. Farmer took a circuitous path here, playing football for Nebraska and falling just short of an NFL career. Big snap down for Schultz (can't really consider any moves by these two as 'small') and Cohlton covers for two. No more scores in the period and Schultz takes a 2-0 lead to the 2nd.
2nd period: Farmer upping the aggression but can't get thru Schultz' defenses. Passivity point for Famer and Schultz will get an opportunity for some par terre offense. Schultz takes Farmer over for a 2-point gut wrench, but Farmer scrambles and gets a reversal to make it 5-1. 1:09 left in the match. Sound positioning from Schultz the rest of the way stymies Schultz' comeback attempt. The Cohl-train rumbles to a round 1 victory!
Round 2
1st period: Farmer and Schultz come out swinging (literally) and get an early warning from the mat official, Oklahoma native Danny Blackshear. Schultz trying to snap Farmer into a front headlock but Farmer keeps coming at him and Schultz ends up backing out of bounds and concedes the first point to Farmer. 90 seconds remain in the period. Farmer gets warned for passivity and will go down in par teree. Schultz gets a point to gain the lead via criteria. Schultz takes advantage of the situation, locking up a gut wrench and taking Farmer over twice for a 5-1 lead. That's a lot of human Schultz had to lock up and move around the mat. We hit the break.
2nd period: No scores in the first 50 seconds of the period. Schultz hit with passivity and Farmer gets a turn on top, and cuts his deficit to 3. Farmer can't get a turn and we're back to neutral. 70 seconds remain, still 5-2 Schultz. Farmer does what he can but Schultz is a rock in the center of the mat. Schultz will go back to the world championships!
Arizona State will be represented in Belgrade!
---
Round 1
1st period: A big ovation for Oklahoma State alumnus Jordan Oliver. Nice flurry to start off the match. Zain had a leg bu Oliver scrambled free. Two minutes left in the first. Jordan goes on the activity clock first. No scores from either wrestler after 30 seconds to Retherford gets the first point. One minute to go. Now 30. Fierce hand fighting and some half shot but the flurries are brief. Period ends 1-0 Zain.
2nd period: The two Pennsylvania natives are back in the center of the mat. 30 seconds in and now Retherford gets a turn on the activity clock. Same as the first period, no scores so this time JO gets the point and no leads on criteria. JO about to be warned again for passivity but then lowers his level and shoots a double leg. He's behind Zain's knees with his hands but Retherford has a front headlock and is sprawling hard. They're at the boundary, Oliver fighting like mad to get something out of this. He muscles Retherford up in the air and drops down out of bounds and covers. The call is two for Oliver and there is no challenge so back to the center, 3-1 lead for JO as the crowd erupts. Retherford back on the attack, he's on a single leg, comes out behind and gets two to silence the crowd and take the lead on criteria with a little over 30 seconds to go. Body lock for both wrestlers are we hit short time. Crowd gets behind Oliver but Retherford hits a sloppy but effective headlock at the edge that gives him a huge four point lead. With just 7 seconds on the clock the challenge brick is a no brainer. It was close but call is upheld to make it 8-3 and that's how it ends. Retherford takes round 1 in a hostile environment!
Round 2
1st period: The crowd rises to their feet to welcome Jordan Oliver back to the mat at GIA. He's got his work cut out for him though as Retherford is one win away from his third world team. Hands of a heaviness I can only imagine are reigning clubs on the necks of both wrestlers. Retherford gets in on the first solid shot and drives Oliver to the boundary. Oliver tries to whizzer him out of bounds but steps out himself and gives up the first point of the match, much to the displeasure of the many Cowboy partisans in the arena. Oliver answers with his own attack that drives Zain to the edge. Oliver nearly gets a takedown but settles for one. Zain on an attack but times expires in a scramble with no more points. 1-1 at the break.
2nd period: Oliver misdirection, low single and chases down Retherford for two, a site very familiar to the folks here in Stillwater. Back to neutral, Retherford has Oliver backed to the edge. Zain picks up a leg, has Oliver hopping, brings JO down but Oliver springs back up to one foot, then reaches in a snags an ankle from Zain. Oliver takes him down and the crowd goes wild. JO leads 5-1. But there's a challenge. Retherford's corner wants a takedown at the beginning of that sequence. And they win the challenge. It was close, I could see it go either way, but that makes it 5-3 and Zain very much back in the match. Oliver dancing at the edge of the match trying to run out the clock. He's hit with a caution and one. Boos from the crowd but can't really dispute that one. 20 seconds to go. More dancing from JO but he's in the center of the mat for the most part. Retherford can't get thru the head-hands defense and Oliver takes round 2 5-4. We will have a round 3 for all the marbles!
Round 3
1st period: Our first of five rubber matches. Jordan Oliver runs out to take the mat in GIA for perhaps the last time ever. A hard club from JO as we begin but just a warning. Zain gets in on a leg in the first big flurry of the match. Zain climbs up but has to settle for a step out. Some extracurriculars as Zain wouldn't put down JO's leg and Oliver gave Zain an extra shrug. Zain gets a penalty point, likely after the first warning due to the club, and naturally the crowd is furious about it. But the call stands and it's 2-0, which is how is stands at the break.
2nd period: Good back and forth to start the period. JO needs time as he gets knocked in the head, but he's ok and we're back to action. Retherford hits a low shot and finishes clean and now its a 4-0 hole for Oliver. Oliver dives for a low single and grabs a foot and he's not letting go until he gets two. It's now 4-2. A minute to go, looked like JO got a step out byt grounded is called. Down to the final 30. A takedown would do it but easier said then done. 20 seconds. A stoppage with 7 seconds. A caution for fleeing with just 4 seconds remaining. And a desperation shot is stopped and Zain Retherford makes his third world team!
Crowd is not happy but they are Cowboy fans so it's understandable and I have a feeling they will be cheering on Zain in Belgrade like the rest of us.
---
Round 1
1st period: Peak had a lot to say at yesterday's press conference, he'll now try to back it up on the mat against defending world team Pat Smith. Minnesota's Smith strikes first, driving Peak out of bounds. The Northern Michigan grad Peak returns fire with a snap down go-behind for the 2-1 lead. Another step out makes it 3-1 for Peak. Smith goes right back at Peak, getting a body lock and then sagging him to his back for a big four-pointer. Period ends 5-3 in favor of Smith.
2nd period: Smith build himself a comfortable lead and will want to do everything he can to avoid going back down in par terre where Benji is most dangerous. Peak looking for an opening but Smith is shutting him down. 30 seconds to go. Time runs out and Smith takes round 1!
Round 2
1st period: Smith wastes no time looking for an arm drag right off the whistle. Peak wrestles out of danger and we're still in neutral after 30 seconds. No scores after 90 seconds and Smith gets dinged for passivity. Peak gets a point and will go to work on top in par terre. Peak struggling for a lock but does get a grip just in time. Peak to his feat and he launches Smith for two! No danger when they came to the mat but a correct throw nonetheless. 3-0 in short time. Smith pushing Peak to the boundary. Smith also with a big handful of singlet. Smith gets a step out but Peak's corner wants a penalty for a singlet grab. They don't get it so they throw a brick. Not sure how this doesn't get called. And after the review they waive off the step out but the singlet grab is just a warning. I mean, Peak's singlet got literally torn up but I guess Smith knows not to do it again? Anyway, maybe there is something in the rule book about official procedures for singlet grabs but that was as blatent as it gets. Anyway, period ends 3-0.
2nd period: Back to the center after Benji get's his torn singlet repaired with athletic tape (for serious that happened). No scores after 90 seconds and now Peak gets hit for passivity. It's 3-1 and Smith on top in par terre. Smith and Peak are up to their feet near the edge, Smith has a body lock. Peak steps out and it's 3-2. Back to the center with 1 minute left. Peak trying to hold on to force a round 3. Smith charging ahead. Peak warned for putting his head down. 15 seconds. Peak hit with caution and 2! But it's white paddled. Score remains 3-1. Match ends and we get another round 3 bout! Peak wins 3-2 and we will see these two battle again later tonight.
Round 3
1st period: Smith comes out with some hard, heavy hands and drives Peak out of bounds for the first point on a step out. Peak then gets dinged for passivity and Smith gets a chance on top. Peak tries to step over a gut wrench and gets warned for leg fouls but no points. It's 2-0 and we go to the final period of this series.
2nd period: Pummeling for a minute and now Smith gets hit for passivity and Peak goes on top. Peak gets a lock around the waist, brings them to their feet, Smith pivots to go chest to chest, Peak back arches but lands on his back and Smith gets the two. Or does he? There is a challenge and Benji says there was a singlet grab. And upon further review there was. Big swing in the score as it's now 3-2 for Peak instead of 5-1 for Smith. They go back into par terre after the restart but no more scores. Baack in neutral Smith gets hit again for singelt grab and it's two more and a second caution. One more and Smith is DQ'd. Peak then adds a step out with 30 seconds to go and it's 6-2. Short time on the clock and Smith can't muster up anything else. Benji Peak will win his second in a row to punch his ticket to Belgrade!
An emotional Peak savors the moment on the mat before getting his world team plaque from Coach Lindland. Peak then suplexes his coach in celebration. Fun moment for an exciting wrestler.
---
Round 1
1st period: Relative newcomer Basham will try to upend the more seasoned Nette. First points go to Nette as she powers thru Basham's defenses for a double leg at the edge. Shot from Basham but Nette is there to counter with a smooth go-behind. Gut wrench for two more but Basham scrambles behind for a reversal to make it 6-1. 90 seconds left in the first. Another scramble and Nette gets behind Basham in quadpod defense. Nette brings Basham down to the mat to complete the takedown and make it 8-1. Basham gets hit for fleeing in par terre so it's 9-1 but Nette can't get a turn before time runs out in the period.
2nd period: Basham begins her comeback campaign. Snap down gets Nette in a front headlock but action is slatemated. Nette in on a single leg and Basham spawls and looks to counter. Nette clinging to a leg and gets a stalemate after nearly a minute of clock gets chewed up. One minute to go. Basham gets a step out. Then drives Nette again off the mat and gets a caution and one so its 9-4 as Basham will try and out-condition Nette in these final 30 seconds. Basham shoots in but Nette whizzers her out of bounds for a 10-4 lead. A final shot by Basham is countered and Nette will counter and cover to make it a 12-4 counter. The Army WCAP gets another winner in round 1!
Round 2
1st period: Nette looks strong off the whistle, methodically working her way up a single for a takedown. Basham may be able to push the pace and outlast Nette but she's the underdog at this point. Action slows and the period ends 2-0.
2nd period: Nette goes on the attack again and collects another quick takedown. Two gut wrenches later and it's 6-0 but now Basham counters by picking a leg and gets an exposure to make it 6-2. Basham now running Netter toward the edge and they go tumbling out of bounds. Four for Basham and she's right back in this! Or is she? Challenge from Nette's corner and it's won, as they say Basham stepped out before anybody started going to their back. Huge swing as it's now 7-2. Basham won't back down and hustles for a takedown to make it 7-4. A four point move will do it, and Basham nearly has one with just a few seconds left, but it's ruled a step out instead and Basham only gets a point. 7-5, but Basham will YOLO brick it. Call is upheld, so Nette nets one more point. Clock expires a few seconds later and the final is 8-5.
Louisiana's own Abby Nette is a world teamer!
---
Round 1
1st period: Alaska's own Spencer Woods taking on two-time Olympian and current Grand View student Ben Provisor. Provisor strikes first with a short throw-by and go-behind for a two-point score. Fron headlock for Provisor and he levitates a planking Woods then spins him to the side for a four-point maneuver. Restart in the center and Provisor repeats a similar sequence, but only for two points. That's still enough for a tech fall in Greco so Provisor takes round 1!
Round 2
1st period: Provisor steamrolled in the first round, Woods will need to figure out away to avoid that fate in this bout to force a match 3. Provisor goes arm spin, Woods catch his him, then launches him for a correct throw to make it 2-0. Provisor's corner throws a brick but Ben throws it back and we go back to the center. Passivity called on Provisor so Woods gets another point and goes on top in par terre. Provisor takes advantage of Woods who was bringing a reverse lock to their feet and escapes. No points in international styles but Provisor no longer has to worry about defending on bottom. Provisor then drives Woods to the edge of the mat and Provisor covers for two as they slide all the way off the mat. 3-2 is the score as we go to the break.
2nd period: They wrestle to the boundary again and Woods gives Povisor the 'Ole!'. Point is given to Provisor though, saying Woods stepped out first. Woods' corner challenges, saying it was a straight arm push, which cannot result in a stepout. Call is upheld, saying Provisor slid to the mat in a grounded position while Woods then continued and stepped out. 4-3 Provisor thanks to the lost challenge. Now Woods gets hit for passivity and Provisor gains another point. No scores down in par terre so come back to neutral, Provisor leading 5-3. One minute to go. Down to the final 30 seconds. And that's how it ends. Ben Provisor has made yet another world team!
---
Round 1
1st period: Reigning world champ Thomas Gilman taking on two-time All-American from Cornell, Vito Arujau. Gilman charges right ahead and gets the first point via step out. Gilman controlling ties and the center but Vito keeping Thomas on guard with counter attempts. Gilman gets to a single leg and Arujau tries to grab an ankle but gets throttled and gives up an exposure. Gilman takes a 3-0 lead. Another single leg takes Gilman about a minute to finish to make it 5-0 in short time. Period ends, all Gilman so far.
2nd period: Vito gets his first points with a slick single that he finishes for two. 3 point leads for Gilman with a little over 2 minutes to go. Gilman digs two underhooks and drives Arujau out of points for a step out and fleeing to make it 7-2. Arujau gets another single leg but Gilman kicks free, then counters when Vito dives to try and cover to make it 9-2. A gut wrench makes it 11-2 and Gilman is one point away from a tech. Gilman down on another single and he walks Arujau out for a 12-2 tech fall.
Round 2
1st period: Gilman pulled away in the second period. We'll see how Vito answers that drubbing he took. Vito gets in on a single leg early and tries finishes in either direction. Gilman snags a leg in time to force a stalemate. Great flurry to kick things off. Gilman also has his right thumb or hand taped up. Big clubs from both guys, no scores a minute in, but right after the 2 minute mark Gilman find an opening and collects a clean two off a low shot. A leg lace turn makes it 4-0. Back on their feet Arujau fires off several attacks, eventually battering Gilman down to the mat and collecting two right on the edge. 4-2 with a minute left in the period. Gilman hammers in a couple underhooks and forces Vito out of bounds for one more point before the period ends. Thomas leads 5-2.
2nd period: Vito is hanging in there but running out of time to force a third bout. Let's see if Gilman steps on the gas to finish things off early. Gilman not giving an inch, forces another step out to make it 6-2. Two minutes to go. Another step out, that forces Vito all the way off the mat and a step or two on the scorers' table, makes it 7-2. Vito coming back at Gilman hard but what looked like a stepout was ruled grounded and it's still 7-2 with a little over a minute to go. Vito lounges in and Gilman pancakes him to the mat for a big four point move and now Thomas is a point away from the tech. He looks for a lace and while trying to defend Vito exposes and that'll do it. 13-2 tech fall for Thomas Gilman! Or is it? Challenge brick is out for that last score. Call is upheld, so it's 14-2 officially, and Gilman will defend his world title in Belgrade!
---
Round 1
1st period: Slow start to the first and Nowry gets dinged first for passivity. Koontz gets a point and a chance to score from par terre. Nowry defends and they'll go back to their feet, Koontz with the slim lead. Koontz attends Ohio State, while Nowry is another member of the Army WCAP. Period ends 1-0.
2nd period: Subsequent stanza starts similar to the first, atho now it's Koontz who gets hit with passivity. Nowry gets a point, the lead via criteria, and an opportunity to add to it in par terre. Koontz does not give up any point and we go back to neutral. 90 seconds remain in the match. Nowry gets dinged for passivity again. He'll go down on the mat in par terre but no points will be awarded, as that can only happen twice in a match. Koontz makes a final offensive attempt but Nowry parries him down to the mat. And Army WCAP gets another Round 1 victory as Nowry takes it 1-1.
Round 2
1st period: First period going just like the last one, with Koontz getting a point for a passivity call on Nowry, but Nowry defending. And that's how the period ends, same as the first bout. At least I hope it's just a coincidence and I'm not rewatching that first bout. I hope I'm not stuck in some sort of Groundhog Day like time loop, destined to rewatch the same match over and over until I figure out the secret to unlocking this temporal anomaly.
2nd period: More evidence for a Groundhog Day situation as Nowry scores a point in the second to take the lead via criteria off a passivity call on Koontz. No scores in par terre so the repeat of bout 1 (at least we hope!) continues. Nowry goes down in par terre but it's the third passivity call so once again no points. It's like deja vu, ALL OVER AGAIN. No scores in par terre. Down to short time. And Nowry wins on criteria. Now to see if they present the awards or else it's time to panic.
We can all exhale as Nowry is named the Team USA representative and will go to Belgrade to wrestle at the World Championships. To my great relief, I find out I am not stuck in an infinitely repeating loop of time.
---
Round 1
1st period: Gross is a national champ, but Fix is a world medalist. Daton will also have the home mat advantage and the crowd behind him. Fix gets the first point, attacking and driving Gross out of bounds. There's another ferocious scramble about mid-way through the period but neither wrestler can gain an advantage and its still 1-0 with a minute left in the first. A lot of circling in the next minute but nothing close to the activity we saw earlier. Fix will take the 1-point lead into the break.
2nd period: Fix stays on his attack, Gross looking for his counter opportunities. Fix digs two under and carries Gross out of bounds and will get a step out and a caution. Gross pressuring in and Fix snaps down and goes behind for two more. Gross finally gets on the board with a step out to make it 5-1 but there are just 90 seconds left on the clock. Gross cuts off Fix's angles of escape and gets another point, 5-2 with 60 to go. Restart and Gross fires off a low double that caught Fix out of position and a clean finish to pull within one. 30 seconds to go. Gross takes ground and gets another step out to tie it up. Fix has criteria thanks to the fleeing call. Gross attacks with just 8 seconds left. Fix holds him off and he wins round 1, much to the relief of the Cowboy faithful.
Round 2
1st period: Daton Fix roll jumps on the mat and the crowd is loving it. Gross is not going to make it easy for the hometown favorite (the Oklahoma Jumping Man, as they say). Fix in on the first shot, but Gross is crafty and they're in a scramble. Fix gets two at the boundary but Coach Bono throws the challenge brick. Challenge is won but it's ruled Gross still stepped out so it's 1-0 Fix. Gross attacks an ankle off the whistle but Gix fights free and reattacks for a clean double. They go out of bounds, Fix leads 3-1. Gross pressures in and he'll get a step out for his first point. More pressure from Gross and again a step out for Gross, or not! White paddled, still 3-1, now in short time. Period ends.
2nd period: As expected, this whole series has been nothing but action so far. Are we at the halfway mark, or the three-quarters mark? We shall soon see! Fix in on a single. No easy finish on Gross but Fix picks up another step out to make it 4-1. Gross answers with a step out to make it 4-2. Another step out for Gross and it's 4-3. Now Fix pushes Gross out but they call it grounded. Or not. Overuled, but it's a step out on Fix? I guess if Gross is grounded but Fix is on his feet pushing him out and continues out of bounds he technically stepped out but to me that is lunacy. Not at all in the spirit of the rule. Maybe its how it's supposed to be interpreted but if so I absolutely hate it. Frankly, I hate it either way but regardless we continue. Fix still leads on criteria, 4-4. Another step out with just 18 seconds to go and now Gross leads 5-4! Gross avoids giving up any more points and he will force a round 3! Unsurprisingly, the crowd is very displeased. I don't blame the mat official though. On the most controversial call he was overruled by the table judge and chairperson.
I have many thoughts about step outs and grounded calls and this particular interpretation but this is not the appropriate time or place. It's not at all about the wrestlers by the way. Both Gross and Fix are awesome! Anyhow, round 3 has some insane bouts coming up!
Round 3
1st period: Cowboy fans in the building are hoping to get an alum on the world teamer after Oliver came up short against Retherford. Fix starts things with a snatch single that he turns into a step out point. Some chain wrestling from Fix as he goes boot scoot to single leg and gets another step out to make it 2-0. Single leg for Fix who stays hungry for points. Back trip at the boundary for two and a 4-0 lead. Gross goes on the attack and slips behind for two to cut the lead in half just before the break.
2nd period: Fix on another single but Gross sprawls and looks for a counter. He'll settle for a go behind and a 4-4 lead via criteria as the crowd goes silent. Fix tries to calm their nerves by getting in on another single leg and driving Gross out for a point and regains the lead. One minute to go. Gross taking territory from Fix. They go out of bounds, two is awarded. Fix challenges but loses. 7-5 now with 30 seconds to go. A takedown is not enough. Fix shoots in, in the flurry Gross exposes his back and Gross picks up two more. The arena is stunned. Gross holds on for the 9-5 win.
Seth Gross goes into Gallagher-Iba and takes out returning medalist Daton Fix! Impressive stuff. Excited to see how Gross fares overseas.
---
Round 1
1st period: This developed into one of the fiercest rivalries in women's wrestling. Winchester is a 2019 World Gold Medalist, while Burkert is a 2021 World Bronze Medalist. No scores after the first minute. Neither wrestler is known for the high shot-volume and unsurprisingly we have a lot of hand fighting but no flurries. Burkert goes on the activity clock. Clock rounds out and Winchester gets a point on the board first. Burkert fires off a nice shot but Winchester side-steps her. And that's how the period ends.
2nd period: 30 seconds in with no other scores and now Winchester goes on the clock. No more scores and it's tied 1-1. Now Burkert fires up a double and scores, then gets another turn to make it 5-1. Winchester answers with a lift for 2 to make it 5-3 and the action has definitely picked up. Winchester gets a step out to make it 5-4 with 20 seconds left. Winchester charges ahead but Burkert manages to just barely keep her at bay as time runs out. Or does she? There was a possible takedown at the buzzer but it looked like time was out. YOLO brick is thrown but challenge is denied and Burkert takes round 1!
Round 2
1st period: We've got three round 3 bouts coming up, will Jacarra force a fourth? Ferocious handfighting in the first minute but no scores. Winchester drives Burkert to the edge, then a nifty throwby to create some space for a go behind the other way and Winchester gets on the board first with a 2-0 lead. Burkert answers with a double leg that thunders Winchester down to the mat. But something went wrong. Jenna is holding the side of her face. She looks to be in a lot of pain as they stop the match. Burkert rolls to her back. She's moving her feet and I think is moving her arms. Replays show Jenna landing on the top of her head as they both hit the mat. Hopefully it's just a stinger but with head or neck injuries you can't be too cautious. Burkert will injury default the match and Winchester takes bout 2. Jenna is still down on the mat. Stretcher is coming out and I understand an ambulance is on the way.
Jenna is successfully taken off the mat on a stretcher to a round of applause. Hoping for a speedy recovery. The worst part of sports is seeing something like that, especially when it happens to such a great wrestler and person.
Jacarra gets to come back in the round 3 matches to make it official. She'll be on the world team in Belgrade.
---
Round 1
1st period: Cox is coming off a world bronze medal from Oslo after having won two world golds at this weight in 2018 and 2019. Nate Jackson has been charging up the ladder and blitzed his way through the Last Chance Tournament and Team Trials Challenge Tournament. Jackson goes 'cram' double soon off the whistle but Cox defends. Solid action to start things but no scores after a minute of wrestling. Short drag and Jackson goes straight ahead with a double and this one lands, giving him the 2-0 lead. Hand fighting is at a high pace as Jackson immediately attacking any tie up Cox tries to initiate. First period had plenty of action if only one scoring maneuver. We go to the break, still 2-0 Nate.
2nd period: Jackson fires off another double at the whistle but Cox defends. Cox answers with a single that he converts. Vintage Cox movement to create that opening for the score. Two minutes remaining as they trade attacks. A couple of half shots from each wrestler and good movement but no more scores as we round the final minute. Short time. Jackson trails via criteria. Jackson furiously attacking but Cox houdini's Jackson's shot and reappears behind him to take the outright lead 4-2 with under 10 left on the clock. Cox will take it 4-2 as one of the most anticipated bout of this event delivers on intensity.
Round 2
1st period: Jackson once scores first, this time with a single that he turns into a step out point. Cox on the attack now. He pulls Jackson up to his feet before driving him out and evens the score at 1 a piece, though Cox technically leads on criteria with about 90 seconds left in the period. Jackson fires off another couple shots but Cox parries away the danger. Period ends still 1-1.
2nd period: Not a tone of scores but a chess match is playing out in neutral as both wrestlers look for openings to exploit, however, they are having a hard time finding any. Cox goes on the activity clock but it's Jackson goes on the offensive and gets a step out. Cox, additionally, does not score within the 30 seconds so Jackson has a 3-1 lead. Cox responds with a step out for himself and the score is 3-2 but its under a minute to go. An incredible scramble in short time but the match ends and Jackson takes one from J'den! We're getting another fire third round bout!
Round 3
1st period: Our penultimate match of the night. Can Jackson make it two in a row? Was last match an upset or a harbinger? These are active wrestlers so even as the first 30 seconds transpire with no scores it doesn't mean there hasn't been action. Cox digs underhooks and marches Jackson around the mat but doesn't score. 90 seconds in Cox wraps around a single leg and climbs his way up Jackson for the takedown. Cox leads 2-0 with a minute to go. Jackson fires off some explosive shots but Cox fends him off and its still 2-0 at the break.
2nd period: Cox taking ground from Jackson. Nate drops to his knees but J'den picks him up and shoves him out of bounds for a step out point. Jackson can get his fingers on Cox's legs and ankles but it's only fleeting and it's still 3-0 with just over a minute to go. Now Jackson gets a solid hold of a leg but Cox wrestles the position to a stalemate. Still 3-0, 30 seconds to go. With 6 seconds to go Cox gets warned for fleeing but no points and Jackson will need a four. There's not enough time and J'den Cox is going back to the World Championships! That makes six world or Olympic teams for the big guy from Missouri.
---
Round 1
1st period: Velta has a World bronze from 2018, Molinari got her bronze in Oslo last year. A battle of podium placer commences. No scores after a minute but then Velte snaps Molinari into a front headlock, make that a cradle, and gets two. Molinari keeps the cradle locked up but can't get a turn so back to neutral. Velte swoops down a for a single leg and has Molinari hopping in the air. Velta walks Molinari out of bounds to make it 3-0. Velte down blocks off a shot from Molinari and gets a go-behind for two more. Molinari tried to counter but time runs out as they were in the midst of a flurry.
2nd period: Velte snatches a single right off the whistle and has Molinari hopping but cant finish. Velte stays on her offense though and gets another single that she finishes, once again having a cradle, or at least a head, arm, and a leg, that doesn't lead to more points. Molinari does counter for a reversal point but it's still 7-1 Velte. Back on their feet, Velte counters another Molinari shot to make it 9-1 and is in command of the match with 30 to go. Velte in on another shot but time runs out before she can get the tech. Still, dominant performance for Velte as she takes round one.
Round 2
1st period: Another contender for a third round bout, although Velte looked pretty strong in the first bout. Velte grabs a single and pulls it up. Can't get the trip but she does get Molinari to step out. I guess it's grounded though? I don't know and I don't want to think about it because grounded rulings make me so very mad and I want to enjoy this match so I'm moving on. 0-0 with a minute to go and Velte gets put on the activity clock. No scores and Molinari takes the 1-0 lead, which is how it stays as we go to the break.
2nd period: And things start off with a bang, or maybe a thud. Whatever the sound is when two skulls smack together. Nothing intentional but their heads did butt and now Velte needs to have quite a bit of blood cleaned up. And we're back to action. And we're back to blood time. Velte looks bad ass with the streams of blood trickling down her face but wrestling with blood all over your face is not allowed, no matter how cool it looks. And we're back again. A minute in and Molinari goes on the clock. Velte gets in on a shot, she nearly has it but Molinari escapes. And we need more blood time. This time Velte is getting tapped up proper. A tape helmet is in place. Hopefully it stays on and we wrestle the next 90 seconds uninterrupted by blood much to eh dismay of any Draculas in attendance. Velte scores the passivity point and the tape helmet is hanging on by a thread. And it's off. Retaping time with 51 seconds remaining. Back with the wrap and chinstrap this time. Molinari also back on the clock. But now Forrest goes in on a shot and finishes for two. She leads 3-1 with under 10 to go. And Forrest forces a bout 3 after a bloody match wth Velte.
Round 3
1st period: Our final bout of Final X Stillwater! Two medalists on the mat but only one will go to Serbia. Velte walks out pre-taped with a head wrap and a chin strap made out of tape. Velte with a single leg, Molinari tries to grab a leg but gets stopped with her back exposes and gives up 2 (was ruled 4 but overturned on review). Back in neutral Velte gets an over-under tie and launches Molinari to her back for a beautiful feet-to-back throw. It's 6-0 and Velte locks up a leg lace. She takes Forrest over twice and wins a bruising (and bloody) three-match series with Molinari.
Gutsy performance from Mallory Velte and she'll look to add to her world medal collection in Serbia!
That'll do it from Stillwater. If you're reading this recap sequentially you may be confused. If you figured out how to read it as it happed in real time, well done! To everyone either way: thanks for reading, apologies for the typos and see you in New York City!
---
Round 1
1st period: A battle of Buckeyes at 97kg. Moore fires off a shot but Snyder parries. Snyder grabs a low single, comes up with it and scores the first points of the bout with a takedown. Snyder shoots in again and dumps Moore onto his back for a big four-pointer to take an early 6-0 lead. And we hit the break with a 6-0 lead for the seven-time world and Olympic medalist.
2nd period: Snyder gets a step out and a takedown to draw within one point of a tech fall. And a gut wrench gets him there. Incredible to make it look at easy against a wrestler of Moore's caliber. Snyder take round 1.
Round 2
1st period: Snyder gets in on a body lock and gets a step out. He's very physically imposing. Moore answers with a ducker under to a tricep control barrel roll and gets an exposure (just barely) to take the lead 2-1. Snyder counters with a low level shot and regains the lead 3-2. Snyder stays on Moore, unrelenting. There is no relent, and Snyder picks up another step out and then a takedown to make it 6-2 at the break.
2nd period: Another step out early in the period to make it 7-2. Snyder making every adjustment he can to frustrate Moore and he gets another takedown and it's 9-2. Another takedown and a step down and a workmanlike techfall. 12-2, never in doubt. One of the greatest American wrestlers ever make his eighth straight World or Olympic team!
---
Round 1
1st period: Our final bout of the round. Tamyra Mensah-Stock the Tokyo Olympic gold medalist taking on the upstart Sienna Ramirez. A flurry off the whistle, Tamyra extends and flips Ramirez over to the mat and covers to score. Ramirez not backing down as she comes right back at Tamyra and collects a takedown of her own. Ramirez has the lead via criteria but plenty of match to go. Tamyra down on a single leg. She picks it up and finishes to regain the lead. Tamyra extends her lead with a slick double to make it 6-2 before we hit the break.
2nd period: Tamyra turns on the turbo charge as she collects a takedown and looks for the fall with a cradle locked up, but cradles haven't really been working much at this Final X and Ramirez pops her head out of danger and manages to work a reversal out of the predictament. 90 seconds to go, 10-3 lead for Tamyra. Another takedown for Tamyra pulls her to within one of a tech. Mensah-Stock goes for an armbar to try and finish things but Ramirez fights off her back. TMS gets the takedown with 4 seconds to go in the bout though so she finishes off round 1 in style!
Round 2
1st period: This would close out the event IF we didn't have five round 3 bouts, but we do, so it doesn't! Sweep single for Tamyra makes it 2-0 in a hurry. A subsequence leg lace wasn't locked up very tightly so that doesn't land and we go back to neutral. TMS in on a double and she takes Ramirez over on her near side to extend her lead by 2, then does get a successful turn to make it 6-0. Back to the center with a minute left in the period. Period ends 6-0.
2nd period: Tamyra back on the attack, doubles for two and Ramirez is having a tough time keeping up, which is understandable opposite an Olympic gold medalist. A slick ankle pick will seal the deal and Tamyra Mensah-Stock is going to Belgrade for more hardware!
---
These Matches Happened First But I'm Relocating Them To The End Of The Blog To Make It Easier To Read.
We'll have a couple of true-third matches at 1:30PM ET. Top 3 on the ladder make the national team and its concomitant monetary stipend, training opportunities, and other benefits, which is all at stake for the winner of the following matches, both in freestyle:
57 kg: Jakob Camacho vs Zane Richards
1st period: Camacho, NC State's three-time NCAA qualifier takes on Illinois two-time All-American, Richards, who graduated in 2017. Camacho gets in a single leg but Richards scramble behind for two on the takedown. A brace of gut wrenches makes it a quick 6-0 lead for Richards. They trade shots in the center, Richards breaks thru with another takedown to make it 8-0. A final gut wrench to make it a clean sheet, 10-0 tech in the first period.
74 kg: Joey Lavallee vs David Carr
1st period: Lavellee, an NCAA finalist for Missouri now training at the Lehigh Valley Wrestling Club is taking on Carr, a 2021 NCAA champ and 2022 third-placer for the Iowa State Cyclones. Carr gets in on the first shot but Lavellee kicks free. Halfway thru the 1st period its still 0-0. Lavallee goes on the activity clock but it's Carr who capitalizes who grabs a takedown while the clock still ticks away. New activity clock rules means Carr adds another point as Lavallee failed to score in the 30 seconds. Period ends 3-0 for Carr.
2nd period: Lavallee picks up the pace, heavy snap into a from headlock and Lavallee head pinches Carr for four points and the lead as they go out of bounds. Lavelle goes for the front headlock again. Carr attacks the legs simultaneously. Lavelle goes to his back with Carr in a headlock. It's ruled 4 for Carr, who comes out on top. Carr then laces Lavalee for 2 more and the scoreboard reads 9-4 Carr but Kerry McCoy throws in the challenge brick to argue that Lavallee should have scored in that second big sequence. A lot hangs in the balance of this review. And its 10-6 after the review, not entirely sure but action resumes and away we go. Another takedown for Carr makes it 12-6 with just 1:45 left on the clock. Carr goes in for another shot, Lavallee tries to counter but it's Carr's points. Two more turns on a leg lace and Carr takes it with a 16-6 tech fall!