Women's Weekly
Women's Weekly: Nationals And Pan-Ams
Women's Weekly: Nationals And Pan-Ams
World teams are on the line as the best wrestlers in America competed in Las Vegas and in Forth Worth over the past two weekends.
May 12, 2022
by Kyle Klingman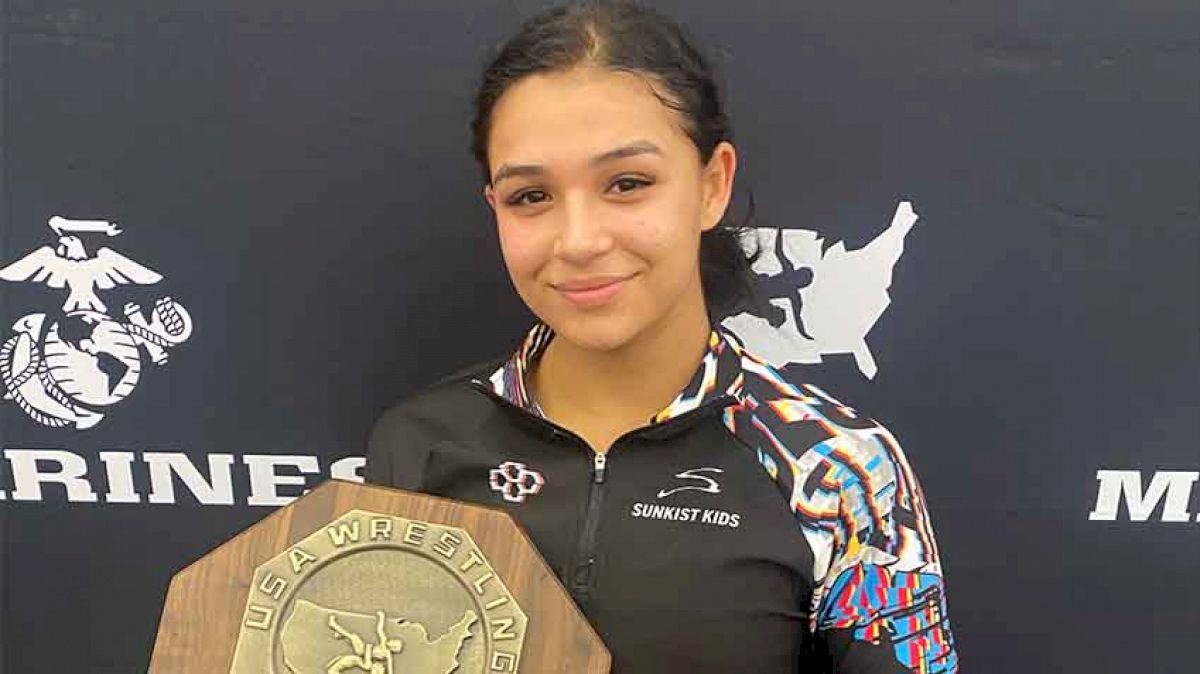 2022 Women's Nationals
The Will Rogers Memorial Center in Fort Worth, Texas, hosted one of the biggest women's wrestling tournaments in the country over Mother's Day weekend. Women's Nationals set the stage for the upcoming age-level World Championships later this year.
Winners of the U17 (Cadet) and U20 (Junior) divisions will represent the United States in their respective weight classes at Worlds while the U23 team is yet to be determined.
The highest-ranked, age-eligible athlete from the 2022 Senior Women's Freestyle National Team will represent the United States at the U23 World Championships if she chooses to take the spot. If a wrestler on the National Team does not meet the age requirements then the winner of the U23 Nationals will represent the United States.
That means three-time age-level World champion Emily Shilson — who was defeated in the 50-kilogram semifinals at U23 Nationals to eventual winner Nyla Valencia — can still make the U23 World Team if she places in the top three at the Senior World Team Trials and another age-eligible athlete does place higher than her. The winner of the U23 National Championship will be offered an overseas tour for winning the tournament even if she does not make the team.
Five Takeaways
— After Audrey Jimenez made the 50 kg U20 World team on Saturday, she began competing in the U17 National tournament at 49 kg — approximately 2.2 pounds lower — as soon as she won her best-of-three series. That means Jimenez weighed one kilogram lower than necessary during the U20 tournament and made the U17 team the following day. She won six matches in each tournament to go 12-0 on the weekend.
— Amit Elor won Cadet and Junior World titles last year and will have a shot at three 72-kilogram World titles this year. She made the U20 team by winning all six of her matches with falls or technical superiorities in the first period. She also won the U23 tournament, so she has a shot at making that team and the Senior World Team in a few days.
— Katie Gomez, a 2021 Cadet World champion, made a U20 World team at 53 kg — then she flew home for prom. "I have to catch my flight," Gomez said during her post-match interview. "I have my prom right now. Unfortunately, it was on the same day but I had to make a Junior World team. It worked out perfect."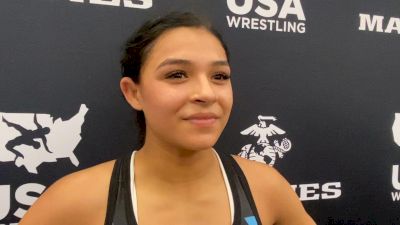 Katie Gomez after she won U20 Nationals
— Nanea Estrella will still be the #1 seed at 59 kilograms during the upcoming Senior World Team Trials even though she did not win U20 or U23 Nationals. She reached the finals of the U20 tournament but dropped straight matches to Savannah Cosme. Estrella won the US Open the previous week, which guaranteed her the top seed in Coralville.
— Iowa Wesleyan freshman Adaugo Nwachukwu had never heard of wrestling four years ago. Now, she will represent the United States at the U20 World Championships. Nwachukwu lost her first match in the best-of-three finals series, 16-11, to judo specialist Skylar Hattendorf, but won by technical superiority in her next two matches to make the 62-kg U20 World team. She also won an NAIA championship in March before placing third at the US Open the previous weekend.
2022 U20 National champions and World Team
50 kg: Audrey Jimenez
53 kg: Katie Gomez
55 kg: Adriana Dorado Marin
57 kg: Sofia Macaluso
59 kg: Savannah Cosme
62 kg: Adaugo Nwachukwu
65 kg: Reese Larramendy
68 kg: Destiny Rodriguez
72 kg: Amit Elor
76 kg: Tristan Kelly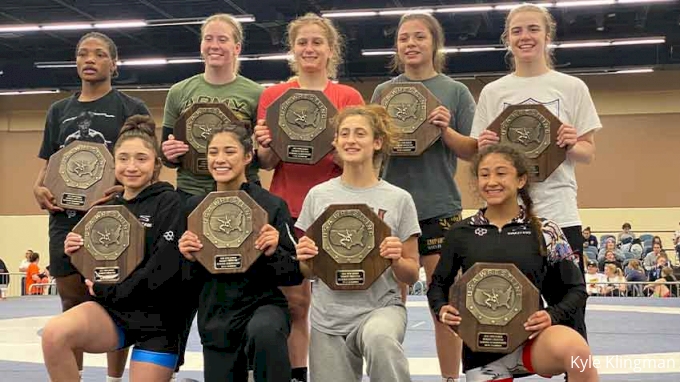 Members of the U20 World team (missing: Katie Gomez)
2022 U17 National champions and World Team
40 kg: Megan Valdez
43 kg: Erica Pastoriza
46 kg: Gabriella Gomez
49 kg: Audrey Jimenez
53 kg: Elena Ivaldi
57 kg: Shelby Moore
61 kg: Valerie Hamilton
65 kg: Lizzie Shunn
69 kg: Jasmine Robinson
73 kg: Amarisa Manuel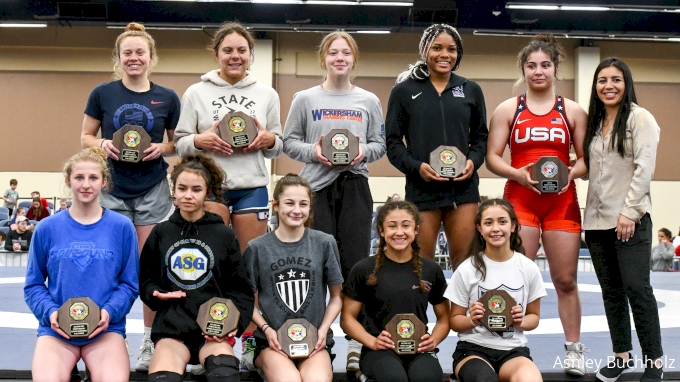 Members of the U17 World team with USA Wrestling developmental coach Jessica Medina
2022 U23 National champions
50 kg: Nyla Valencia
53 kg: Felicity Taylor
55 kg: Alisha Howk
57 kg: Nichole Moore
59 kg: Brenda Reyna
62 kg: Macey Kilty
65 kg: Ashlynn Ortega
68 kg: Ana Luciano
72 kg: Amit Elor
76 kg: Yelena Makoyed
Who's No. 1?
This year's US Open added incentive to the tournament even though most of the top women had already qualified for the World Team Trials Challenge tournament. The winner of each weight class receives the top seed, which should make seeding look different than in years past. Kayla Miracle has received a bye to Final X since she is a returning World medalist.
US Open champions and top seeds at World Team Trials
50 kg: Erin Golston
53 kg: Felicity Taylor
55 kg: Jacarra Winchester
57 kg: Adrian Dorado Marin
59 kg: Nanea Estrella
62 kg: Kayla Miracle
65 kg: Emma Bruntil
68 kg: Sienna Ramirez
72 kg: Skylar Grote
76 kg: Dymond Guilford
High School Recruiting Showcase
Finals of the High School Recruiting Showcase were held alongside the US Open. Four of the champions should look familiar since they made the U17 World team over the weekend.
100: Gabriella Gomez
106: Audrey Jimenez
112: Karlee Brooks
117: Persaeus Gomez
122: Zao Estrada
127: Shelby Moore
132: Janida Garcia
138: Paige Wehrmeister
144: Maddie Kubicki
152: Destiny Rodriguez
164: Amarissa Manuel
180: Alyvia White
200: Catherine Dutton
225: Karla Padilla Zepeda
Pan-American Championships
The United States won the Pan-American Championships thanks to five gold medals and two silvers. Sarah Hildebrandt was named Outstanding Wrestler of the tournament after she won all three of her matches by a 30-0 count.
U.S. results
50 kg: Sarah Hildebrandt, GOLD
53 kg: Dom Parrish, GOLD
55 kg: Jacarra Winchester, SILVER
57 kg: Cam Guerin, FIFTH
59 kg: Xochitl Mota-Pettis, DNP
62 kg: Kayla Miracle, SILVER
65 kg: Forrest Molinari, GOLD
68 kg: Alara Boyd, DNP
72 kg: Skylar Grote, GOLD
76 kg: Dymond Guilford, GOLD
Final Team Standings
United States, 190
Canada, 165
Mexico, 120
Ecuador, 80
Brazil, 79