2022 USMC US Open Wrestling Championships
US Open Men's Freestyle Upperweight Preview + Predictions
US Open Men's Freestyle Upperweight Preview + Predictions
What to except at the 79, 86, 92, 97 & 125 kilogram men's freestyle weight classes at the USMC US Open in Las Vegas.
Apr 28, 2022
by Andrew Spey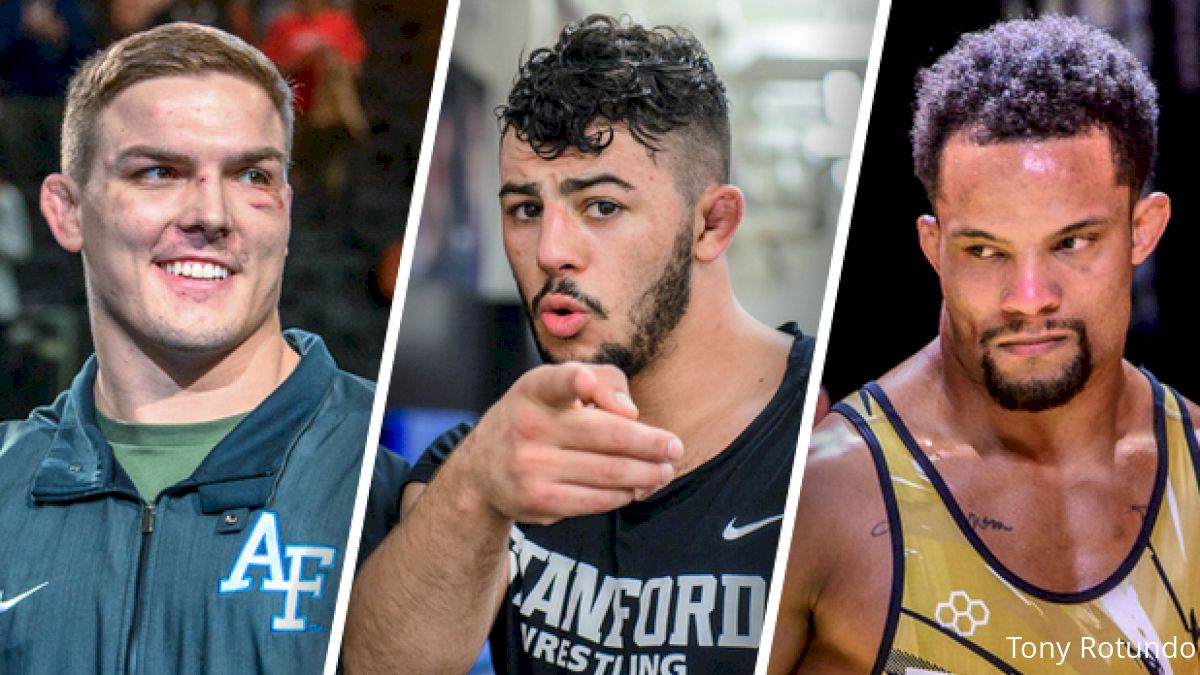 The US Open finally returns, and with it, a chance for the top senior level contenders to qualify for the World Team Trials Challenge Tournament in May, which determines who participates in Final X. Challenge Tournament seeds will also largely be determined by the results from the Open.
It's a big deal, and it's all going down in Vegas!
Preseeds are here (and noted in the preview), domestic rankings are here, and the preview is below!
79 Kilograms
Contenders
#1 Alex Dieringer, Titan Mercury WC
#2 Isaiah Martinez, Titan Mercury WC
Every since UWW instituted the 79kg non-Olympic weight class, Dieringer has been a contender on the international circuit. The three-time NCAA champ and Hodge Trophy winner from Oklahoma State now trains at Michigan with the Cliff Keen Wrestling Club and is looking to make his first senior world team (he's made two U20 teams, earning a world silver in 2013).
Ringer was the first alternate to Kyle Dake on the 2019 world team at 79kg and then runner-up to Jordan Burroughs at the 2021 World Team Trials. JB has already accepted his bid to FInal X NYC where he'll defend his spot. Ringer's first big step to a rematch with the King starts in Vegas.
Alex's chief competitor in the field at 79kg also knows what it's like to take on Jordan Burroughs in a best 2-of-3 series with a world team spot on the line. Illinois' Two-time NCAA champ and four-time finalist Isaiah Martinez came so close to making the 2019 team, winning the second of three matches and making for one of the most entertaining Final X series in history.
Watch scoring highlights from that rivalry below: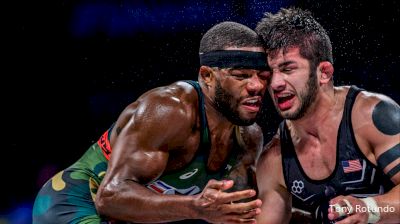 Unlock this video, live events, and more with a subscription!
Get Started
Already a subscriber? Log In
Challengers
#3 Chance Marsteller, Titan Mercury WC
#4 Evan Wick, Titan Mercury WC
#5 Taylor Lujan, Panther WC
#6 Micky O'Malley, Pennsylvania RTC
#7 David McFadden, Titan Mercury WC
#8 Vincenzo Joseph, CA-RTC
Devin Skatzka, Gopher WC
79 kilos is one of the deepest weights at the Open, and a perusal of the challengers makes that obvious. For instance, though Devin Skatzka is ranked in the top 10 domestically, he fell just shy of a top 8 seed.
Skatzka will have plenty of company in the bracket. Marsteller and Wick are formidable opponents who embody (literally) the entire range of heights you'll see from wrestlers at this level of competition (you see, Evan is very tall and lanky while Chance is very stout and compact).
UNI's Lujan was the #1 seed in the canceled 2020 NCAA tournament and it's always a treat to see him back on the mat, adding his funk and kitchen-sink approach to the mix.
It's a good bet that we'll see Drexel's Micky O'Malley dig underhooks and attempt fun throws at multiple points of his tournament run, which is always appreciated. And fresh off his first year as assistant coach of the Stanford Cardinal is two-time NCAA champ Vincenzo Joseph, who is far more dangerous than his #8 seed would suggest. Inside trips and heavy hips are a deadly combo for Cenzo.
Not in Vegas but already qualified for the Trials at this weight are notably Mekhi Lewis, Carter Starocci, and Hayden Hidlay.
Landmines
Dustin Plott, Cowboy RTC
Isaiah White, Sunkist Kids WC
Muhamed McBryde, New York AC
All three of these guys would be challengers (or contenders) in other brackets, but 79 is deeper than your average Open division. Plott had an excellent NCAA tournament just over a month ago for Oklahoma State, and Isaiah White was an All-American for Nebraska, graduating in 2020.
McBryde wrestled at Buffalo and graduated in 2017 but was just 16 when he enrolled in college and so is still in his mid-twenties in the prime of his career. He made the 2019 U23 world team and now trains at West Virginia University.
Spey's Spredictions
1) Ringer; 2) IMar; 3) Wick; 4) Marsteller; 5) Lujan; 6) Cenzo; 7)McBryde
Very tough picking. The upcoming Last Chance Qualifier at this weight should be solid.
---
86 Kilograms
Contenders
#1 Mark Hall, Titan Mercury WC
#2 Trent Hidlay, Wolfpack WC
Hall has recently transitioned to coaching where he is an assistant at UPenn, but he's still training and competing with the Pennsylvania RTC, and has plenty of tread left on his wrestling tires. Case in point, he took silver at the 2021 Pellicone Ranking Series, defeating Myles Martin along the way.
Watch Hall over Martin: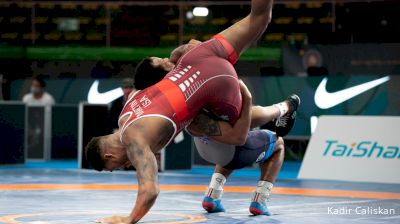 Unlock this video, live events, and more with a subscription!
Get Started
Already a subscriber? Log In
Hidlay just finished earning his second NCAA All-American placement in two trips to the tournament (with two more potentially to go) and competes in freestyle at NC State with the Wolfpack RTC. Hidlay has amassed impressive folkstyle and freestyle wins while matriculating in Raleigh, such as this decision over Olympic medalist Myles Amine at the RTC Cup in 2020.
Watch Hidlay over Amine: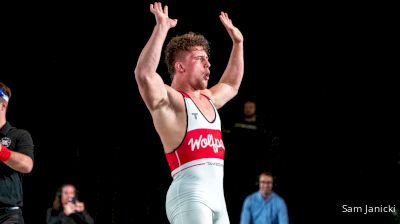 Unlock this video, live events, and more with a subscription!
Get Started
Already a subscriber? Log In
Two contenders that have elected not to try and secure the #1 seed in Coralville are Zahid Valencia and Aaron Brooks, who have already qualified for the trials and will be contenders to earn the right to face David Taylor in Final X.
Challengers
#3 Nick Reenan, Wolfpack RTC
#4 Owen Webster, Gopher WC
Expect 2018 Final X participant and Wolfpack teammate Nich Reenan to challenge for an Open title at 86, as well as Gopher stalwart Owen Webster, who fell one match shy of the NCAA podium in 2021.
Landmines
#5 Andrew Morgan, Spartan Combat RTC
Marcus Coleman, Cyclone RTC
Caleb Hopkins, Buies Creek WC
Morgan's collegiate career was cut short by covid. The Fighting Camel from Campbell was the 8th seed in the canceled 2020 tournament. Morgan now trains in Ithaca with the Spartan Combat RTC. Coleman just recently finished seventh at the 2021 NCAA Tournament. Hopkins is a two-time qualifier for Campbell with two years of eligibility remaining.
Spey's Spredictions
1) Hall; 2) Hidlay; 3) Morgan; 4) Webster; 5) Coleman; 6) Reenan; Hopkins
---
92 Kilograms
Contenders
#1 Isaac Trumble, Wolfpack WC
#2 Cam Caffey, Michigan WC
Things start to thin out a bit as we climb into cruiserweight territory. However, you can be sure that NC State's Isaac Trumble will make things rumble and Michigan State's Cam Caffey will be extra crafty at 92 kilos.Yep, I'm leaving those rhymes in. Too late to change it now.
Anyway, random trivia: Both Trumble and Caffey were eliminated in consecutive rounds of the consolation bouts at 197-pounds at the 2022 NCAA Championships by Jay Aiello.
Challengers
#3 Michael Battista, Cavalier WC
#4 Max Shaw, Tar Heel WC
Battista struck out at NCAAs and Shaw was left on the bubble after not qualifying, however, both have participated in age-level national tournaments recently and have earned their seeds.
Quite a strong Atlantic Coast flavor to this weight as three out of the four seeded wrestlers at this weight are from the ACC.
The winner of this bracket will get a big boost at the challenge tournament, as they'll get the #1 seed in a field that already has the likes of Max Dean and Drew Foster and Rocky Elam qualified. J'den Cox also looms large in Final X (though his bid has not been technically accepted yet).
Landmines
Jacob Koser, Nacy-Marine Corp MC
Gerald Harris, Hurricane Wrestling Academy
We were a little surprised Koser, a rising senior at Navy, didn't get a seed, but he has not entered much in the way of freestyle tournaments in recent years.
And age is nothing but a number for Gerald Harris, a three-time NCAA qualifier and 2003 graduate of Cleveland State.
Spey's Spredictions
1) Caffey; 2) Battista; 3) Trumble; 4) Koser; 5) Shaw; 6) Levi Hopkins; 7) Robert Striggow
---
97 Kilograms
Contenders
#1 Mike Macchiavello, Titan Mercury WC
We aren't quite calling Mike Macch the prohibitive favorite, as he has plenty of worthy challengers, however, he is the most credentialed registered wrestler in the division, having won NCAAs and collected a slew of senior-level medals, both domestic and international.
There was also that time Macch beat Kollin Moore in a thrilling freestyle match at the RTC Cup.
Watch Macch over Moore: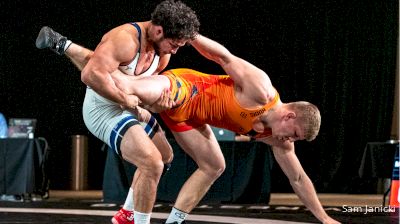 Unlock this video, live events, and more with a subscription!
Get Started
Already a subscriber? Log In
The NC State grad will be favored not only to qualify for the Challenge Tournament but also to nab the number one seed, setting himself up nicely in Coralville where he will likely encounter the already qualified Kyvan Gadson. Captain America awaits in Final X.
Challengers
#2 Jay Aiello, Cavalier WC
#3 Joe Rau, Titan Mercury
#4 Andy Smith, SE-RTC
#5 Sam Mitchell, Bulls WC
#6 TJ Dudley, Sunkist Kids WC
Aiello is already qualified for the trials by dint of his 2021 U23 world bronze medal. In Vegas, he will try and improve his seed in Coralville.
Joe Rau may have left his shoes on the mat at the Tokyo Olympic Team Trials, but it appears like that was just for Greco, as he looks to take the mat again here in freestyle. Rau is a triple threat, having earned hardware in folkstyle, Greco, and freestyle.
Mitchell will be looking for revenge in freestyle against Smith, who defeated him in folkstyle at the 2022 Southern Scuffle.
Dudley is perhaps South Carolina's greatest wrestler of all-time, having earned NCAA All-American honors three times for the Nebraska Cornhuskers between 2015 and 2017.
Landmines
Ethan Laird, Broncs WC
Laird has one more year left of eligibility for Rider University and will be the Broncs' best hope for All-American honors in 2023, where he's slated to wrestle heavyweight.
Spey's Spredictions
1) Macch; 2) Aiello; 3) Dudley; 4) Laird; 5) Smith; 6) Rau; 7) Mitchell
---
125 Kilograms
Contenders
#1 Hayden Zillmer, Gopher WC
#2 Dom Bradley, Sunkist Kids WC
Hayden Zillmer improbably started his career on the national stage by winning Fargo as a spritely 106-pounder. He's since bulked his way up the divisions, wrestling in college at 174 and 184-pounds (he was an All-American at North Dakota State), making 2018 Final X at 92kg (about 202 pounds), and now reaching his final form as a 125kg (275-pound) heavyweight.
He'll need that tonnage to take on the large yet nimble Dom Bradley. Bradley has been on the scene since at least 2009 when he won a U20 world gold medal at 120kg and has been a mainstay on the senior circuit since graduating Mizzou in 2013 as a two-time All-American.
Off the mat, Dom is a gentleman of the highest order. On the mat, he will not hesitate to run you through the scorer's table, as evidenced by the video below.
Exhibit A: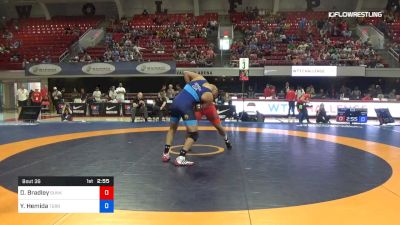 Unlock this video, live events, and more with a subscription!
Get Started
Already a subscriber? Log In
Zillmer and Bradley met most recently at the 2022 Bill Farrell, where Zillmer emerged victorious, then later claimed gold from the round robin competition.
Watch scoring highlights of Zillmer and Bradley's last tussle: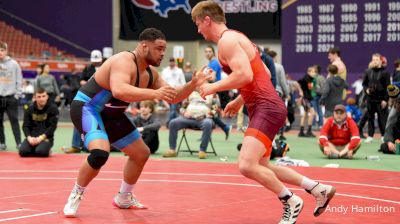 Unlock this video, live events, and more with a subscription!
Get Started
Already a subscriber? Log In
Challengers
#3 Ty Walz, Titan Mercury WC
#4 Demetrius Thomas, Pittsburgh WC
#5 Christian Lance, Nebraska WTC
#6 Jordan Wood, Lehigh Valley WC
#7 Lucas Davison, Wildcat WC
#8 Wyatt Hendrickson, Air Force RTC
#9 Tate Orndorff, Titan Mercury WC
#10 Derek White, Titan Mercury WC
Gary Traub, Beaver Dam RTC
Walz is already qualified for Coralville, but it looks like he will be bumping up to 125 and try and improve his seed here in Vegas. Five-time EIWA champ Jordan Wood is also already qualified for the trials and he too will attempt to secure the top seed at the Challenge Tournament.
All-American Christian Lance recently announced he would be staying in Lincoln, Nebraska after graduating to train with the Nebraska WTC. Having the great Tervel Dlagnev around as a coach is a pretty good reason to make that decision.
Big Meech Thomas earned his seed thanks to his performance at the 2021 Last Chance Qualifier, where he beat Lucas Davison, and the 2021 World Team Trials, where he beat Christian Lance.
Davison was able to make the 2022 NCAA podium, however. That same bracket saw Tate Orndorff fall one match shy from the medal stand, whereas Wyatt Hendrickson was two matches away having been eliminated by Orndorff in the round of 16.
Hendrickson looked impressive at the 2021 U20 World Team Trials, making the team and then finishing fifth in Ufa, Russia at the U20 Worlds.
Finally, 2019 NCAA runner-up Derek White and the inimitable Gas Tank Gary, who was an astonishing 8-0 in overtime matches last season with Oregon State, round out our list of contenders.
Landmines
Owen Trephan, Wolfpack RTC
Sam Schuyler, Cyclone RTC
This bracket is deep, which makes guys like Trephan and Schuyler all the more dangerous.
Spey's Spredictions
1) Zillmer; 2) Bradley; 3) Walz; 4) Hendrickson; 5) Orndorf; 6) Meech; 7) Wood