2022 USMC US Open Wrestling Championships
US Open: U20 Ultimate Preview & Predictions
US Open: U20 Ultimate Preview & Predictions
An extensive preview and predictions of all 10 weights at U20 Nationals this weekend.
Apr 28, 2022
by JD Rader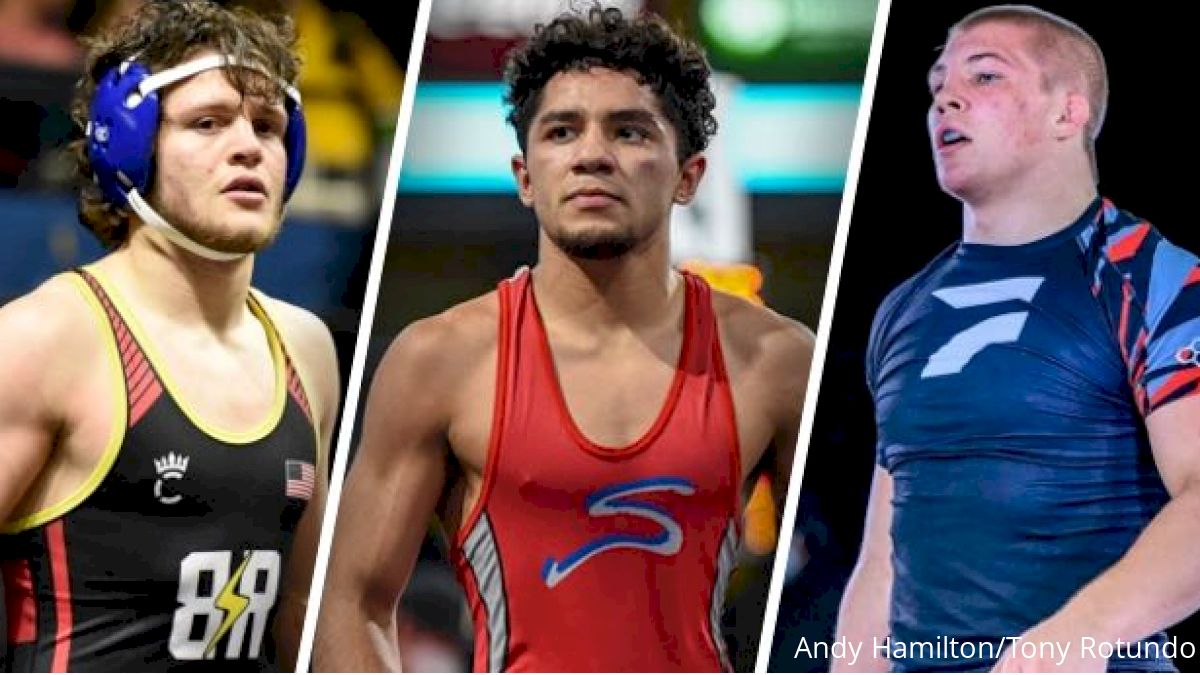 U20 Nationals (formerly known as UWW Junior Nationals) is one of my favorite age-level tournaments every year. The top high school upperclassmen get to test themselves against the best first or second year college guys who are often hungry to compete coming out of redshirt. It's the first step in making the Junior World Team as the winner of this event will earn an automatic berth to the best-of-three wrestle-off series against the World Team Trials challenge tournament champion in June.
You can find the full US Open schedule HERE and the full list of entries HERE.
57 kg
Contenders
Jore Volk
Nico Provo
The 2021 57 kg Junior World Team member is back and trying to reclaim his spot. Last year Richard Figueroa defeated Ryan Miller two matches to none to claim the spot. Having to go through Drake Ayala, Cooper Flynn, and Matthew Ramos en route to the finals, this year could be even tougher than last year for Figueroa.
A freshman at Arizona State, who will be fighting for a starting spot, the other top college guys in the bracket include Robert Howard and Dean Peterson. A 3X Cadet World Team member, Howard is extremely versed in freestyle. Similar to Figueroa, Howard could find himself in a roster battle next season. Different from Figueroa, however, Howard's main opposition for the PSU 125 lbs spot, Gary Steen, will be in this bracket as well.
Peterson is far less versed in freestyle than the aforementioned Figueroa and Howard. Despite only competing in Fargo once and never trying to make a Cadet World team, Peterson earned the #17 spot on the final 2021 big board. The St. John Vianney standout was 2X New Jersey state champion. It will be interesting to see where he is at after just 2-1 as a redshirt while competing at 133 lbs this season.
The top high schoolers in this bracket are Troy Spratley and Jore Volke. Committed to Minnesota and Wyoming, respectively, both are currently in the top-40 on the latest 2022 big board. At last year's Junior Nationals, Spratley was upended by now Virginia Tech freshman, and another contender at the weight, Cooper Flynn.
Watch Troy Spratley and Cooper Flynn's 2021 Junior Nationals match below.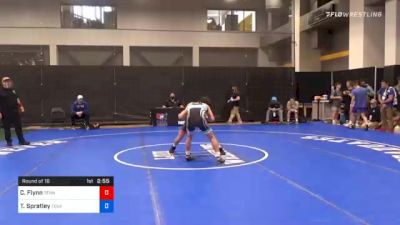 Unlock this video, live events, and more with a subscription!
Get Started
Already a subscriber? Log In
Other Names To Watch
Jakason Burks
Joseph Fischer
Conor Knopick
Gable Porter
Prediction: Figueroa over Howard
---
61 kg
Contenders
I'm very curious to see where Joel Vandervere is at after a year at Northwestern. We haven't seen the Izzy Style product since he lost to Jesse Mendez at Who's Number One all the way back in 2020 - a match where Vandervere led 3-0 with a minute to go in the match before falling in OT. While he's been somewhat off the radar with no Illinois high school senior season and not competing as a redshirt, surely he got even better after a year in a D1 room, an advantage he will have over a large portion of the field.
While two years younger than Vandervere, Kannon Webster is another Illinois prep. It feels like Webster is older than a junior, but that's just because he's been winning for a long time. Prior to his freshman year of high school, the Washington HS standout won Fargo in both freestyle and Greco. Almost a year ago to the day he committed to the University of Illinois.
One spot higher on the 2023 Big Board is #13 Cael Hughes. A 3X Oklahoma state champion out of Stillwater High, Hughes is staying home and going to Oklahoma State. Sergio Lemley was the latest Junior Big Boarder to make his commitment. #21, Lemley is Michigan's fourth top-50 recruit in the class of 2023.
While Michigan is building a massive 2023 class, Ohio State has the top class of 2022, and Nic Bouzakis is a major factor in that. He's a strong and physical wrestler who has won darn near every wrestling tournament a high schooler can... except UWW Junior (U20) Nationals. Bouzakis made the Junior World Team last year in Greco and opted not to compete in freestyle. Arguably the biggest upset of Fargo came last summer when Emilio Ysaguirre beat Bouzakis 10-5 in the quarterfinals. Currently ranked #6 at 126 lbs, Ysaguirre has proved that wasn't a one-off performance.
Watch Nic Bouzakis and Emilio Ysaguirre's Fargo quarterfinal below.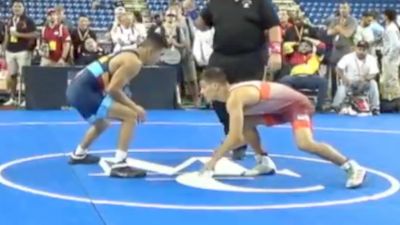 Unlock this video, live events, and more with a subscription!
Get Started
Already a subscriber? Log In
Other Names To Watch
Corey Land
Garret Grice
Joshua Koderhandt
Grigor Cholakyan
Prediction: Bouzakis over Lemley
---
65 kg
Contenders
CJ Composto
Ryan Jack
Koy Buesgens
Cody Chittum is one of my favorite high schoolers to watch. With his hard hand fighting, pace, and attacks, #1 overall recruit in the class of 2023, Chittum might be the odds on favorite to win a bracket that includes a D1 All-American and national qualifier.
Watch Cody Chittum's Super 32 semifinal win over Richard Fedalen below.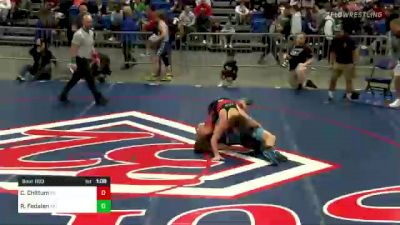 Unlock this video, live events, and more with a subscription!
Get Started
Already a subscriber? Log In
Obviously, CJ Composto and Ryan Jack might object to the sentence above. Composto took 8th this year at 141 and Jack made the round of 16. In rooms like Penn and NC State, the two have no doubt done plenty of freestyle training in their years there as well.
In addition to Chittum, Koy Buesgens is the other high schooler I think with an outside shot at winning this bracket. Pronounced 'biskins', the Minnesota native is currently #23 on the Junior Big Board. An NC State commit, Buesgens vs Jack could be a future roster battle.
Other Names To Watch
Joel Jesuroga
Benjamin Alanis
Joseph Zargo
Teague Travis
Finn Solomon
Kaleb Larkin
Richard Fedalen
Kyle Dutton
Q'veli Quintanilla
Prediction: Chittum over Jack
---
70 kg
Contenders
Michael Kilic
There's a chance Caleb Henson and Hunter Garvin run it back five weeks after their exciting 8-6 match on the Rudis Super Match card. Henson, a Virginia Tech commit, got the better of Garvin, a Stanford commit but didn't separate himself by much. Henson also didn't separate himself by much from Oklahoma State commit Jordan Williams when the two took the mat at Who's Number One seven months ago.
Watch Caleb Henson and Jordan William's one-point match from Who's Number One below.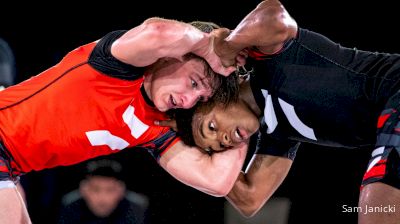 Unlock this video, live events, and more with a subscription!
Get Started
Already a subscriber? Log In
Similar to Henson, Michael Kilic is a Georgia prep. From powerhouse Woodward, Kilic is a 3X state champ. Kilic is a little more prone to up and down performances than Henson, Williams, or Garvin. However, when he's wrestling his best, he's capable of beating just about anyone in the country.
Chance Lamer and Ryan Sokol are the two big college names at 70 kg. Lamer was #7 on the 2021 Big Board and had a solid redshirt season at Michigan going 17-2. Sokol, on the other hand, is a bit of a question mark. We haven't seen him since he won the Minnesota state tournament in 2021. A month prior, Sokol lost to in-state rival Cael Swensen, another name to watch.
Other Names To Watch
Mitchell Mesenbrink
Cael Swensen
Cutter Sheets
AJ Kovacs
Prediction: Lamer over Henson
---
74 kg
Contenders
Caleb Fish
Nicco Ruiz
74 kg is going to be the weight to watch for Penn State fans as the two big names at the weight are current PSU freshman Alex Facundo and incoming freshman Levi Haines. A lot of fans expected Haines to step in as the starter at 157 next season, but competing at 74 kg (163.14 lbs) shows he might have outgrown 157 and we could get a glimpse of a future roster battle. Haines is #7 on the 2022 big board and chose to forgo his senior year of high school and a shot at a second Pennsylvania state title to be able to wrestle in college opens and focus on bigger goals. A multiple-time Cadet World medalist, Facundo was a blue-chipper coming out of Davison High School in Michigan. However, losses this season to John Martin Best, Caleb Fish, and Thomas Bullard have Penn State worried if he'll live up to expectations. It will be interesting to see how he performs now in freestyle and with a complete college season behind him.
Outside of Levi Haines, the two big high school names to circle are Aiden Riggins and Nicco Ruiz. Currently ranked #5 in the country at 160 lbs, Riggins is a University of Iowa commit out of one of the best local programs in the state: Waverly-Shell Rock. If Riggins wants to win, there's a good chance he'll have to reverse the result of the recent Pittsburgh Wrestling Classic, where Haines won 7-3.
Watch Aiden Riggins' and Levi Haines' recent PWC match below.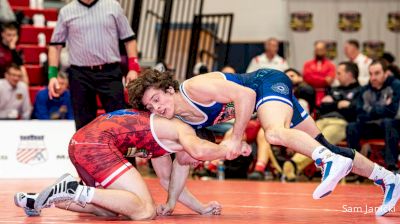 Unlock this video, live events, and more with a subscription!
Get Started
Already a subscriber? Log In
Nicco Ruiz had his big breakout performance at Super 32 last fall when he won 152 and beat Joe Sealey, Michael Kilic, Jonathan Ley, and Nick Vafiadis along the way. He continued that success by winning a California state title this past spring.
Other Names To Watch
Thor Michaelson
Stoney Buell
Kendall Norfleet
Clayton Ulrey
Hunter Lyden
Brody Bauman
Luke Gayer
Braeden Stauffenberg
Prediction: Facundo over Haines
---
79 kg
Contenders
Luca Augustine
Andrew Sparks
Tate Naaktgeboren
With college freshmen like Cael Valencia, Andrew Sparks, and Luca Augustine, it's crazy to say that there is a legit chance a high schooler wins this weight. When you have #13, #14, #15, and #43 from the class of 2022 and #4 and #24 from the class of 2023 at the weight.
Manny Rojas, Matthew Singleton, and James Rowley sit on the 2022 big board in that order. Rowley will be looking for revenge as he lost to Rojas in the 2020 Super 32 finals and Singleton at the 2022 Doc B finals. At last year's Junior Trials, the two didn't wrestle, but Rojas took 5th and Singleton took 7th.
On the outside looking in on the big board, but actually higher than Rojas and Rowley in the weight class rankings is Danny Wask. #2 at 170 lbs, Wask is a senior out of Blair committed to Navy.
Watch Mathew Singleton and Rocco Welsh's 2021 Super 32 final below.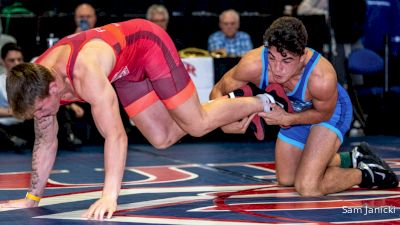 Unlock this video, live events, and more with a subscription!
Get Started
Already a subscriber? Log In
I know Welsh lost the match above, but as #4 overall Junior, I am incredibly high on Rocco Welsh. The PA state champ and Ironman champ is already committed to Ohio State. Down the junior board a way at #24, Tate Naaktgeboren is part of the big resurgence of the level of high school wrestling in the state of Iowa.
Other Names To Watch
Domonic Baker
Prediction: Andrew Sparks (assuming he's healthy) over Cael Valencia
---
86 kg
Contenders
Wyatt Voelker
Bennet Berge
Joey Milano
Like some of the other college freshmen I have honed in on in this preview, Tate Picklo hasn't been active for over a year. And for that reason (plus he was very fun to watch), my eye will for sure be on him this weekend to see how much he has developed or regressed since capping off an excellent high school career. The Mustang, Oklahoma native was #16 on the final 2021 big board and #1 at 195 lbs. Injury kept Picklo off of the mat his senior year of high school and potentially his redshirt year at the University of Oklahoma as well.
NC State freshman Joey Milano was incredibly active this season as a redshirt, going 23-6 while competing six opens. Coming out of high school, Milano was the #42 overall recruit.
Just a junior and already a Super 32 champion, Ryder Rogotzke is one of Navy's all-time biggest recruits. He's currently ranked #3 at 182 lbs with a win over #2 in the past year. He's an absolute wild man who isn't afraid to go for broke. His match with #4 Brian Soldano, another contender at this weight at Super 32, was one of my favorites from last year's Super 32.
Watch Ryder Rogotzke and Brian Soldano's wild Super 32 semifinal below.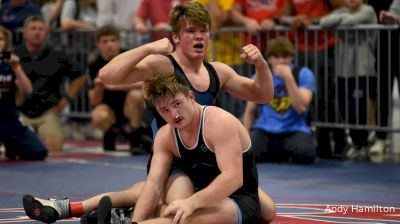 Unlock this video, live events, and more with a subscription!
Get Started
Already a subscriber? Log In
Ranked at 195, Bennett Berge, TJ Stewart, and Wyatt Voelker might have a size advantage on Rogotzke and Soldano, who have been competing at 182. Stewart even competed at 215/220 for part of the season where he won Ironman and Beast titles.
Other Names To Watch
Nathan Haas
Prediction: Berge over Milano
---
92 kg
Contenders
Martin Cosgrove
Caden Rogers
Jack Darrah
Whereas Berge, Stewart, and Voelker decided to move down to 86 kg (189.59 lbs), Kolby Franklin, who is currently ranked #8 in the high school rankings at 195 lbs, decided to move up to 92 kg (202.82 lbs). An Iowa recruit, Franklin moved to Iowa City in January from Pennsylvania where he previously competed for Wyoming Seminary.
Coming down from 220 lbs will be #3 Martin Cosgrove, #9 Caden Rogers, and #10 Jack Darrah. All three of these guys are solid, but I really think Penn commit Cosgrove is the real deal. Cosgrove is a 2X New Jersey state champion in only three attempts. The Camden Catholic senior won as a sophomore and senior but was forced to sit out his junior year with an injury. He won arguably the most anticipated matchup in the NJ state finals this year over #8 PJ Casale.
Watch Martin Cosgrove and Jack Darrah's 2021 Super 32 match below.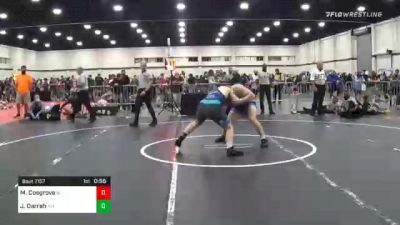 Unlock this video, live events, and more with a subscription!
Get Started
Already a subscriber? Log In
The college guy I'm most interested in watching at this weight is Kyle Haas. The Oklahoma State freshman was the #18 overall recruit coming out of high school and is poised to become the Cowboys' starting 184 pounder next season with Anthony Montalvo entering the transfer portal. While he didn't wrestle a D1 starter this year, Haas did go 11-0 in while in redshirt.
Other Names To Watch
Evan Bates
Silas Allred
Prediction: Haas over Cosgrove
---
97 kg
Contenders
Noah Pettigrew
As much as I praised Martin Cosgrove in the section above, I have to do so even more here for Ben Kueter as he's 2-0 against Cosgrove in the past 12 months. The two first met at Fargo last summer with Kueter winning 11-0 and most recently earlier this month at Elite 8 Duals with Kueter winning 10-4. And the crazy thing is that Kueter is only a junior. The University of Iowa got themselves a good one early.
Watch Ben Kueter tech fall Martin Cosgrove in the Fargo semifinals below.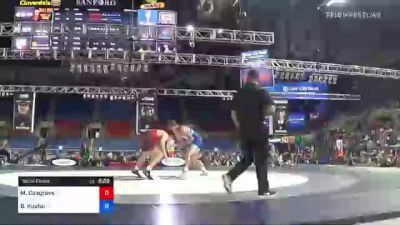 Unlock this video, live events, and more with a subscription!
Get Started
Already a subscriber? Log In
Georgia prep Noah Pettigrew also picked up a win over Cosgrove at Fargo last summer. However, Cosgrove was able to avenge that loss at Elite 8 Duals. A North Carolina commit, Pettigrew is a Fargo champ and Super 32 finalist. To my knowledge, Pettigrew and Kueter have never wrestled.
Other Names to Watch
Spencer Mooberry
Prediction: Kueter over Pettigrew
---
125 kg
Contenders
I could not be higher on Nick Feldman as a college prospect. How could you not? He's a heavyweight who is as athletic as a middleweight. The Malvern Prep standout hasn't lost a match since the Escape the Rock finals in 2020. In that time he's won Who's Number One, Powerade, and Journeymen twice. He's a key part of Ohio State's A++ 2022 recruiting class. If anyone is going to stop Feldman, I think it has to be someone like the giant Hayden Copass or athletic Hunter Catka who have spent a year in a college room. Still, I don't like their chances. Either way, Feldman is always a pleasure to watch wrestle.
Watch Nick Feldman beat the #2 high school heavyweight Jim Mullen at Powerade below.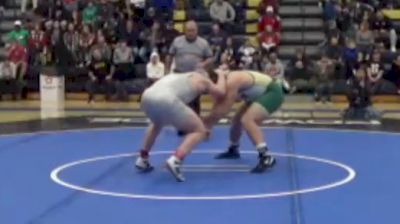 Unlock this video, live events, and more with a subscription!
Get Started
Already a subscriber? Log In
Other Names To Watch
Ryan Boersma
Nathan Taylor
Bennett Tabor
Aden Attao
Prediction: Feldman over Copass