2022 Iowa HS Wrestling State Championship
All The Nationally Ranked Wrestlers In Iowa This Weekend
All The Nationally Ranked Wrestlers In Iowa This Weekend
The Iowa State Championships are rich with tradition, and it's easy to see why. Check out this list of all the ranked wrestlers headed to Des Moines.
Feb 14, 2022
by David Bray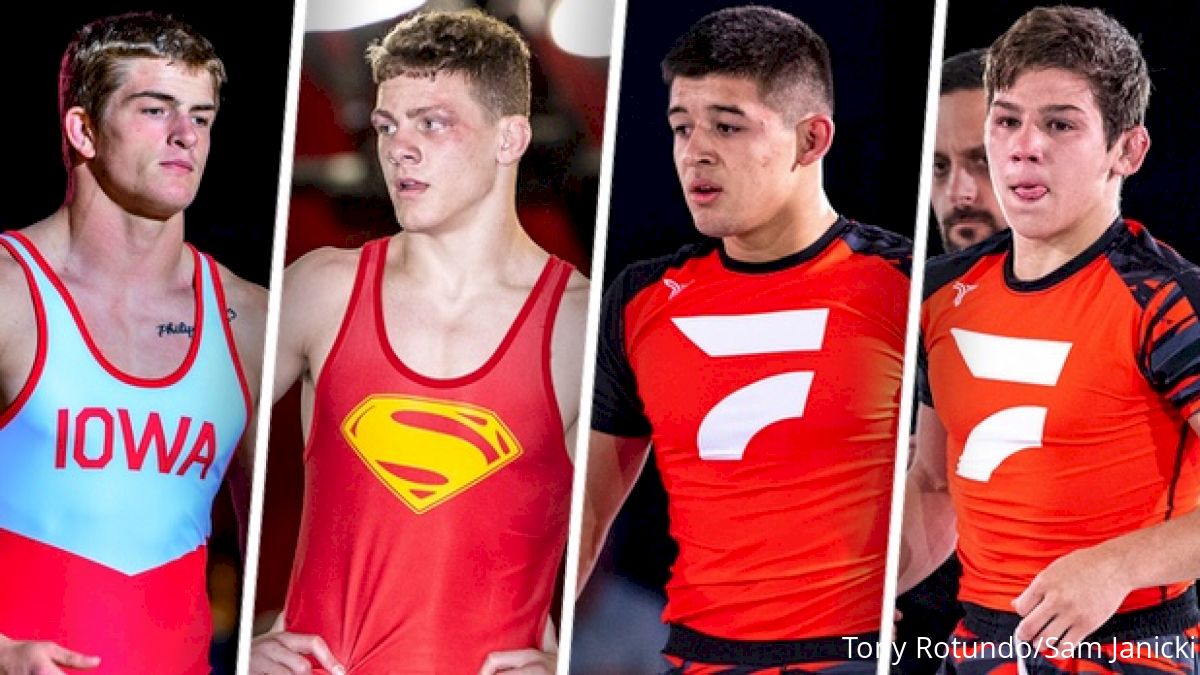 It's State Championship week in Iowa, and the Hawkeye State's best are getting ready to do battle. Plenty of the qualifiers in the field have already seen success on a national stage. Iowa boasts double-digit wrestlers who are top-twenty in the nation, and over 30 who are Honorable Mention or better. The complete list below is broken down by classification.
3A - 23 Ranked
More than half of the state's ranked wrestlers attend 3A schools, and seven brackets contain multiple top 20 or Honorable Mention qualifiers. Nate Jesuroga, Hunter Garvin, Aiden Riggins, and Ben Kueter are all ranked in the top 3 in the country. This division is loaded.
3A 106 - HM Dru Ayala, Fort Dodge
3A 113 - HM Connor Fiser, Bondurant-Farrar
3A 113 - HM Koufax Christensen, Waukee Northwest
3A 120 - HM Trever Anderson, Ankeny
3A120 - HM Carter Freeman, Clive
3A 126 - #1 Nathanael Jesuroga, Southeast Polk
3A 132 - HM Evan Frost, Dowling Catholic
3A 132 - HM Jace Rhodes, Mason City
3A 138 - HM Jacob Frost, Dowling Catholic
3A 138 - HM Jacob Helgeson, Johnston
3A 138 - #15 Ryder Block, Waverly-Shell Rock
3A 145 - HM Bas Diaz, Waverly-Shell Rock
3A 145 - HM Joel Jesuroga, South East Polk
3A 145 - HM Robert Avila, Iowa City West
3A 152 - #3 Hunter Garvin, Iowa City West
3A 160 - #3 Aiden Riggins, Waverly Shell Rock
3A 170 - #14 Tate Naaktgeboren, Linn-Mar Marion
3A 182 - #14 Griffin Gammell, Waukee
3A 195 - HM Bradley Hill, Bettendorf
3A 195 - HM McCrae Hagarty, Waverly-Shell Rock
3A 220 - #2 Ben Kueter, Iowa City
3A 285 - #14 Jacob Walker, Waverly-Shell Rock
3A 285 - HM Maddux Borcherding-Johnson, Norwalk
2A - 8 Ranked
There's plenty of talent in 2A, and it's headlined by West Delaware's Wyatt Voelker, a Fargo Greco champ who will be heading to UNI following this season.
2A 120 - HM Camron Phetxoumphone, Webster City
2A 120 - HM Kale Petersen, Greene County
2A 132 - HM McKinley Robbins, Greene County
2A 138 - HM Carter Fousek, Crestwood
2A 160 - HM Nicholas Fox, Osage
2A 182 - HM CJ Walrath, Notre Dame
2A 195 - #9 Wyatt Voelker, W. Delaware
2A 285 - HM Easton Fleshman, West Lyon
1A - 5 Ranked
The small-school division still has big stars including #17 heavyweight Chet Buss. Like Voelker above, Bus will help power the Panther Train next year. Gable Porter and Garrett Funk (another UNI commit) met in the Iowa State Freestyle finals and could run it back for the folkstyle crown on Saturday.
1A 132 - HM Gable Porter, Underwood
1A 132 - HM Garrett Funk, Don Bosco
1A 145 - HM Hagen Heistand, Underwood
1A 160 - HM Max Magayna, Columbus Catholic
1A 285 - #17 Chet Buss, North Butler-Clarksville