2022 NCAA Watch Party: Michigan vs Minnesota
Penn State vs Iowa Isn't The Only Thing Happening Friday Night!
Penn State vs Iowa Isn't The Only Thing Happening Friday Night!
Take a look at some of the top matches going down Friday night outside of the Penn State and Iowa dual.
Jan 27, 2022
by JD Rader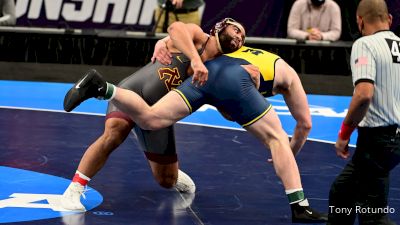 Unlock this video, live events, and more with a subscription!
Get Started
Already a subscriber? Log In
Friday night will be headlined by the dual of the year in Penn State vs Iowa. Don't let that amazing event distract you from the others going on Friday night. 12 other duals are going down including the historic Princeton - Harvard rivalry!
I recommend that you pregame the Penn State - Iowa dual by tuning into the FloWrestling watch party for Michigan vs Minnesota from 7-9 pm EST.
Entire Friday Night Lineup
*all times shown are Eastern*
Columbia at Binghamton, 5:00 PM
Princeton at Harvard, 6:00 PM
Penn at Brown, 7:00 PM
NC State at Duke, 7:00 PM
Chattanooga at Gardner-Webb, 7:00 PM
Wisconsin at Maryland, 7:00 PM
Minnesota at Michigan, 7:00 PM
North Carolina at Virginia, 7:00 PM
Bellarmine at VMI, 7:30 PM
California Baptist at Northern Colorado, 8:00 PM
Iowa State at Oklahoma, 8:00 PM
West Virginia at South Dakota State, 8:00 PM
Penn State at Iowa, 9:00 PM
285: #1 Gable Steveson, Minnesota vs #3 Mason Parris, Michigan
I'm skeptical that Gable Steveson makes the trip to Ann Arbor with the rest of the Gophers, but I sure am hopeful. If it happens, this will be the match of the evening outside of Iowa - Penn State. Include the fact that there is a chance (albeit a small one) that the dual could still be in the balance going into this match, and it makes it even that much bigger.
The question is can Gable get a bonus-point win here? The champ was able to do it in the Big Ten finals last year when he beat Mason Parris 12-4. Parris was able to keep it to just a four-point decision in the NCAA finals, however. Will the fact that Parris is coming off of a loss to Greg Kerkvliet last week play into his psyche at all? Hopefully, we find out.
Watch Gable Steveson break down his Big Ten final with Mason Parris below.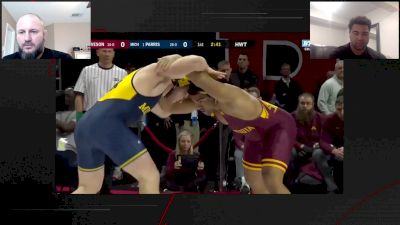 Unlock this video, live events, and more with a subscription!
Get Started
Already a subscriber? Log In
125: #1 Nick Suriano, Michigan vs #7 Patrick McKee, Minnesota
Nick Suriano had a defensive showdown against Drew Hildebrandt last weekend where he won 2-1 on a riding time point. Knowing Patrick McKee, this one won't end the same. McKee is known for his wild style of wrestling where he likes to shoot from the outside and go feet to back (sometimes to his own back). I think this actually works to McKee's advantage in that if you're not in the 1% of offensive attackers, Suriano's got a high chance of scoring on a reattack. Go for broke Gopher, you've got nothing to lose.
197: #7 Jake Woodley, Oklahoma vs #14 Yonger Bastida
Although Jake Woodley is ranked seven spots ahead of Yonger Bastida in the rankings and beat him 12-0 last year, I think a lot of people will pick Bastida to win this match. The Iowa State staff clearly made it a point of emphasis to improve Bastida's mat wrestling in the off-season and it has paid dividends. The Cyclone is 12-2 with wins over #3 Jacob Warner, #15 Thomas Penola, and #23 Owen Pentz. Obviously, if Woodley can make the top position a factor, Bastida could be in trouble. So far this season, however, Bastida has done a good job of getting out and making matches takedown battles.
157: #7 Brayton Lee, Minnesota vs #15 Will Lewan, Michigan
Brayton Lee will be trying to get back on track after getting upset by Wisconsin's Garret Model two weekends ago. It was an unusual performance from the normally consistent Indiana native. Will Lewan, on the other hand, hasn't lost since CKLV. That being said, Lee did win a controlling 8-3 match last year at the conference tournament. I don't see this one going too much different than that one.
157: #1 David Carr, Iowa State vs #16 Justin Thomas, Oklahoma
Currently at #6 in the Dan Hodge Trophy Award rankings, David Carr is having another stellar year. With a 75% bonus rate so far, Carr will no doubt be looking for a pin or a major here. Given the fact that four of his last five wins have come by fall and widened the gap each time they've wrestled, I wouldn't rule either off of the table. It won't be an easy task for the champ, however, as Thomas is a savvy and tough six-year vet.
Watch David Carr and Justin Thomas' 2021 dual match below.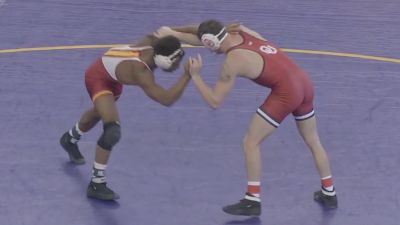 Unlock this video, live events, and more with a subscription!
Get Started
Already a subscriber? Log In
149: #24 Jarrett Degen, Iowa State vs Dom Demas, Oklahoma
It seems strange to say that Jarrett Degen vs Dom Demas is a #24 vs unranked matchup, but that's what we have. Demas' move up to 149 probably hasn't gone as smooth as most of us thought it would. Just 3-2 so far on the year, Demas really hasn't even wrestled much. There is a strong possibility that the Sooner's roll with Willie McDougald again. It paid off as McDougald got a nice win over Missouri's Josh Edmond.
While Degen has 13 total matches, the only ranked opponent he's seen this year (PJ Ogunsanya), he lost. Maybe this is the match that gets one or both of these guys back on track like we've seen them before.