2022 IWCOA Girls State Tournament
Women's Weekly: Iowa Sanctions Girls Wrestling
Women's Weekly: Iowa Sanctions Girls Wrestling
Iowa sanctions girls high school wrestling and changes to USA Wrestling's women's resident program highlight Women's Weekly.
Jan 24, 2022
by Kyle Klingman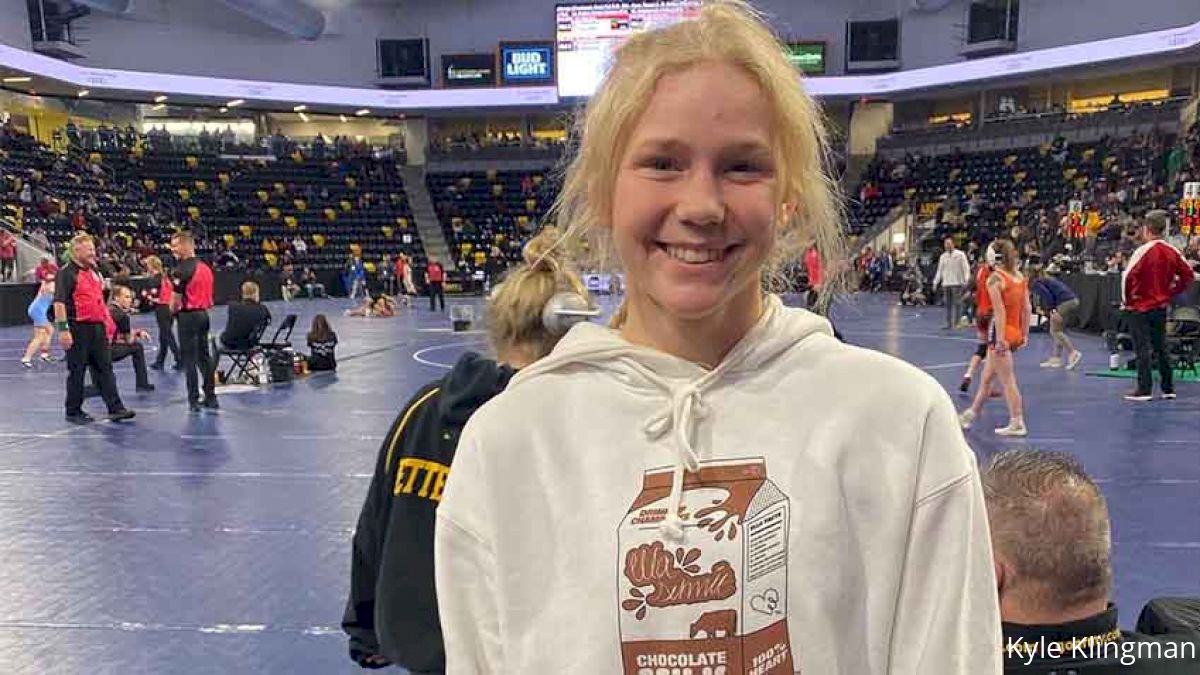 The big news over the weekend was that Iowa — a state known for its rich wrestling tradition — became the 34th state to sanction girls' high school wrestling. The Iowa Wrestling Coaches and Officials Association (IWCOA) has held a state tournament the past four years but the 2022-23 season will mark the first time that girls wrestling will be recognized as an official sport at the state level.
This year's IWCOA Girls' High School Iowa State Championship was held January 21-22 in Xtream Arena with just under 700 girls participating. Jean Berger of the Iowa Girls Athletic Union (IAGHSA) made the announcement prior to the finals that the organization would sanction the sport.

Iowa Girls High School Wrestling By The Numbers
Female wrestlers on Iowa high school teams
2014: 36
2015: 43
2016: 67
2017: 93
2018: 93
2019: 188
2020: 566
2021: 683
2022: 1021
IWCOA state tournament participation numbers
2019: 87
2020: 350
2021: 457
2022: 695
The Iowa College Scene
In addition to increasing high school numbers, Iowa has become a leader for women's wrestling at the collegiate level. There are currently 11 college women's programs within the state, including the University of Iowa becoming the first Power Five program to add women's college wrestling.
Here are all 11 Iowa colleges that offer women's wrestling.
Cornell College (NCAA Division III)
Grand View University (NAIA)
Indian Hills Community College (NJCAA)
Iowa Central Community College (NJCAA)
Iowa Wesleyan University (NCAA Division III)
Iowa Western Community College (NJCAA)
Simpson College (NCAA Division III)
University of Iowa (NCAA Division I)
Waldorf University (NAIA)
Wartburg College (NCAA Division III)
William Penn University (NAIA)
Resident Changes On The Way
The resident program at the Olympic Training Center in Colorado Springs has been a key part of women's wrestling success at the international level. Many of our best wrestlers have utilized the program to accelerate their growth, which has yielded World and Olympic medals.
However, the program is going to change — both in purpose and design. This means redefining how the resident program operates within a rapidly changing environment of women's wrestling.
Before, the resident program was the end stop for wrestlers to complete their careers.
In the future, it will likely be a program to accelerate development at the beginning of their careers.
Sarah Hildebrandt, Amy Fearnside, Jacarra Winchester, Alex Hedrick, Emma Bruntil, and Tiare Ikei are currently members of the program with several athletes scheduled to move to Colorado Springs in the coming months.
Bruntil was a two-time national collegiate champion for McKendree who will join the program after announcing that she was leaving her college program for a new training environment. World champions Tamyra Mensah-Stock and Adeline Gray have been part of the program but are still undecided about their future as competitive wrestlers.
"We will have some people filtering in over the next few months," said USA Wrestling National Women's coach Terry Steiner. "I hope by the time we get to August that we have a full crew again. The training center pushed people away because of COVID then in November they gave us the green light (to return).
"We've had women go away to RTC programs. That's going to continue to happen and we don't want to fight against our own system. This is going to turn into a development step where we are a one- to two-year stop for people after high school and before college. Maybe we bring them in for a year or two and educate them on everything from strength and conditioning, diet, nutrition, and give them the skills on the mat — then they're going to RTCs and college programs. I really see the resident program as a development step.
"After that, they can still train here but we're going to use our beds for the next group coming and have a constant flow of people through this program to give them that acceleration of their careers."
Still King
King University is still riding high after their NWCA National Duals victory even though it faced its share of adversity immediately following the event held on January 6-7. The Tornado were scheduled to wrestle Life University — winners of the National Duals in the NAIA division — the following weekend but those plans were foiled due to a COVID outbreak. The team bounced back at the Robert Horton Memorial Tournament on January 23 with 12 place winners and seven champions.
King head coach Jason Moorman joined The Bader Show to discuss the victory and the future of women's wrestling.
Everything Women's Wrestling
Be sure to check out the Everything Women's Wrestling Podcast on FloWrestling hosted by Lori Ayres. Her most recent guest was Ashley Sword of Life University who became the first woman to coach a team to a National Duals title.