Penn State And Iowa Lineup Questions Highlight Week 11 Round-Up
Penn State And Iowa Lineup Questions Highlight Week 11 Round-Up
The biggest stories in the eleventh week of the 2021-2022 NCAA Division 1 college wrestling season.
Jan 17, 2022
by Jon Kozak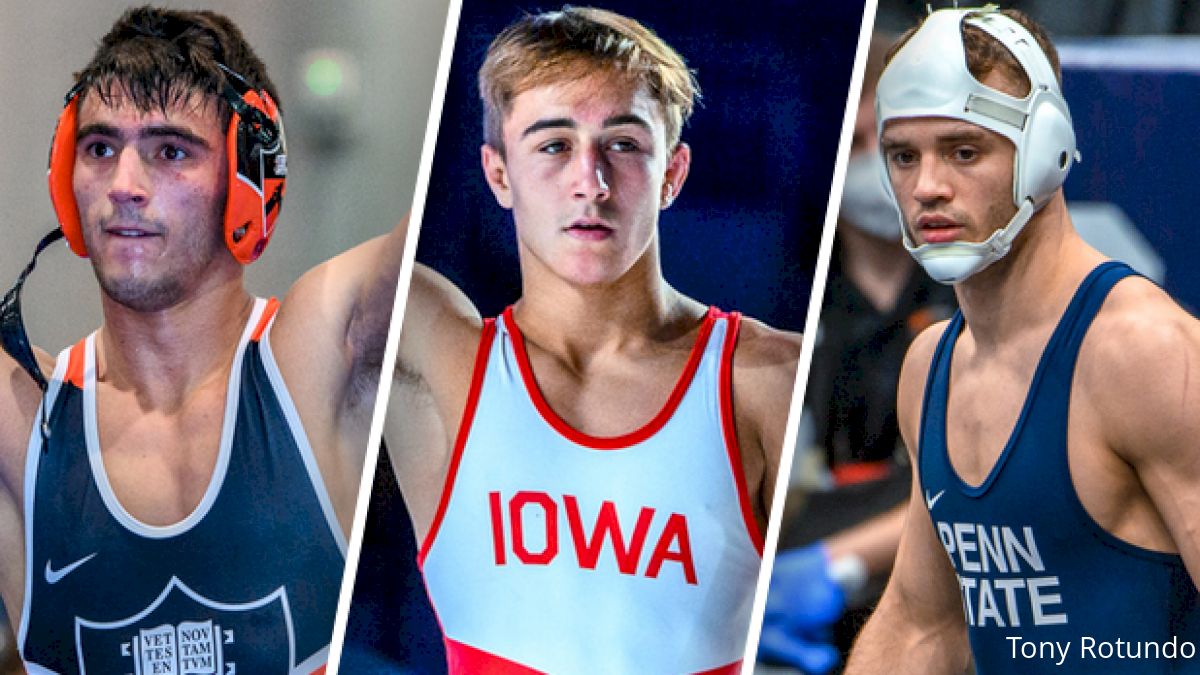 The past week of college wrestling provided us with some incredible upsets and significant results. Take a look at a breakdown of the biggest stories in college wrestling.
Penn State's Lineup Taking Shape With Hildebrand And Berge
Over the past few weeks, Penn State has taken control of the team race with the addition of Drew Hildebrandt and Brady Berge. We covered the impact of their additions in-depth here. However, Hildebrandt and Berge have both been in action since then and have performed well in their season debuts. Hildebrandt is now 3-0 including a 4-2 win over HM Dylan Shawver. Hildebrandt, who placed 4th at the 2021 NCAA tournament, will face even more challenges in the coming weeks with #1 Nick Suriano on Friday and #11 Drake Ayala on January 28th.
Not only was it a surprise to see Brady Berge already take the mat at Rec Hall, but he also competed up a weight at 165 where defeated Rutger's Andrew Clark, 5-1. In 2019, Berge started at 149 for the Nittany Lions and reached the round of 16 at the NCAA tournament. In 2020 and 2021, Berge wrestled at 157 and was a match away from All-American honors last season. Now the question revolves around where Berge stacks up against the best in the country all the way up at 165. We should get the answer to that question in the next few weeks as Berge has potential matches against #10 Cam Amine (Jan. 21), #4 Alex Marinelli (Jan. 28), and #5 Carson Kharchla (Feb. 4).
Brady Berge seals the win! #PSUwr pic.twitter.com/5SjpDc4Jwt

— Penn State WRESTLING (@pennstateWREST) January 17, 2022
Big Upsets Propel Wisconsin Past Minnesota
For the first time since the 2010-2011 season, the Wisconsin Badgers took out the Minnesota Golden Gophers in dual meet competition. The Badgers were fueled to victory through upset wins by Eric Barnett at 125 and Garrett Model at 157. Barnett took out All-American #8 Patrick McKee in a wild, back-and-forth bout that ended 8-5. Model won a more decisive decision against All-American #5 Brayton Lee. After a scoreless first period, Model secured a reversal and takedown in the second period and another 3 takedowns in the third to win a controlling, 10-5 decision. The upset for Model was especially surprising considering he was only 9-6 on the season entering the match, had yet to defeat a ranked opponent, and lost to Brayton Lee 11-7 last year!
After the upset wins, it was a true team win for the Badgers with Kyle Burwick, Austin Gomez, Dean Hamiti, and Braxton Amos securing victories for a 21-15 dual win. Wisconsin is currently 7-0 on the season and ranked #11 in our NCAA D1 Dual Rankings. They'll be interesting to watch in the coming weeks with ranked matchups against #13 Nebraska (Jan. 21), #12 Purdue (Jan. 23), and #1 Iowa (Feb. 5).
HUGE UPSET at 157‼️@gmodel15 takes down No. 4 ranked Brayton Lee.@BadgerWrestling // @NCAAWrestling pic.twitter.com/ODscY0H89Q

— Wisconsin On BTN (@WisconsinOnBTN) January 16, 2022
Schriever's Redshirt Is Pulled - Mystery Surrounding DeSanto
In one of the biggest surprises of the season, Cullan Schriever took the mat at 133 pounds for the Hawkeyes rather than Austin DeSanto on both Friday and Sunday. While it is his second year in Iowa, Schriever still has a redshirt available and Austin DeSanto had wrestled every match for Iowa up until this week.
So, why did Tom Brands pull Schriever out of redshirt? That's the question yet to be answered. DeSanto could be dealing with a small injury or sickness. Coach Brands may just want to give DeSanto a rest and put the best team on the mat. Or DeSanto could be done for the year. To be clear, we don't know - it's all speculation at this point. However, there's no question the Hawkeyes need DeSanto in the lineup to contend for an NCAA team title this year. While Schriever wrestled tough, he lost competitive matches to both #9 Chris Cannon (5-3) and #5 Lucas Byrd (5-0). Iowa's set to wrestle Ohio State this coming Friday and Penn State a week later. DeSanto's presence or absence in those duals will be telling for the rest of the year for Iowa's plans at 133.
Glory Leads Princeton To Victory Over Arizona State
In the biggest dual upset of the week, the Princeton Tigers knocked off the #5 Arizona State Sun-Devils on Sunday afternoon, 20-18. #3 Pat Glory got the Tigers off to a strong start when he took out returning NCAA finalist #4 Brandon Courtney in controlling fashion. Glory used a takedown and 2 near-fall points in the first to take a 4-1 lead into the second. Then, after Courtney chose down, Glory put on a tough ride and earned 4 more near-fall points to build an 8-1 lead early in the second. After an escape from Courtney, Glory took a 10-2 lead into the third with a takedown and ride out to end the second. Courtney didn't go down without a fight and clawed his way back into the match with two takedowns in the third to narrow the decision to a 12-6 final score in favor of Glory. With the win, Glory cemented himself as a clear NCAA title contender and should be able to challenge #1 Nick Suriano and #2 Vito Arujau come March at the NCAA tournament.
Big win for #2 Patrick Glory at 125 over ASU's #4 Brandon Courtney, 12-6!

Here's the takedown that got it started.

Watch the match here: https://t.co/8rfDs2mxT6 pic.twitter.com/WZPIRUQeNq

— Princeton Wrestling (@tigerwrestling) January 16, 2022
While Princeton earned their dual win over Arizona State, it's worth noting the Sun Devils were missing their starters at 184 and 197. It's also worth noting the bright spot in the dual for Arizona State - #4 Jacori Teemer's 4-3 win over #6 Quincy Monday. In a tight match from start to finish, Teemer used a well-timed and powerful reattack double leg with 30 seconds left in the match to secure the victory. Take a look at the takedown below:
How about that winning shot from @JacoriTeemer 😈

📺 ESPN+ pic.twitter.com/93mSPJq4jY

— Sun Devil Wrestling (@ASUWrestling) January 16, 2022
Ayala Proving To Be The Real Deal
When Spencer Lee announced he'd be missing the rest of the season, everyone was asking one question: "How will Drake Ayala perform for Iowa?" That question will ultimately be answered at the NCAA tournament in March but Ayala gave Hawkeye fans some hope this weekend. On Friday night, Ayala took on #7 Michael DeAugustino and was down 2-1 going into the second. Then, Ayala stormed back and locked up a cradle to build a 5-3 lead and ultimately held on to win 6-5. In a similar fashion on Sunday afternoon, Ayala was down early (4-3) against #24 Justin Cardani but came back to win 7-4 with a strong second and third period. The Iowa Hawkeyes will need major points out of Ayala come March and the young Hawkeye is proving to be up to the challenge.

The above stories were the biggest in college wrestling but you can take a look at every result from the past week in our week 11 box scores here.