NCAA Watch Party: tOSU/Michigan & Minnesota/Nebraska
Hildebrandt And Berge Give Penn State A Championship Lineup
Hildebrandt And Berge Give Penn State A Championship Lineup
A breakdown of Penn State's lineup after the addition of Drew Hildebrandt and Brady Berge.
Jan 12, 2022
by Jon Kozak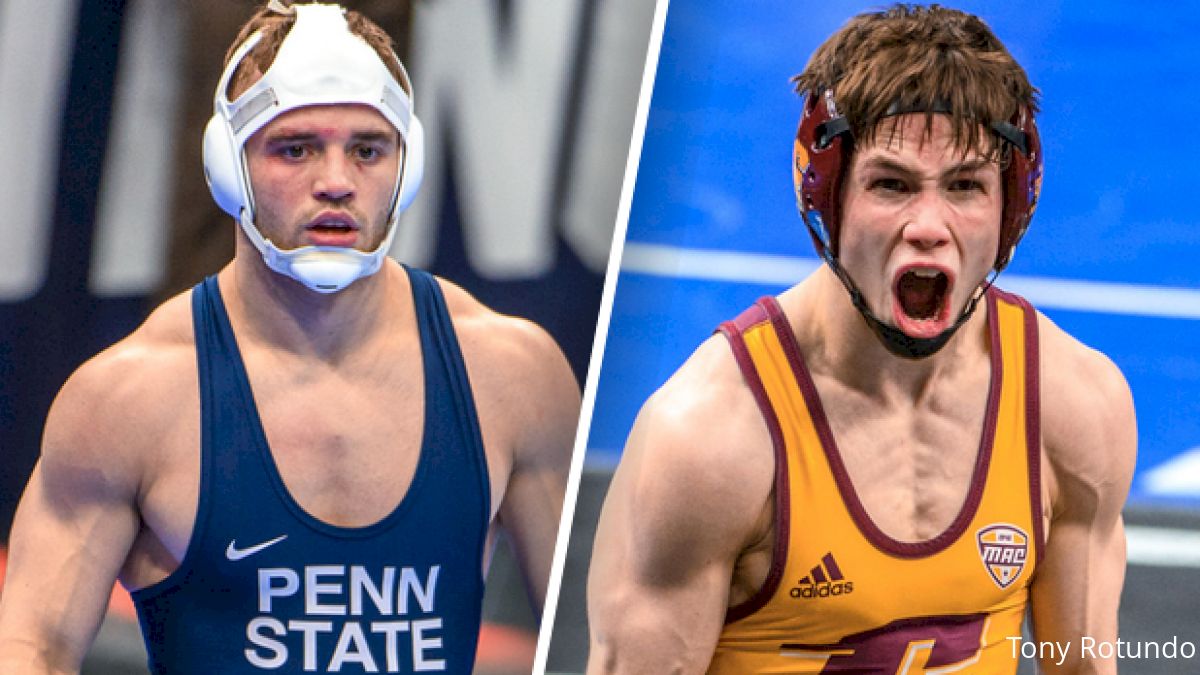 Penn State received a major boost to their lineup in the past week with the addition of Drew Hildebrandt at 125 and the announcement of the return of Brady Berge at 157. Check out below how those additions influence the current team race for the national title.
How Far Ahead Is Penn State?!
First, it's important to understand Penn State already has a sizeable "lead" in our forecasting of the team race. In our current projections based on individual rankings, Penn State has a 25 point lead over second-place Iowa and a 34.5 point lead over third-place Michigan. Take a look at the point breakdown below and where those team points are coming from in Penn State's lineup.
Current Team Team Race Projection
| | | | |
| --- | --- | --- | --- |
| Penn State | Iowa | Michigan | Oklahoma State |
| 112.5 | 87.5 | 78 | 69 |
Penn State's Lineup Breakdown
| | | | |
| --- | --- | --- | --- |
| Weight | Wrestler | Rank | Tournament Points |
| 125 | Drew Hildebrandt | 9 | 2 |
| 133 | Roman Bravo-Young | 1 | 20 |
| 141 | Nick Lee | 1 | 20 |
| 149 | Beau Bartlett | 14 | 1.5 |
| 157 | Brady Berge | UR | 0 |
| 165 | Creighton Edsell | 20 | 0.5 |
| 174 | Carter Starocci | 1 | 20 |
| 184 | Aaron Brooks | 1 | 20 |
| 197 | Max Dean | 2 | 16 |
| 285 | Greg Kerkvliet | 4 | 12.5 |
| | Total | | 112.5 |
Hildebrandt The Answer To Penn State's 125 Problems
Drew Hildebrandt was a three-time NCAA qualifier for Central Michigan and placed 4th at the 2021 NCAA Tournament. So why is he only ranked 9th and getting 2 points in our projections? That's a question for Andrew Spey (our NCAA ranker) but is simply explained by Hildebrandt's loss to #8 Patrick McKee in the third-place bout at last year's NCAAs. His ranking aside, Hildebrandt proved he's capable of making a deep run at the NCAA tournament and scoring significant team points for Penn State. In fact, Hildebrandt tallied up 12.5 team points for Central Michigan last season with his fourth-place finish. If he matches that performance, Penn State will be well on their way to winning their 9th team title in twelve years.
Highlights of Hildebrandt's win in the quarter-finals of last year's NCAA Tournament: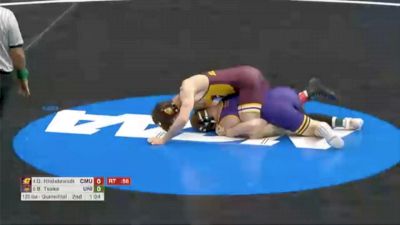 Unlock this video, live events, and more with a subscription!
Get Started
Already a subscriber? Log In
Brady Berge's Surprising Return
Has a wrestler ever gone from the coaching staff of a Division 1 team to the starting lineup of another?! Berge was hired as a volunteer assistant coach for South Dakota State last July but is now on campus in State College (with the intention of returning to Brookings, SD to coach after the season). Berge will use his final year of eligibility and is likely to man the starting spot at 157 for the Nittany Lions.
Berge's first four years at Penn State were riddled with injuries but his best two finishes provided a glimpse into his potential. In 2019 he reached the round of 16 and in 2021 he finished in the round of 12. In fact, last year Berge reached the quarter-finals at 157 before falling to injury against eventual NCAA runner-up Jesse Dellavecchia. He also has past wins over #11 Kaleb Young, #14 Will Lewan, #15 Josh Humphreys, #22 Andrew Cerniglia, and HM Elijah Cleary. It will be interesting to see when Berge takes the lineup and where he enters the rankings. If he stays healthy and wrestles to his potential, Berge is capable of winning All-American honors and earning valuable points towards Penn State's title run.
Highlights of Berge's win over #22 Andrew Cerniglia: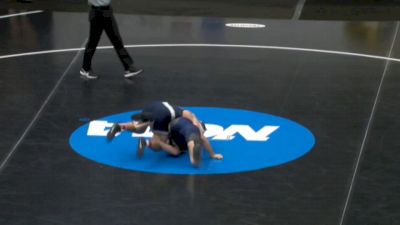 Unlock this video, live events, and more with a subscription!
Get Started
Already a subscriber? Log In
Penn State's Team - Almost Unbeatable
Penn State has put together a championships team. Roman Bravo-Young, Nick Lee, Carter Starocci, and Aaron Brooks are all currently ranked #1 in the country and projected to score a combined 80 points at the NCAA tournament. #2 Max Dean and #4 Greg Kerkvliet have the potential to make the NCAA finals for the Nittany Lions and score bonus points along the way. #14 Beau Bartlett has proven he can contend for All-American honors this season and #20 Creighton Edsell could score valuable points at the "Big Dance". With Hildebrandt and Berge, Penn State is projected to score points at every weight and have legitimate All-American contenders at 9 of 10 weights.
Could Penn State have won a team title without the addition of Drew Hildebrandt or Brady Berge? Absolutely. However, the NCAA tournament is always unpredictable and the addition of the two veterans allows for a greater margin of error for the Nittany Lions. Iowa, Michigan, and Oklahoma State won't hand Penn State the title, but the Nittany Lions are in command of the team race at this point of the season.